Ki Modern Japanese Toronto
I was in Toronto for one night last month to meet Chef Lynn Crawford but that was not all, I dined with friends at Ki Modern Japanese Toronto in downtown Toronto also. As you have seen from previous posts like Ki Modern Japanese – Spring Cocktail Party and Ki Modern Japanese I adore all that Ki has to offer. I am very excited to show you the incredible meal we had at Ki in Toronto.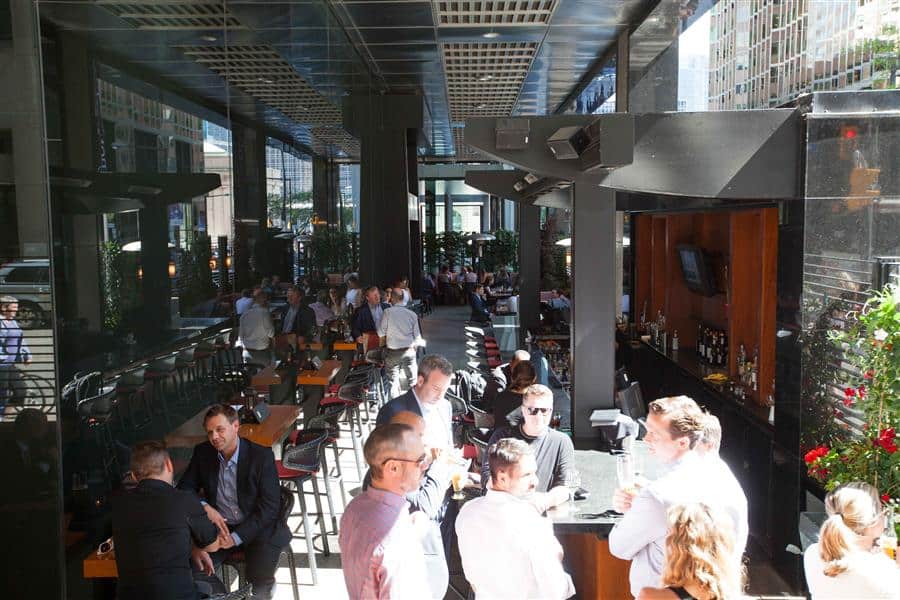 The restaurant is stylish, alive, and vibrant. A great feel for a downtown restaurant. It is located centrally and was only a few steps from my girlfriend's office, perfect location for us to dine.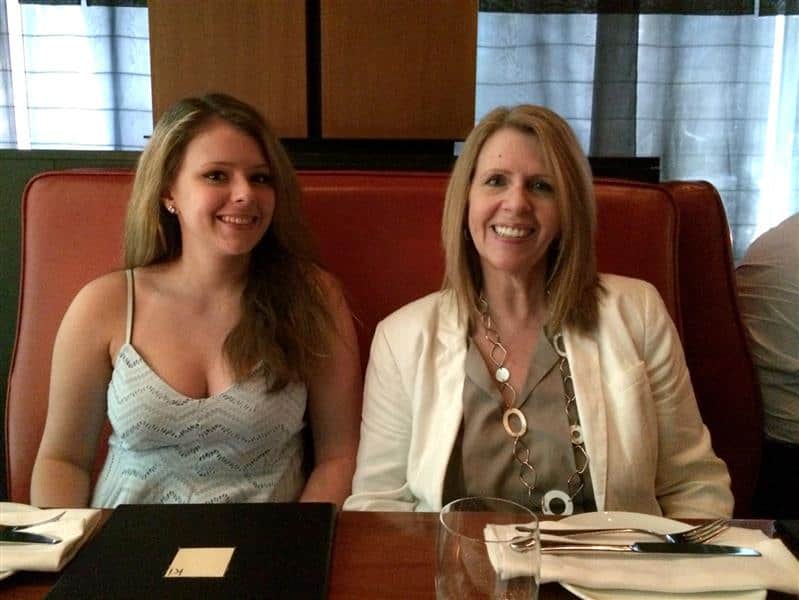 As I said I met up with friends, my girlfriend, Karen and her daughter, Claire joined me for this amazing meal.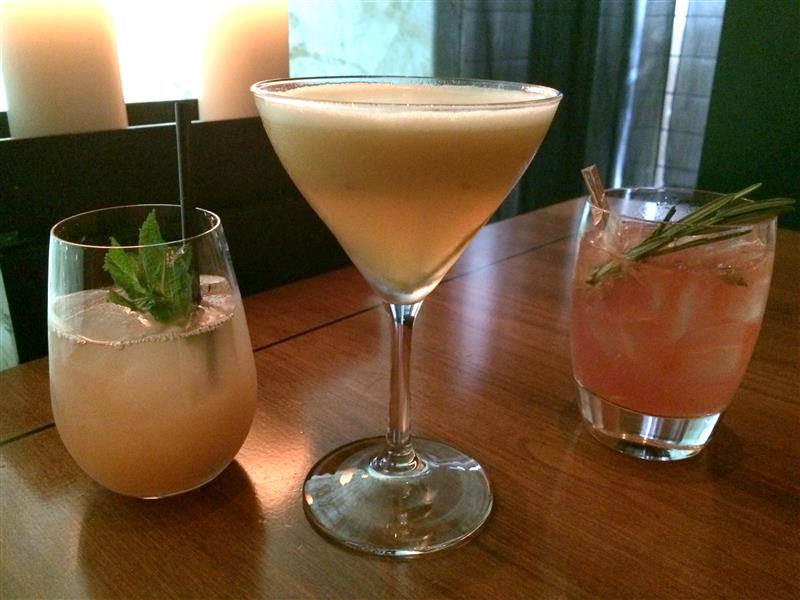 Cocktails and mocktails were the way to begin our meal. Claire had a KIK Kombucha which consists of strawberry + basil + black, green + rooibos teas. The middle cocktail was mine and a blend of Absolut vodka + Berentzen pear liqueur + mango-peach juice + three-chilli syrup + fresh jalapeño pepper + egg white, right up my alley, I loved the Momo Piman. Karen entertained the Hangumori Plymouth which is gin+ Campari + rosemary syrup + fresh grapefruit juice. All of them a perfect balance of wonderful flavors. Their cocktail/mocktail menu is HERE!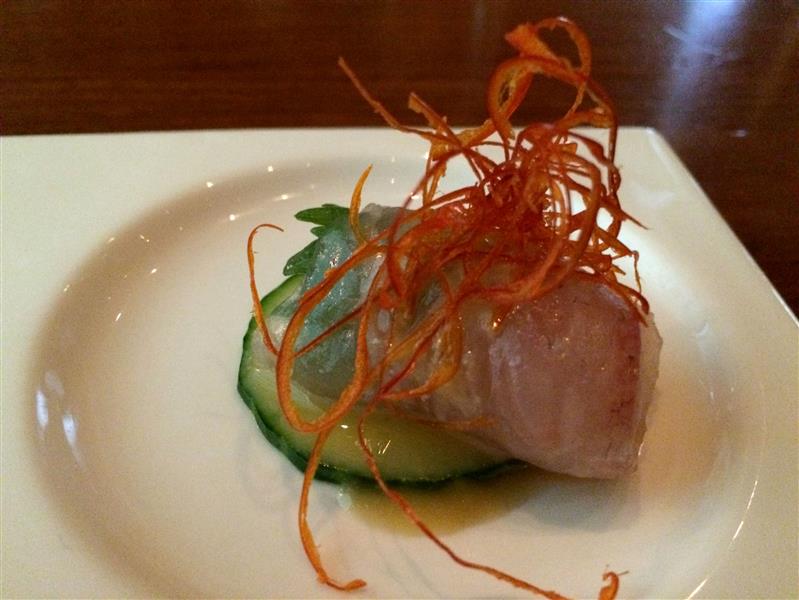 They started us off with a little amuse bouche, perfect flavors and got me excited of what was to come.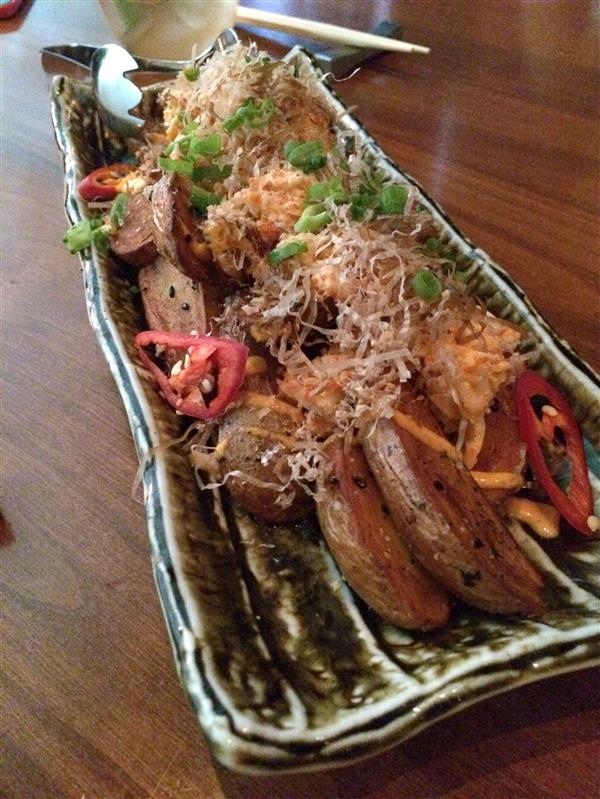 I really wanted to try a few items off the Izakaya menu, this is something that is offered at the bar but they kindly let us have a peek at the menu and choose some delicious items like these Tokyo Fries to start off with. Izakaya generally translates to pub food that is enjoyed with sake and beer. The Tokyo Fries are fingerling potatoes, crispy pancetta, king crab, bonito flakes, spicy mayo and balsamic reduction.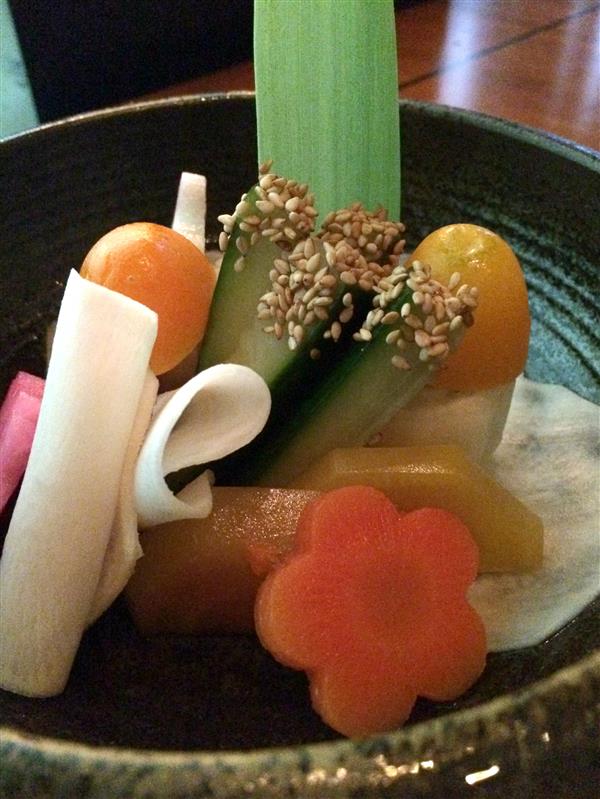 Along with edamane we enjoyed this stupendous dish called Oshinko which is house-made Japanese pickles with cucumber, carrot, beets and napa cabbage. I am crazy for that fresh pickled flavor that is added to vegetables. This was one of my favorite dishes as it was not only unique but gorgeously presented.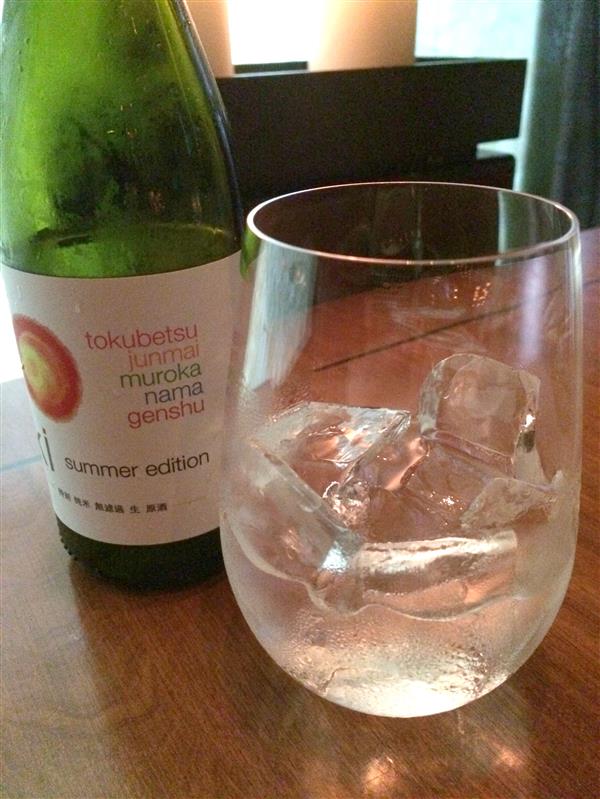 The waiter was amazing and guided us through the menu with ease, giving us suggestions on different items to try. I love that, as they know their menu inside and out and make the experience so enjoyable and fun. When it came to more to drinks the waiter sent over the head sommelier Michael Tremblay to guide us. He suggested we try this sake, which was refreshingly served on ice for the summer. I have had many sakes, sometimes warm, sometimes at room temperature and sometimes now on ice. It went fabulously with our appetizers.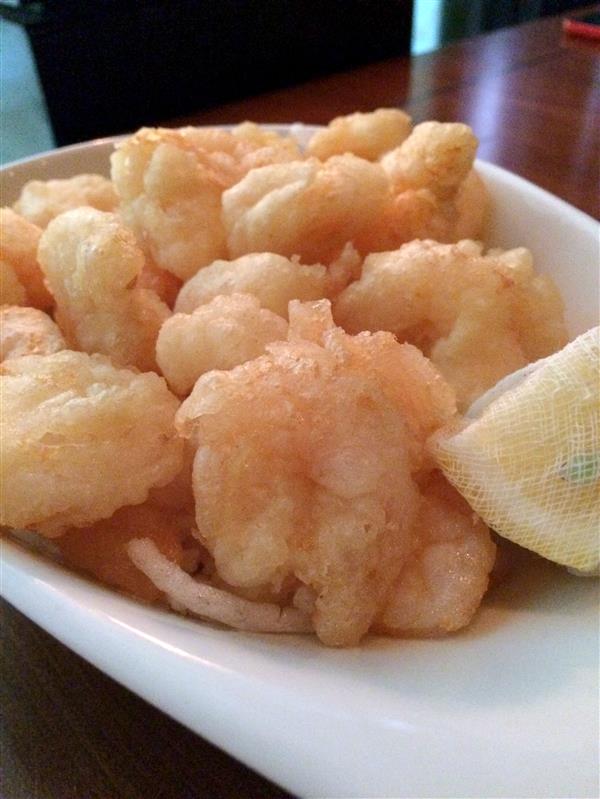 Claire wanted shrimp but instead of the tiger prawns our waiter suggested Bistro Shrimp with spicy wasabi-garlic cream dip. These were light as a cloud, crispy and delicious.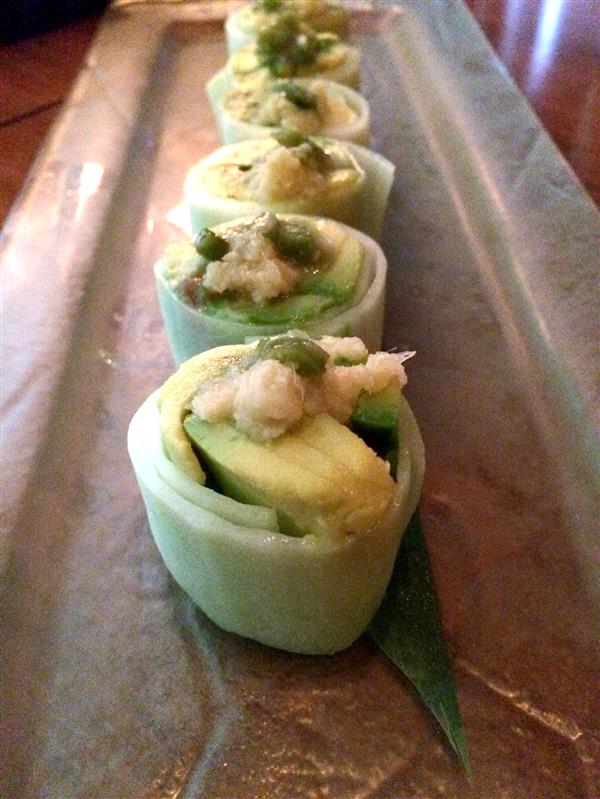 My girlfriend Karen is pseudo vegetarian but does enjoy some seafood. Her amuse bouche were these Spicy Avocado with pineapple, tomato, chives, wrapped in cucumber and wasabi-relish. We decided to order more of these delightful rolls from their cold plates section of the menu.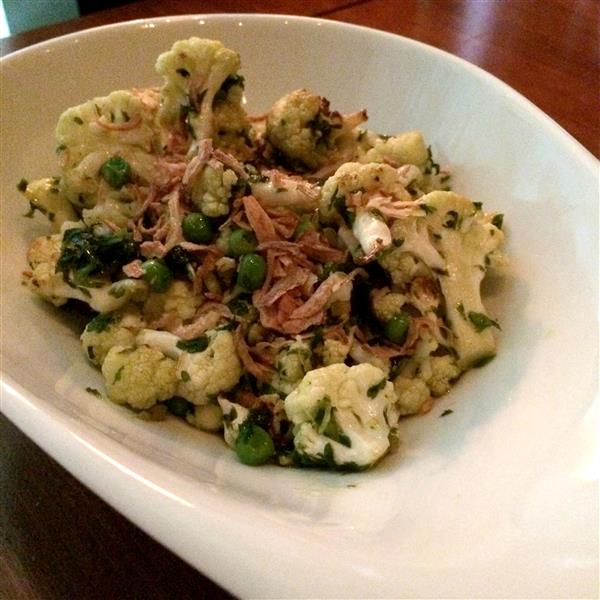 Claire wanted to try this divine Cauliflower dish of roasted Cauliflower with lemon, fresh peas, crispy shallots and shiso gremolata. A perfect side to any meal, I love roasted cauliflower. While the food continued to come out we also enjoyed a Hirsch Gruner Veltliner that the sommelier suggested. Light, fruity and a Austrian wine that I will now be on the hunt for.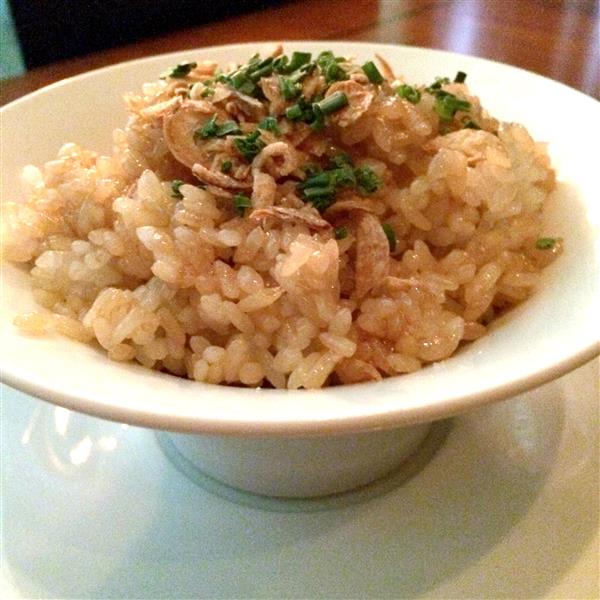 Next up was a Garlic Fried Rice, this rice has loads of wonderful garlic flavor without being pungent. It is making my mouth water to think of this dish again.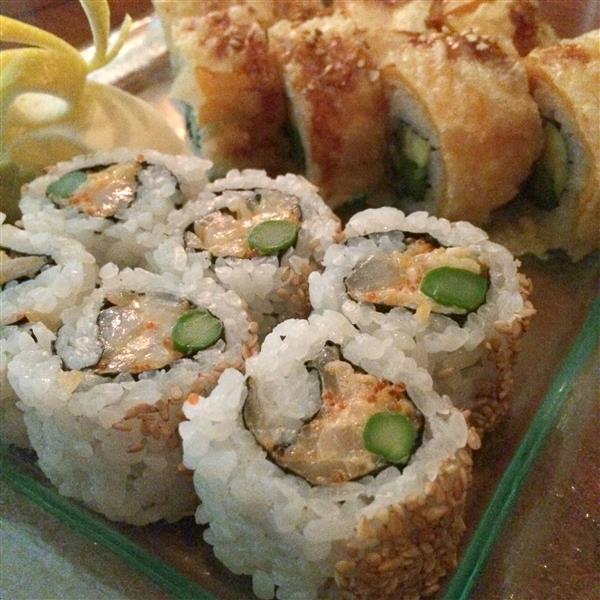 Now for the rolls, we enjoyed a Spicy Scallop which is minced sea scallop, tobiko, spicy mayo and asparagus. I have never really like scallops until trying them how the Japanese serve them, sweet and amazing, one of my new favorites.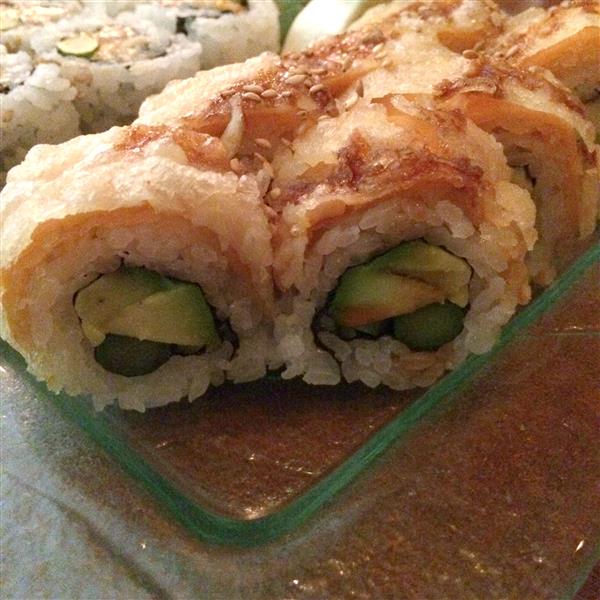 To finish the savory side of our meal we ended with a Sweet Potato roll that consisted of tempura yam, avocado, asparagus and kabayaki sauce. Gorgeously presented and equally delish!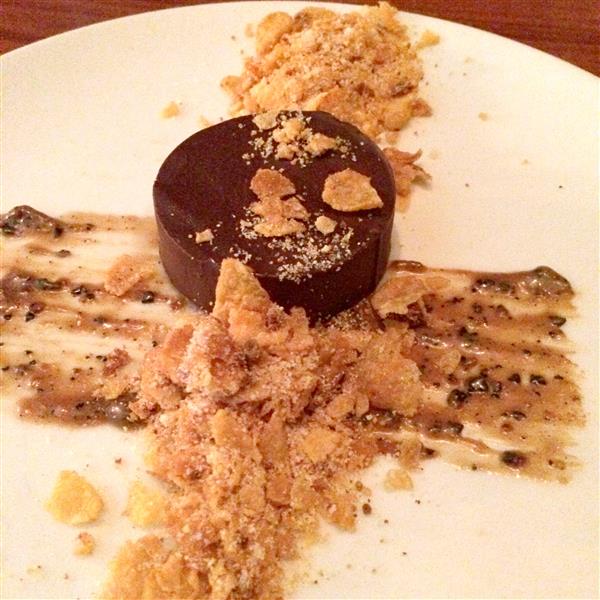 Karen and Claire both love their desserts so that was next on the list to try. They kindly shared with me this astoundingly rich and decadent Chocolate Truffle Cake with burnt caramel miso and playful candied corn flakes.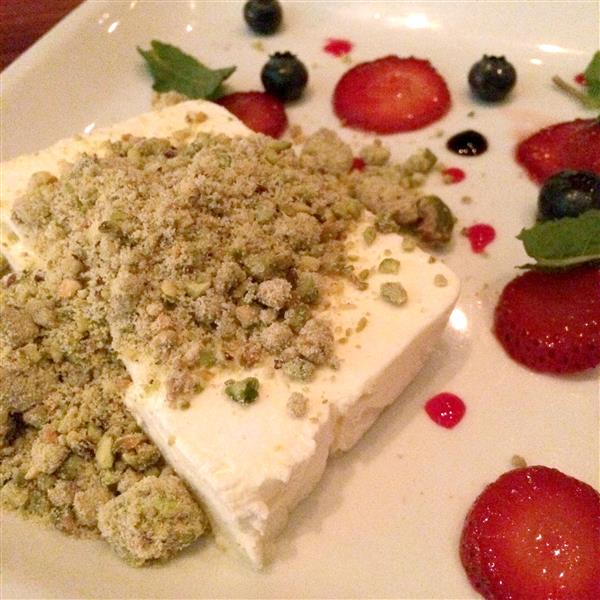 Ki's Yuzu Semifreddo with compressed strawberries, balsamic reduction, blueberry, mint and pistachio crumb is equally as delicious! All in all a meal that was astoundingly creative, delicious and oh so memorable. I look forward to going again to our Calgary location and hopefully will have the chance to visit their Toronto location again too!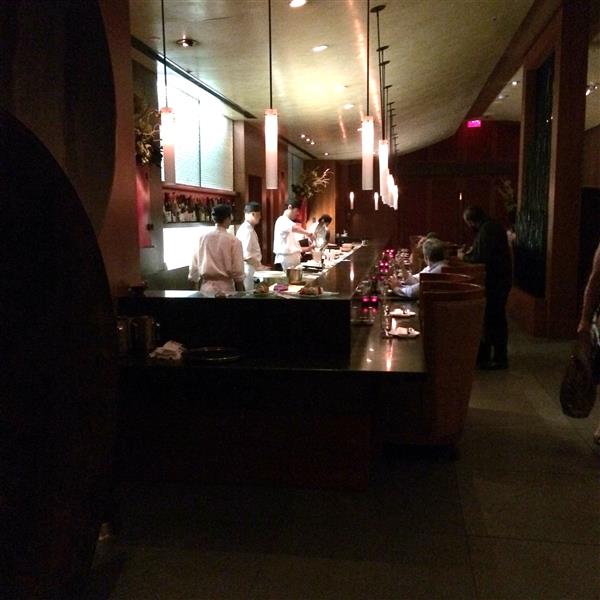 Here is a final shot of their sushi bar area with the masters at work. Come to Ki Modern Japanese to nibble, drink and dine!