Kitchen Renovation Design Ideas
The finishing touches are being made now on the kitchen. Last things are new bar stools, kitchen table and some touch up painting. It has been a long time coming though and I wanted to show the final results and give you some Kitchen Renovation Design Ideas.
I have done many a kitchen now, completely renovated two and designed two of my own also. As time goes by designs change and new innovations are introduced. You can see our renovation post and Tips From Our Kitchen Renovation to get the entire picture of where we came from.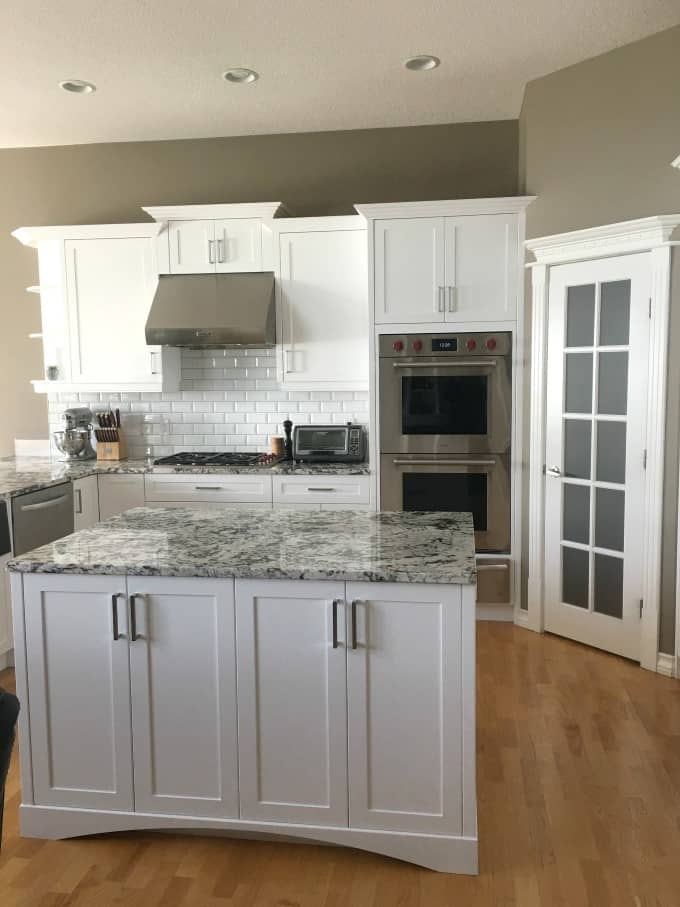 For the new kitchen we went with a transitional design, clean lines and white on white colouring. The granite was something I really wanted to change as we had black before and it showed every finger print and smudge.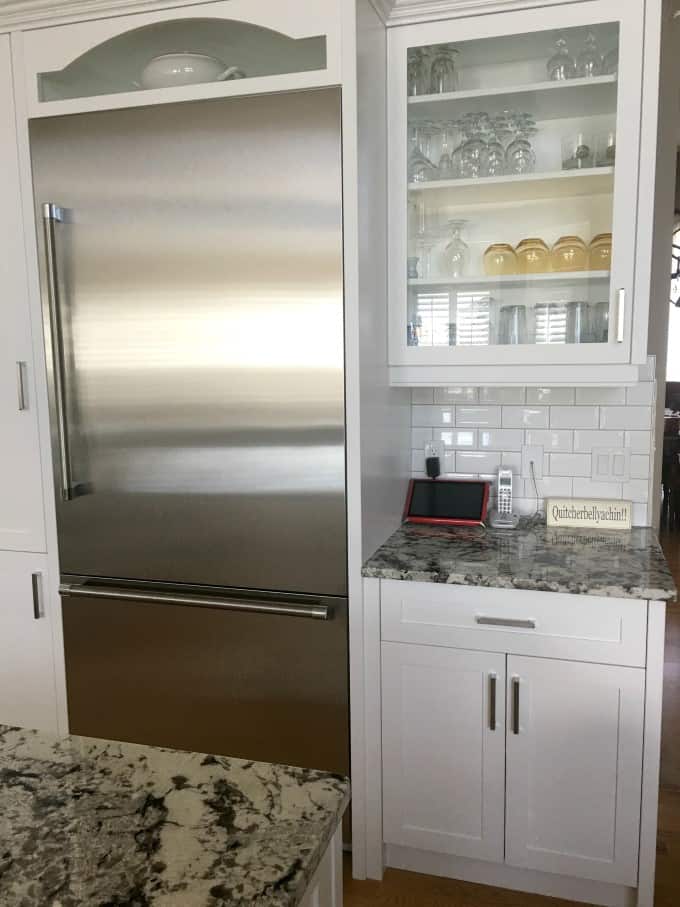 We had some funny angled cupboards before and we squared off all of them. The fridge we had already installed and it is a beauty by Thermador.
Kniss Custom Woodwork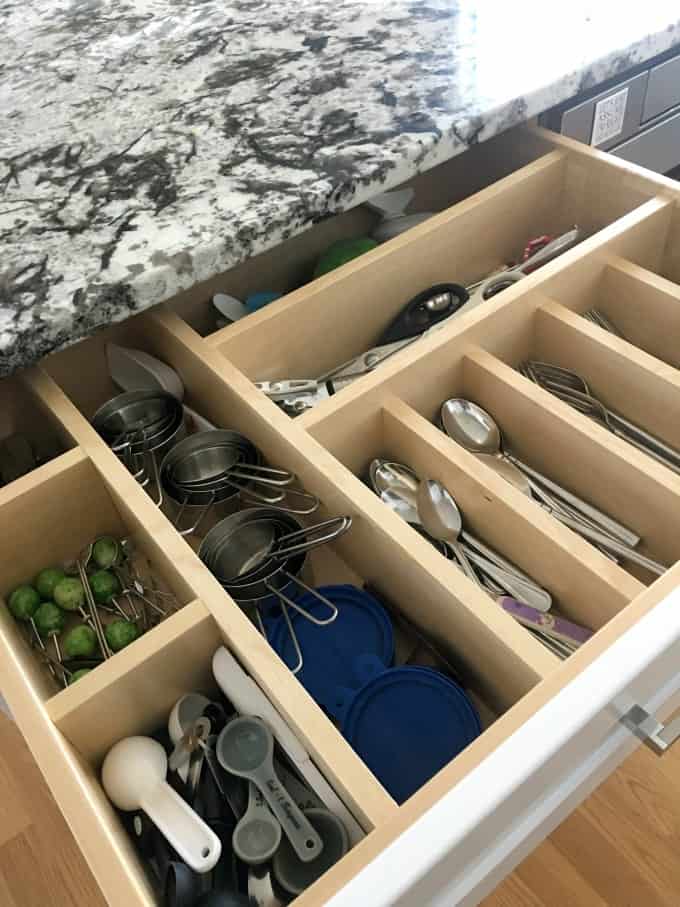 The one thing that Kniss Custom Woodwork offers at a reasonable price is custom drawers. Derrick and I designed these together with what I commonly used.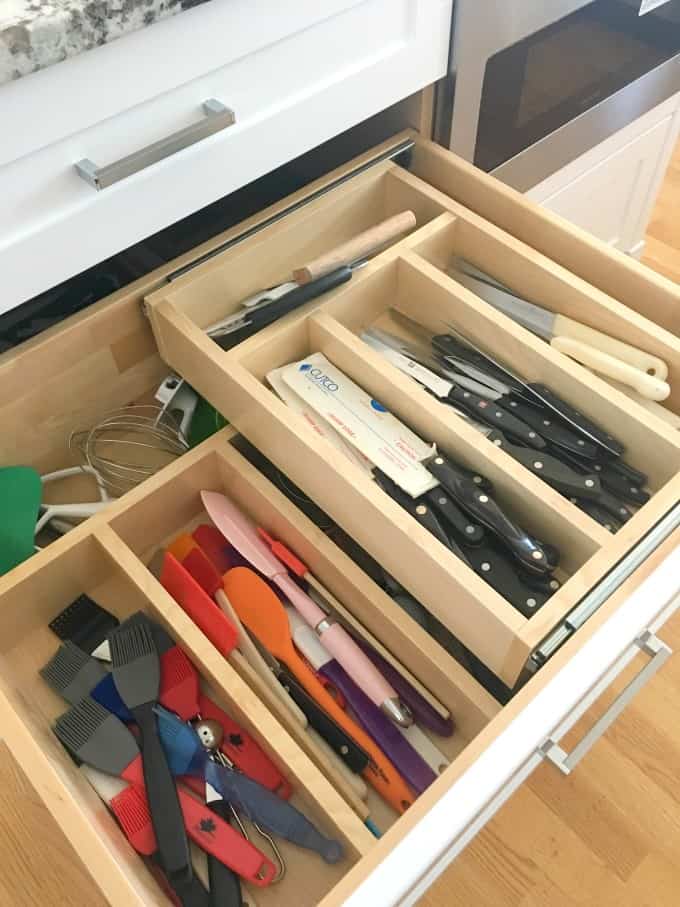 Because my second drawer was so deep, he designed a sliding shelf that houses a lot of our knives. I know, you are looking in there and wondering why I need that many spatulas and brushes (I don't) but that is the life of a blogger and receiving swag!!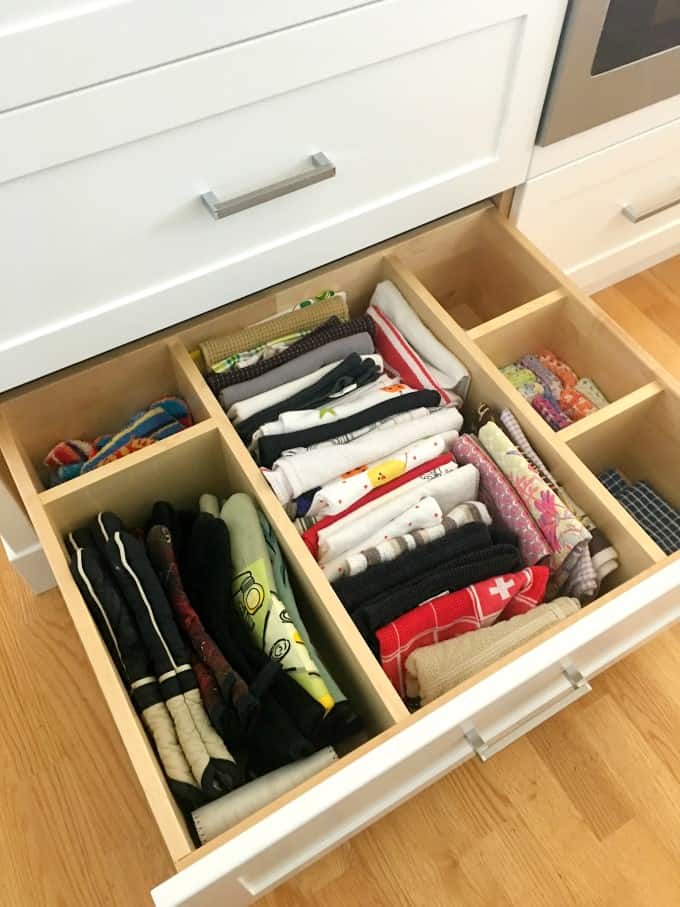 The final drawer in this series is for tea towels, dish cloths and oven mitts. I love how accessable all of these are!!
There are a lot of things you can do in a kitchen so make sure you have done your research!! I do love the pullout pot ideas they have for corner cupboards too but we didn't have enough room to put one in.
We previously did spice drawers and a complete pantry renovation with Shelf Genie and that was transforming. So many people have awkward corner pantries like we did and that renovation was life altering.
Appliances by Jerome's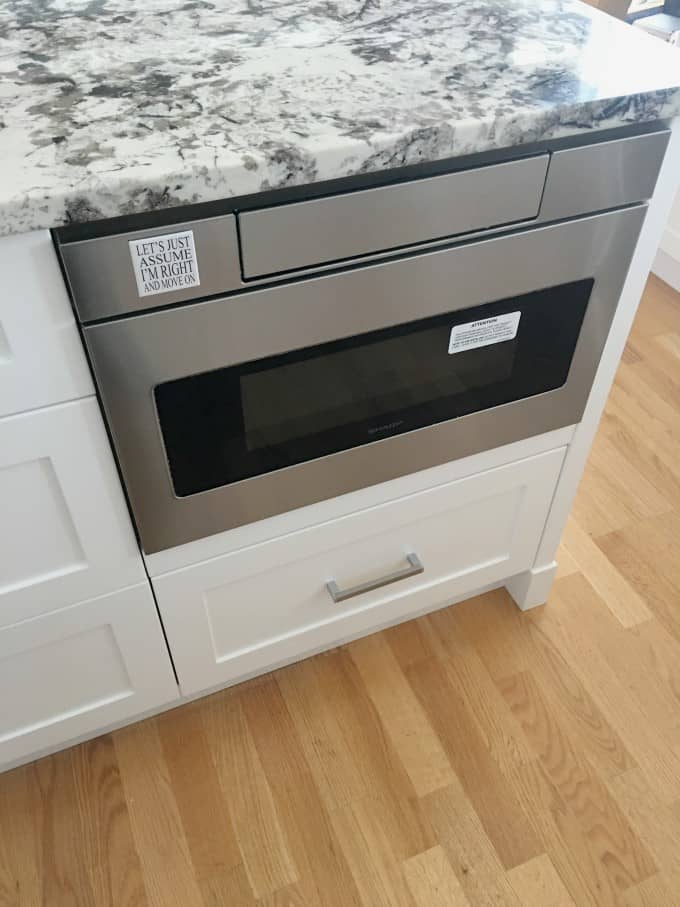 One of the best ideas that was given to us by Jerome Appliances was this drawer microwave. Push a button and out slides the drawer. It is has a large capacity and works like a dream! Do you love my little magnet there! Let's move on!
Lone Star Plumbing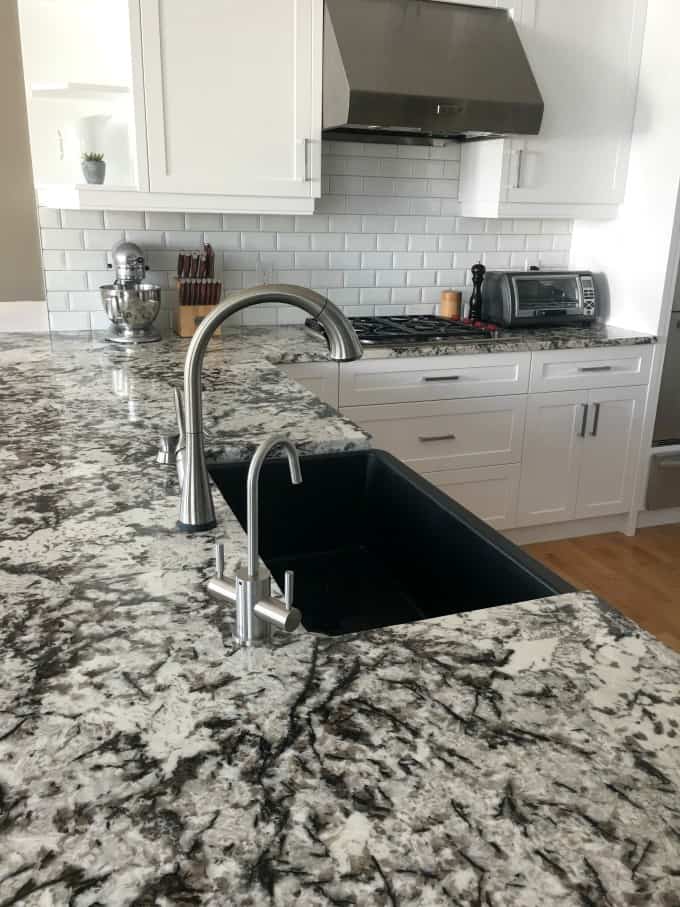 The Blanco Silgranit Farmhouse Sink was purchased and installed by Lone Star Plumbing and is something I have always wanted.
Silgranite is a man made product that is a dream to keep clean. I had a double sink in our last house like this and loved it to bits. Now we went to a large deep farmhouse and I don't think I would go back to a double. So nice being able to wash large items quickly and easily.
We also put in a hot and cold water faucet. I love having filtered water at hand and the boiling water is so easy for tea or noodle soups!!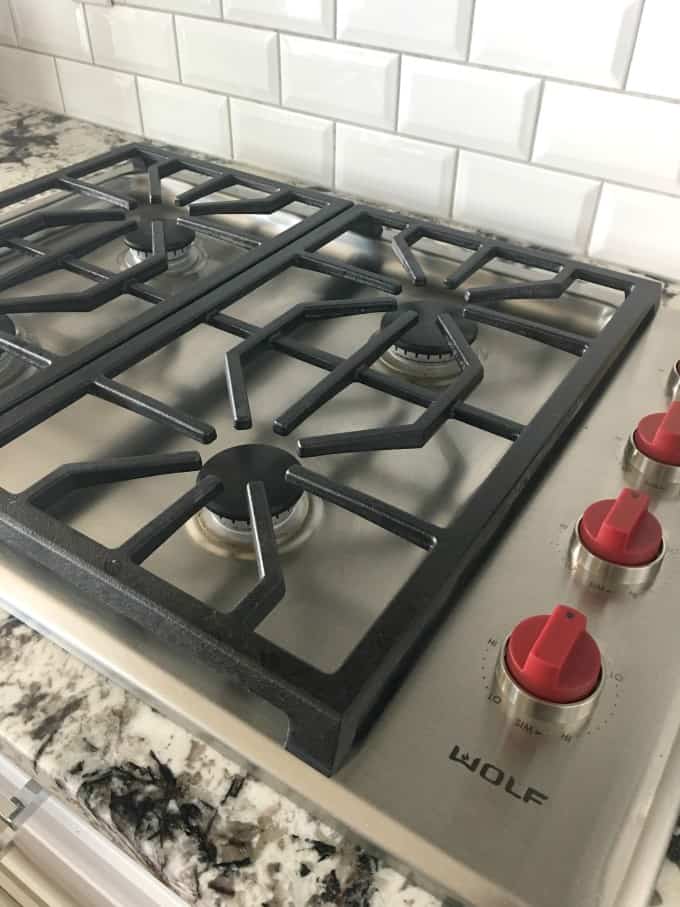 We converted to gas for this renovation which was supplied by Lone Star Plumbing again.
We had an induction cooktop before which was fast and easy to use and cleaned up quickly but there is no cooking like gas!
The Wolf gas cooktop is a magnificent appliance, very precise temperatures to get the exact heat you want. The wall ovens are fabulous also and there are so many settings that we have yet to discover!!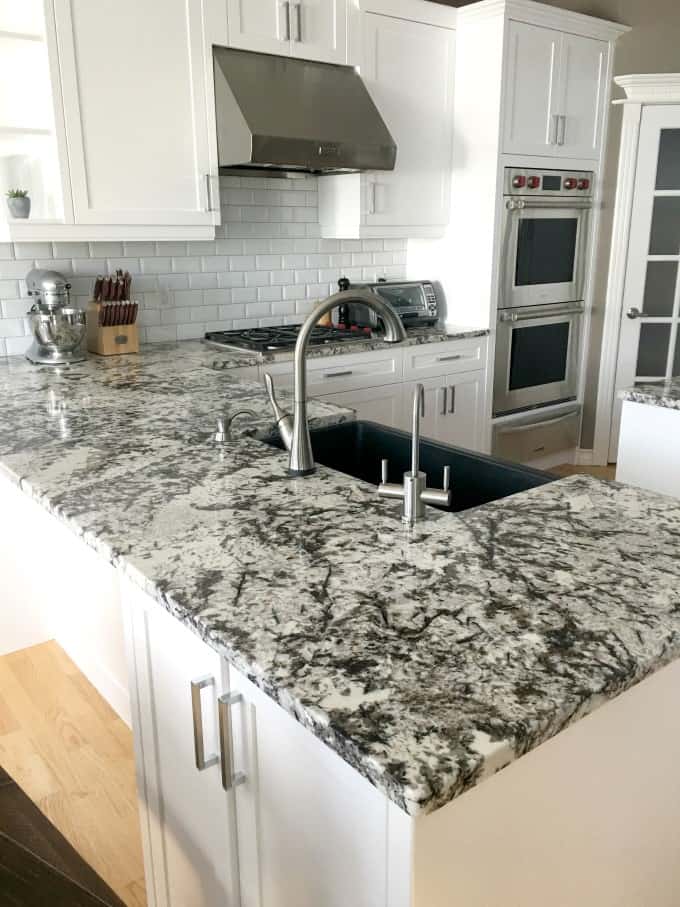 We are pretty jazzed about the outcome to the kitchen. Exactly what we were wanting. I have since ordered a couple of counter stools for that space and they are on their way as we speak.
Aldana Designs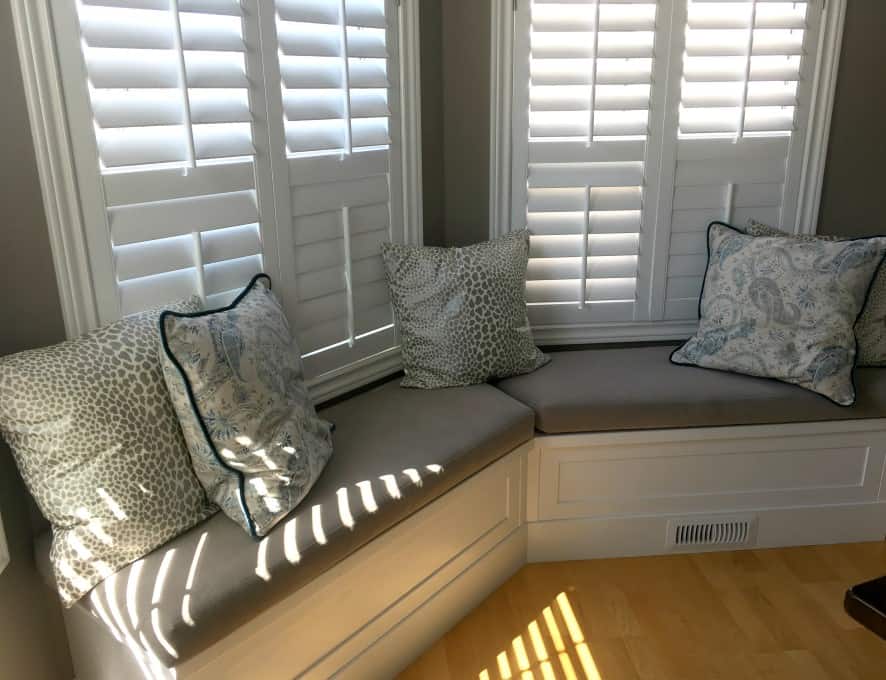 One of the things I have always wanted is a window seat. This was designed by Christina Aldana from Aldana Design. Soon we will be out shopping for a lovely round table to snuggle up to for this space to be complete!
Well there you have it, our newly renovated kitchen and nook.