Lentil Prosciutto Parmesan Pizza – Lentils, mmmmmm, let me count the ways I love thee! We have lots of lentil recipes on our site. We also always, have lots of lentils at the ready in our pantry too. Green, red and black beluga lentils are wonderful for a quick dish like Lentils Ole. One of our absolute favorite vegetarian recipes and one that I have made a hundred times.
We have instituted vegetarian meals or Meatless Mondays if you would like to call it, for well over a decade. Lentils fill in on many of those nights. A Carrot, Parsnip and Lentil Casserole is another great dish to celebrate lentils with. I have put lentils into salads such as Curry Lentil and Butternut Squash Salad or stuffed them into tomatoes like this Greek Stuffed Tomatoes with Quinoa and Black Lentils. They have gone into soups like this Garden Harvest Soup or a great Mulligatawny Soup. We even went to the dark side and added bacon to a dish of Black Beluga Lentils.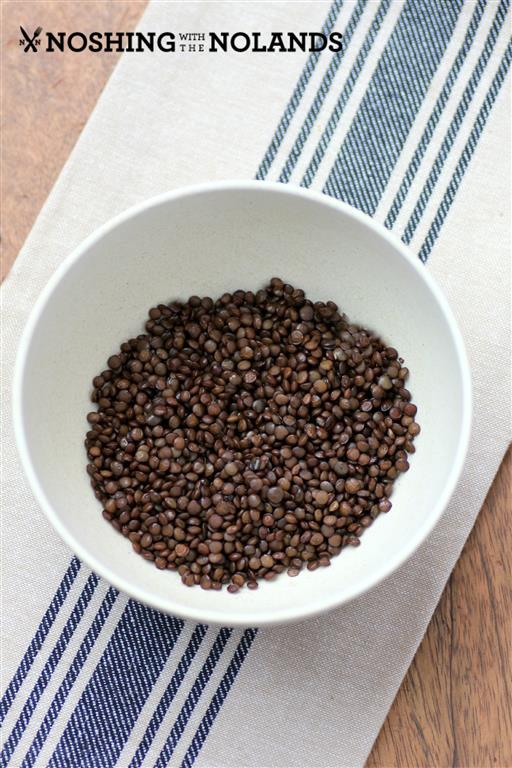 Lentils are very versatile as you can see but I wanted to show you even more ways. Three ways actually in just this one recipe. You don't have to go as crazy as we did with this recipe putting in lentils in every step but my point is to add them to meals, they create color and texture like no other. They are healthy for you with great dietary fiber. They provide a lean protein and are high in folate and iron. One cup are almost all you need for folate and iron for the day!
Let's move on to taste, the most important of all. Lentils have a mild nutty flavor and they lend themselves to many spices, flavors and dishes. You can cook up black lentils with a smashed clove of garlic and once they are cooked and drained just add salt, they make for a nutty wonderful snack just on their own. They have a very mild flavor to, as you can see with the above recipes you can add them to so many cuisines. Today we went Italian with pizza.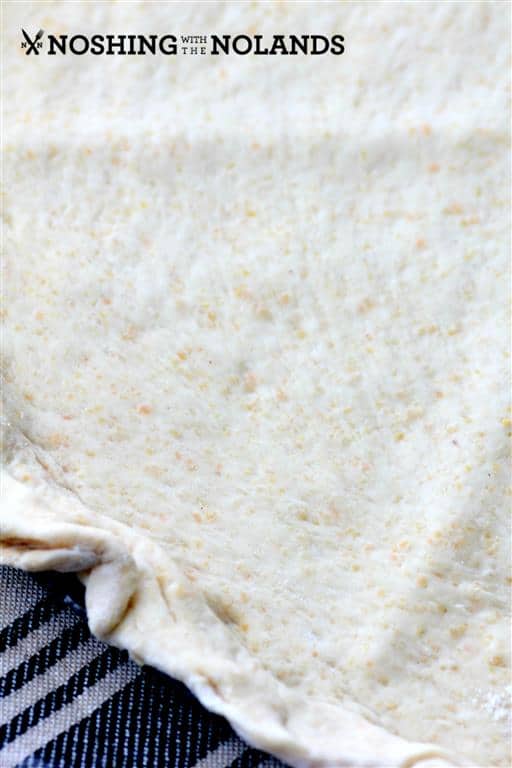 We added red lentils to the pizza dough by making homemade lentil flour. Look at the little orange specks, so pretty!! We still did a regular gluten pizza dough but just subbed in some of the lentil flour for the all purpose flour. Lentil flour is easy to make too, I will show you how.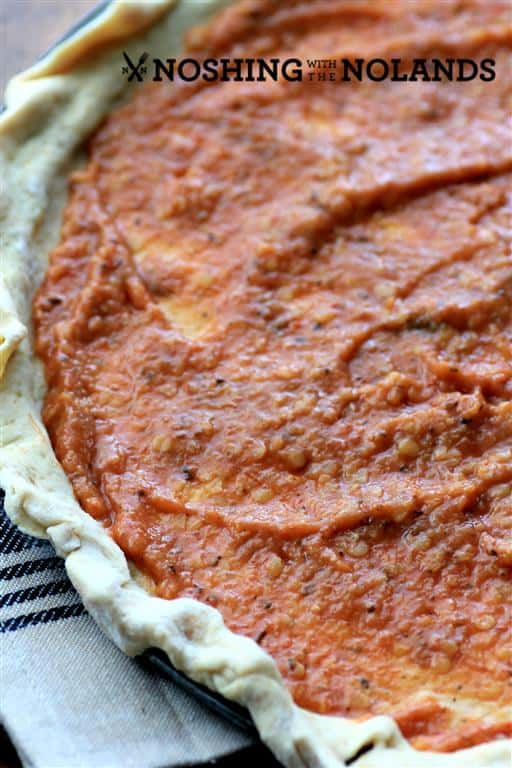 We cooked up lentils and added them to the sauce. Red lentils become very soft with cooking and can be easily added to a sauce like this pizza sauce.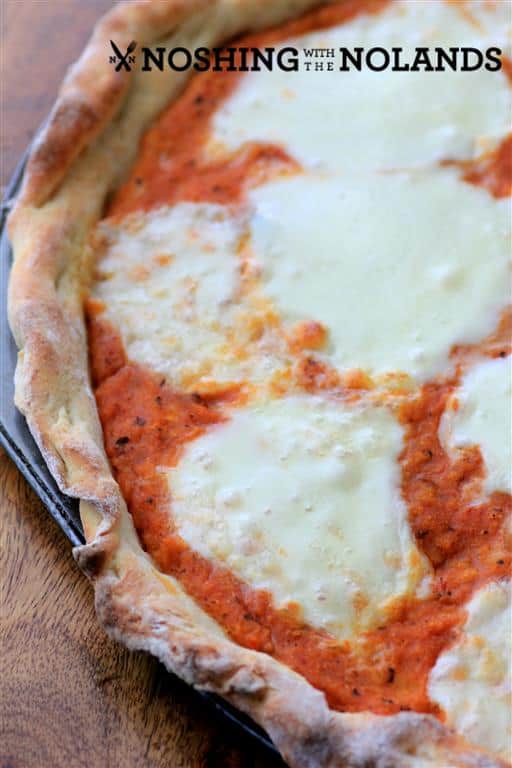 Fresh mozzarella was baked on top. Got to have lots of cheese. You can crisp that cheese up under the broiler to if you like.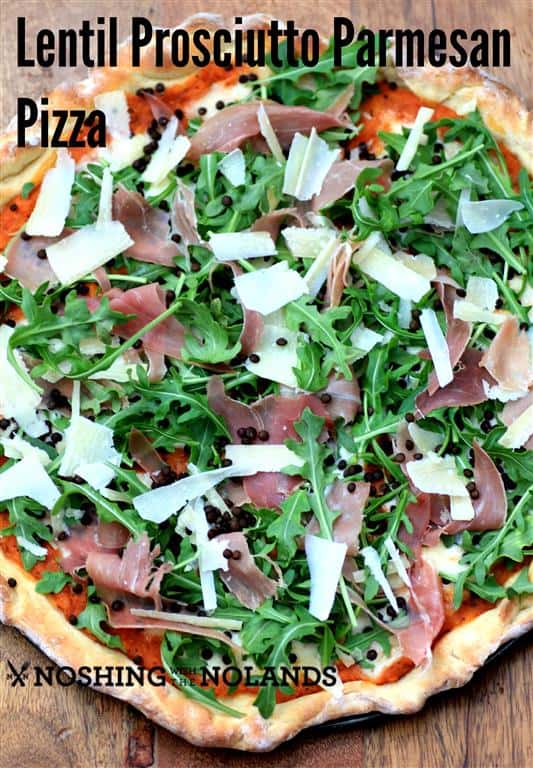 We then added black beluga lentils on top with the proscuitto, arugula and parmesan. A great combination of flavors. Try this delicious and healthy pizza for lunch or dinner. For a quick fix buy a ready made pizza pie crust, you will then have this built and ready to eat in no time at all.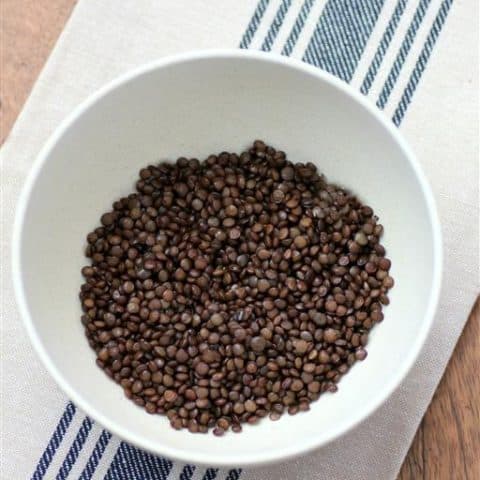 Lentil Prosciutto Parmesan Pizza
Yield: 1-12" pizza
Prep Time: 45 minutes
Cook Time: 45 minutes
Total Time: 1 hour 30 minutes
A pizza showcasing how versatile the great lentil is by using lentils three ways.
Ingredients
Homemade Lentil Flour
Pizza Dough
1 cup warm water
1 Tbsp. active, dry yeast
1 Tbsp. honey
1 tsp. salt
2 Tbsp. olive oil
2 1/2 cups bread flour
1/2 cup lentil flour
Pizza Sauce
1/4 cup red lentils, picked over and rinsed
1/2 cup water
1 Tbsp. olive oil
Garlic Salt to taste
1/2 cup pizza sauce
200 gms. sliced fresh mozzarella
Black Lentils
1/4 cup black lentils, picked over and rinsed
1/2 cup water
1 garlic clove, smashed but still whole
Salt
Pizza toppings
Prosciutto
Arugula
Shaved Parmesan
Cooked black lentils
Instructions
For the lentil flour: Clean the lentils and rinse well and drain very well. Dry between paper towels and then lay the lentils out on new paper toweled lined cookie sheet. Let them dry in a warm spot. Transfer the lentils to a dry skillet and toast over medium heat. Stir frequently so they don't burn. Let the lentils cool and then process in a small coffee or spice grinder until they are a fine powder. You may want to sift the flour if you are using only lentil flour for a recipe. We omitted this step so you could see the lentils in the dough.
Pizza Dough: Directions: 1) In mixer bowl, pour in warm water and sprinkle yeast over the top. Mix in until it dissolves and then mix in honey. Wait 10 minutes or until it is frothy. 2) Add in salt, olive oil and 1/2 cup of flour. Using the paddle attachment on level 2, gently mix and gradually add flour until it forms a ball that clears the side of the bowl. 3) Switch to hook attachment and knead for 3 minutes on level 5. The dough should be elastic and keep a finger imprint when touched. 4) Remove the dough from the bowl. Lightly grease the bowl with olive oil. Place the dough back in and cover for 1 1/2 – 2 hours, until it has tripled in size.
Pizza Sauce: Simmer the red lentils in the water until very tender, 12-15 min. Mash with a fork with the olive oil and garlic salt to taste. Add 1/2 cup of your favorite pizza sauce and stir well. Set aside.
Black Lentils: Simmer the black lentils in the water with the garlic clove until just tender about 20 min. You don't want them mushy. Drain if there is any water left. Remove to a bowl and salt. Set aside.
Preheat oven to 425F. When the dough is ready roll out to desired size. This amount of dough will make two 12" pizzas. You can freeze the other half or double the sauce and make two. Place pizza on your favorite pizza pan or stone. Top with the sauce and the sliced mozzarella. Bake for 10-12 min. until pizza dough is cooked and browned. It may take longer in different ovens and on different pans and stones.
Remove from the oven and immediately top with a handful of the black lentils. Top with arugula, torn prosciutto, Parmesan and more lentils. Serve immediately.
If there are extra black lentils eat them for a snack! Delicious!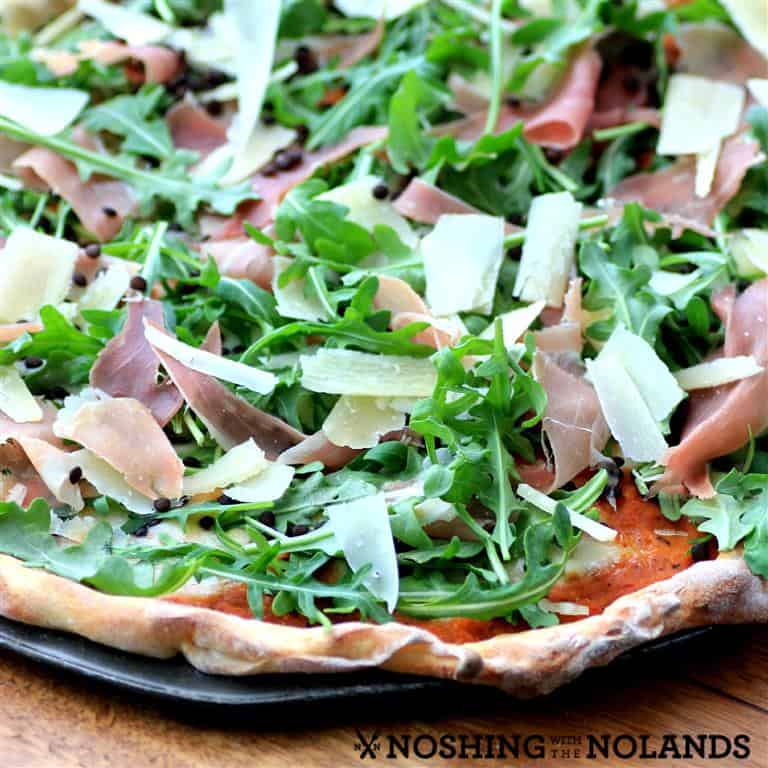 This post is part of a contest supplied by Canadian Lentils.