Let It Snow with Canada Beef
There are events and then there are events that completely surpass all others. This Let It Snow with Canada Beef event is one of those. The Let it Snow event teams up Canada 150 Global Chef Exchange with Canada's winter wonderland as the backdrop. Media personality Mairlyn Smith was the host along with guest of honour, Chef Anton Amoncio from the Philippines.
Amber and myself were thrilled to be included in this two day event starting on December 8th, 2017 at the Canadian Beef Center of Excellence here in Calgary.

Here is the lovely Mairlyn Smith at the Canadian Beef Center of Excellence where the whole two day phenomenon started off. We met at 10:30 on Friday December 8th to begin our adventure into Canadian Beef!
Cook Once, Eat Twice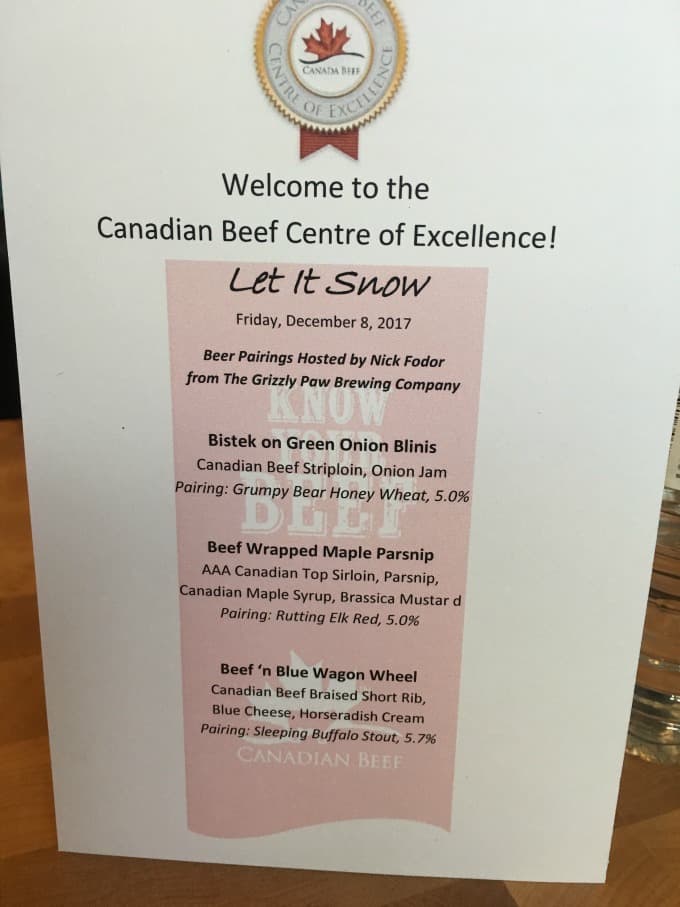 At the Canadian Beef Center of Excellence we dined on these magnificent bites using leftover roasts and short ribs! Loved the theme of Cook Once, Eat Twice!! And all of the these lovely nibbles were paired with beer!!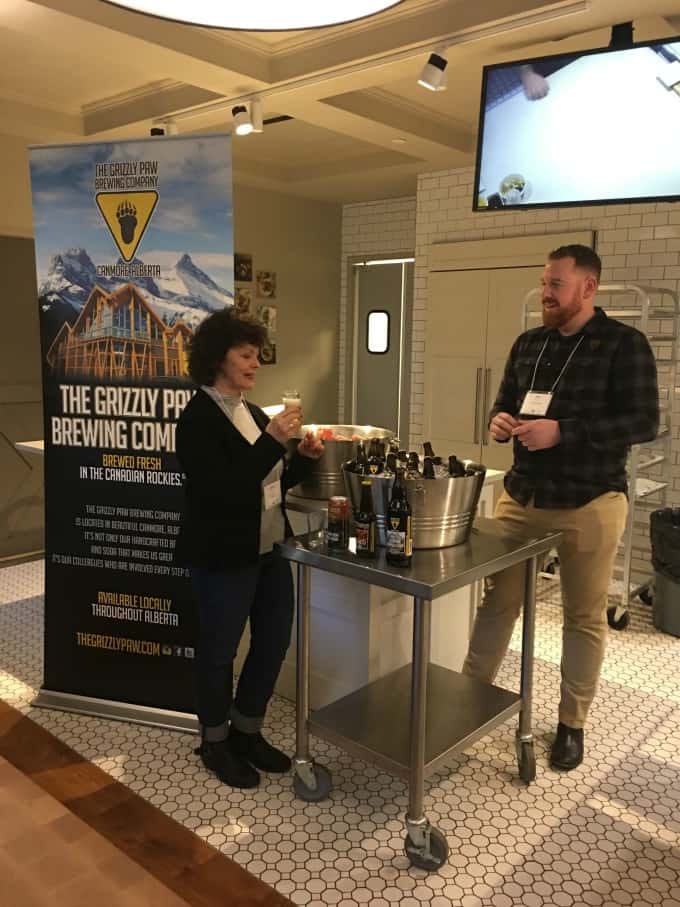 But not just any beer! Grizzly Paw Brewing Company did perfect pairings with our beef nibbles. They are situated in our lovely mountains in the town of Canmore. Their mission at the Grizzly Paw Pub and Brewing Company is to share the Rocky Mountain experience with their friends, old and new, through uncompromising pursuit of quality food, soda, and beer. Sounds perfect to me!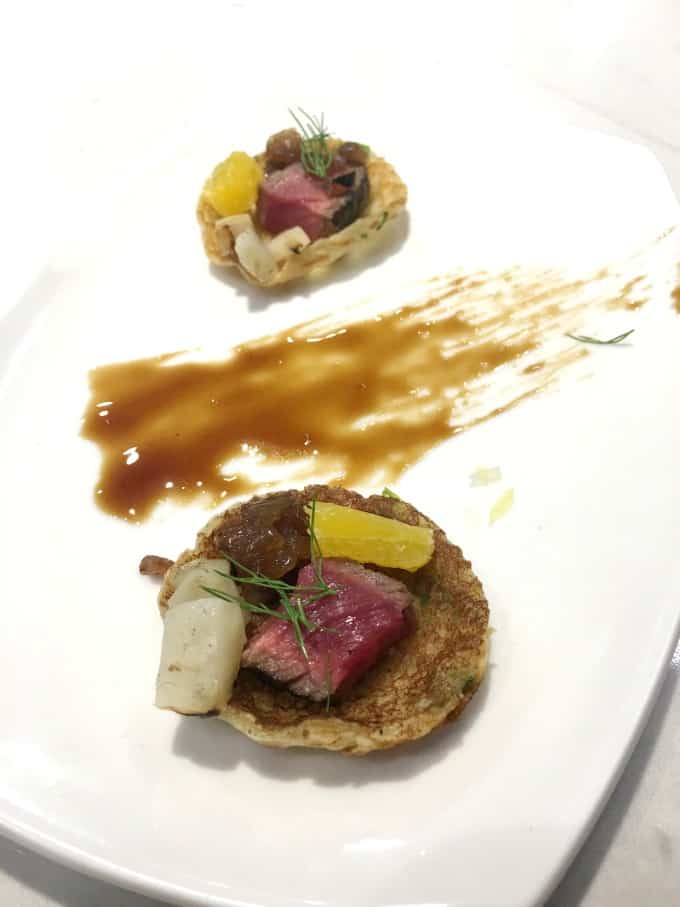 Chef Anton started off the pairings with the lovely Bistek on Green Onion Blinis. Perfectly cooked Beef Striploin with an onion jam went deliciously with Grumpy Bear Honey Wheat!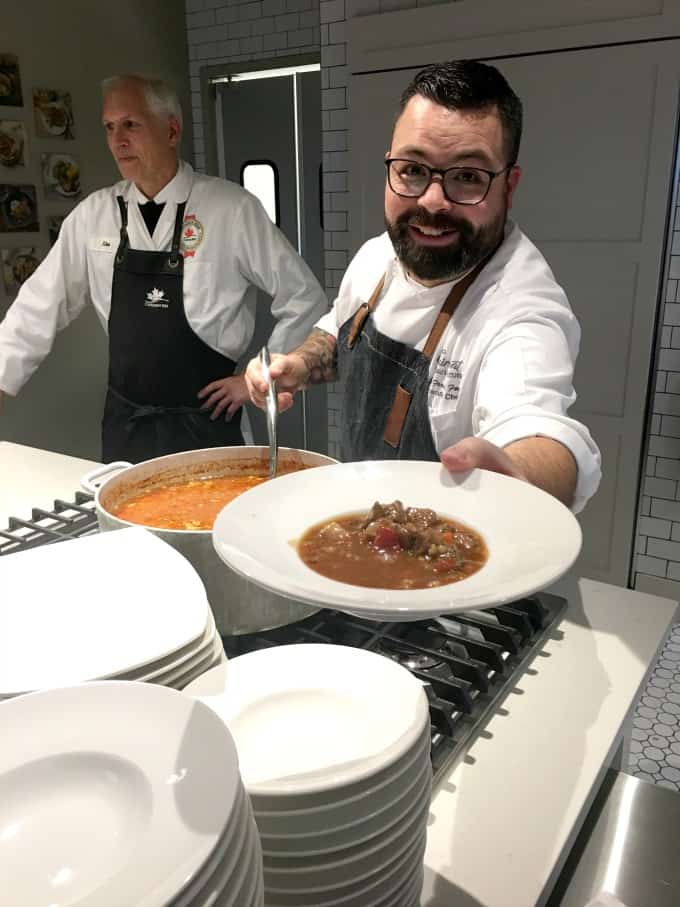 Chef Jean-Francois Fortin of the Fairmont Chateau Lake Louise not only was serving up this amazing beef stew but did a Beef Wrapped Maple Parsnip that was sublime!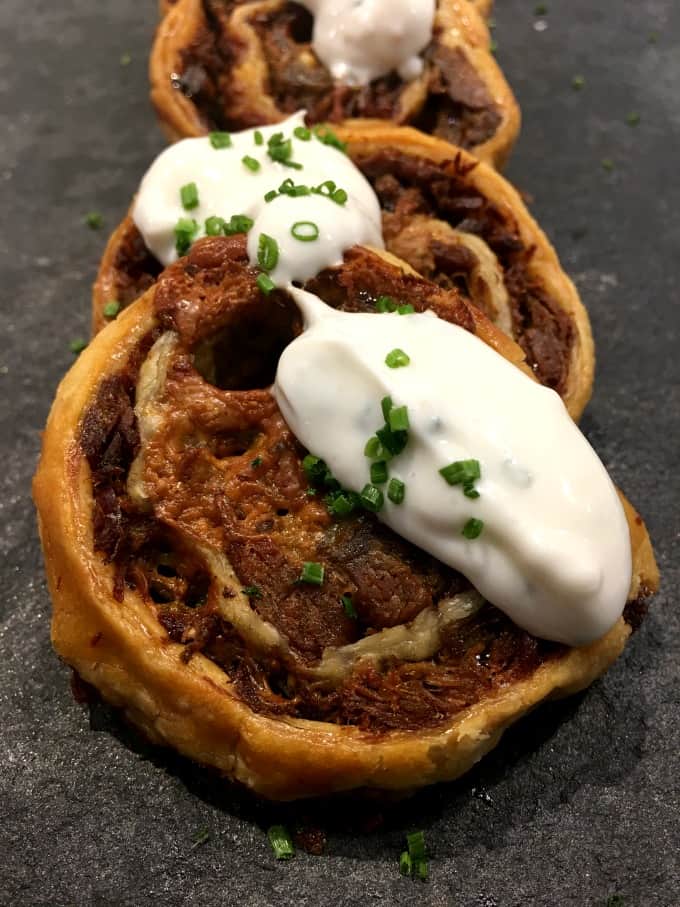 Using leftover short ribs in a whole new light was Chef Mathieu Paré with this melt in your mouth Beef 'n Blue Wagon Wheel. I am a huge lover of blue cheese and horseradish with beef so this was a knock out of the park for me. Paired with Sleeping Buffalo Stout was perfect!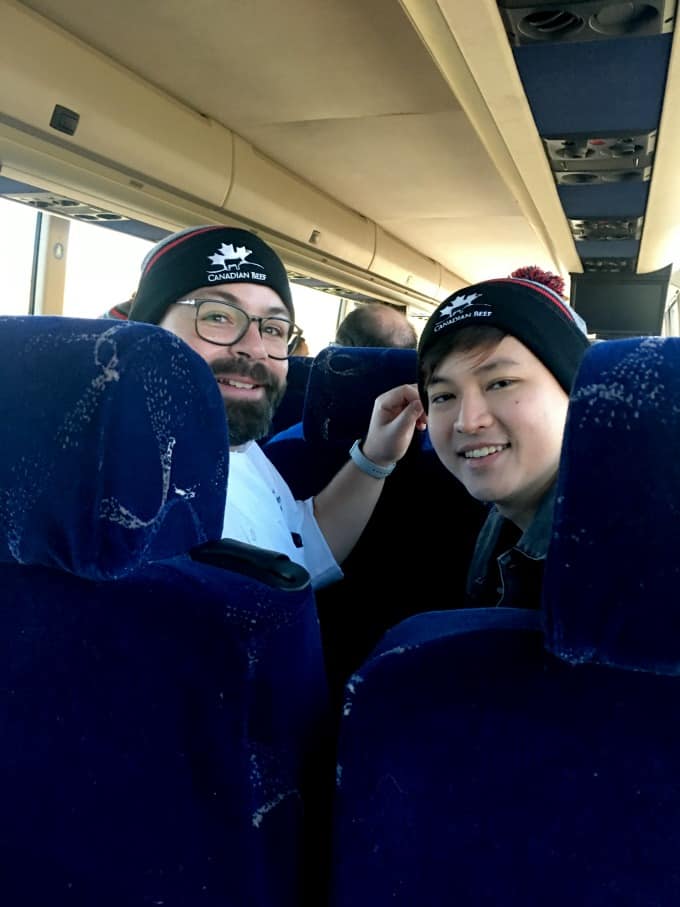 After our lunch we were off on the bus for new adventures! Chef Jean-Francois and Chef Anton were great to engage with. So fascinating are both their lives as Chef Jean-Francois is the Executive Chef at Chateau Lake Louise and Chef Anton as a TV personality in the the Philippines.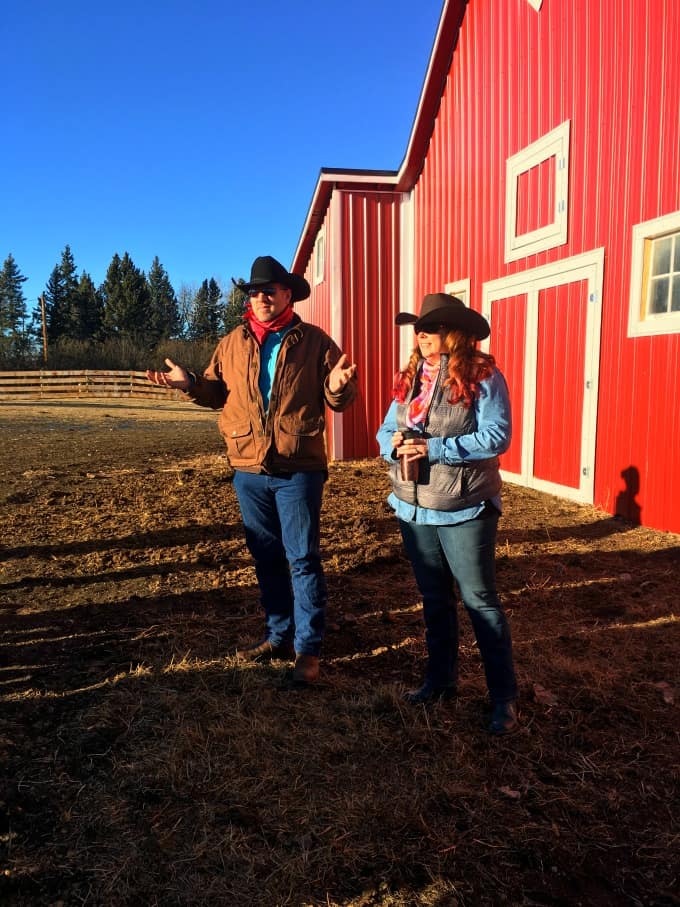 WineGlass Ranch was our first stop. The Eklund's, Travis and Kara are the 5th generation owners of this ranch that has been going strong for 131 years. That is amazing in itself never mind all that goes into a daily operation of a cattle ranch. One small herd came thundering past us to go from one locale to another. How amazing these animals really are!
Amber was able to join me for the two days to enjoy all that this event entailed. She had a wonderful time and instantly made friends with the dog and cat that were on the ranch!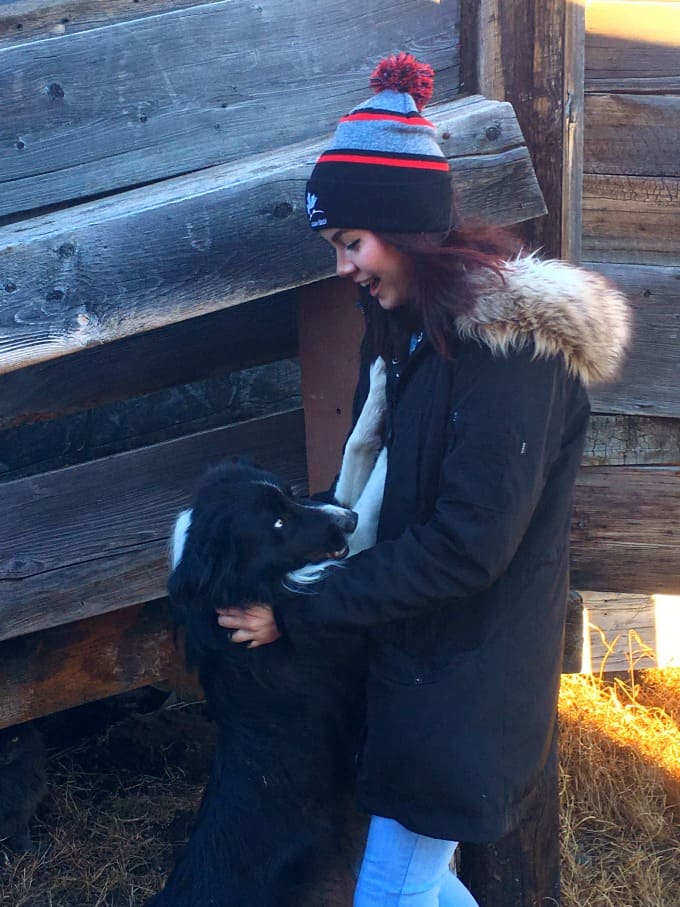 Their dog was so playful. Amber bonded with him right away. Living out on a ranch has some perks. It is a healthy way of life!! WineGlass Ranch focuses on "Heritage Ranching with a Modern Focus" and with being environmentally friendly and sustainable.
Fairmont Chateau Lake Louise
After the ranch we headed for Chateau Lake Louise. This magical place is even more so over the holidays with Christmas trees and decor everywhere you look. So put us in the mood for the holidays.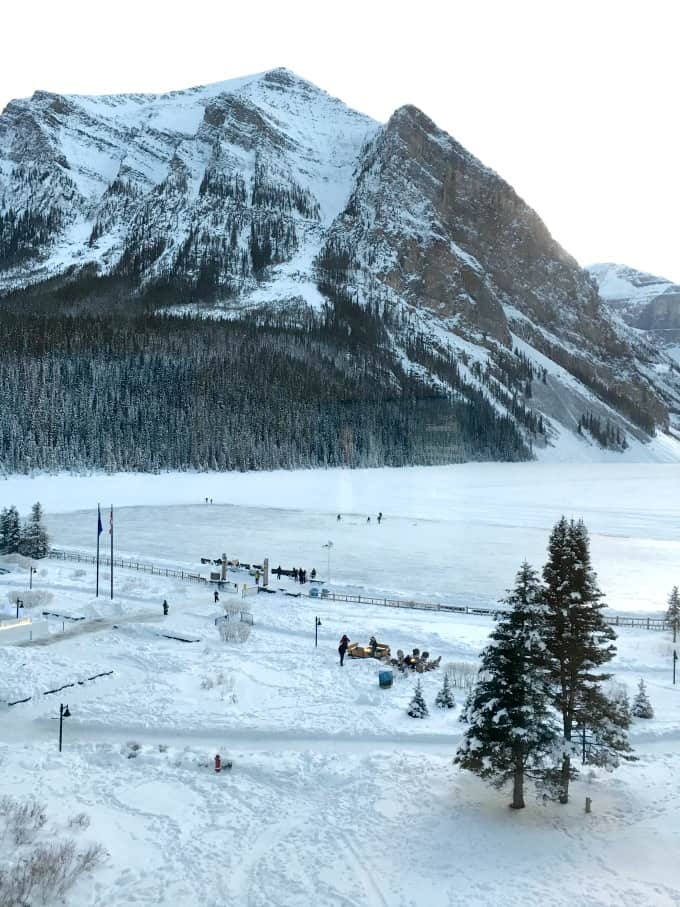 We arrived just as the sun was setting but I wanted to share a peek with you of the gorgeous frozen lake and moutains. This is a view from our stunning Deluxe Lakeview Room with king sized bed.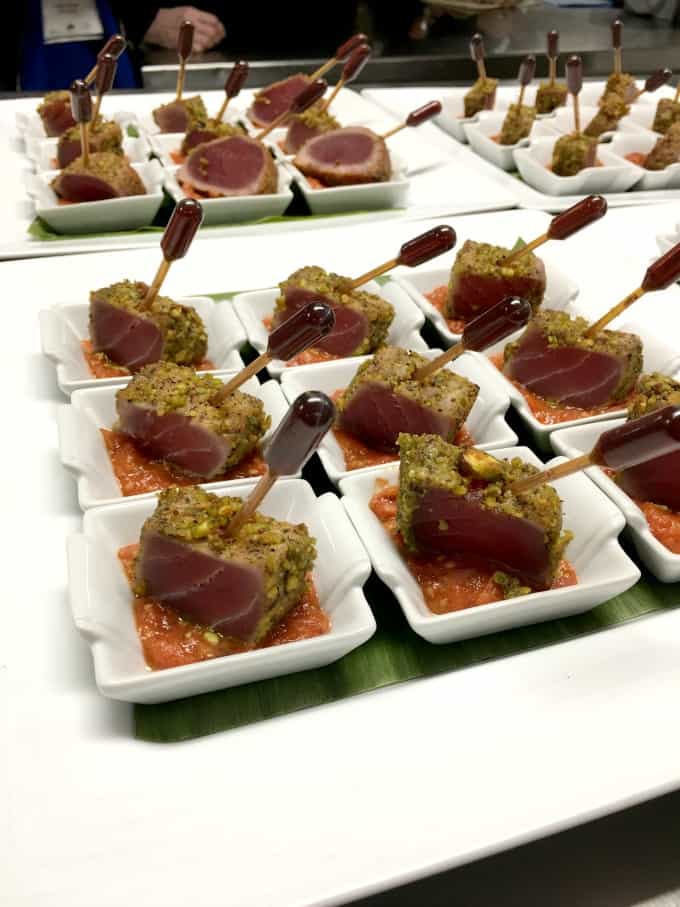 After a short reception to hear about the devastation of this year's forest fires on the ranches across our three most western provinces, British Columbia, Alberta and Saskatchewan, and the recovery efforts and heroic stories of our cattle ranchers we went on a round of kitchen tours. This was headed by Jean-Francois and in each kitchen was a new delicious nibble. Getting away from the beef only for a moment we indulged in this gorgeous tuna. I loved the idea of the little eye dropper. Not only does it aid you in eating but it is filled with a magical sauce to accompany the tuna. Very clever idea!!
The amount of meals that are pumped out of these kitchens with the extreme quality of food provided is something of great wonder. Lake Louise is a travel destination not only to stay at the hotel but to come out and dine for the day.
Let it Snow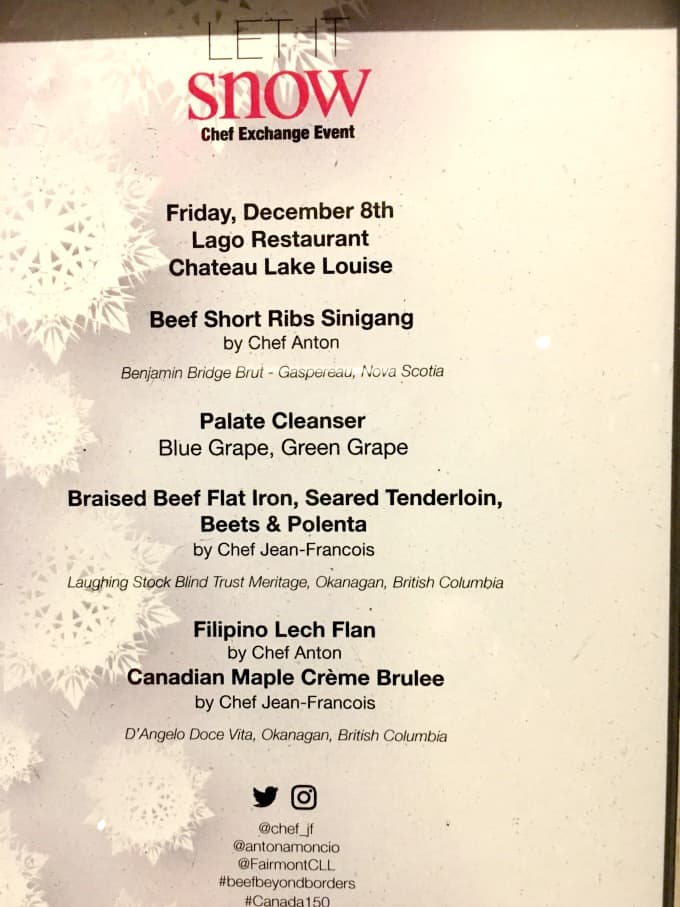 The day culminated with this stupendous meal. How in anyway can this be topped? Canada Beef provides us not only with exceptional protein but also something that we can be proud of. We have 68,000-strong beef farming and ranching families across the country. Be sure to ask when served, is this Canadian Beef?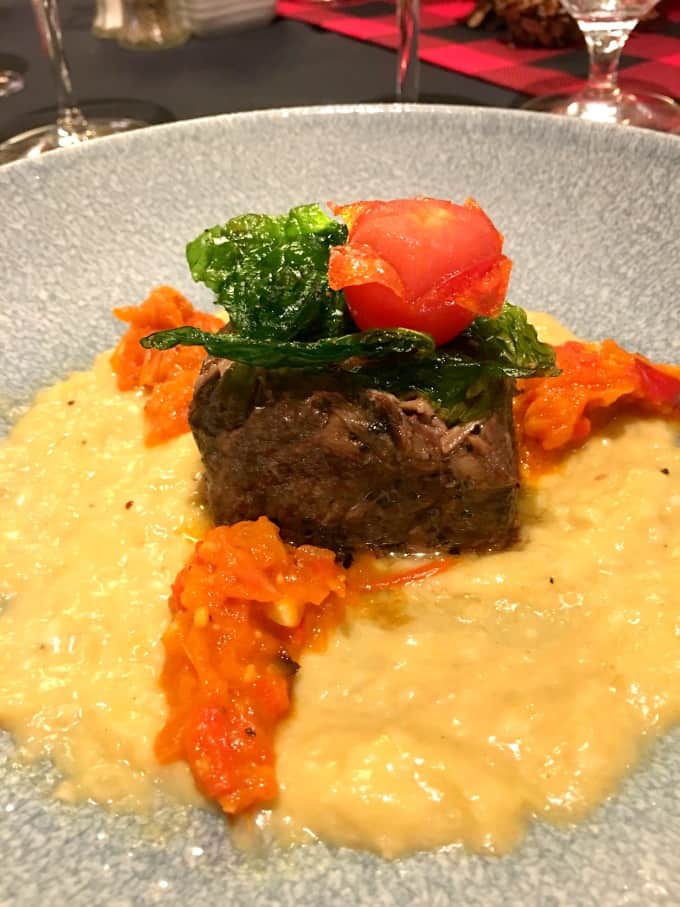 After the first bite of this melt in your mouth Beef Short Ribs Sinigang by Chef Anton, Amber announced why have I never had beef like this before? She absolutely loved it!! I loved the pairing of the bitter mango with the tomato relish along with the tender beef. So unusually exquisite!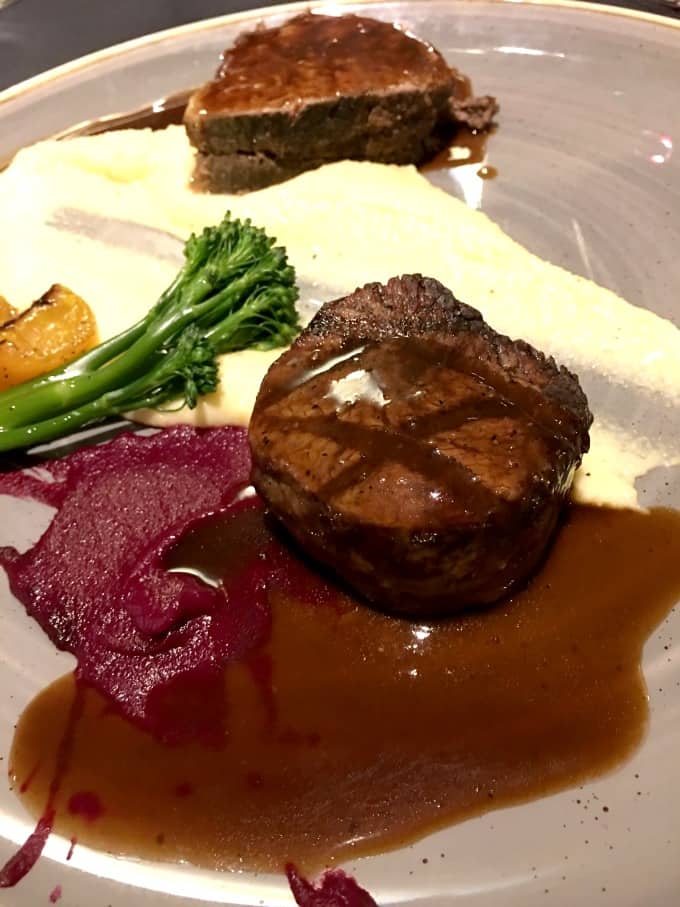 Who doesn't love a traditional beef tenderloin? This Braised Flat Iron, Seared Tenderloin Beets and Polenta by Chef Jean-Francois was fantastic! The creamy rich polenta paired with the tenderloin beautifully. The smear of beets is a welcoming addition on my plate also. One of my favorite vegetables.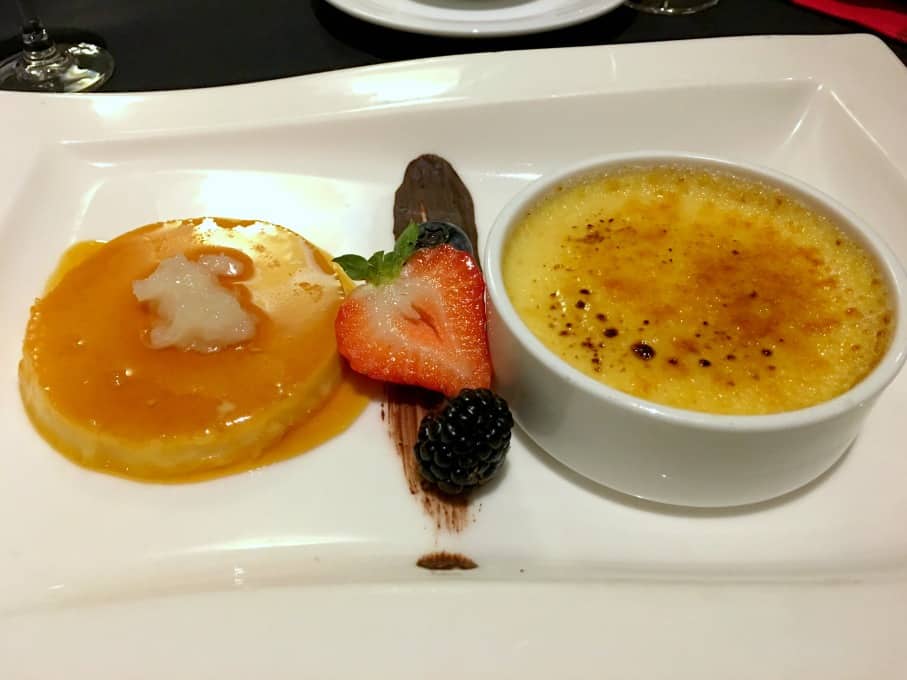 The competition was fierce between Chef Anton and Chef Jean-Francois for the perfect dessert. On the left is Chef Anton's sweet Filipino Lech Flan and on the right is Chef Jean-Francois traditional Canadian Maple Creme Brulee. The winner? I say hands down a tie as I adored both of them!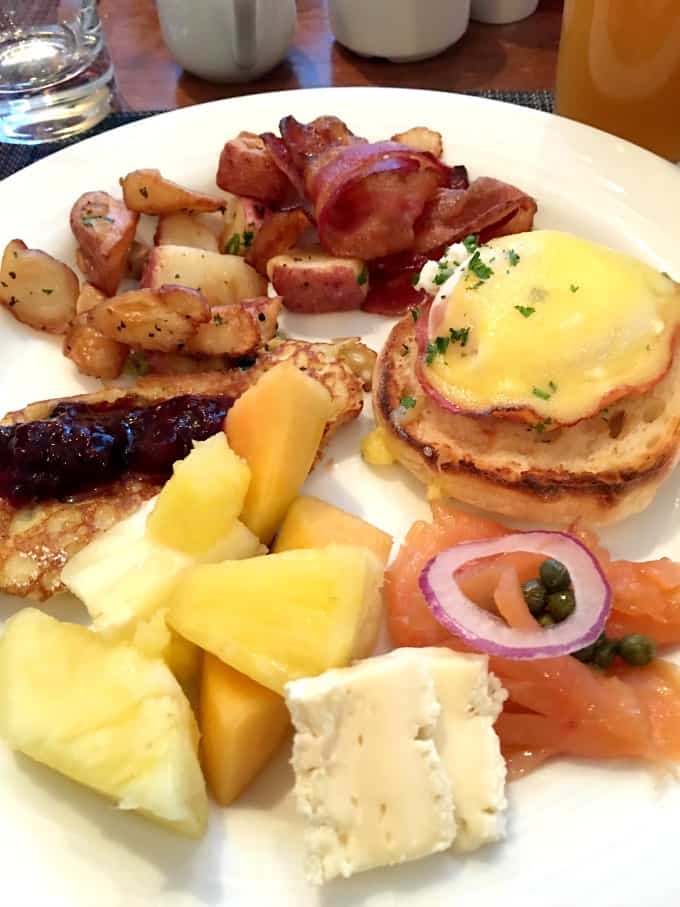 We met again the next morning to enjoy an award winning brunch provided by Chateau Lake Louise. The drive up from Calgary or surrounding area for a stunning brunch like this will make any day magical!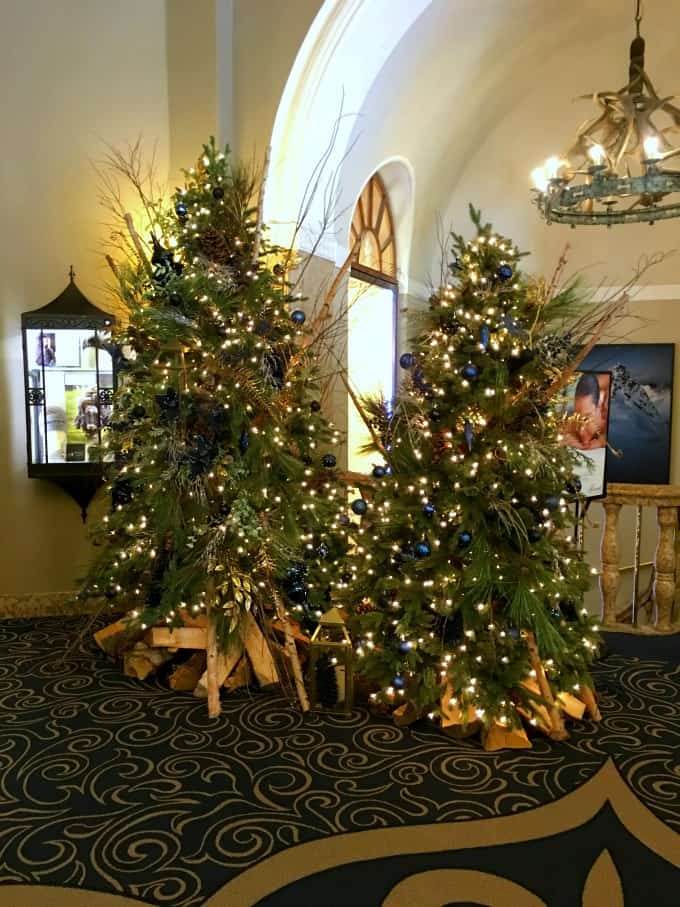 I loved the rustic elegance of these Christmas trees. Happy Holidays everyone from Canada Beef, Chateau Lake Louise, WineGlass Ranch and your very own Noshing With The Nolands!!