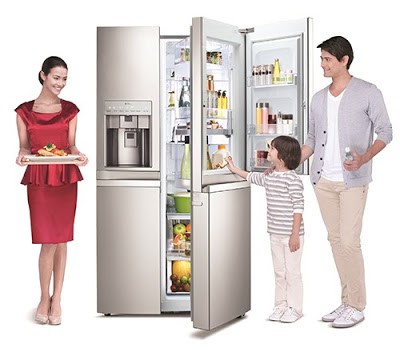 LG Fridge Door in Door 2014 brings you more!! With 30 cubic feet this door in door refrigerator is the largest capacity you can get. It provides you with customizable capacity for even more ways to use your space. What I think is cool is the doors, with the split design you can reduce 47% cold air loss therefore keeping your food fresher longer, what a great idea!!
For that quick grab artist in your household this couldn't be easier to plan out where the drinks and snacks go, without them having to rummage through the entire fridge. Next up is the customizable CustomChill Drawer (not pictured above, see the video). This will house extra refrigerator items but can also be a soft freeze zone, so it allows you a wide range of storing options.
LG has a Smart Cooling Plus System that enables the fridge to have optimal humidity and temperature levels. This means that your food will stay fresher longer!! Plus LG has included a Fresh Air Filter which removes odours.
Ice makers always take up room on the top shelves of a freezer but LG has come up with a design with their Slim SpacePlus Ice System, which is located on the door of the freezer instead.
Smart Diagnosis has self-diagnosing capabilities that can communicate 24/7 with customer service over the telephone giving you peace of mind.
All in all a very handsome refrigerator built for our busy lives and giving you the latest in technology and capacity. Check out the LG website HERE!! Follow along on Twitter and Facebook too! The short video below shows it all!!