Liberado Wines at Ox Bar de Tapas
I have to admit I am a little tapas crazed at the moment. It is something that I have enjoyed from time to time but have not really delved deeply into this food or the whole culture of Spanish wines and foods. Now I just simply can't get enough!! When we were invited down to Liberado Wines at Ox Bar de Tapas I enthusiastically jumped at the chance.
Liberado has introduced two new wines to our Calgary area and to other parts of Canada as well with their Cabernet Sauvignon Tempranillo and a Verde Jo – Sauvignon Blanc. Both of these wines are equally good, smooth sipping, great with tapas and other foods and very affordable!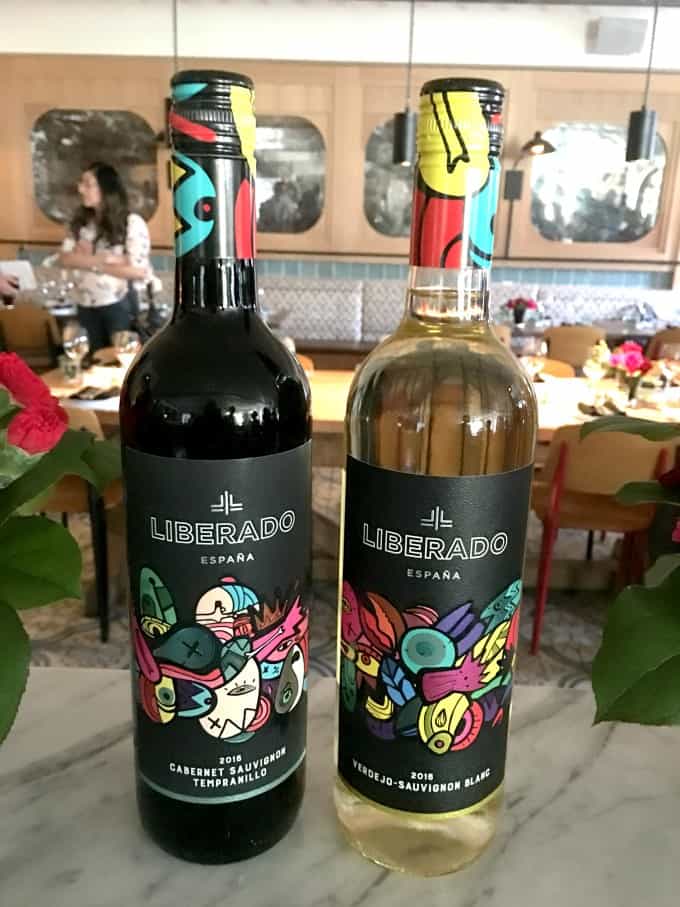 I love the fun labels, so colourful and inviting. They scream celebration and the wonderful fun Spanish culture. The night was hosted by lifestyle expert Francisco Randez and was a celebration of all things Spanish!!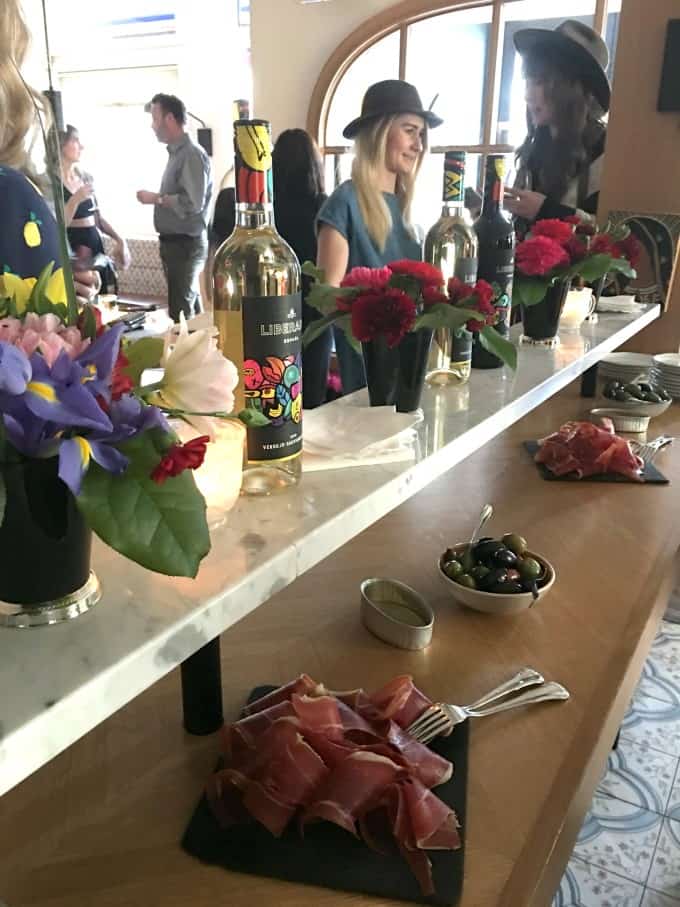 We started the evening with Serrano Ham and lovely Spanish Marinated Olives as we sipped on wine and mingled and chatted. The red wine is 60% Cabernet and 40% Tempranillo and is an easy drinking red with a full body but not too heavy. The vibrant white wine is crisp and has a perfect balance of florals and exotic fruits. These are going to be your summer go to's for sure!!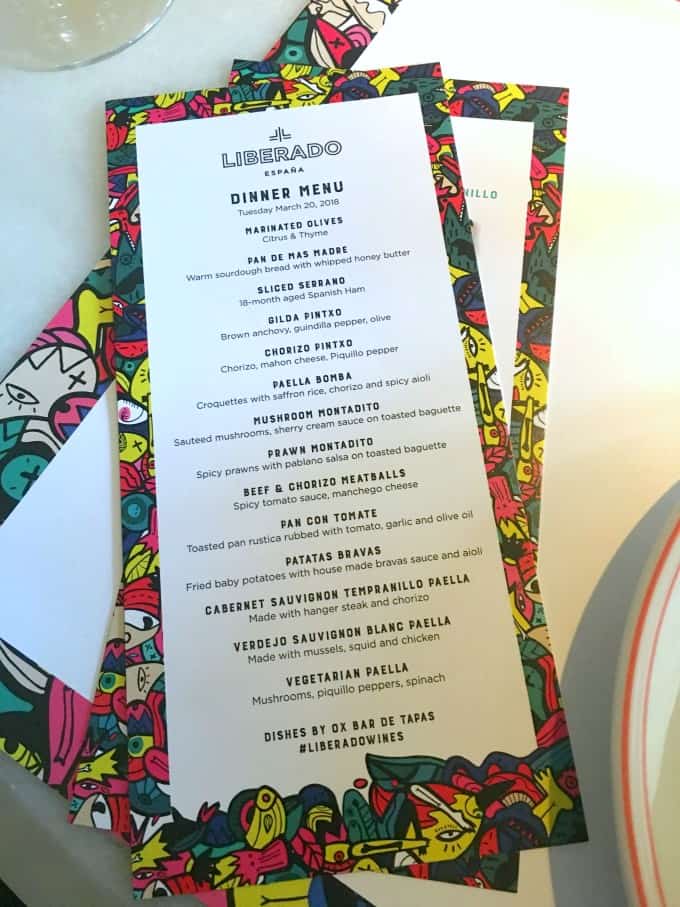 Look at this menu, that is amazing!! There are many classic tapas on here and some new variations from the Ox Bar de Tapas chef Dan Jiricka.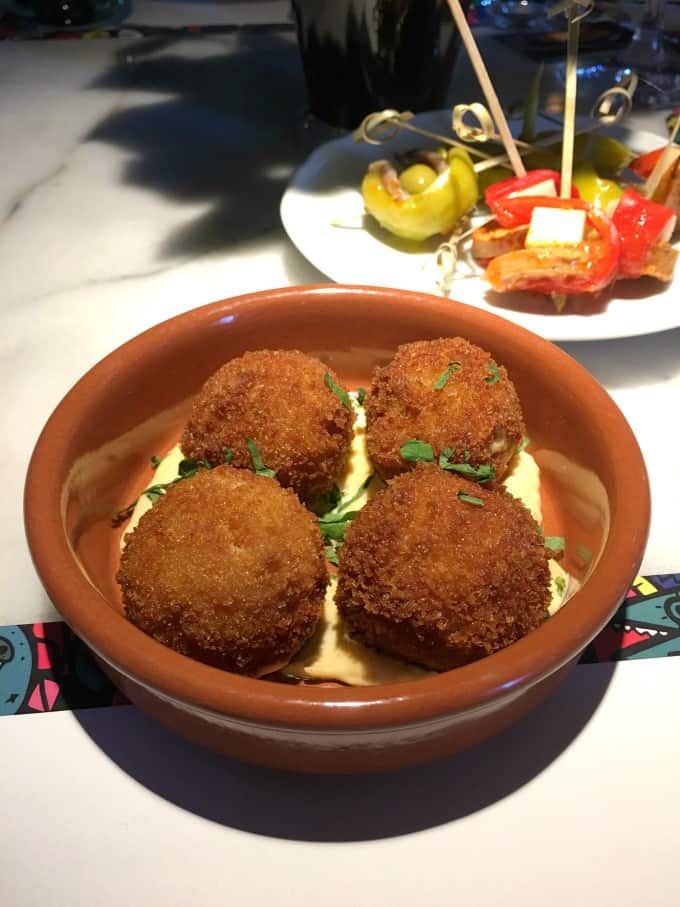 Then we were seated and the night of feasting began!! In the background you will see the two Pintxos. One of my favorites of the evening was the classic Gilda, a little skewer of brown anchovy, guindilla pepper and olive. Salty, spicy and mildly fishy, it was fantastic!! The other Pintxo was a Chorizo Pintxo with mahon cheese and piquillo pepper, also very delicious.
In the forefront are their Paella Bomba similar to an Arancini (Italian) but made with a saffron rice and chorizo and fried crispy and served with a gorgeous aioli sauce.
Liberado Wines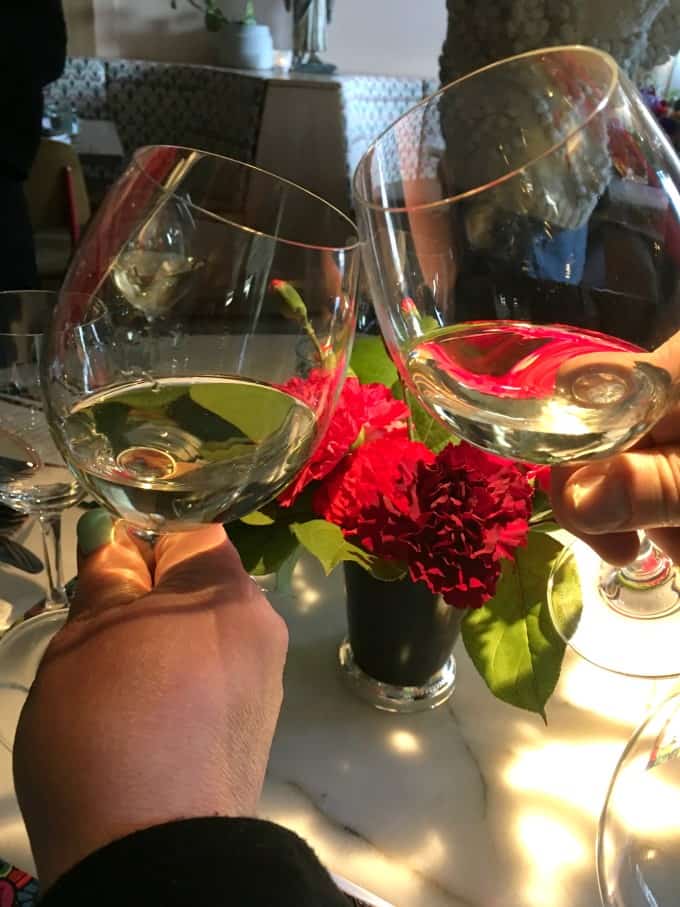 The night continued as we toasted and sipped and indulged in more!!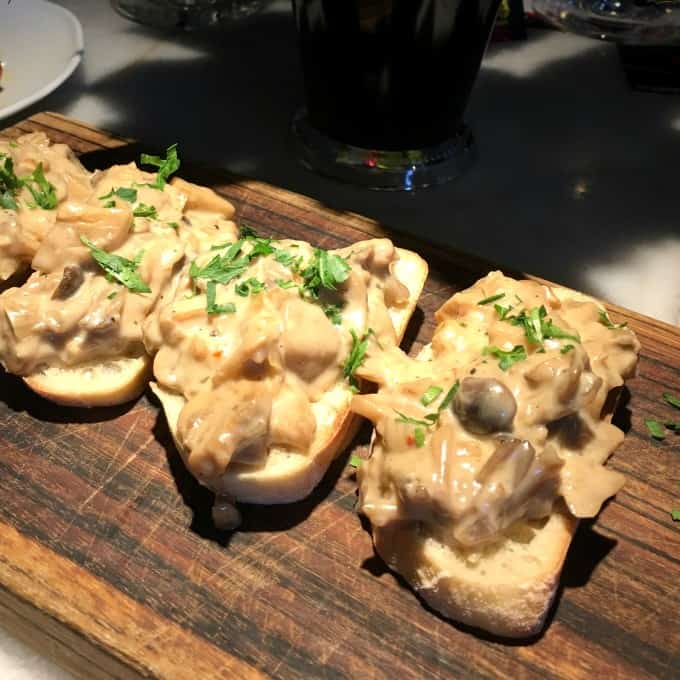 Next up were these mouth watering Mushroom Montadito which are sauteed mushrooms in a cream sherry sauce on toasted baguette. You following along with the deliciousness here? Drooling? Sorry about that!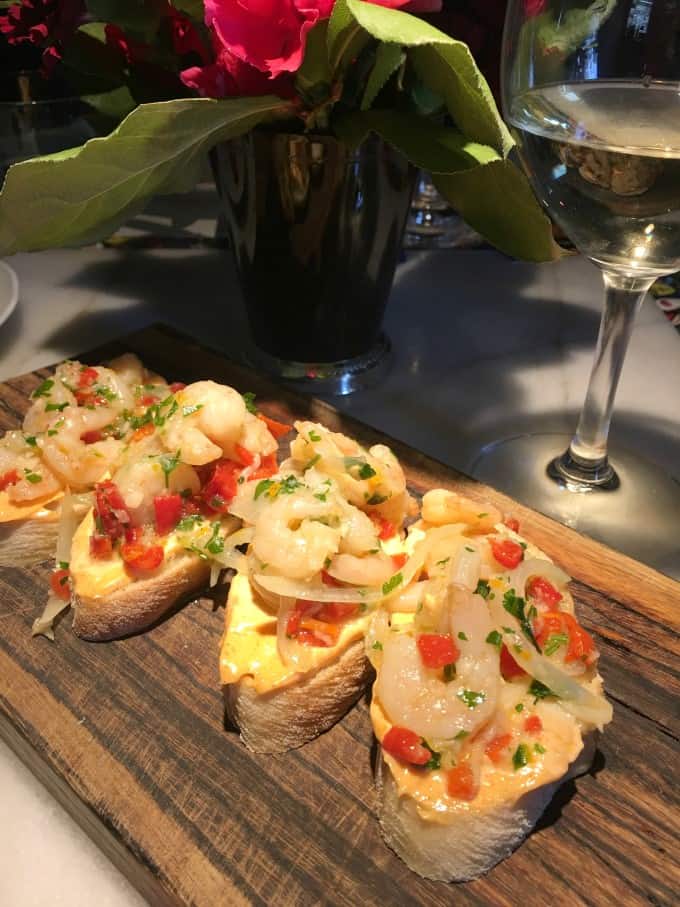 There is still lots to come!! Up next was a Prawn Montadito that was equally as amazing as the mushroom. This was followed by the very traditional Pan Con Tomate which is toasted rustica bread that is then rubbed with garlic, olive oil and tomatoes!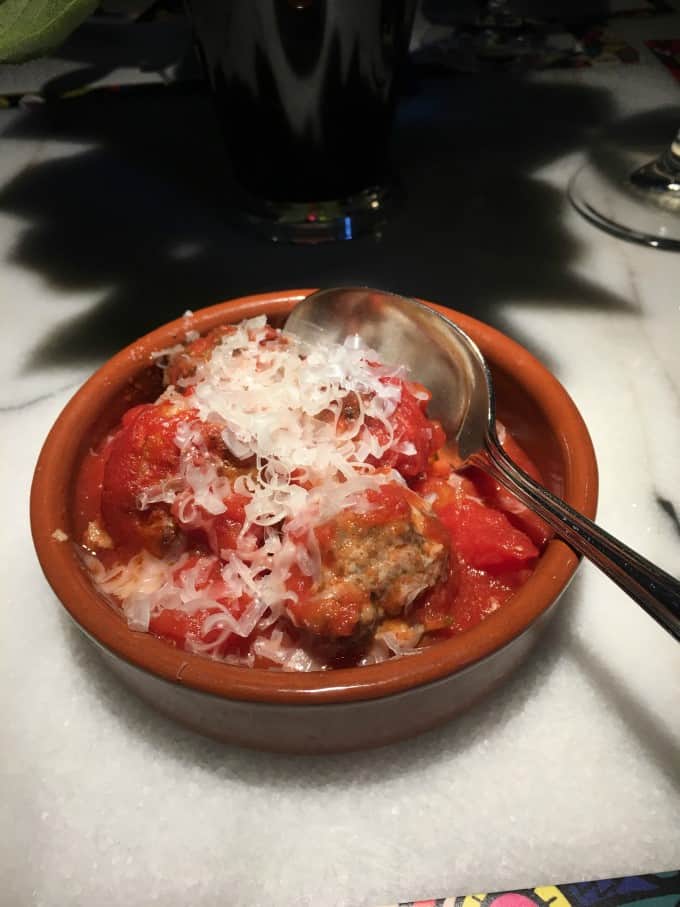 Spanish meatballs are almost always present at a tapas dinner and these Beef and Chorizo Meatballs in a spicy tomato sauce with manchego cheese were presented to please!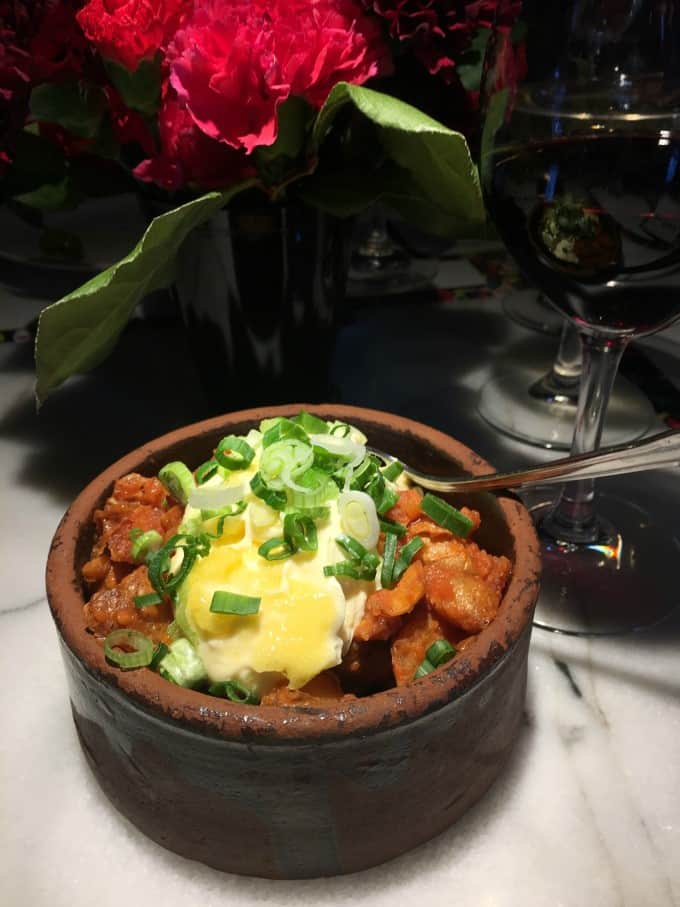 One of my favorites is the Patatas Bravas which is fried baby potatoes in a spicy bravas sauce and served with aioli. These were excellent!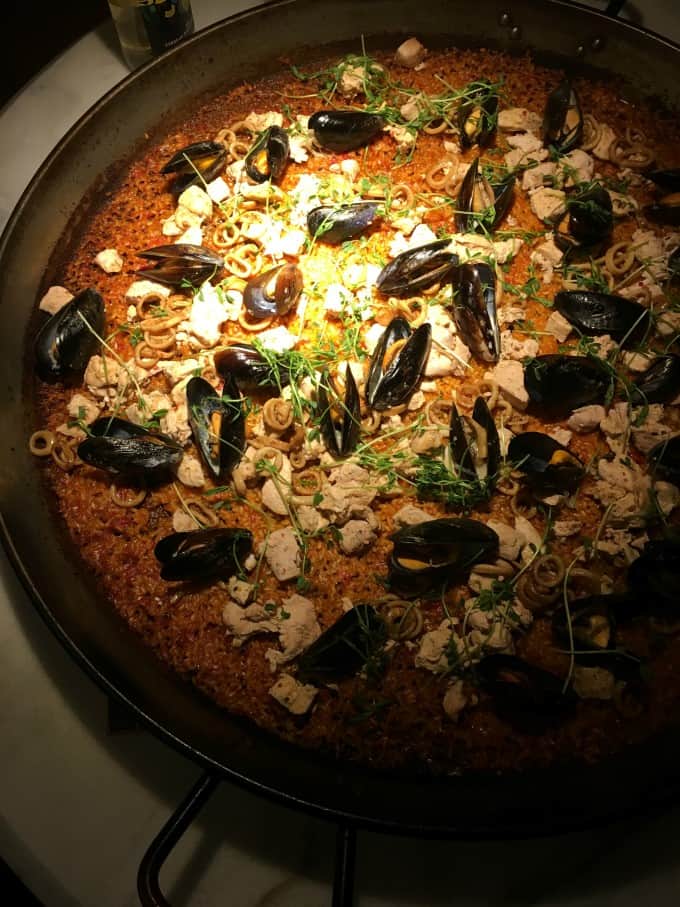 The night then moved into paellas and two were infused with Liberado wines! This first one was a Verde Jo Sauvignon Blanc Paella. This paella had the perfect soccorat which is when the rice gets crisp and yummy and forms a crust at the bottom of the paella pan. It included mussels, squid and chicken.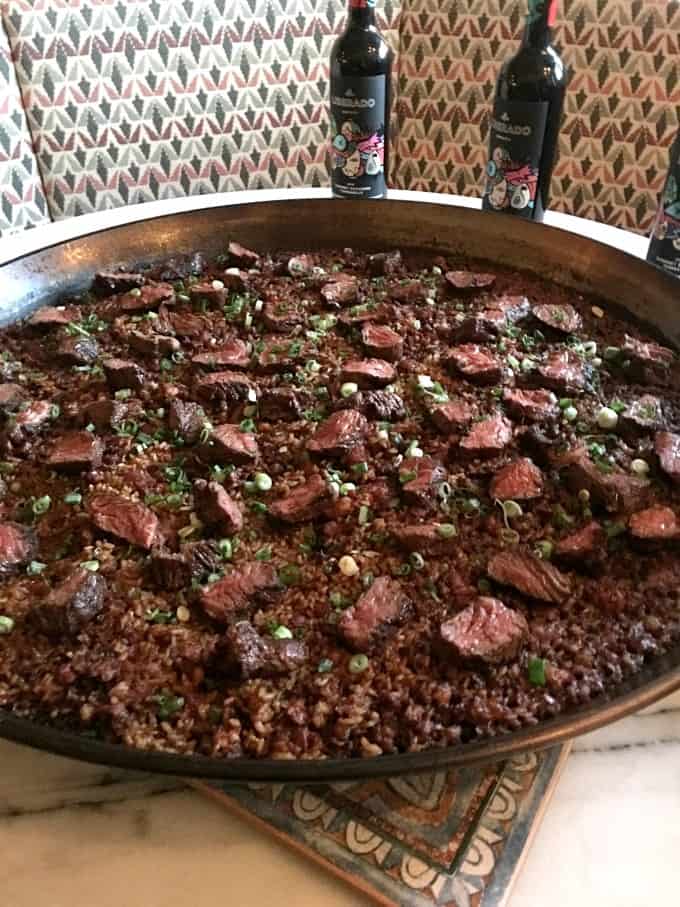 This paella was infused with the gorgeous red wine, Cabernet Sauvignon Tempranillo Paella and had succulent slices of hanger steak and chorizo. There was also a third paella that was vegetarian with mushrooms and spinach and the heat from piquillo peppers. Ox Bar de Tapas thought of everything, right down to a scrumptious salted caramel and chocolate bite for dessert. It was a truly amazing and memorable evening!!
Come and enjoy some Spanish culture at Ox Bar de Tapas with friends and family and some perfect Liberado Wines!! Tuesdays are $25 paella! Follow along on Facebook, Twitter and Instagram for all the latest and greatest!!