I have Renee Dobbs for you today from Magnolia Days. Renee is one of my favorite bloggers hands down. I adore her site as she has one gorgeous recipe after another. I know Renee from our #SundaySupper group and love to work with her as she is not only professional, easy to work with but also lots of fun!! I am so thrilled she is here today to share with you these gorgeous Lime Garlic Shrimp, perfect for a New Year's Eve!!
Hello! I'm Renee from Magnolia Days. I'm a self-proclaimed Domestic Goddess who loves to eat, drink, and dig in the dirt. I'm also a part of Sunday Supper which is where I met Tara. Her posts and recipes always make me hungry or craving something new. It's an honor to be guest posting here while she is away cruising on the sea and relaxing over the holidays. I'm sharing a recipe for an easy appetizer of Lime Garlic Shrimp.
The holidays and indulgences seem to go hand-in-hand. I know I've had my share of cakes, cookies, candies, and comfort food. Having a lighter option to kick off the New Year is a nice change. Seafood and citrus are at the top of my list. Nothing brightens up a dish better than citrus and it even helps to brighten up a dreary winter day. Just the scent of slicing into a lime wakens up the taste buds.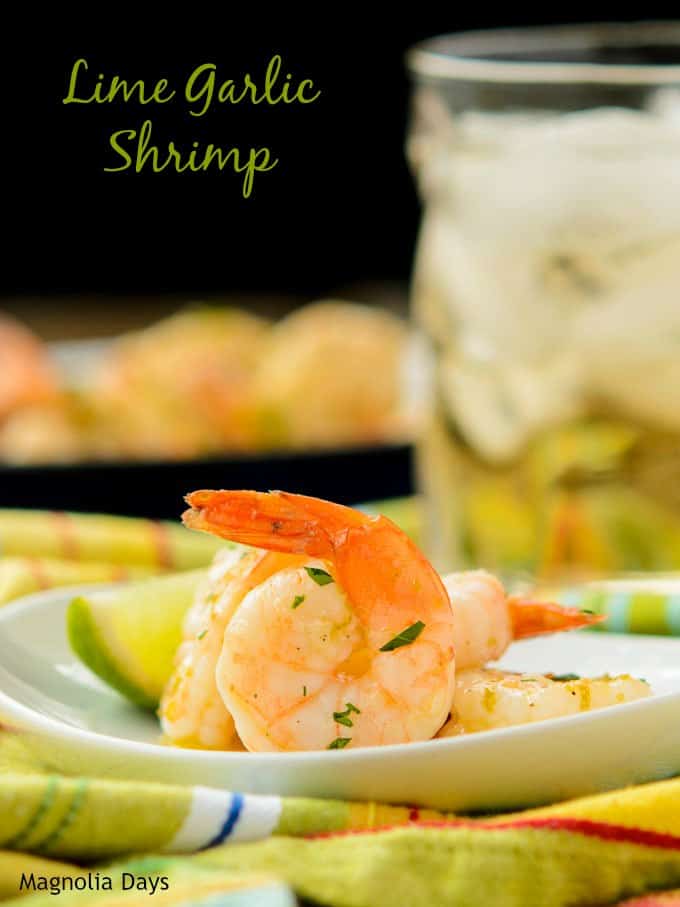 Shrimp is one of my go-to ingredients for a quick recipe. It is done in mere minutes. Fortunately it also takes on the flavor of a sauce quickly too. Lime juice, zest, garlic, and sherry is added in the pan in the last minute or so of cooking the shrimp. When the shrimp are done, remove them from the pan and let the sauce reduce to concentrate the flavors. A final addition of a pat of butter thickens it slightly and then the sauce is poured over the shrimp.
Lime Garlic Shrimp is an elegant tapas-style appetizer. Serve it with lime wedges for extra burst of citrus. I also like to have bread handy to soak up the sauce. Tara's Parker House Rolls would be nice. Shake up a Classic Gibson Martini to sip on while munching on the shrimp. Have the happiest year to come and thanks again to Tara for having me guest post here on Noshing with the Nolands.
Lime Garlic Shrimp
3 limes, divided
2 garlic cloves, crushed or finely minced
2 teaspoons dry sherry
2 tablespoons olive oil
1 pound raw shrimp, deveined and peeled (tails left on)
Salt and pepper
1 teaspoon unsalted butter
Chopped fresh flat-leaf parsley for garnish
Grate the zest and squeeze the juice from 2 limes into a small bowl. Add garlic and sherry and stir to combine. Slice the remaining lime into wedges.
Heat oil in a large skillet over medium heat. Season shrimp with salt and pepper.
Add shrimp to the skillet and cook, tossing occasionally, until it begins to turn pink and curl. Pour in the lime juice mixture.
Cook until shrimp is done (do not over-cook the shrimp). Remove shrimp from the skillet and place in a serving bowl. Cook the sauce and additional few minutes to reduce it and concentrate the flavors. Add butter and stir until melted and combined. Pour sauce over shrimp and garnish with chopped parsley. Serve immediately with lime wedges.
Serves 4
Prep time: 5 minutes
Cook time: 10 minutes
You can follow Renee on Facebook, Twitter, Google+, Pinterest and Instagram.