Disclosure: I was compensated for this post. All opinions and experiences are my own.
Do boring side dishes get you down? Creamer potatoes from The Little Potato Company will bring the excitement back into your meals! They are the perfect all year round potato but go so great in summer sides like this Little Potato Charred Corn Salad.
This salad is very versatile as it can be served cold, room temperature or hot! I also have a delicious trick if you are lucky enough to have any leftovers. It is something that I so enjoy all summer long and I will show you later in the post.
The Little Potato Company have wonderful easy-to-cook-and-serve Oven|Grill Ready trays that are perfect any day of the week for delicious easy side dishes but for this recipe I wanted to use their Terrific Trios for added color in the salad!
This Little potato combination found in Terrific Trios has red, yellow and blue potatoes. Each of these provide a unique visual and taste profile and was perfect for my salad.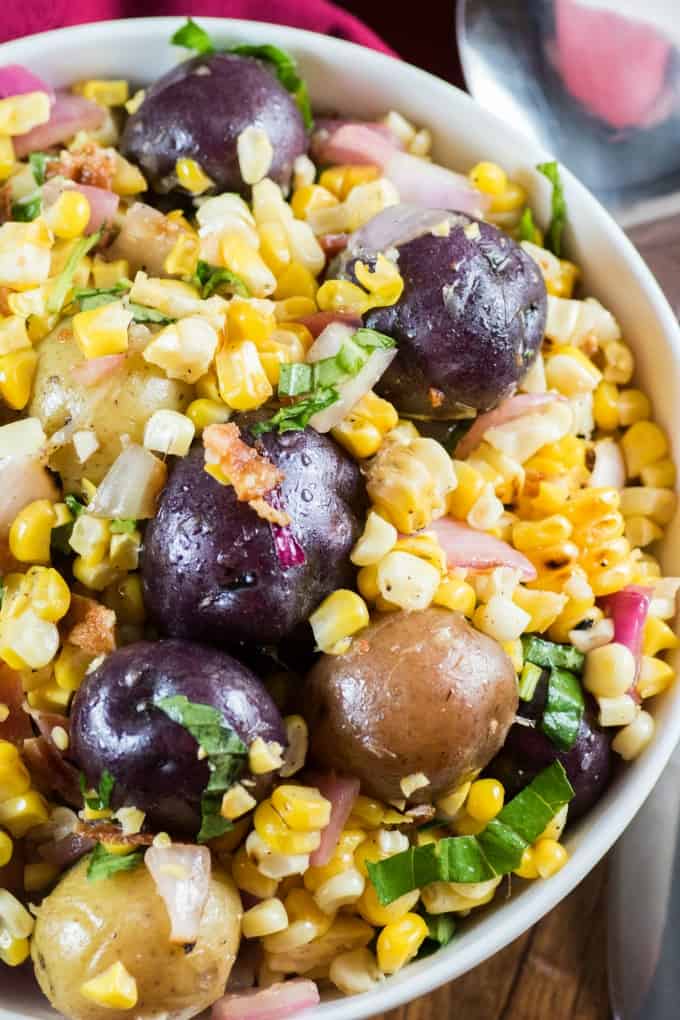 The blue potatoes just pop with their purple skins bursting out of that charred corn!! I love the look of this salad; don't you want to just dive in!!
This dish makes a hearty side for so many barbecued entrees and will be your favorite go to all summer long!!
Charring on the Grill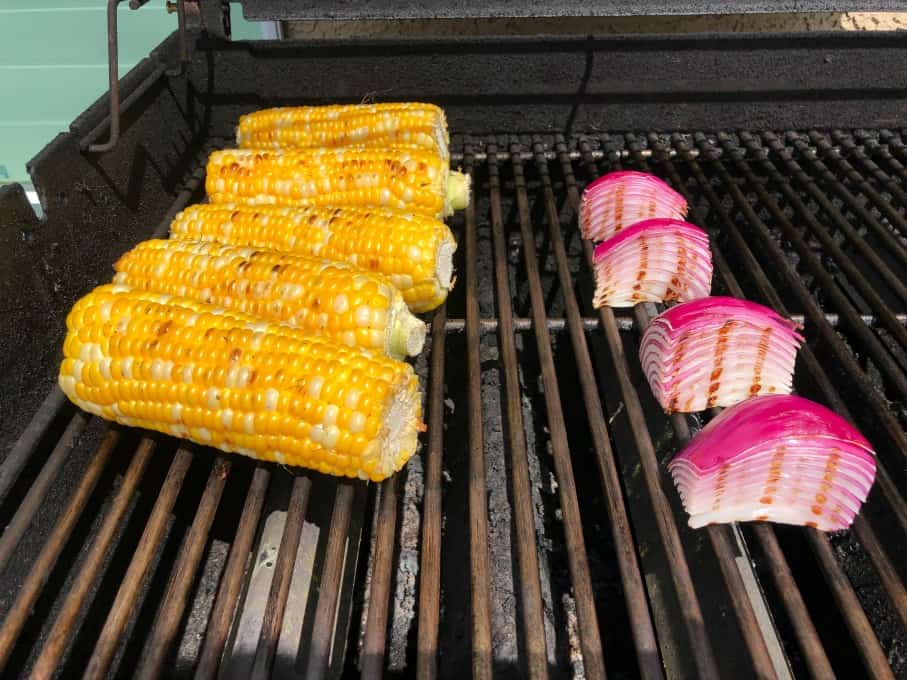 A little tip for this recipe is to cook the corn with a nice char. This also helps with the red onion. They can go directly on the grill.
This makes the sugars in the corn come out and takes away the pungency to the red onion.
You can place them directly on the grill as shown. Cut the onion into large chunks like into quarters so that it won't fall through the grill.
How to Make Corn Salad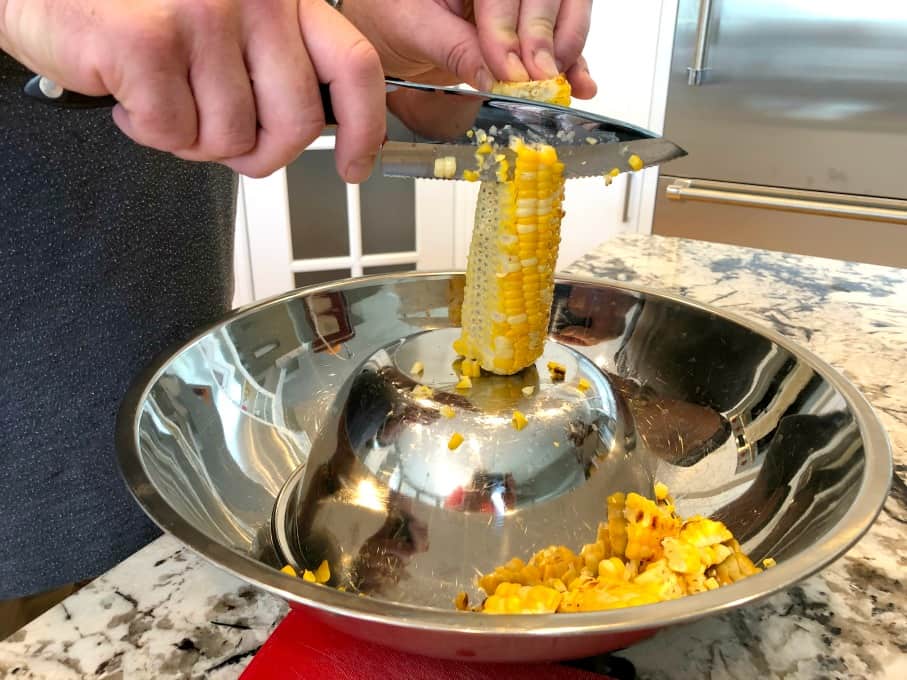 To get the kernels off the cob first let them cool. Then place a smaller bowl inverted in a large bowl and stand the cobs on top of that bowl.
This will allow the kernels to fall into the larger bowl and won't be shooting themselves all over your kitchen. It is a very clever trick to save you immeasurable clean up.
The larger bowl will now serve as your mixing bowl to add in all of your ingredients.
Terrific Trio Little Potatoes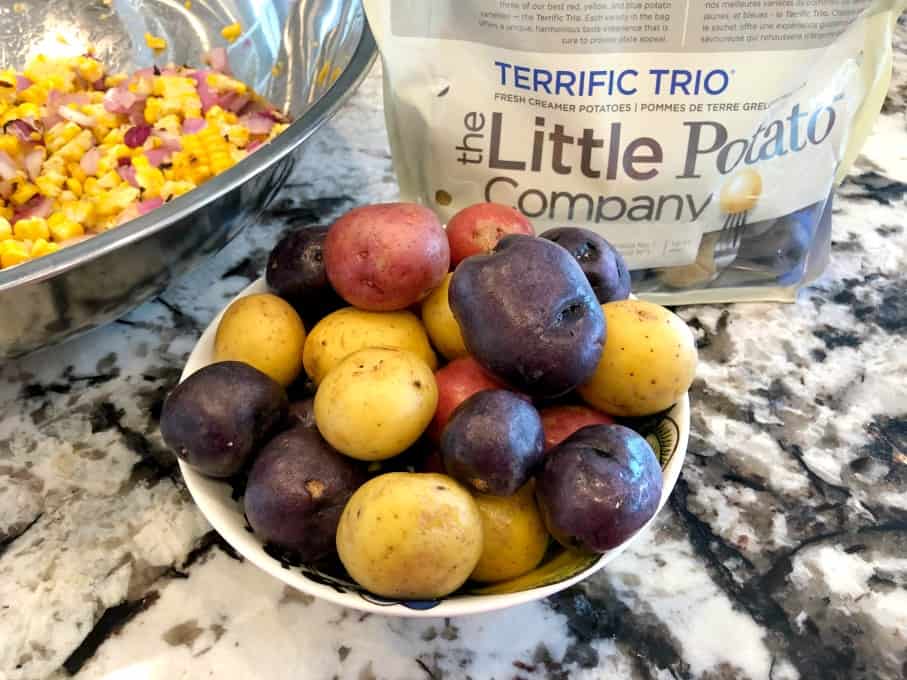 See how pretty those colors are of the Terrific Trio from The Little Potato Company!! They come already washed, require no peeling and cook up in boiling water in just 15 min.
Nothing works better than that to get dinner on the table quickly and easily.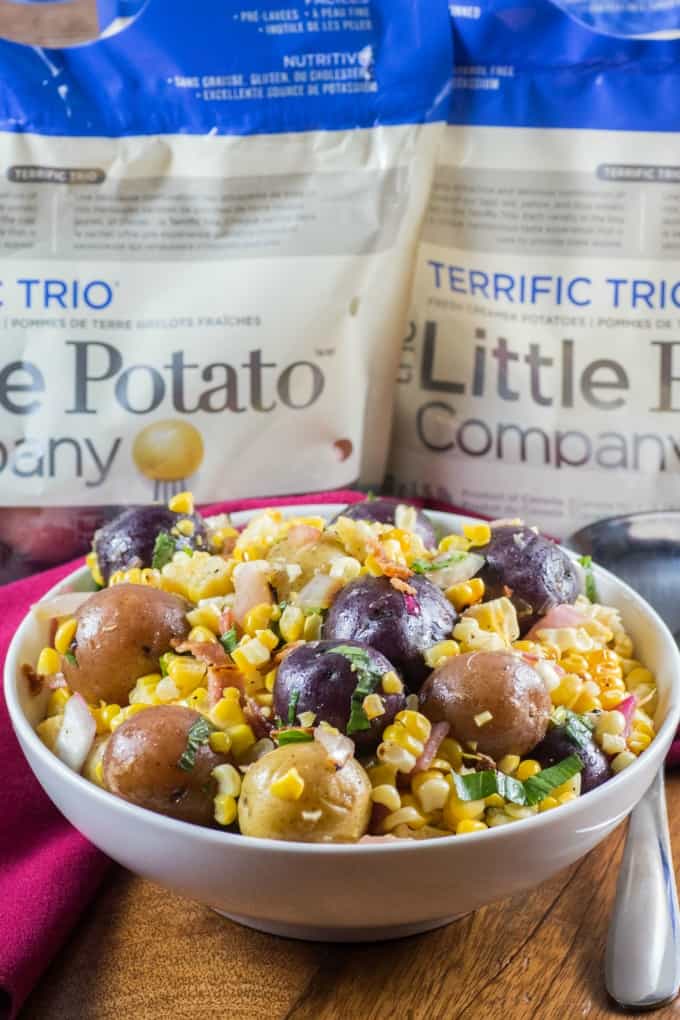 The flavors of this salad are great with smoky bacon, basil and a light splash of red wine vinegar and olive oil. No mayo comes near this potato salad which is a nice change!!
Little Potatoes at Their Best!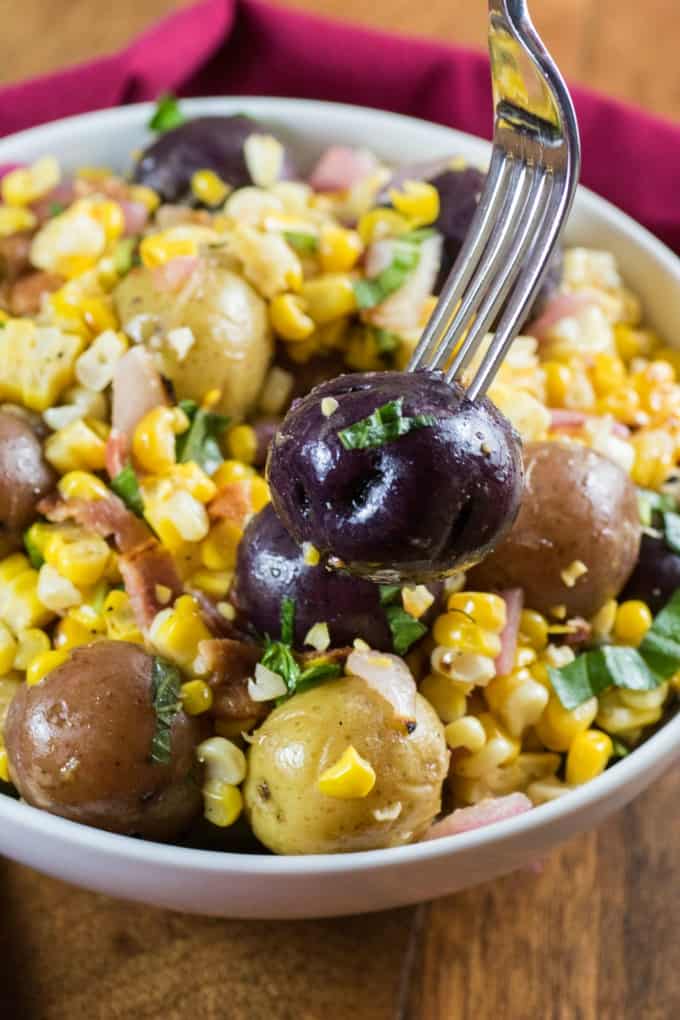 When the potatoes have a gloss from the salad dressing they really are show stoppers making you want to grab at least one of each for your plate with the salad.
This salad or side dish will be one that disappears quickly at any BBQ, gathering or potluck. It is unique but so wonderful with common ingredients.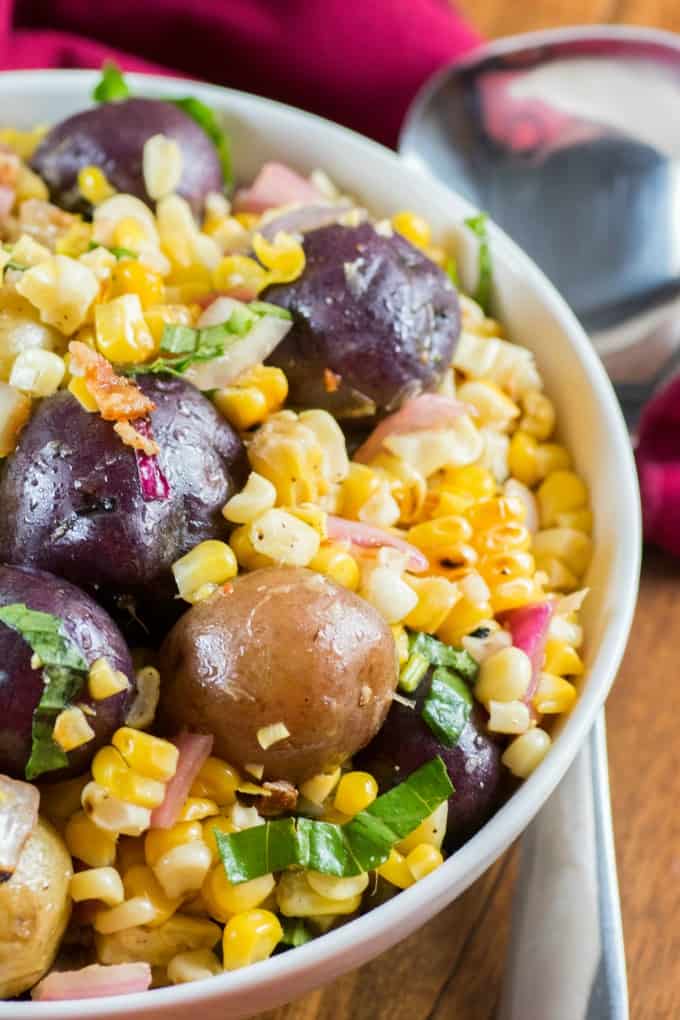 If you want to serve this hot then mix your corn, red onion and bacon together. Place into a large fry pan with a bit of butter and on a gentle low heat warm back up again. Season with salt and pepper.
When the potatoes are done add them and then finish off the heat with red wine vinegar, olive oil and the basil. Serve immediately. The red wine vinegar gives this salad just the right amount of freshness and brings everything to life.
Next Day Hash, The Best!!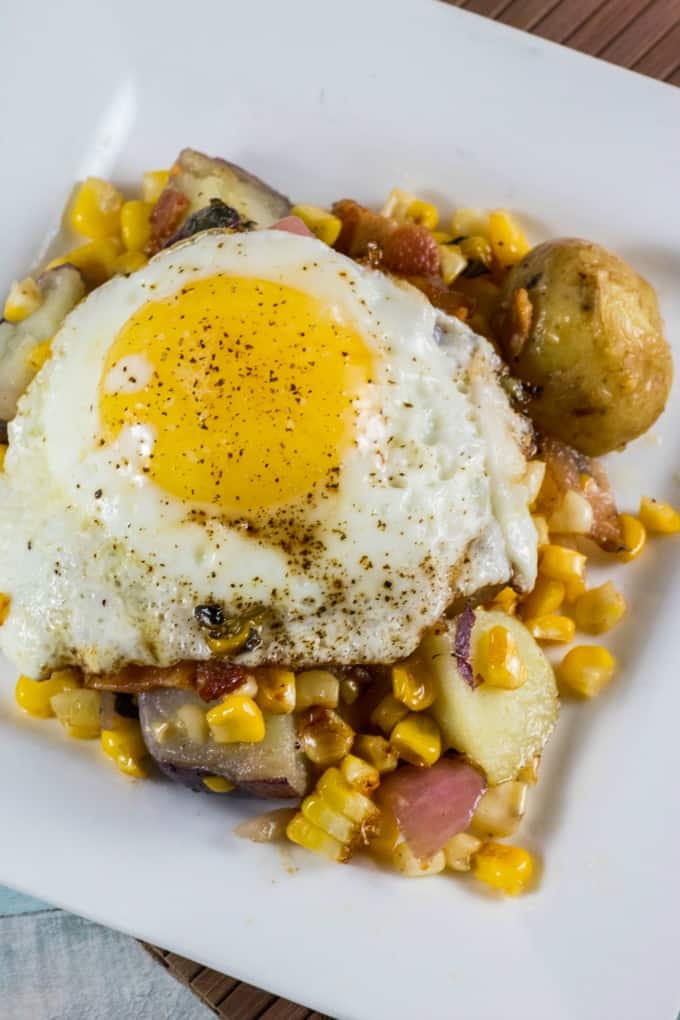 Now here is my morning after trick. If you are lucky enough to have leftovers of this magnificent Little Potato Charred Corn Salad then cut up the potatoes into chunks and in a little bit of oil or butter heat up the salad again.
In the same pan make room in a portion of the pan for an egg or two. Fry them up and then place on top of the rewarmed salad.
This makes a delightful breakfast or lunch and one that all three of us indulged in again separately at different times finding some leftover in the fridge. It is like the best hash you will have!!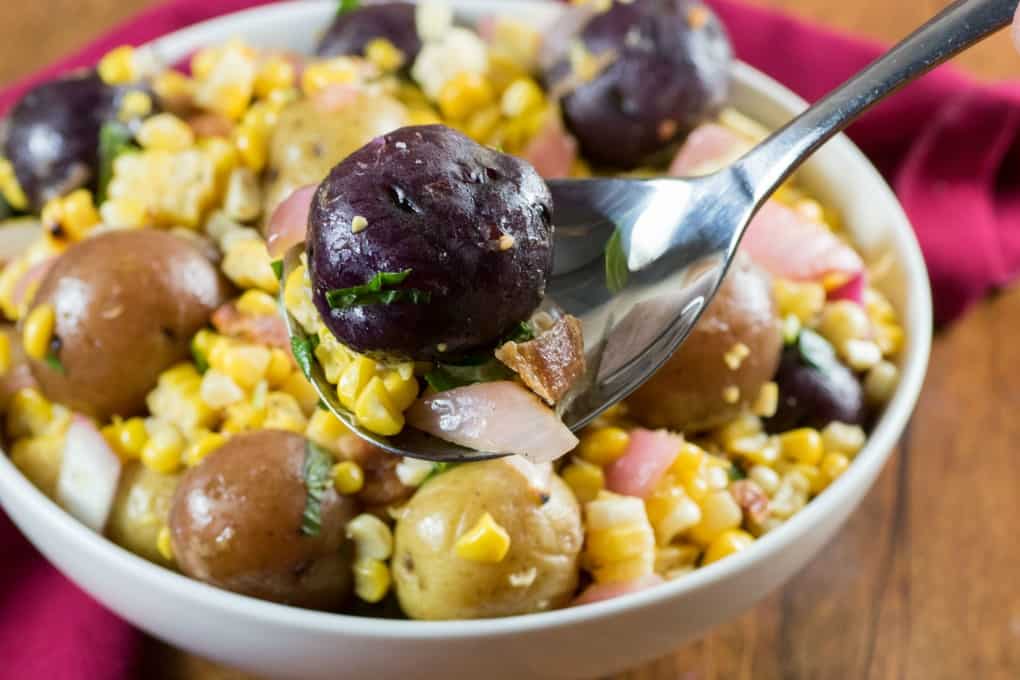 Nothing beats a fresh corn salad with the vibrant colors of The Little Potato Company's Terrific Trio. The colors don't bleed, blemish or fade with cooking giving you a show stopper of a salad.
Little potatoes are also packed with nutrition, are high in fiber and are fat, cholesterol, sodium, and gluten free!! This gives you a healthy punch to your summer dining!!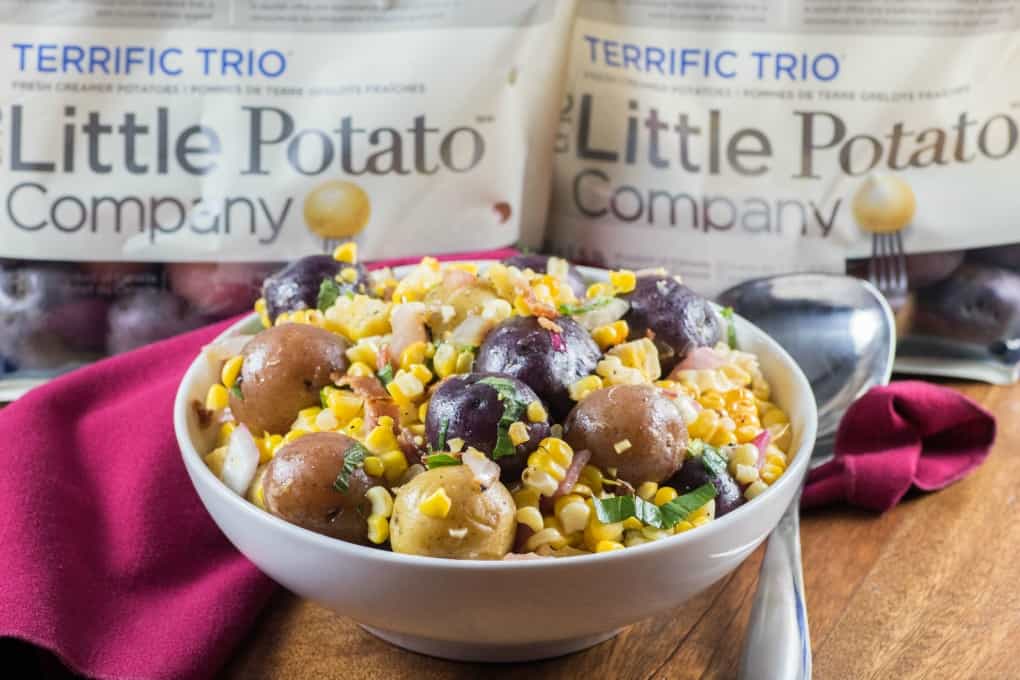 Do you have to bring a dish to a gathering every summer but tired of bringing the same thing? This salad will get you rave reviews and keeps you safe from the "everyone bringing the same old thing".
I will never forget seeing a sea of Caesar Salads at one gathering we were at. I think almost every single person brought that but me. My hot side I brought that day was devoured!!
Enjoy this all summer long!!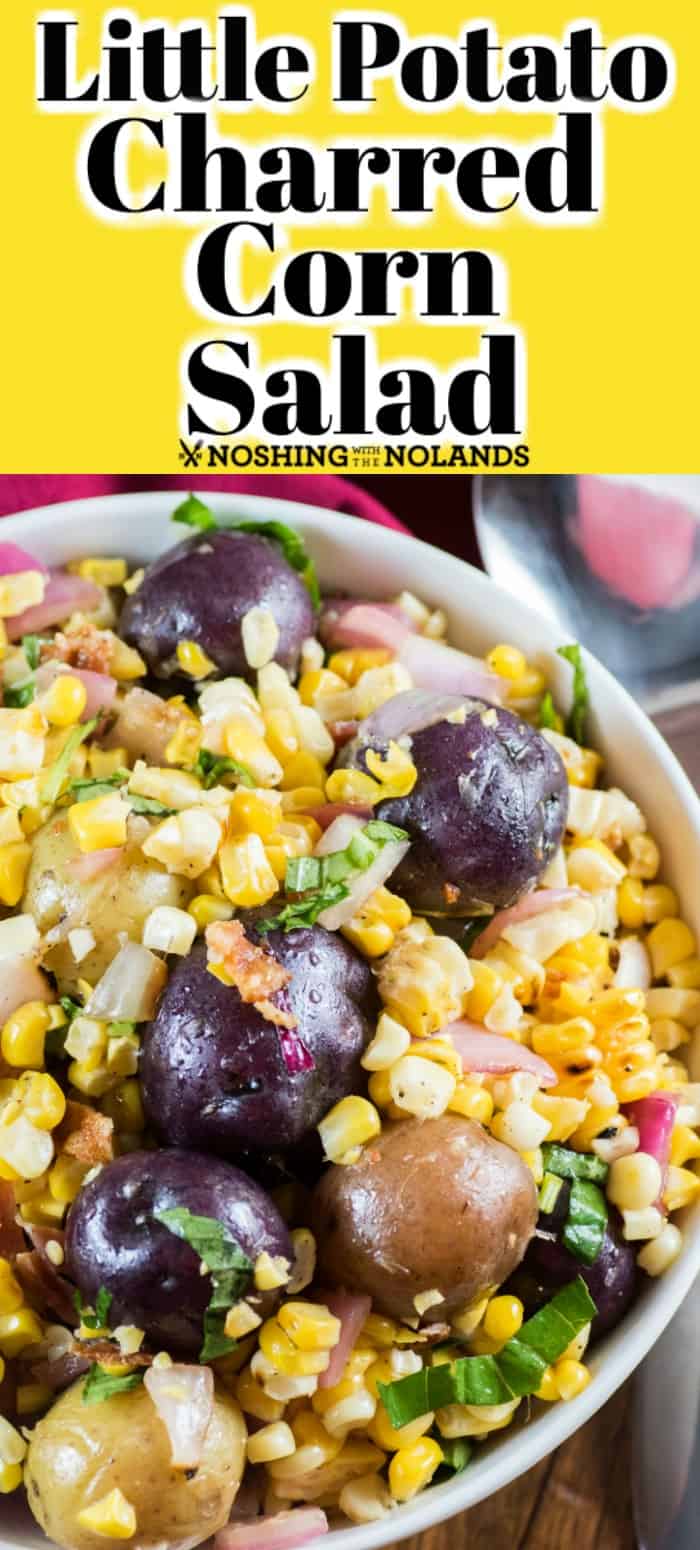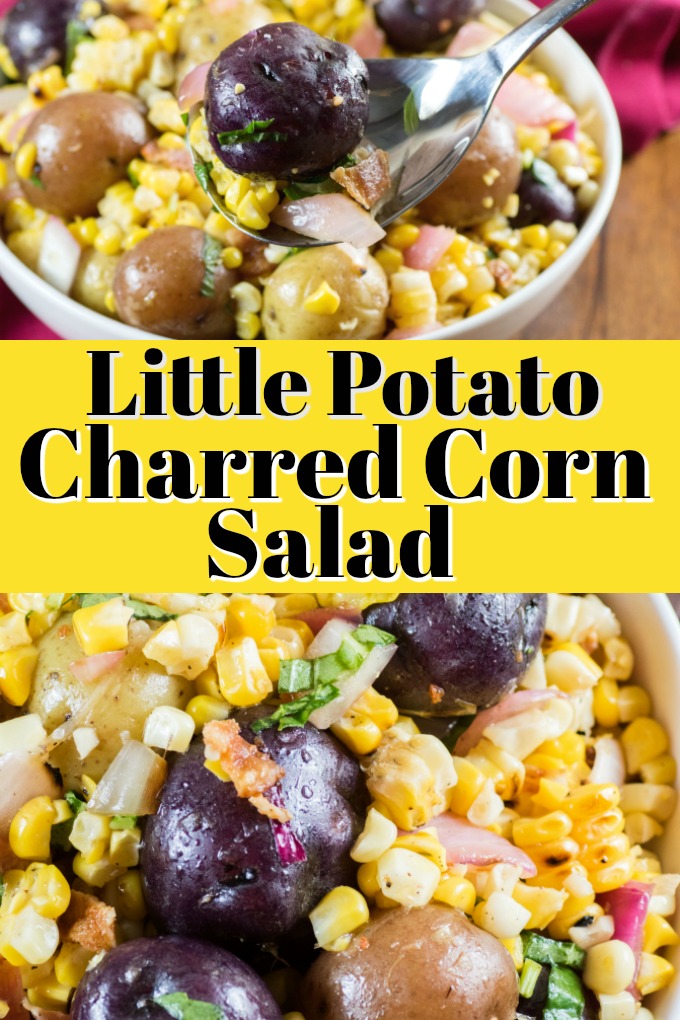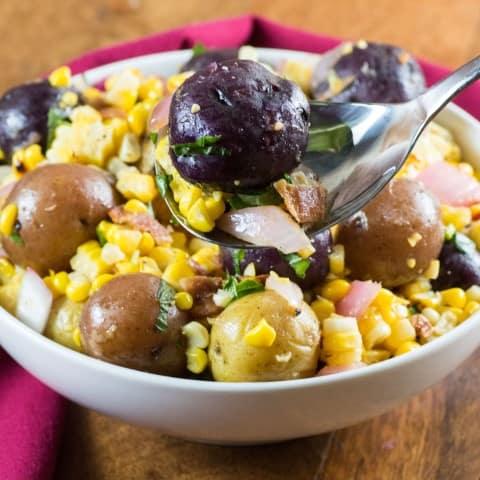 Little Potato Charred Corn Salad
Yield: 8 servings
Prep Time: 15 minutes
Cook Time: 20 minutes
Total Time: 35 minutes
This Little Potato Charred Corn Salad is easy to make, delicious to eat and will give you a new side to enjoy all summer long. With the ease of using Little potatoes you will be wanting to make this again and again.
Ingredients
1 1/2 lbs. The Little Potato Company's Terrific Trio
5 ears fresh corn
1/2 lb. slab bacon, cooked and cut into lardons
1 red onion, quartered
Salt and pepper to taste
1/4 cup basil, sliced thinly
2 Tbsp. red wine vinegar
3 Tbsp. olive oil
Butter, optional
Instructions
Heat the BBQ on medium high.
Char the corn and red onions on the grill for about 15 min. turning to get an even browning. Let cool.
Start a medium sized pot of water to boil.
Add the Little potatoes to the boiling water and cook for 15 min. or until fork tender.
While the potatoes cook take a small bowl and invert it inside a large bowl. Stand your cooled ear of corn up on the upside-down bowl. Holding the ear at the top with your one hand slice downward with a sharp knife and let kernels fall into the large bowl.
Chop red onion and season with salt and pepper, add to corn.
Add bacon lardons. Season with salt and pepper.
If you would like the salad warm to serve add a small dab of butter to a large non-stick fry pan. Add corn, bacon and onion mixture. Heat gently. Add potatoes when they are cooked. Season with salt and pepper.
Remove from heat and add in the red wine vinegar, olive oil, and basil. Toss gently and serve.
Nutrition Information:
Yield: 8
Serving Size: 1
Amount Per Serving:
Calories: 323
Total Fat: 17g
Saturated Fat: 5g
Trans Fat: 0g
Unsaturated Fat: 11g
Cholesterol: 32mg
Sodium: 536mg
Carbohydrates: 30g
Fiber: 3g
Sugar: 4g
Protein: 14g