This week I decided to make Easy Chocolate Macaroons for New Cooking Adventures #SundaySupper as we were to come up with a New Cooking Adventure. Well, I thought I would delve into the world of macaroons but to do it slowly.
Why am I afraid of this little french cookie. I know!! A baker I'm not! Do I like little finicky things? Nope. Although cooking is my passion and I love to cook and create but don't like the absolute precision that a lot of baking recipes take.
I am fairly comfortable with a pastry bag but in doing just some basic things. As I was thumbing through my QOOQ tablet that I have (a tablet that is preloaded with tons of recipes) and one caught my eye. EASY Chocolate Macaroons or they are also called Maroni.
Well, I thought that was for me, so off I went to create these little cookies. In the picture that the recipe came with the macaroons didn't have the little "legs" that I associate with french macaroons but I quickly got over that as these ones are an "easy" version and that is where I wanted to start.

Completed!
Well, I made them and I felt challenged that was for sure, not only was it hard to pipe the batter onto the Silpats because it was runny and you had to move quickly but the recipe wasn't complete.
Although when it asked me to add sugar while you are whipping the egg whites but omitted the amount. The recipe just said sugar in the ingredients.
PANICKED set in! Now, what to do. I took a big breath and decided on half a cup of sugar. However, I didn't need much sweetness as the recipe had lots of powdered sugar in it. It worked!!
My cookies look exactly like the picture in the recipe and were delicious!! Above all, now I may now be brave enough to try the real thing next time. Stay tuned I still want to challenge myself more!!!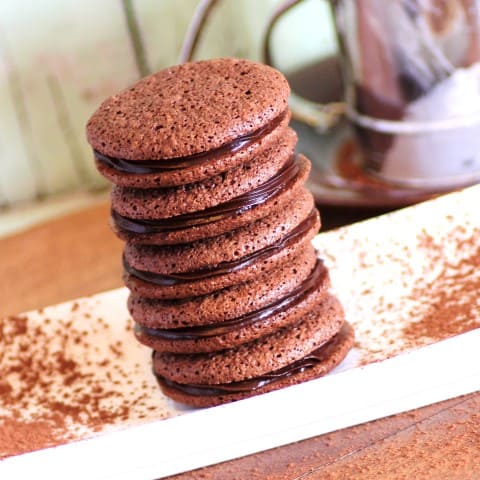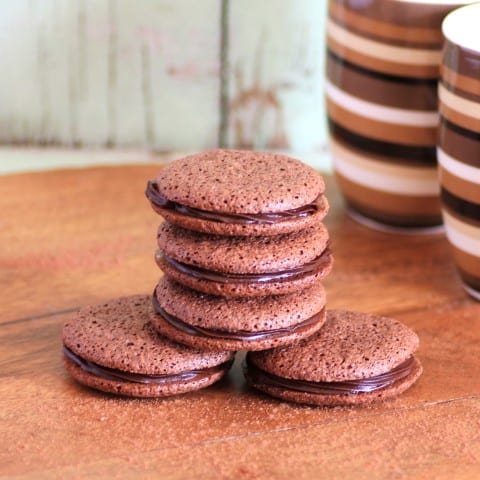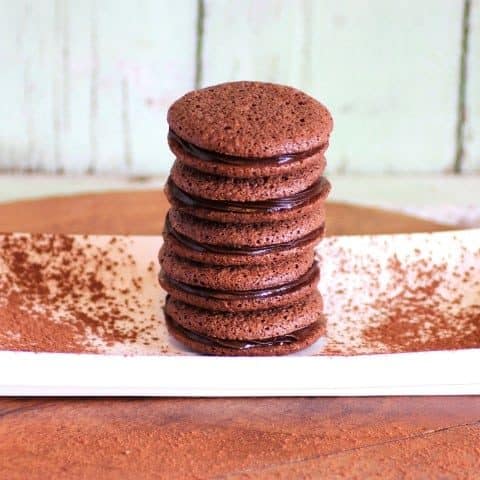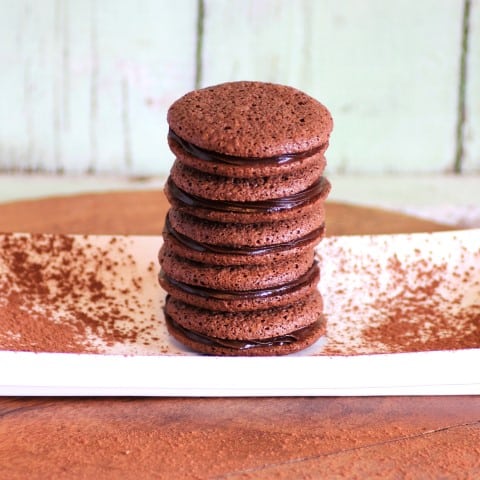 Macaroons for New Cooking Adventures #SundaySupper
Yield: 24 Cookies
Prep Time: 15 minutes
Cook Time: 20 minutes
Total Time: 35 minutes
An easy chocolate macaroon.
Ingredients
Macaroon
3 cups almond powder
2/3 cup cocoa powder
14 egg whites
2 2/3 cups powdered sugar
1/2 cup white sugar
Ganache
3/4 lb. dark chocolate, chopped
1 1/4 cup heavy cream
1/3 cup sugar
7 Tbsp. butter, cut into 1 Tbsp. chunks
Instructions
Preheat oven to 375F. Cover two cookie sheets with Silpats or parchment paper. Place a sifter over a large bowl and sift almond powder and powdered sugar over the bowl.
Sift cocoa powder next. Lightly whisk all ingredients together.
Pour the egg whites into the bowl of a standup mixer fitted with a whisk attachment.
Start to whisk at low speed increasing the speed.
Slowly add the white sugar in and continue beating until the egg whites are frothy but still slightly liquid.
Fill a pastry bag fitted with a plain tip with the batter and start to make uniform approx. 2" circles on the prepared cookie sheets.
Bake for 14-16 min. or until set. Let cool 5 min. on the cookie sheet and then remove onto parchment paper on the countertop to completely cool.
For the Chocolate Ganache
Pour the heavy cream and sugar into a medium saucepan, stir. Bring almost to the boil.
Place chopped chocolate in a bowl and pour the hot cream over. Stir to melt the chocolate and combine.
Add the butter and stir to combine. Cover with plastic wrap and refrigerate for 30 min.
When the cookies have cooled. Place the ganache in a pastry bag fitted with a star tip.
On the underside of the cookie pipe on the ganache and top with another cookie.
Stack the macaroons to serve.
Nutrition Information:
Yield: 24
Serving Size: 1
Amount Per Serving:
Calories: 320
Total Fat: 19g
Saturated Fat: 7g
Trans Fat: 0g
Unsaturated Fat: 11g
Cholesterol: 16mg
Sodium: 129mg
Carbohydrates: 33g
Fiber: 3g
Sugar: 27g
Protein: 7g
Recipe calculation was provided by Nutritionix and is estimation only. If you need nutritional calculations for medical reasons, please use a source that you trust
Recipe adapted from the QOOQ tablet.
New Expeditions (Sides, Starters & Staples)
Easy Oven Polenta from Shockingly Delicious
Homemade Spiced Flour Tortillas from Chocolate Moosey
Naan from Hezzi-D's Books and Cooks
Homemade Tofu from Kimchi MOM
Indian Moong Beans from Magnolia Days
Baked Lemon Coconut Risotto from Soni's Food
Homemade Peanut Butter from Home Cooking Memories
Ricotta Cheese (homemade) from Webicurean
Savory mushroom and herb steel cut oat Risotto Foxes Love Lemons
Grilled Asian Snap Peas and Peppers from Neighborfood
Grand Quests (Main Dishes)
Braised Lamb Brisket with Lemon Oregano Yogurt Sauce from The Girl In The Little Red Kitchen
Pan-fried Scallops with Garlic Chili Linguine from Food Lust People Love
Miso-Glazed Salmon from The Foodie Patootie
Arepas Rellenas (Stuffed Arepas) from The Wimpy Vegetarian
Venison Steak Gyros from Curious Cuisiniere
Vegetarian Hortobagyi Pancakes from Happy Baking Days
Escapades (Sweet Treats & Spirited Companions)
Vegan Chocolate Mousse from The Not So Cheesy Kitchen
Multilayer Bars from What Smells So Good?
Rut-Busting Wines For New Cooking Adventures from ENOFYLZ Wine Blog
Homemade Vanilla Marshmallows from Vintage Kitchen
Strawberry Raspberry Fruit Leather from Juanita's Cocina
Macaroons from Noshing With The Nolands
Bircher Muesli from Peanut Butter and Peppers
Homemade Cinnamon Rolls from In The Kitchen With KP
Dorie Greenspan's Orange Almond Tart from Hip Foodie Mom
Chocolate Dipped Madeleines from Big Bear's Wife