It is that delicious time of the month again!! Pulling out my bundt pan to share another one with you. I am having such great success with these bundts, I love them. The theme this month is Tropical, and our host this month is Lauren from Gate To Plate, thanks so much for hosting Lauren. Well, mangoes came to mind right away!! Amber adores them, we almost always have them in the house. When I did purchase them I had to make known to everyone that they were for my bundt and not too touch. Also, the mango smoothie in the fridge was off-limits. I was off to make my Mango Brown Sugar Glazed Bundt!!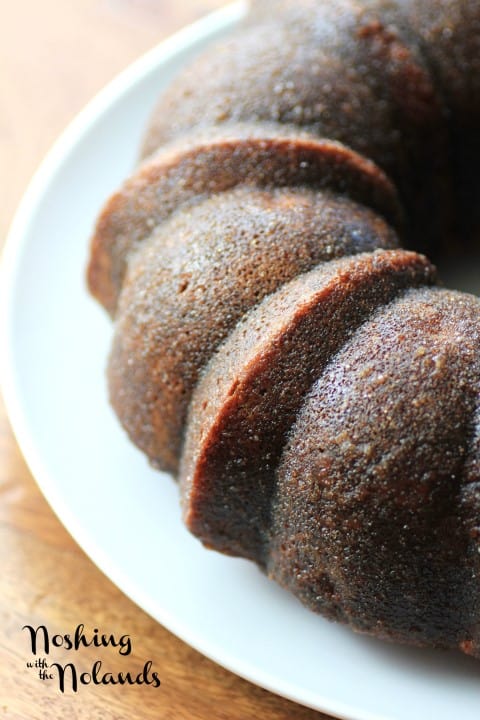 For some reason, I thought of a brown sugar glaze to go with this. It added the perfect sweetness and flavor for the outside of the cake and also gave it a delicious mahogany brown color.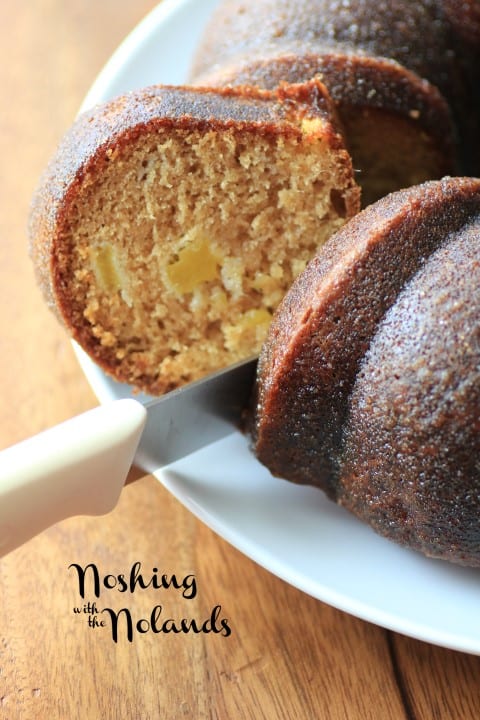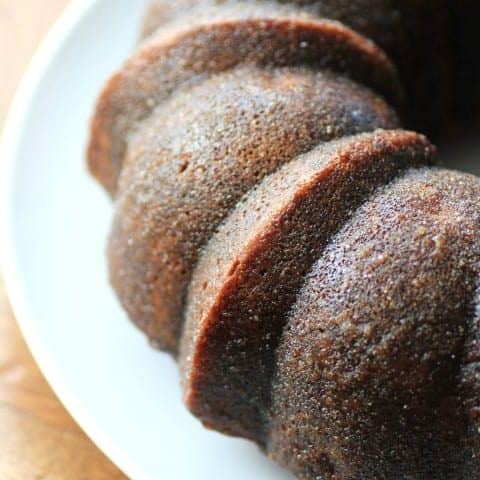 Mango Brown Sugar Glazed Bundt for #BundtBakers
Yield: 10
Prep Time: 15 minutes
Cook Time: 45 minutes
Total Time: 1 hour
A tropical bundt made with delicious mangoes and finished off with a gorgeous brown sugar glaze.
Ingredients
Bundt
1/2 cup butter softened
1 cup sugar
3 eggs
2 1/2 cups flour
2 tsp. baking soda
Pinch of salt
1 cup mango smoothie (store bought)
2 mangoes
1 tsp. vanilla extract
Glaze
1/2 cup demerara brown sugar
1/2 tsp. vanilla
2 Tbsp. hot water
Instructions
Preheat oven to 350F. Spray a bundt pan with cooking spray and flour the inside, set aside. Whisk together the flour, soda and salt and set aside.
Mix together the sugar and butter until light and fluffy in a standup mixer with a paddle attachment. Add the eggs one at a time and mix well. Puree one of the mango with the mango smoothie. Dice the second into small cubes.
Add in the flour mixture alternatively with the mango smoothie mixture, ending with the flour and mixing well after each addition. Add the vanilla extract and mix well. Stir in the diced mangoes. Pour into the prepared pan and bake for 40-45 min. until browned and cooked through. Let cool on a rack and then remove cake.
Glaze
Mix ingredients together and microwave for 20-30 seconds until the sugar is dissolved. Brush onto the bundt. Slice and serve.
This cake is deliciously moist and full of mango flavor. A great lunch box snack, Amber has taken it every day for lunch. I have enjoyed it for breakfast with a coffee. It also makes a scrumptious dessert with a scoop of vanilla ice cream. YUM!!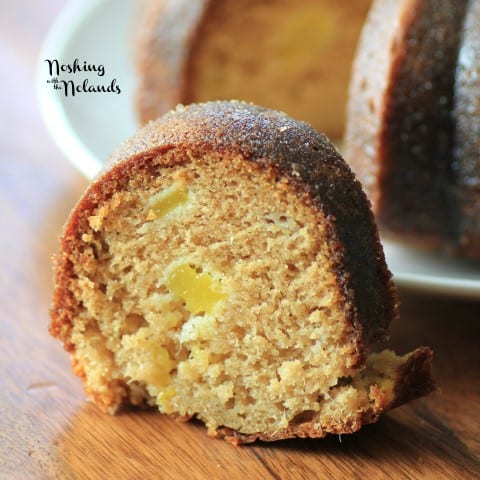 Our lovely group, Bundt Bakers, just keep growing. It's awesome! This month we have 14 amazing Bundts that fit the bill for any tropical fruit-loving person! Be sure to hop on over and check them out. Totally drool-worthy!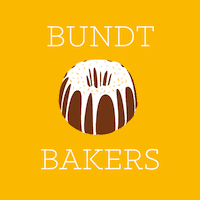 Interested in learning more about us?? #BundtBakers is a group of Bundt loving bakers who get together once a month to bake Bundts with a common ingredient or theme. Follow our Pinterest board right here. Links are also updated each month on the BundtBakers home page.
We take turns hosting each month and choosing the theme/ingredient.
If you are a food blogger and would like to join us, just send Stacy an email with your blog URL to [email protected].