I am back with another Pulo Cuisine post for you as brand ambassador, Mango Chili Steakhouse Salad. I absolutely adore their marinades for steak. This is the third flavor we have tried with steak!! All have been a huge success. I love BBQ'd steak and with Pulo Cuisine marindades it is so easy to add great flavor to your meat. It is winter here I know but we BBQ all year long. After a few real cold snaps it is nice to have the temperatures on the plus side and the warm sun melting the snow. That is when it is easy to convince Ken to go out and BBQ for us. It seems like such a treat when you haven't had BBQ for awhile.
After the steak marinates for hours in Pulo Cuisine's Mango Chili Marinade the steaks are tender and juicy and ready for the BBQ.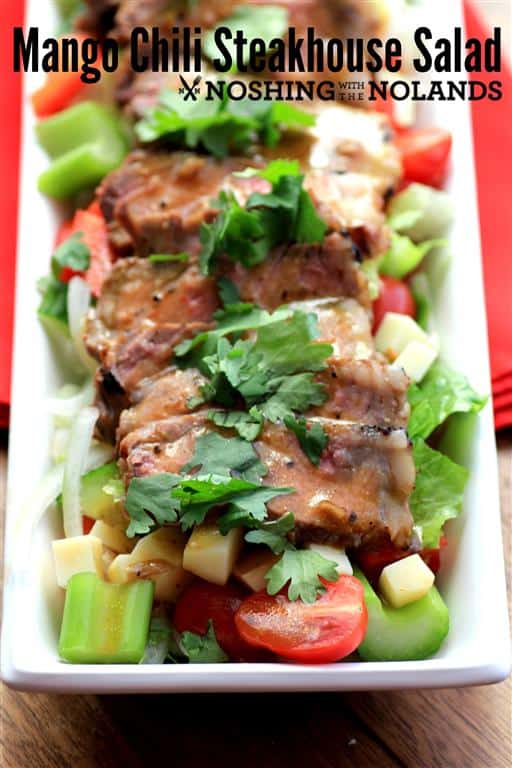 I devloped this recipe with a big steakhouse salad in mind. Usually they are served with an amazing house dressing. Well, I made that easy for you with the use of more marinade and some easy to find other ingredients. The steakhouse salads usually have cheese in them and it is often blue but I changed that up to a smoky caciocavallo cheese that I have been seeing everywhere lately. It goes great with the BBQ taste from the steak. The rest of the ingredients are simple and fresh. Just what I have been craving after too many podgy stews and soups.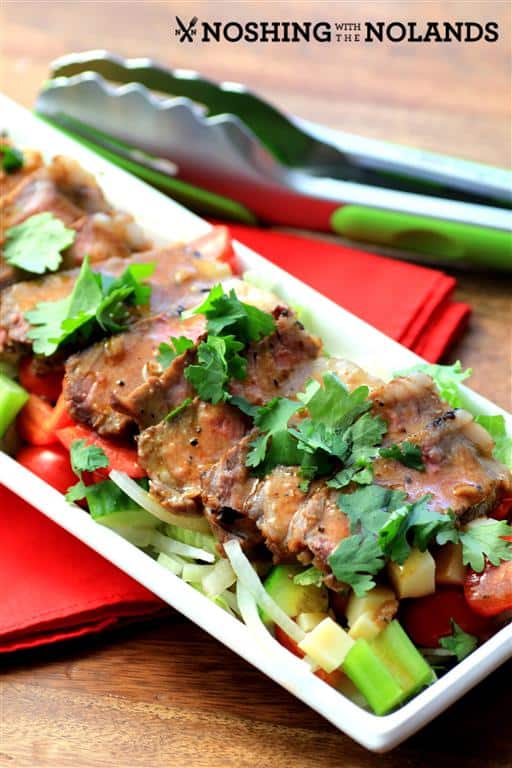 I love the taste of the Mango Chili marinade, it is not spicy nor too sweet, just full of great taste and goes so nicely with beef!! Making the dressing with the marinade gives you just even more of that great flavor!!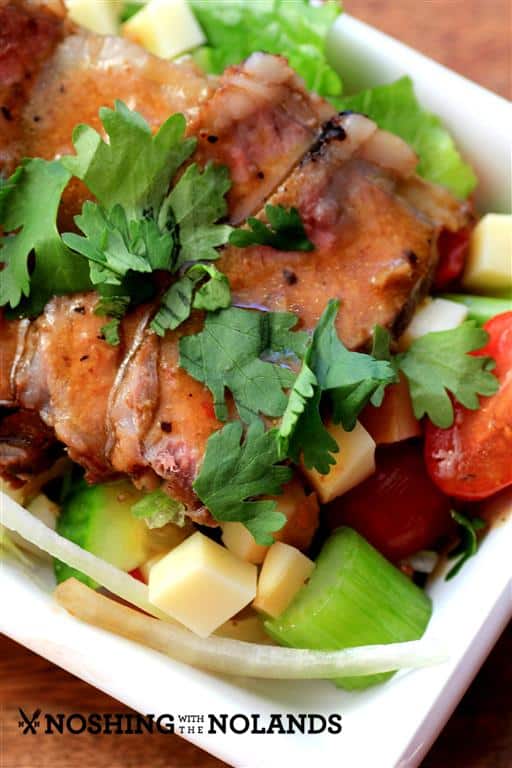 Pulo Cuisine is so easy to use and makes an ordinary meal extrodinary. So much flavor in each bottle. Pulo Cuisine is a premium, natural product with no artificial flavours, colours or preservatives added. It is also completely vegan! It is made with ingredients from the Philippines using authentic recipes. The ingredients are natural and healthy and it is made in Canada. Pulo Cuisine was developed and created by a Filipino family that resides in Vancouver.
Pulo Cuisine is made from top-quality ingredients like fresh, roasted garlic, sauteed onions, real fruit purees, palm vinegar, real lemongrass, real peanuts, real spices!! You can taste that in their products. They don't use freeze dried or inferior ingredients.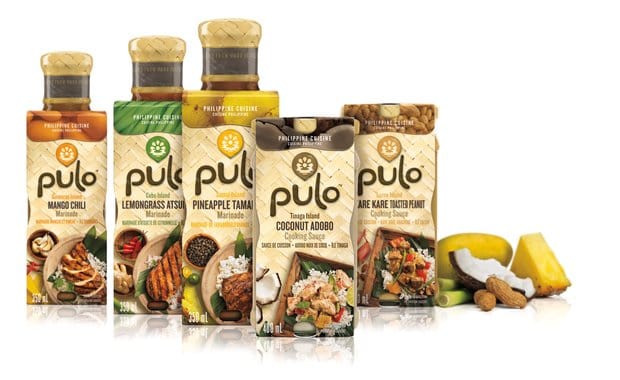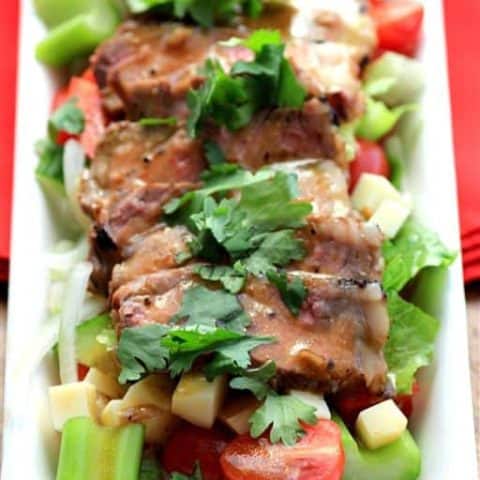 Mango Chili Steakhouse Salad
Yield: 4-6 servings
Prep Time: 20 minutes
Total Time: 20 minutes
A great twist on a steakhouse salad using Pulo Cuisine Mango Chili marinade.
Ingredients
Dressing
1/3 cup Pulo Cuisine Mango Chili Marinade
1/4 cup olive oil
1/8 cup rice wine vinegar
Salt and pepper to taste
Salad
2 strip loin steaks
1/2 bottle Mango Chili marinade
2 small or 1 large head of romaine, torn into bite sized pieces
3 ribs celery, diced
2 cups grape tomatoes, halved
1/4 large sweet onion, sliced
1 red pepper, diced
1 cup smoked caciocavallo cheese, diced
Cilantro for garnish
Instructions
Marinate steaks in the 1/2 bottle mango chilil marinade for 2-8 hours. Heat BBQ and cook on medium high until desired doneness. Tent steaks with foil and let rest for 5-10 min.
Meanwhile whisk dressing ingredients together and set aside.
Assemble salad on a platter or on individual plates. Slice steak and serve on top of salad. Drizzle with the dressing and garnish with the cilantro.
Enjoy this one folks, we sure did!!