It is always so saddening to hear when a huge storm hits and people are out of their homes and in temporary shelters only to live through the aftermath to try and pick up the pieces of their lives and carry on. This of course was the case with the devastation of Hurricane Sandy.
Today we have Manhattan Clam Chowder for Helping Hands at #SundaySupper. We are reaching out with Helping Hands to try to offer our support to those in need.
Personally I think of bringing over food the second I hear of someone in need, sick, newborn, or tragedy. That is the way that I know how to help out. I thought of Manhattan Clam Chowder and it being so appropriate for this situation. A big thick and hearty chowder that will warm the soul and help anyone through hard times.
I was trying to think of what to bring to this #SundaySupper but it all came together when I brought home fish stock from a local vendor at the Calgary Farmer's Market. The Stock and Sauce Company carries loads of different dips, pate, soups, chili, stews, stocks, and loads more.
I haven't had time to work on a good fish stock so when I see it I put it into my freezer to create something fantastic with at a later date. This was the case with the Clam Chowder you see here today. I perused a list of ingredients in my head and put this wonderful soup together for you. I hope you find it in your heart to donate to one of the very worthy organizations that we have listed here. When we come together we can make a difference.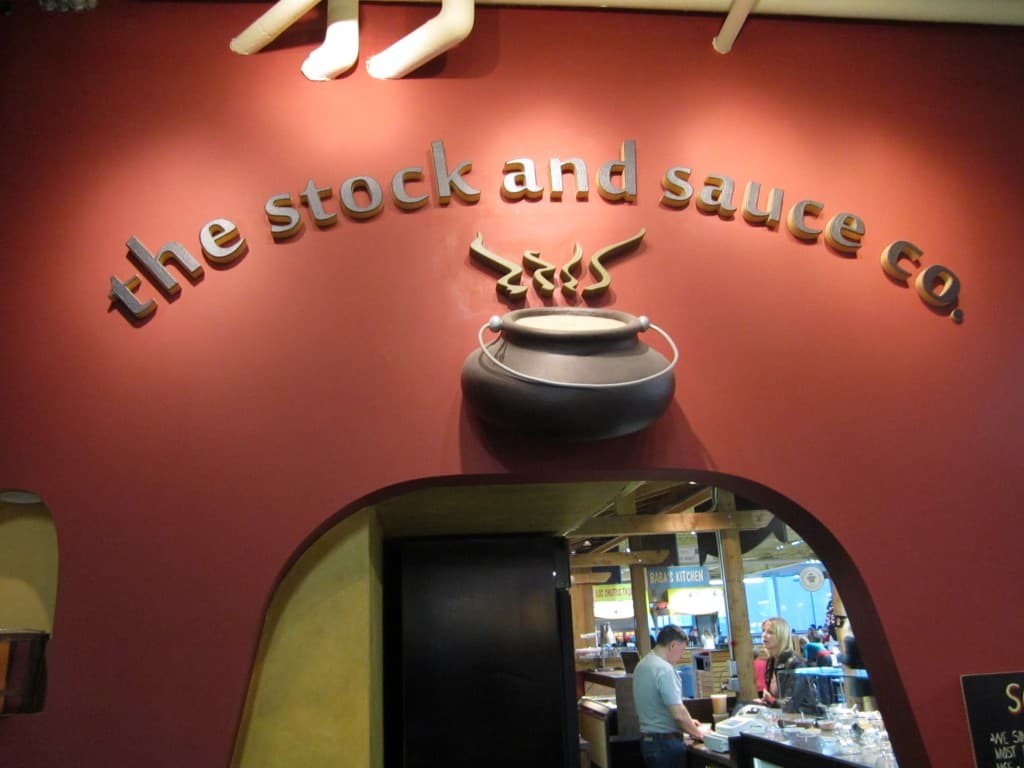 A big hearty bowl of Manhattan Clam Chowder will fill you up and warm you to your toes!!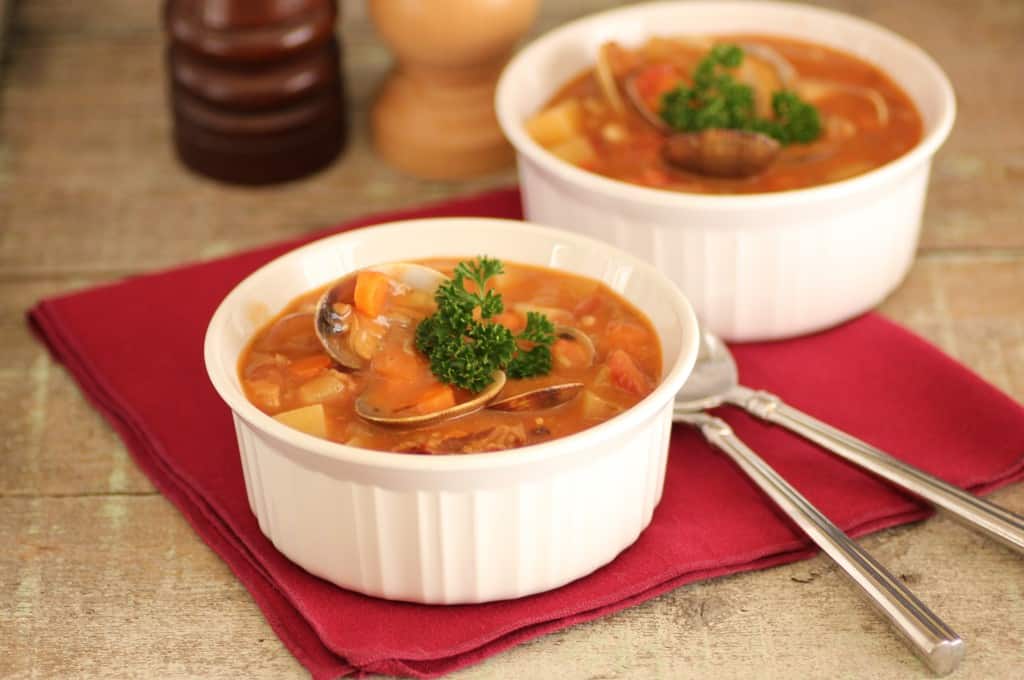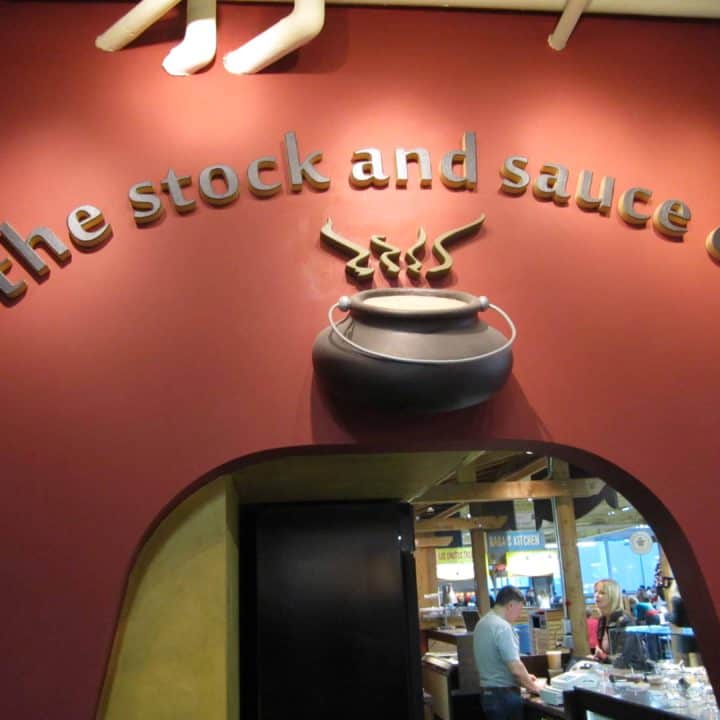 Manhattan Clam Chowder for Helping Hands at #SundaySupper
Yield: 6 Servings
Prep Time: 20 minutes
Cook Time: 45 minutes
Total Time: 1 hour 5 minutes
A thick and hearty chowder that will warm you to your toes!!
Ingredients
4 strips of bacon, cut into lardons
1 Tbsp. butter
1 onion, diced
2 cloves garlic, minced
16 baby carrots, sliced
2 celery stick, diced
1/3 cup flour
2/3 cup white wine
1-liter fish stock
28 oz. can diced tomatoes
1 tsp. thyme
1/2 tsp. crushed red pepper flakes
Salt and pepper to taste
12 baby red potatoes, cut into medium dice
1 lb. fresh clams
142 gm. can of clams
Instructions
In a large pot saute lardons until slightly crisp, remove onto a paper towel. Drain fat from pot. Add the butter and melt.
Add the onions, garlic, carrots, and celery and saute until the onions are transparent and scrape up the bits of bacon from the bottom of the pan.
Add the flour and stir for about 1 min. Slowly add in the wine incorporating it into a paste.
Slowly add the fish stock until it loosens up to a soup-like consistency, then add the tomatoes. Add the red pepper flakes, thyme, and salt and pepper.
Bring to a boil and let simmer for 10 min. Add the potatoes and simmer to 15-20 until just tender.
Add the fresh clams and continue to cook for about 7 min. until clams open up.
Add the canned clams and stir to just heat through. Serve piping hot with a big loaf of crusty bread.
Nutrition Information:
Yield: 6
Serving Size: 1
Amount Per Serving:
Calories: 622
Total Fat: 9g
Saturated Fat: 3g
Trans Fat: 0g
Unsaturated Fat: 4g
Cholesterol: 81mg
Sodium: 1871mg
Carbohydrates: 88g
Fiber: 10g
Sugar: 11g
Protein: 42g
Recipe calculation was provided by Nutritionix and is estimation only. If you need nutritional calculations for medical reasons, please use a source that you trust.
Come and see what else we have to offer you with our Helping Hands here at #SundaySupper.
Breakfast and Brunch:
Comforting Casseroles and Entrées:
Warming Soups and Sides:
Sweet Endings:
If you are interested in making a donation to help the hurricane victims, here are links to the two charitable organizations we support and recommend:
Please join us on Twitter for #SundaySupper on November 25, 2012, throughout the day. In the evening, we will meet at 7 PM EST for our weekly #SundaySupper live chat.
All you have to do is follow the #SundaySupper hashtag or you can follow us through TweetChat.
We'd also love to feature your recipe ideas for #HelpingHands on our
#SundaySupper Pinterest board
so we can share them with all of our followers.