Many Flavors Whipped Cream
Many Flavors Whipped Cream – Hey everyone, I'm back!!! Well for this Sunday anyway. What a crazed summer it has been!! So much fun with visitors but also stressful with selling our home and finding a new one!! Waiting on an offer getting accepted as I type.
I had to find time to join into this one as I had suggested this theme to Isabel after we did Movie Inspired #SundaySupper. I would have loved to have hosted this one but I just don't have the time right now. I didn't have a song in mind at that time so I had to put my thinking cap on. I went way back to my childhood. I loooooved this album and made my dad play it for me all the time. Whipped Cream and Other Delights by Herb Albert and The Tijuana Brass. I was also fascinated by the cover. How pretty the girl on the cover was and how could she be just wearing whipped cream??
This was a huge album for it's time and was Herb Albert's most famous. The actual song called Whipped Cream is the theme song for The Dating Game. I am sure you all remember that!! Well if you are my age anyway.
Okay so I had picked out the album/song, now what??? I streamed through ideas and recipes in my head using whipped cream and I couldn't settle on one that I liked. I wanted something new!! Then I decided just to stick with the whipped cream and came up with this idea.
Wow, what a great idea and so adaptable for any dessert. The combinations are literally endless. I decided to do an Oreo one, a honey one (ode to A Taste of Honey, the first song off the album), maple syrup and coconut to start with.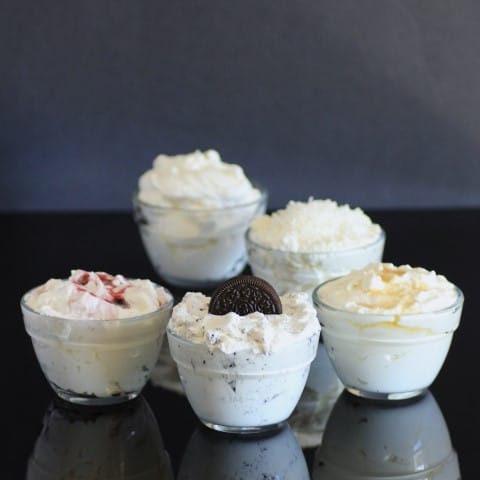 These can be used in so many desserts, puddings, cakes, with fresh berries, on pancakes, waffles, the list can go on and on!! Whip your cream in a standup mixer with the bowl and whisk ice cold from the freezer. Add in icing sugar to taste, don't make it too sweet.
Here are the few ideas that I came up with:
1. Whipped Cream and crushed Oreos. Imagine that between layers of chocolate cake!
2. Whipped Cream with flavored honey, I used a blackberry honey, the list there goes on and on!! That would be amazing over fresh blackberries!!
3. Whipped Cream with maple syrup, use the good stuff and this would be awesome over pancakes or waffles!!
4. Whipped Cream with coconut, add in a few drops to taste of coconut extract and then shredded coconut. You could iced an angel food cake with this, yummy!!
5. Whipped Cream with candy canes, crush them in a Ziploc bags and then add them to the whipped cream. This would make a great sandwich cookie at Christmas.
6. Whipped Cream with a seedless jam, fold in your favorite jam flavor and serve over fruit. Drooling!!
7. Whipped Cream with Nutella, warm your cream over medium heat to just a boil, remove from heat and whisk in nutella. Use the portions of 2 cups whipped cream to 1 cup Nutella. Let cool in the refrigerator and then whip.
8. Whipped Cream and liqueurs, the list is endless here too. Think of Grand Marnier, Amaretto, Frangelico, Bailey's, even a nice dark rum! These would be great with cupcakes, pies, cakes and puddings. YUM!!
9. Whipped Cream and spices, think warm, delightful spices and blends with cinnamon, nutmeg, clove, etc. On coffees in the fall for a specialty beverage!! With your favorite liqueur again of course!!
10. Whipped Cream and Nuts, think sliced almonds with almond extract and creating mini trifles with berries, cake and the whipped cream!!
As you can see I could go on and on here but this gives you countless ideas already.
Pull that old album out and give it a spin!! Get your 60's groove on!! And enjoy some whipped cream again!!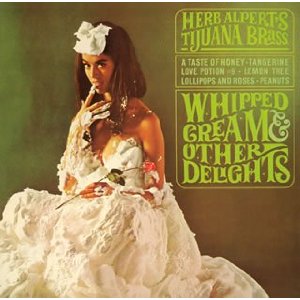 Look at this very impressive list of recipes for you to dive into. ENJOY!!!
Prelude (Beverages):
Calimocho (Red Red Wine Cocktail)
from La Cocina de Leslie inspired by Red Red Wine by UB40
Dark & Stormy Cocktail Recipe
from An Appealing Plan inspired by Thunder Road by Bruce Springsteen
Horchata
from Treats & Trinkets inspired by Horchata by Vampire Weekend
Orange Crush
from Magnolia Days inspired by Orange Crush by REM
Pineapple Lemonade Slushy with Coconut Water
from Sue's Nutrition Buzz inspired by Lemon Tree by Peter, Paul & Mary
Strawberry Tequila
from Shockingly Delicious inspired by Strawberry Fields Forever by The Beatles
Overture (Appetizers):
Mustard Dill Beer Bread
from Curious Cuisiniere inspired by In Heaven There Is No Beer a German Polka
Intermezzo (Entrees & Sides):
Chicken and Bacon Cheddar Waffles
from I Run For Wine inspired by Glady's Knight
Margarita Chicken
from In The Kitchen With KP inspired by Margaritaville by Jimmy Buffet
Meatball Duet from Cindy's Recipes and Writings
inspired by On Top of Spaghetti by Tom Glazer
Pan-Seared Halibut with Corn Hash and Asparagus Puree
from Crazy Foodie Stunts inspired by Saturday Night Fish Fry by Louis Jordan
Slow Cooker Sweet and Spicy BBQ Pulled Pork
from Neighborfood inspired by Something Like That by Tim McGraw
Teriyaki Burger
from Juanita's Cocina inspired by Cheeseburger in Paradise by Jimmy Buffet
Finale (Desserts):
Banana Cream Pie Bars
from Peanut Butter and Peppers inspired by Tra La La Song by The Banana Splits
Banana Pancake Ice Cream with Maple Brittle
from Foxes Love Lemons inspired by Banana Pancakes by Jack Johnson
Cherry Marshmallows
from Pies and Plots
Chocolate Cappuccino Cream Puffs
from Runner's Tales inspired by Choux Pastry Heart by Corinne Bailey Rae
Chocolate Covered Caramels
from Big Bear's Wife inspired by At Last by Etta James
Coconut Rum Blondies
from Gotta Get Baked inspired by I've Got A Lovely Bunch of Coconuts by Danny Kaye
Easy Blueberry Recipe: Fruit Tart
from Growing Up Gabel inspired by Blueberry Hill by Fats Domino
Espresso Nib Ice Cream
from Vintage Kitchen Notes inspired by Black Coffee by Ella Fitzgerald
Fancy Watermelon Lime Popsicles
from Daily Dish Recipes inspired by Watermelon Crawl by Tracy Byrd
Fresh Peach Pie
from Killer Bunnies, Inc. inspired by Sweet Sweet Pie by PWEI
Jammin' Oatmeal Cookies
from What Smells So Good? inspired by Jammin' by Bob Marley
Many Flavors Whipped Cream
from Noshing with the Nolands inspired by Whipped Cream and Other Delights by Herb Albert and the Tijuana Brass
Peach Basil Pie
from The Girl In The Little Red Kitchen inspired by Peaches by POTUSA
Pina Colada Poke Cake
from Cookin' Mimi inspired by Two Pina Coladas by Garth Brooks
Peach Donuts with Brown Sugar
from Hezzi-D's Books and Cooks inspired by Peaches by POTUSA
Peach Strudel with Honey Bourbon Frozen Yogurt
from A Kitchen Hoor's Adventures inspired by My Favorite Things from The Sound of Music & Wild Honey by U2
Salted Ripple Chip No-Churn Ice Cream
from Cupcakes & Kale Chips inspired by Ice Cream by Sarah McLachlan
Salted Peanut Swirl Peanut Butter Ice Cream
from girlichef inspired by Salt Peanuts by The Quintet
Sugar Crusted Zucchini Bread
from That Skinny Chick Can Bake inspired by Sugar, Sugar by the Archies
Tangerine Sorbet
from Webicurean inspired by Tangerine Speedo by Caviar
Yeasted Banana Bread
from Jane's Adventures in Dinner inspired by I Like Bread and Butter by The New Beats
Join the #SundaySupper conversation on twitter on Sunday!
We tweet throughout the day and share recipes from all over the world. Our weekly chat starts at 7:00 pm EST. Follow the #SundaySupper hashtag and remember to include it in your tweets to join in the chat. Check out our
#SundaySupper Pinterest board
for more fabulous recipes and food photos.
Would you like to join the Sunday Supper Movement?
It's easy. You can sign up by clicking here ? Sunday Supper Movement.