I love making recipe creations and this Marinated Grilled Spicy Tofu was a huge hit in our house. Ken and Amber raved and raved over the wonderful marinade and then the lovely grilled flavor. If you are vegan or vegetarian but still love your BBQ you will want to try this recipe ASAP.
We have used House Foods Tofu Shirataki noodles countless of times and loved the recipes!! I had not done anything though with a firm tofu like this. It is so easy to work with though and takes on this gorgeous marinade easily. An added bonus too is that it is very inexpensive. Tofu is great in a number of dishes from sweet to savory and is really becoming more mainstream everyday!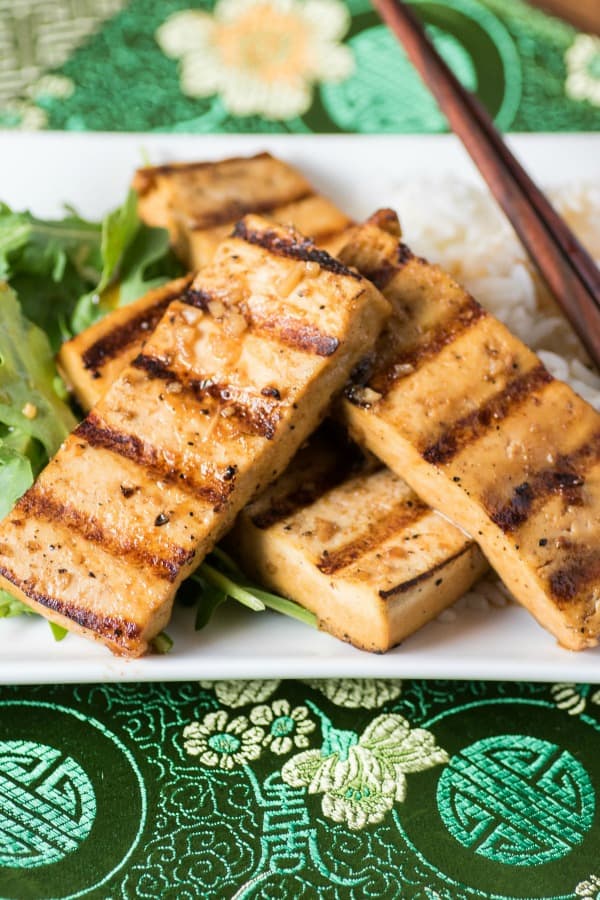 I love a great Asian marinade and this one has a sweet heat that is sure to please. A little maple syrup balances off the spice from the sriracha, garlic, ginger and pepper.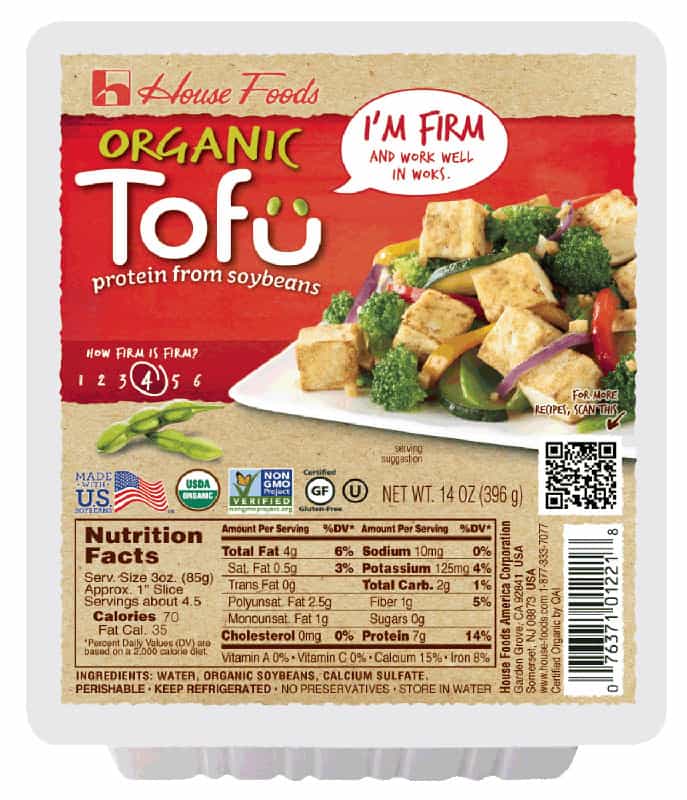 House Brand Tofu is made from 100% US soybeans, it is non-GMO verified, gluten-free and Kosher certified. It is also cholesterol free with virtually no unsaturated fats. Plus it is rich in minerals like calcium and iron.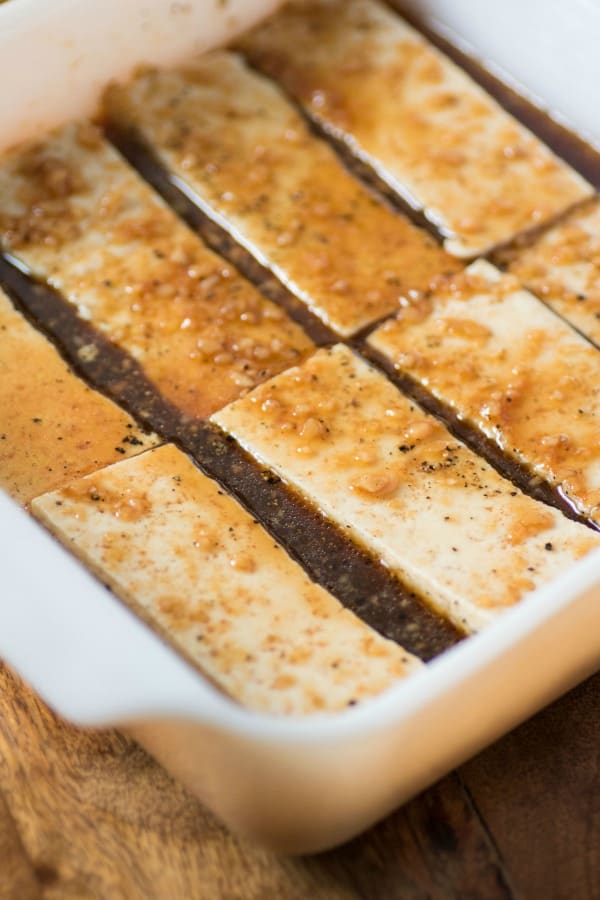 The tofu can sit in the marinade for 4 hours to overnight. This is an easy prep recipe for sure and because tofu isn't a meat product you can use the marinade afterwards also for a dressing.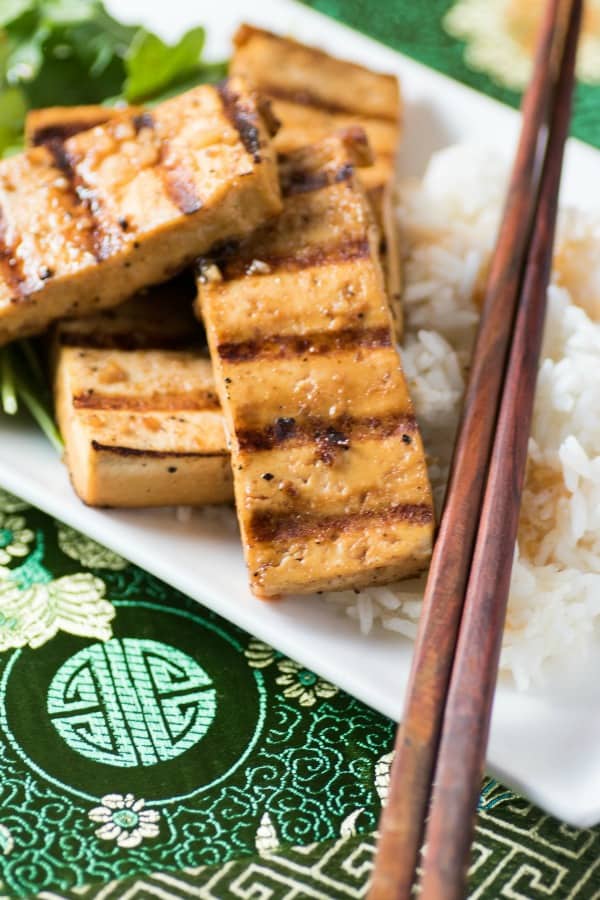 Serving this up with some simple greens and rice is all you need. Do you know what tofu is? It is simply made from soybeans, you know the little green edamame you see in every Japanese restaurant. They are Amber's number one snack when we first arrive at a restaurant and one that she has always loved. But wait, they aren't used in their green phase but have to ripen to be made into tofu. Tofu is also a power house of protein and essential amino acids we need to stay healthy.
The Recipe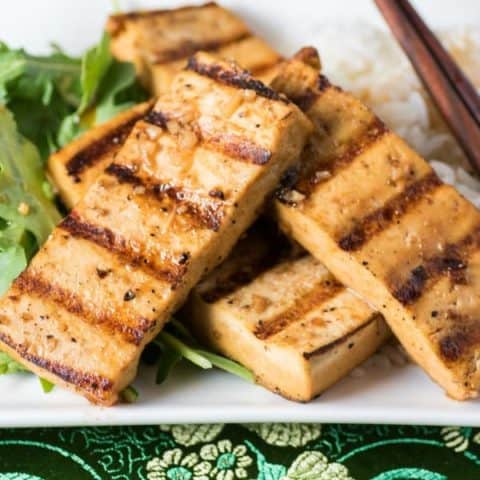 Marinated Grilled Spicy Tofu
Yield: Serves 4
Prep Time: 20 minutes
Cook Time: 8 minutes
Total Time: 28 minutes
Marinated Grilled Spicy Tofu is very easy to make and is full of wonderful flavor. A quick grill on the BBQ adds the perfect summer touch.
Ingredients
1 lb. House Foods firm tofu
Cooking Spray
Rice and greens, optional
Marinade
1/4 cup lime juice
1/4 cup maple syrup
1/4 cup soy sauce, gluten free if needed
2 tsp. garlic, minced
2 tsp. ginger, grated
2 tsp. sriracha
1 tsp. sesame oil
1/4 tsp. freshly ground pepper
Instructions
Cut tofu into 8 long slices and place on several paper towels. Let stand for 15 min. Patting with paper towels and gently pressing to squeeze out the water.
In a small bowl mix together the marinade ingredients with a whisk.
Place tofu in an 8x8" glass dish. Pour marinade over top. Refrigerate covered for 4 hours to overnight.
When ready to grill, spray the BBQ with cooking spray and then heat grill to medium.
Grill tofu about 3-4 min. per side or until browned.
Serve grilled tofu with simple greens and rice if desired. Drizzle on additional marinade.