Mars Bar Bundt #BundtBakers
It is bundt baking time and the theme this month is a delicious one, CHOCOLATE, hosted by Tanya from Dessert Stalking Blog!! Thank you so much for all your hard work Tanya! I knew I had to join in on this one, chocolate, come on!! My mind went straight to a Mars Bar Bundt, as I have done a delicious Snickers Bundt in the past and it was awesome. I thought I would make a chocolate bundt and stir in sliced Mars bars like I did Snickers and put it in my small bundt pans………..epic fail. The very first time I have had a bundt stick!! I got cocky and thought I wouldn't even flour the pan, well, I had done it with the Chocolate Chambord Mini Bundt Cakes and they just fell right out of the pan.
The Mars bars really melt away when baked and the caramel sticks. This is wonderfully tasting but not easy to get out of a pan. Back to the drawing board. I thought, okay, I will grease and flour my pan again to start with! Then not stir the chocolate bars into the batter but poke them into the center and stay clear of the sides. I also reduced the chocolate bar pieces down to 1 1/2 cups from 2. With fingers crossed and bated breath, I flipped the bundt over after 15 min. of cooling and it came out of the bundt pan and only stuck just slightly. Nothing that a lovely glaze can't hide anyway.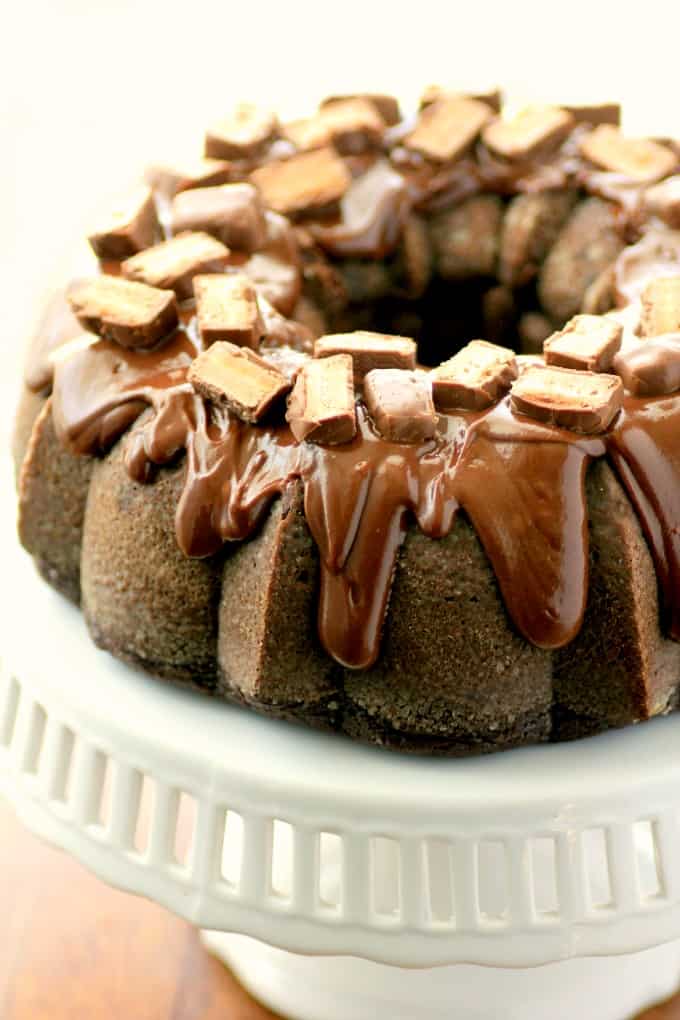 The bundt was fabulous tasting with a rich, yummy, and sometimes little chewy at the top of the cake where the Mars bars melted in. It was moist and delicious too on the inside.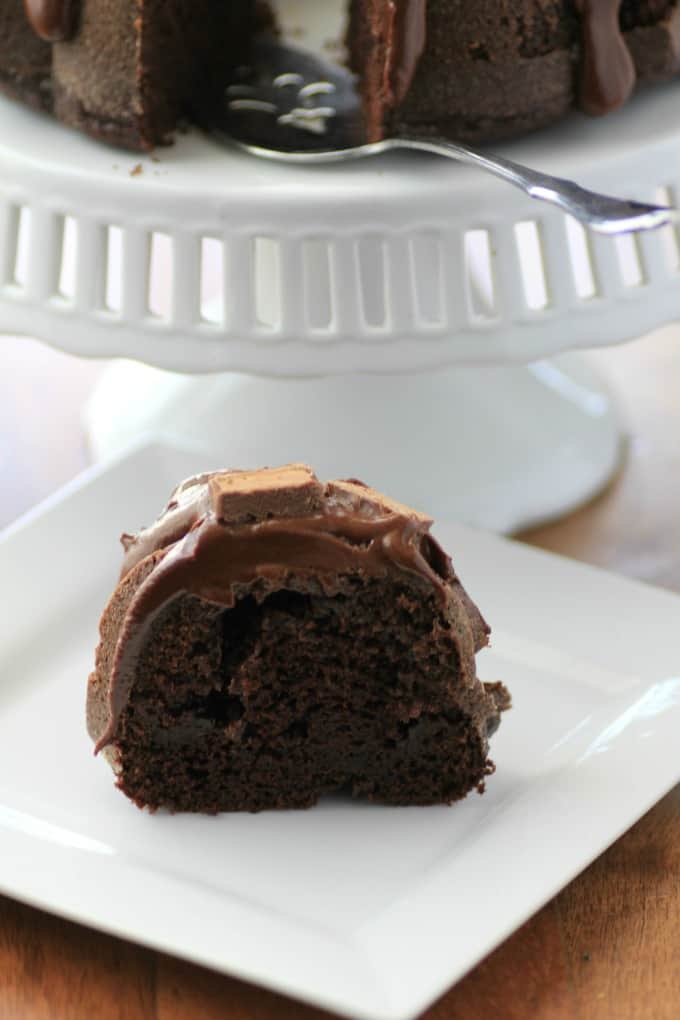 See the little hole where the Mars bar lived!! That is the best part, all melted and gooey and chewy in there.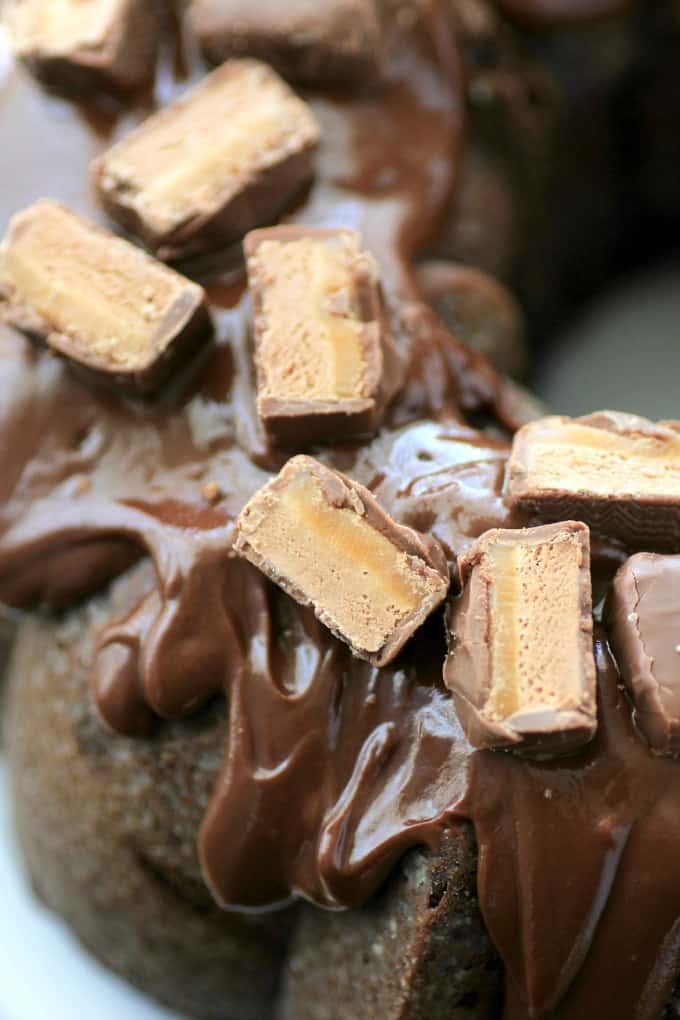 I had envisioned decorating the top with more sliced mini Mars bars from the start. It just gives you that extra Mars bar flavor. The glaze is easy to do and is rich and perfect for this bundt.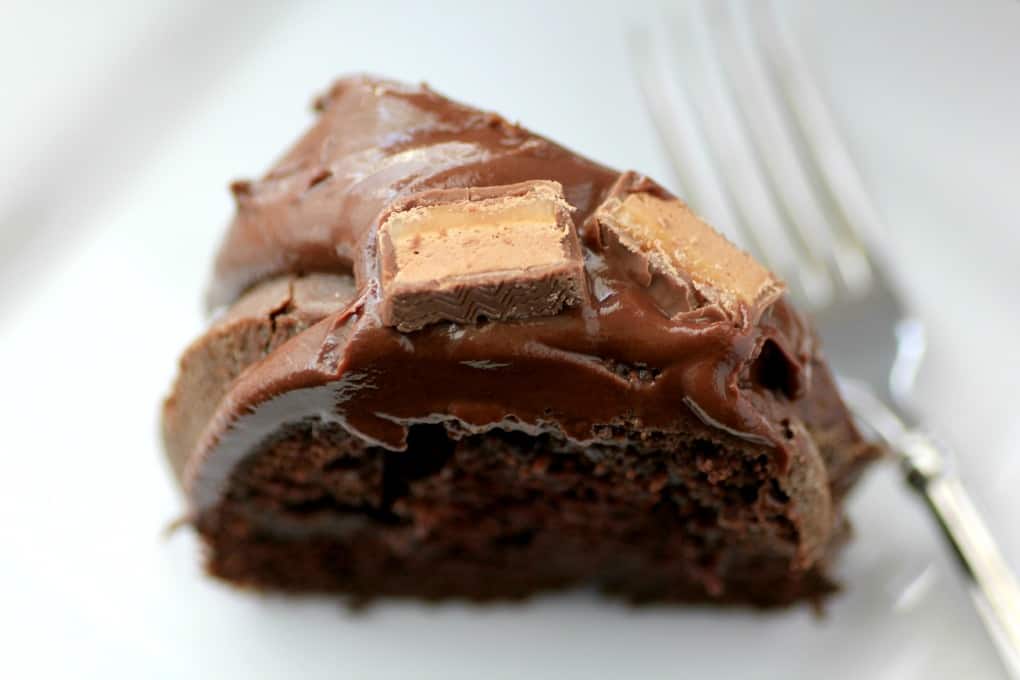 Go ahead you can grab that little piece of chocolate bar on the top there, just reach right in!!
The Recipe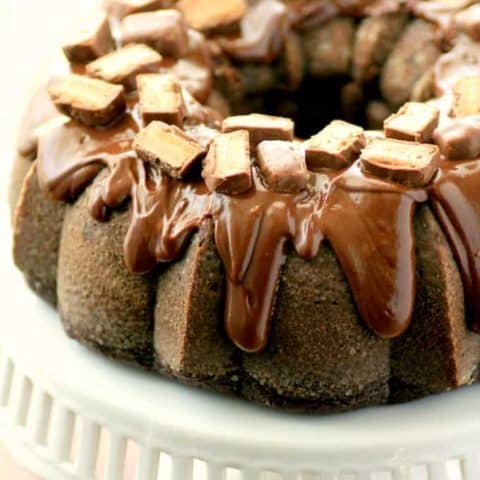 Mars Bar Bundt #BundtBakers
Yield: 10
Prep Time: 25 minutes
Cook Time: 50 minutes
Total Time: 1 hour 15 minutes
A rich chocolate bundt, celebrating the Mars bar!
Ingredients
½ cup butter softened
1¼ cup sugar
3 eggs
1 3/4 cup flour
1/2 cup cocoa
2 tsp. baking soda
½ tsp. salt
½ cup sour cream
¾ cup milk
1 cups fun-size Mars bars, sliced
Glaze
3/4 cup semi-sweet chocolate
3 Tbsp. butter
1 Tbsp. light corn syrup
1/4 tsp. vanilla
6-8 fun-sized bars sliced
Instructions
Preheat oven to 350F. Spray a bundt pan with cooking spray and flour, set aside. Whisk together the flour, cocoa, baking soda and salt.
In a standup mix, with a paddle attachment, mix together the butter and sugar. Add the eggs one at a time, mixing well after each. Alternatively add the flour, sour cream and milk, ending with the flour. Beat well for 2 min.
Pour the batter into the prepared pan. Insert the sliced Mars bars into the center of the batter, making sure they don't touch the sides or bottom of the pan. Bake for 45-50 min. until the cake sprins back when lightly touched. Let cool 15 min.
Carefully remove from pan and let cool completely.
For the glaze, melt the butter in a small saucepan, making sure it is bubbling and hot. Remove from heat and add in vanilla and chocolate chips and stir to melt. Add the corn syrup and mix well. Immediately pour over cake. Place the sliced Mars bars on top, let the glaze set and serve.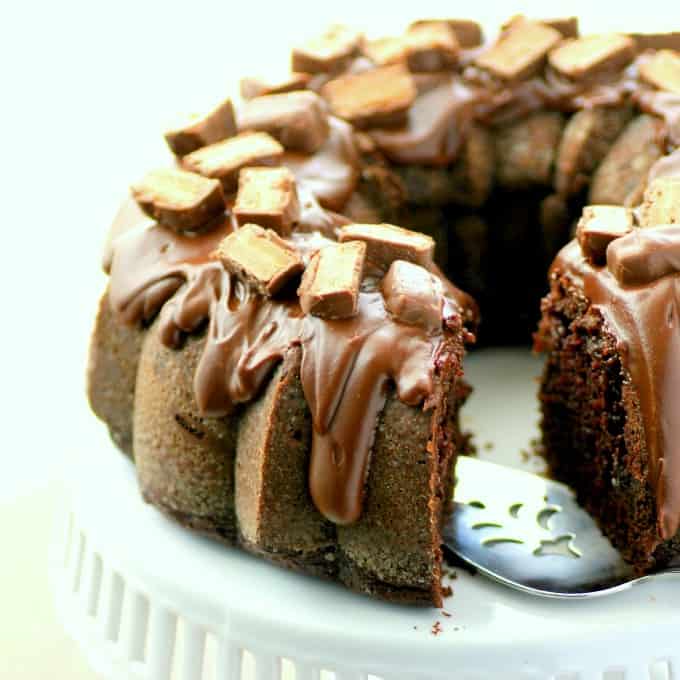 #BundtBakers is a group of Bundt loving bakers who get together once a month to bake Bundts with a common ingredient or theme. Follow our Pinterest board right here. Links are also updated each month on the BundtBakers home page.
We take turns hosting each month and choosing the theme/ingredient.
If you are a food blogger and would like to join us, just send Stacy an email with your blog URL to [email protected].
Here are February's Chocolate themed Bundt Bakers: