Mesquite BBQ Skewered Potatoes
Disclosure: I was compensated for this post. All opinions and experiences are my own.
It is a gorgeous summer day today here and in these parts we are about to celebrate the Greatest Outdoor Show on Earth, The Calgary Stampede. I start to think of some great "cowboy" type recipes that are wonderful on the grill. That got me thinking of mesquite bbq potato chips and their wonderful smoky flavor, one of my favorites. I then went about making these Mesquite BBQ Skewered Potatoes that are full of wonderful spices and are so easily made using Little Potato Company's Creamer potatoes.
These little potatoes are so easy to work with as they come pre-washed. I boiled them up in a quick 14 min. reducing the cook time by 1 min. to make sure they stayed whole and slightly firm to skewer. This recipe will make any cowboy young or old come rushing to the table. Imagine a big juicy steak coming off the BBQ to accompany these, YUMMO!!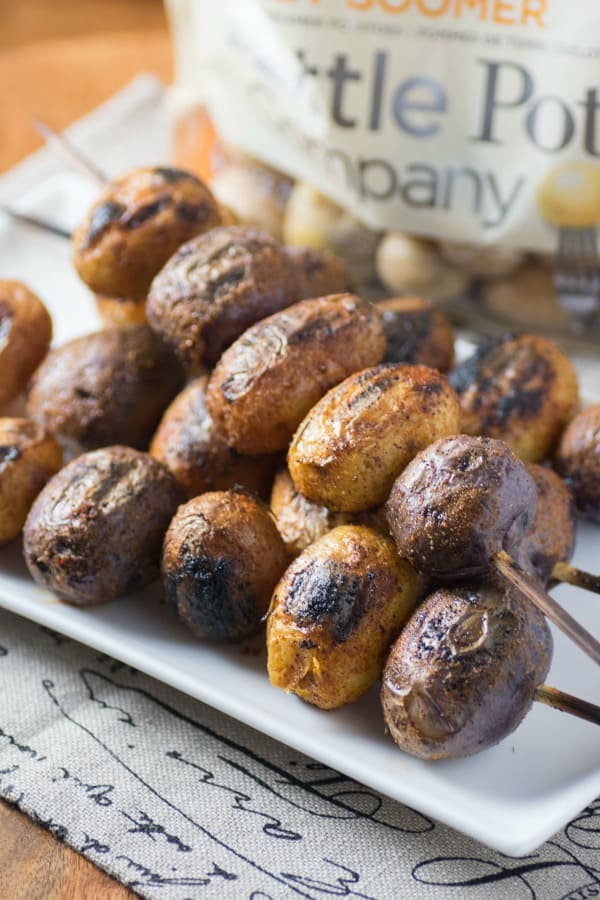 After a boil and cool down the potatoes are easily thread onto water soaked skewers. These can be made ahead of time to this point. When ready to grill all they need is a quick brush with olive oil and then a nice high sprinkling of our homemade mesquite seasoning. Place them on the grill to rewarm and get some lovely smoky flavor and grill marks. This is the perfect simple summer side dish.
Mesquite is actually a tree that grows in the southern states and Mexico. The wood from the tree is used to impart wonderful flavors into grilled food but because the trees are scarce in these parts (non-existent), we are lucky to have this homemade mesquite seasoning.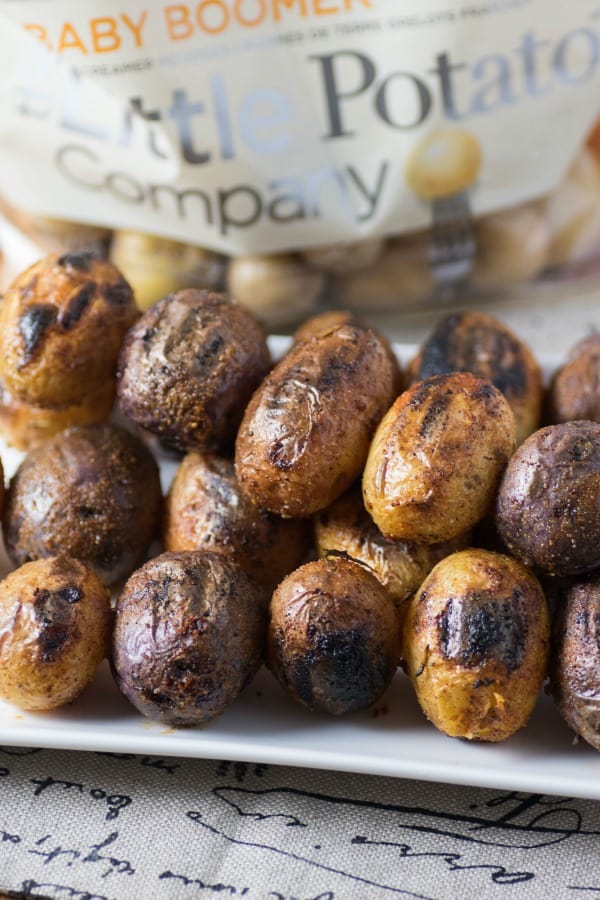 Little cow pokes will enjoy these also and you will be happy to know that little potatoes are naturally fat-free, sodium-free, cholesterol-free, gluten-free and only 120 calories per serving. Plus, the added bonus of essential vitamins and minerals like potassium, iron, fiber and vitamin C.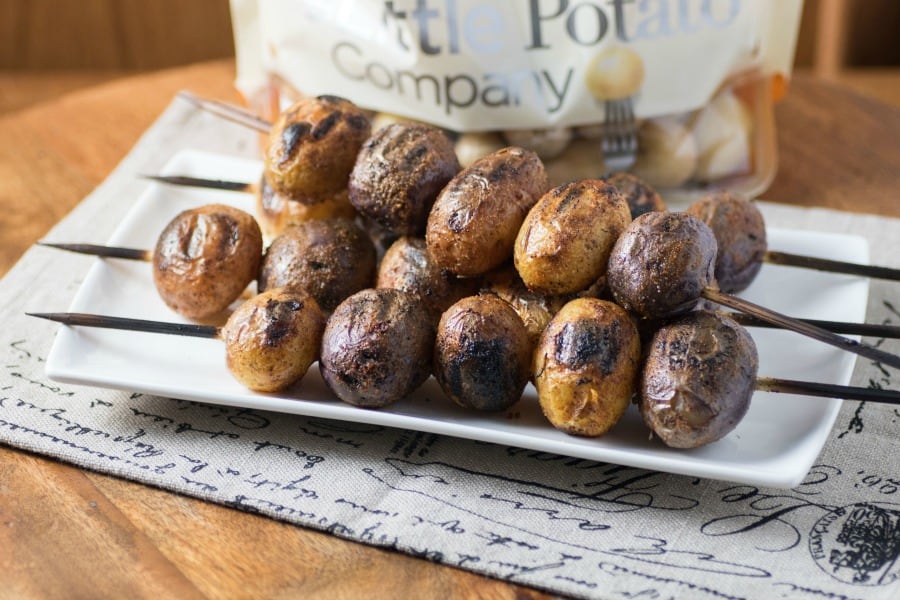 The Recipe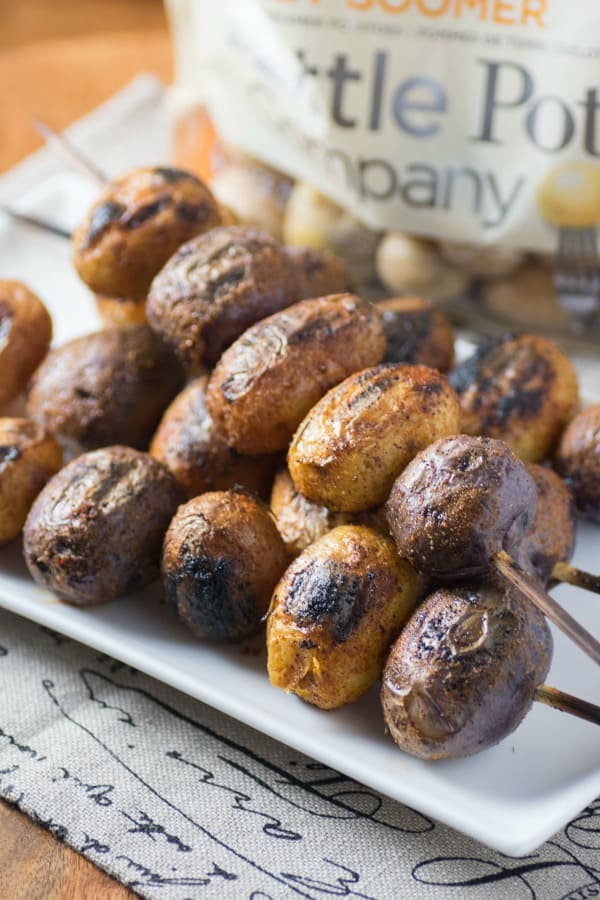 Mesquite BBQ Skewered Potatoes
Yield: 4 servings
Prep Time: 10 minutes
Cook Time: 18 minutes
Total Time: 28 minutes
Mesquite BBQ Skewered Potatoes are a great way to celebrate grilling and summer with their smoky wonderful flavor.
Ingredients
1 1/2 lb. Terrific Trio Little Potatoes
Olive oil
Skewers, soaked in water
Mesquite Seasoning
1 Tbsp. paprika
1 tsp. cumin
1 tsp. brown sugar
1/2 tsp. garlic powder
1/2 tsp. onion powder
1/2 tsp. dried mustard
1/4 tsp. sage
1/2 tsp. rosemary
1/8 tsp. cayenne
1/4 tsp. ancho chili powder
1/2 tsp. freshly ground pepper
1 tsp. salt
Instructions
Boil the potatoes for 14 min. or until just tender. Let cool and then divide onto 4 skewers. Make ahead and leave at room temperature for a couple of hours.
When ready to grill mix the seasoning together in a small bowl. Brush the potatoes on both sides with olive oil. Sprinkle the seasoning on the potatoes from high above to get an even coating of spices.
Grill 2 min. per side or until grill marks appear and potatoes are heated through.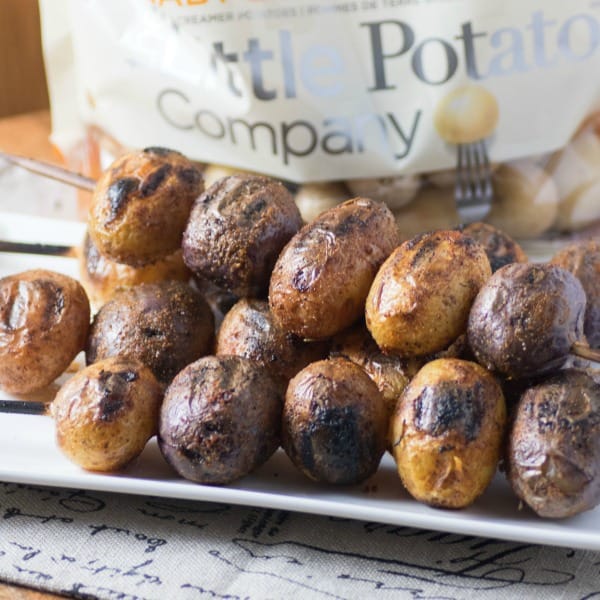 It is that time also to give away one month's free little potatoes to one lucky winner. The contest is open to Canada and the US until July 20, 2017 at 12:00 am. At that time a random winner will be chosen. The winner has 48 hours to respond by email or another winner will be chosen. Good luck everyone!