Michael Noble Introduces Noble Fare – Catering and Events
Michael Noble is at it again, after the well known local chef opened the buzz worthy restaurants Notables and then followed it with Nash, he had his own big shoes to fill, to outdo either of these fantastic restaurants. But now he is at it with, Michael Noble Introduces Noble Fare – Catering and Events. We were invited down to the official launch at the wonderful cSpace at 1721 29th Ave. SW in Calgray, AB. This art infused event venue was the perfect location for the festivities.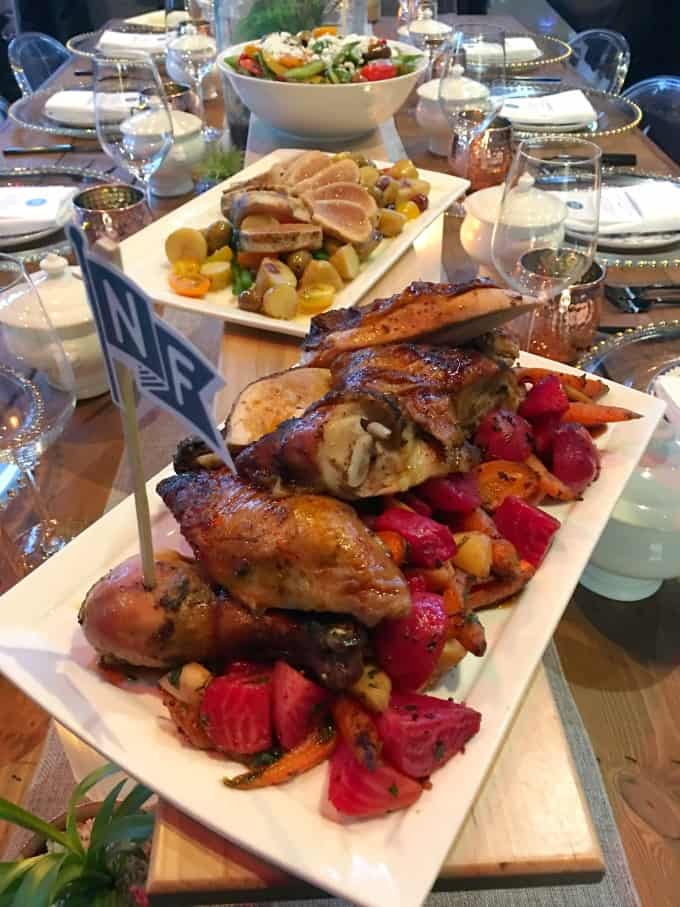 Are you hosting a cocktail party, a corporate event, a wedding? Michael has come up with menus for all. Look at this amazing chicken over roasted beets and carrots. That looks like something to celebrate on its own!! All of the food is prepared in either the Nash or Notables kitchens, where you already know that quality reigns supreme in these award-winning kitchens. They offer two types of catering, drop-off and full-service.
Cocktails and Wine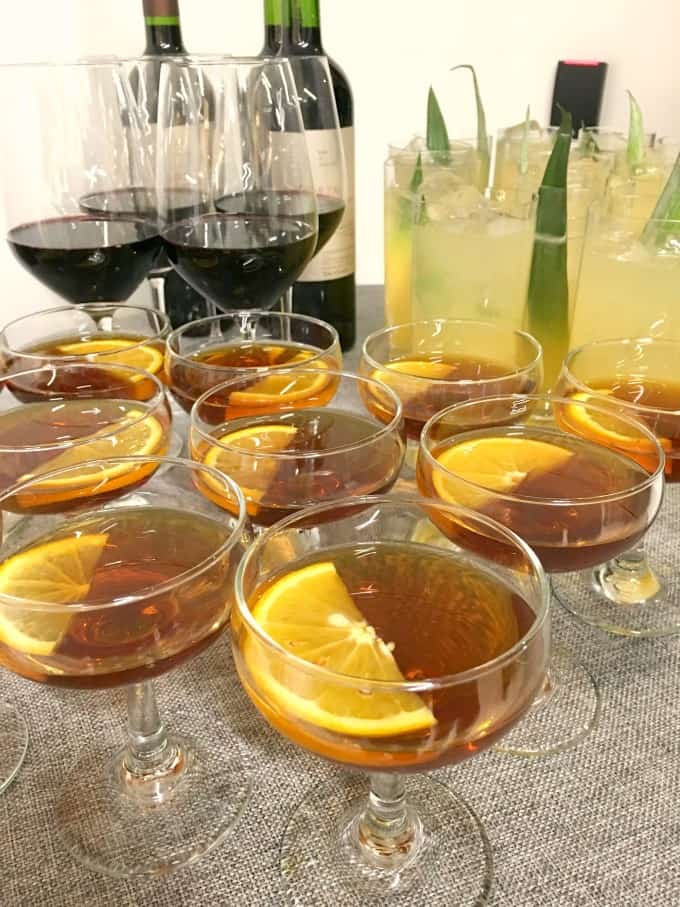 Upon entering we were offered some gorgeous cocktails. I love that he has these on the menus. Usually it is the obligatory, wines and beers. The one in the forefront is the Noble Fare Splash and is a lovely combination of Michter's bourbon, Cinzano, Fernet Branca, and charred orange. The libation in the background is the Crushable and uses local Eau Claire gin, with pineapple, lemon, flora kola, and Happy Belly mint kombucha. I had to try both, you know to be well researched and they were both fantastic and party worthy!!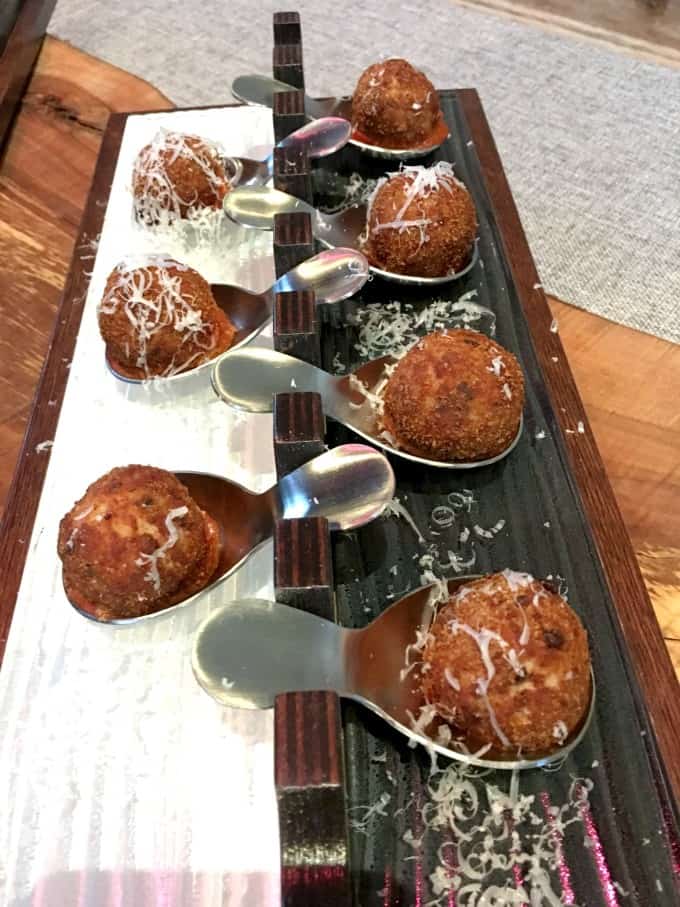 While we sipped our divine cocktails we started to nibble on beautiful food like these hand rolled Arancini. I love the presentation of these spoons for a cocktail party, so easy to use with a drink in hand also!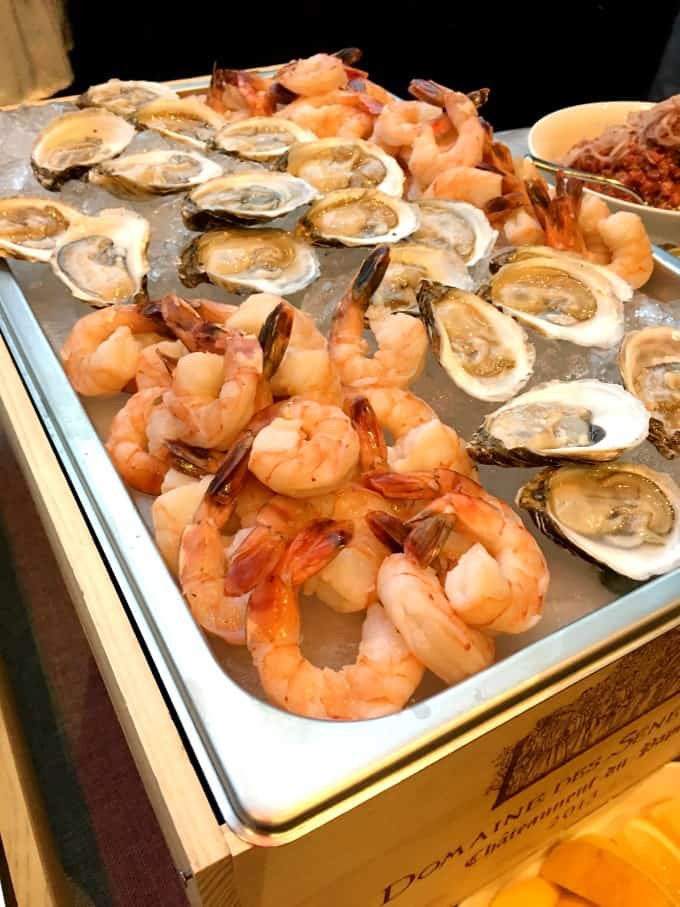 Besides food being served there was also stations like these amazingly cold giant Shrimp and succulent Oysters, both with all the fixings of mignonette sauce, cocktail sauce and more!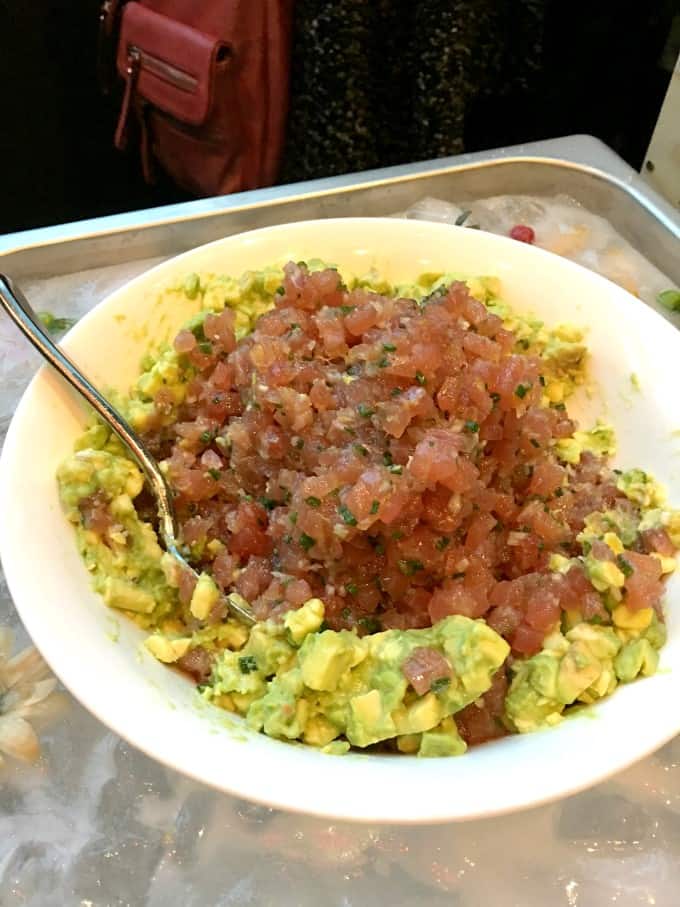 Also at this station was perfectly spiced Ahi Tuna and Steak Tartar! I could have just hung there all night long!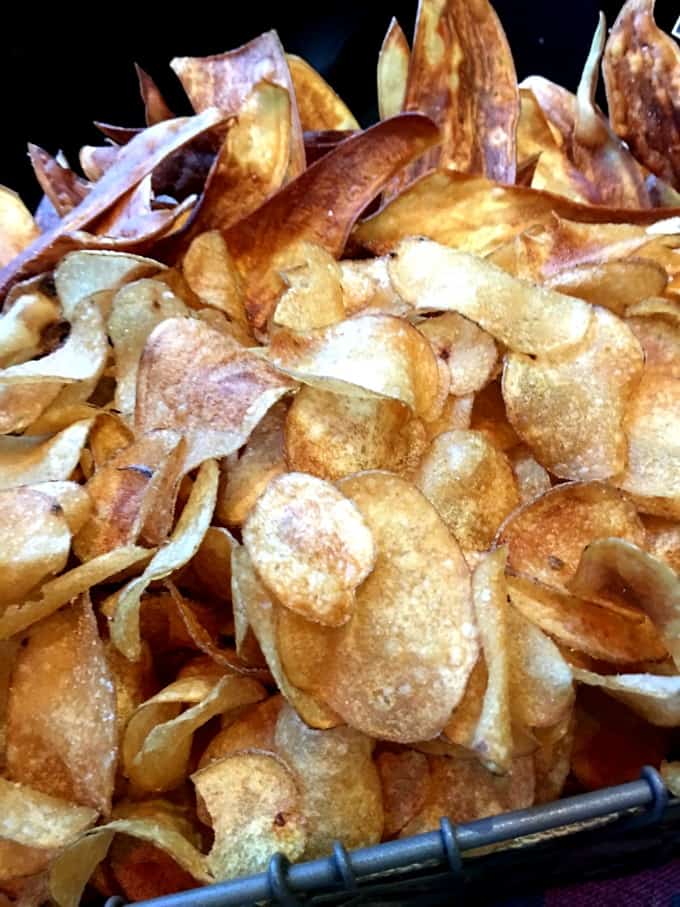 So good with the seafood and beef, were out of this world crispy and delicious Potato and Plantain Chips. They are perfect with the Ahi Tuna and Steak Tartar. These are the little points that Michael knows best!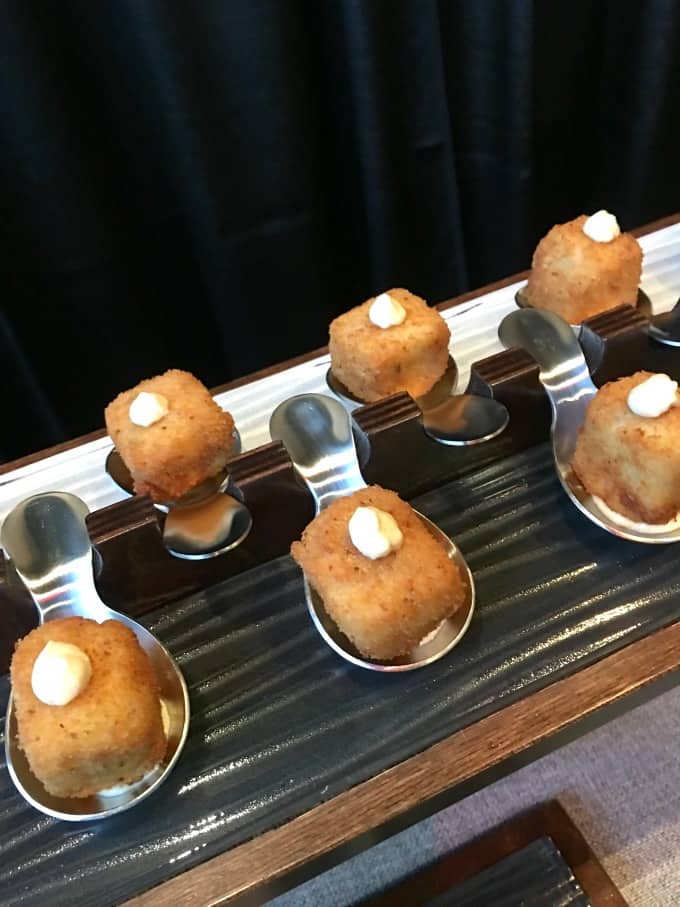 Very note worthy for its uniqueness are these Deep-Fried Truffled Macaroni. A divine bite that will leave you wanting more!!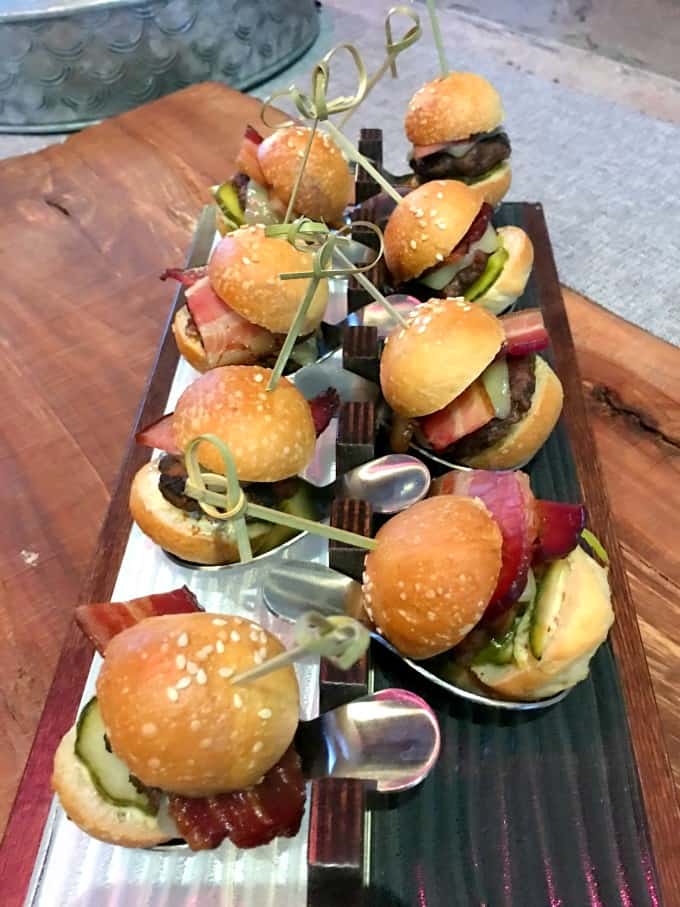 For a more casual bite is the Nash Natural Beef Slider. A bit more than a biteful of course but also presented on the gorgeous spoons and trays.
Action Stations
Noble Fare provides a number of "Action Stations" for larger events (min. 30) like this sublime Risotto in a Parmesan Wheel and you can choose from either charcoal roasted vegetables and taleggio cheese or rotisserie chicken, forest mushroom, and boursin. They were serving the latter this night and it was a very memorable and fun interactive offering!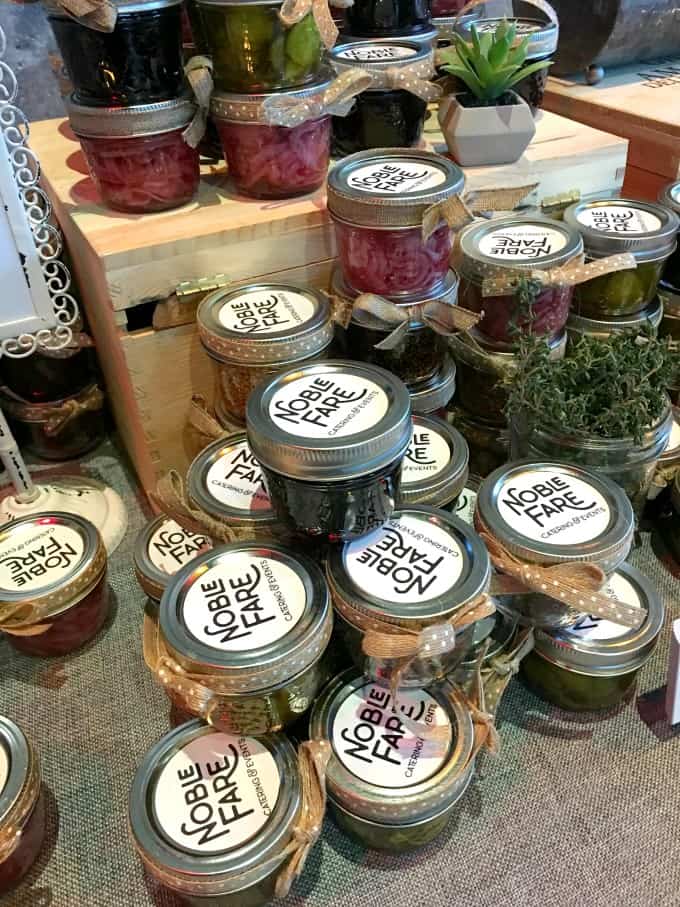 A little swag in the form of Bread and Butter Pickes, Candied Pecans, Pickled Red Onions, Local Honey-Grainy Mustard and Haskap Berry Compote. I was happily taking home a few of these! Thanks Noble Fare!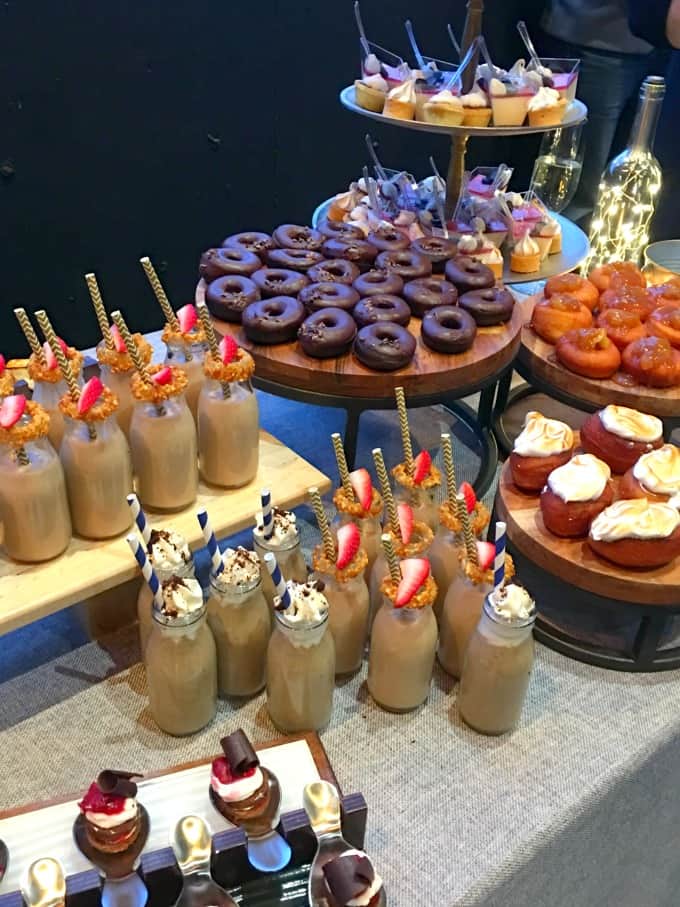 Of course nothing ends an evening better than a sweet treat and there were lots of them to go around. I had a Stilton Cheesecake Bite that I thought was so different and delicious. Those little milkshakes looked heavenly too!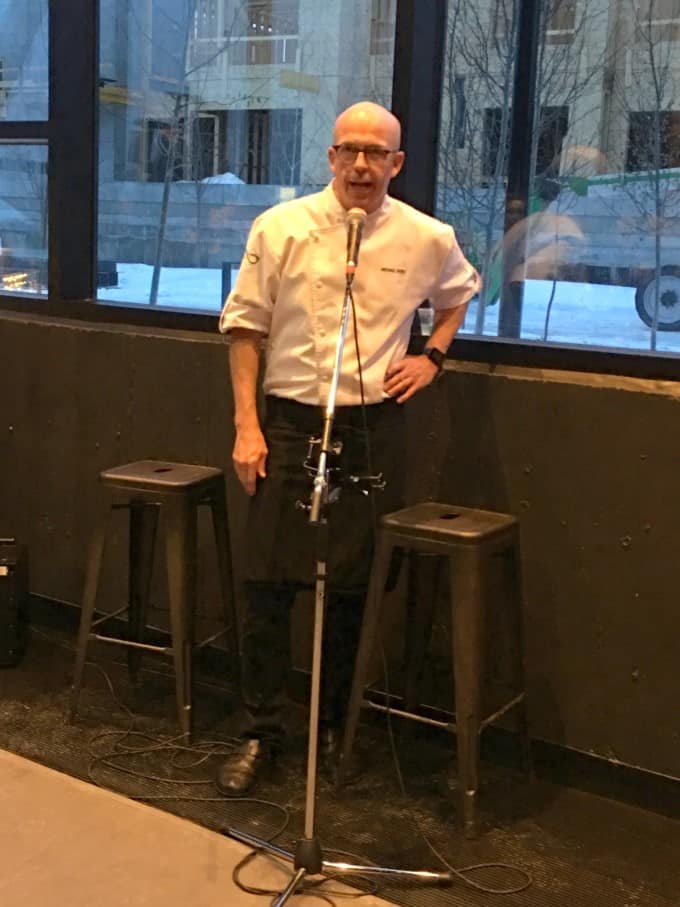 And here is your host, Michael Noble. You can follow along with Facebook, Twitter and Instagram to see the latest! I hope you enjoy what they have to offer. I know we sure did!