Mill St. Brewery – Calgary
Mill St. Brewery has landed in Calgary. Their story began back in 2002 with the first brewery opening up in Toronto's historic distillery district. They have since expanded to other locations in Toronto plus St. John's and Ottawa and now Calgary. Their first beer was an organic lager and the first of its' kind ever brewed in Ontario. They have expanded since those first days and now have over 60 unique beers to offer.
I have had the pleasure being to Mill St. Brewery – Calgary twice now since they opened last month. Both times I have had excellent beer, fantastic food in a fun and lively environment. On the first occasion I had a tour of the brewery itself.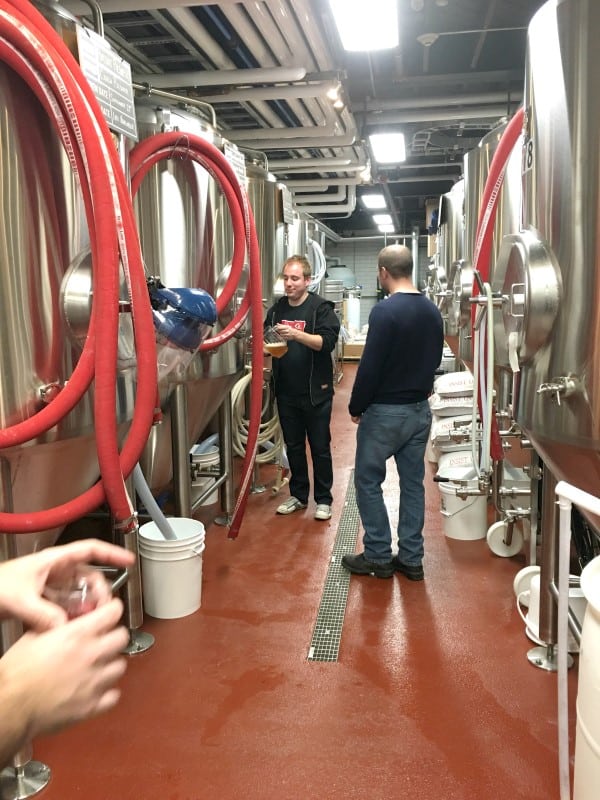 Bennie and Matt are the brew masters at this Calgary location and we got to try some beer straight out of the tanks. The brewery is not fully automated and gives these brew masters the pleasure of making a true craft beer.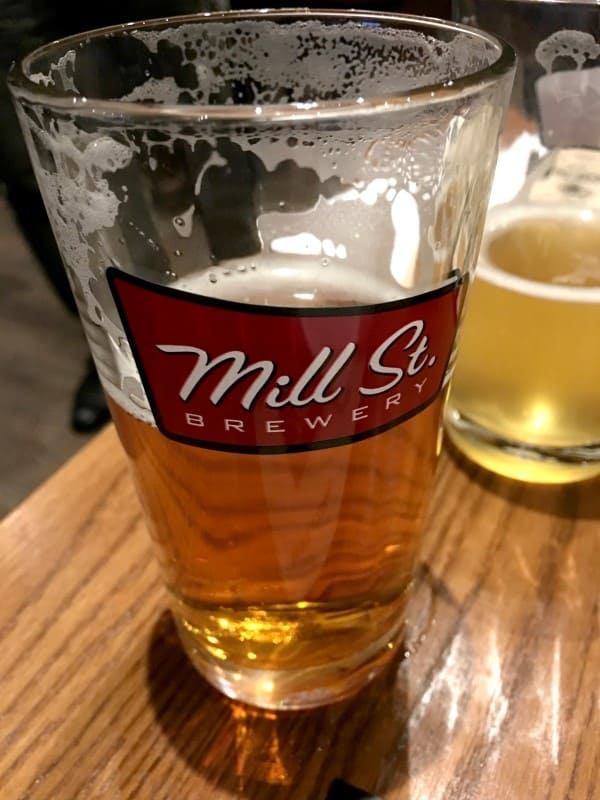 Sitting down to try some more beer I really enjoyed their wheat ale. This one was one of my favorites but there is a beer for everyone to enjoy! You can visit their store before you leave and take a growler home of your favorite too!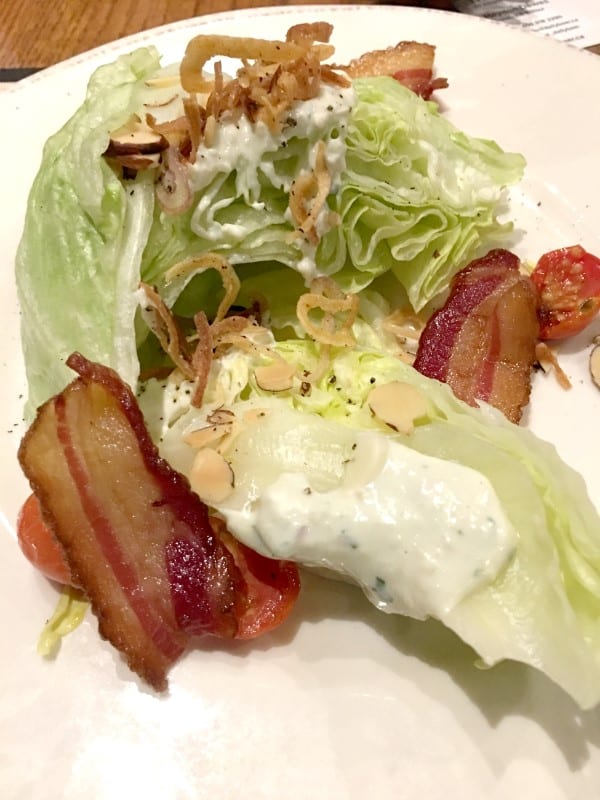 There were many courses served at the grand opening but I am going to show you two of my favorites. This traditional Wedge Salad was scrumptious and upped a new notch with blue cheese, almonds, wild boar bacon, and roasted shallots.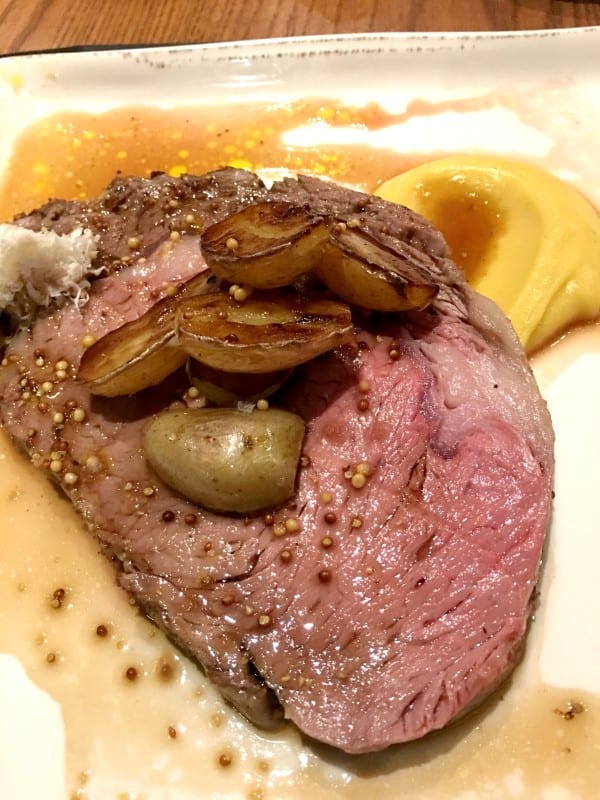 Another course that stood out from the crowd was this amazing Grilled Prime Top served with horseradish cream, roasted shallot, and bone marrow roasted potatoes. It is making you drool isn't it!!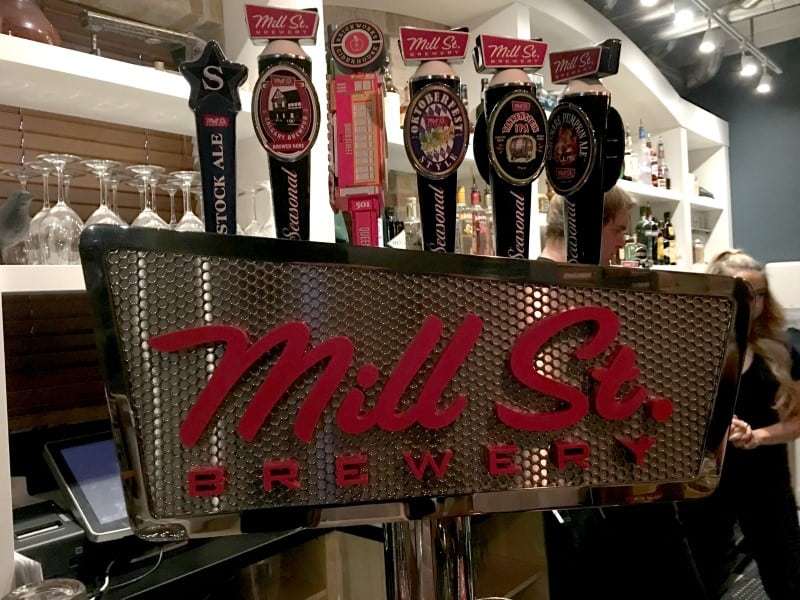 On my second visit, I brought Ken as my dining partner. He was excited to try some craft beer and fantastic food too.
Beer Making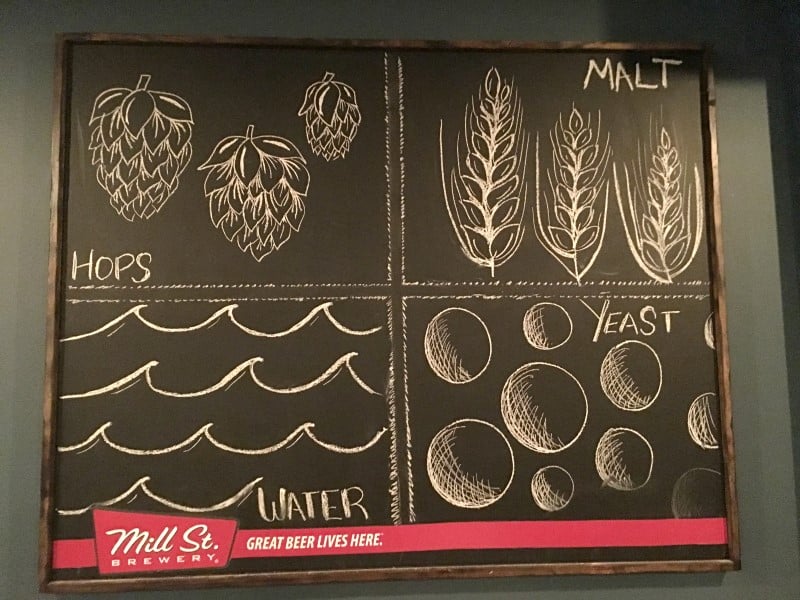 Here are the basics in beer making from there the world is your oyster when you are a brew master. I don't know that much about beer to be honest but I do know what I like and I so enjoyed many of their beers.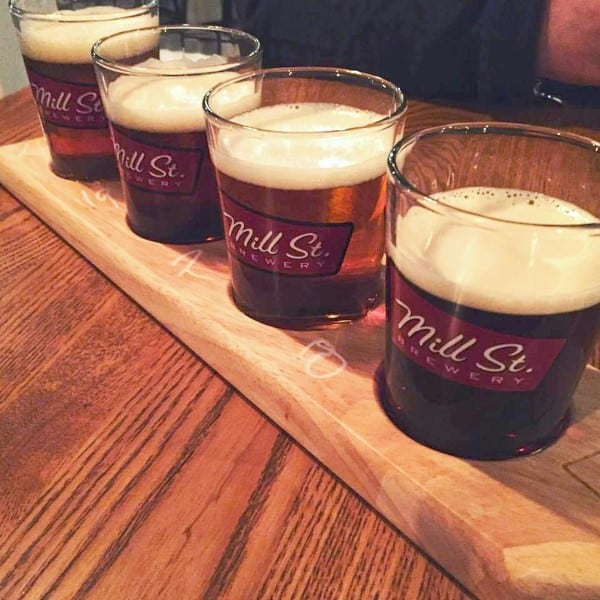 So on my second visit I definitely had to go for a flight as I couldn't decide on just one beer. I had the Pumpkin Ale, Oktoberfest, Vanilla Porter and the 100th Meridian which is a organic amber lager. I liked them all but my favorite was the Pumpkin Ale!!
The Menu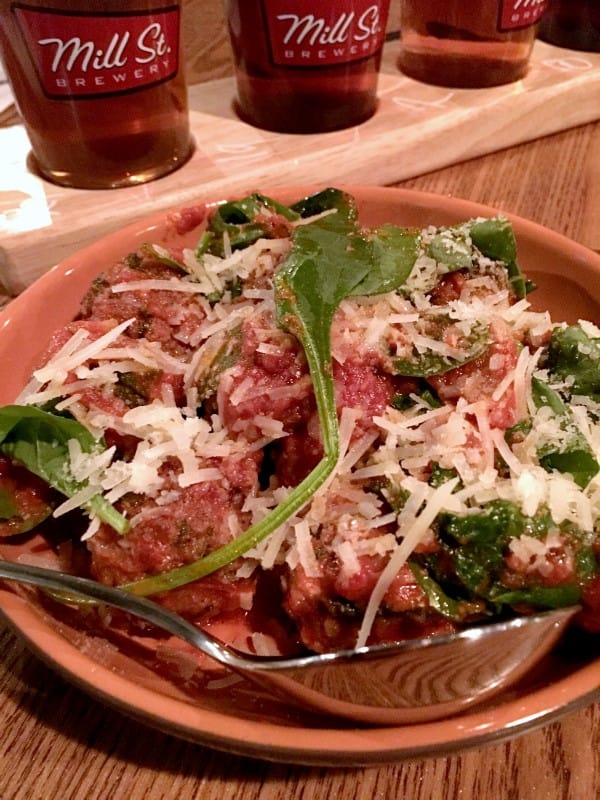 Now onto the food, we did our dinner family style and shared all the courses. They came all at once so we had a feast on our hands, how fun!! These Wild Boar Meatballs were so tender and delicious made with tomato, spinach and aged gouda. Some of the best meatballs I have ever tried.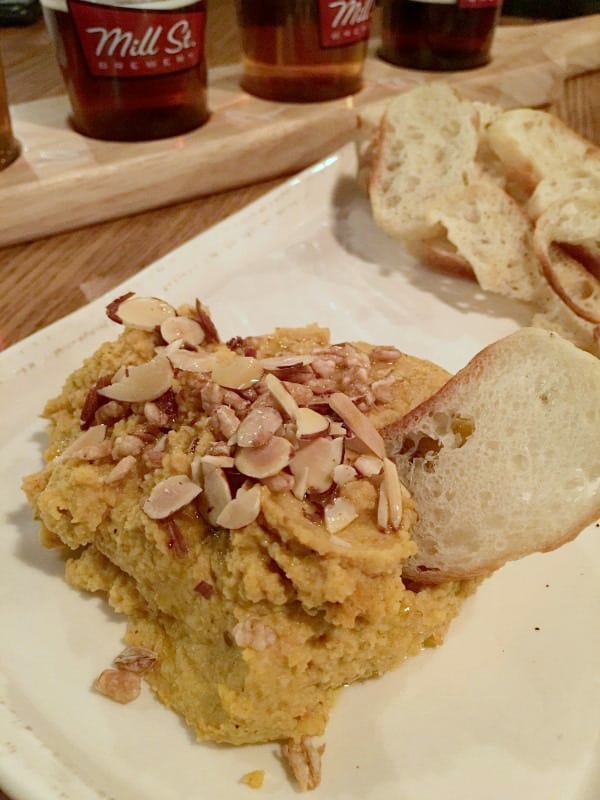 Next up is a vegan offering with this Almond Carrot Hummus, served with garlic crostini. I loved the crunch of the almonds with the creamy hummus!!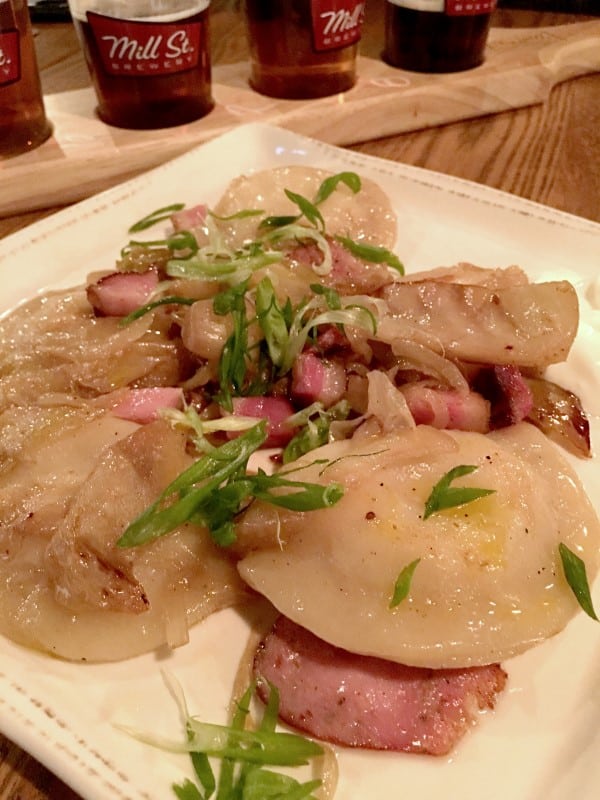 After that we dove into one of my favorite comfort foods, Gouda Cheese Perogies!! This is like heaven on a plate!! The perogies were tender and flavorful and were served with garlic sausage, braised cabbage, and caramelized onion. The perfect beer food in my opinion!! Bring on Oktoberfest!!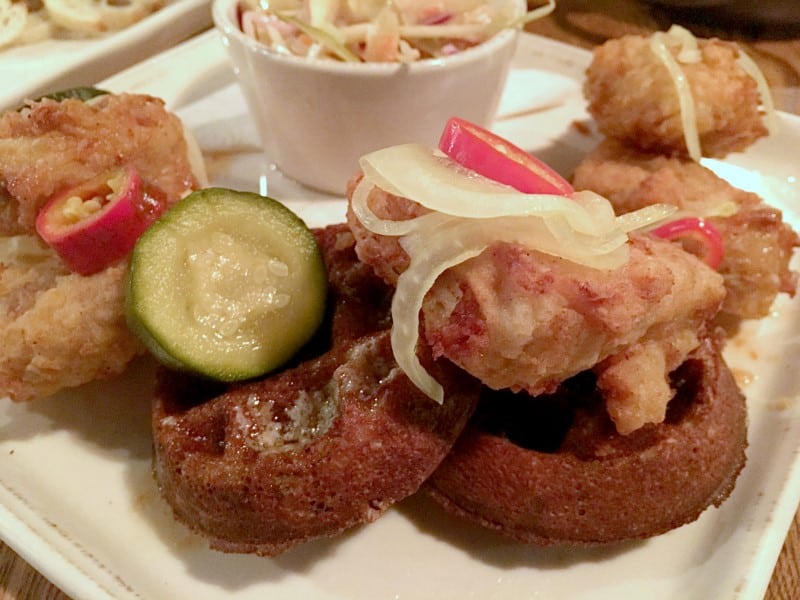 Chicken and Waffles were next on the menu and they had an Asian twist to them. The waffles are made with wild rice and are a masterpiece on their own but paired with the gorgeous fried chicken and maple syrup butter they are outstanding!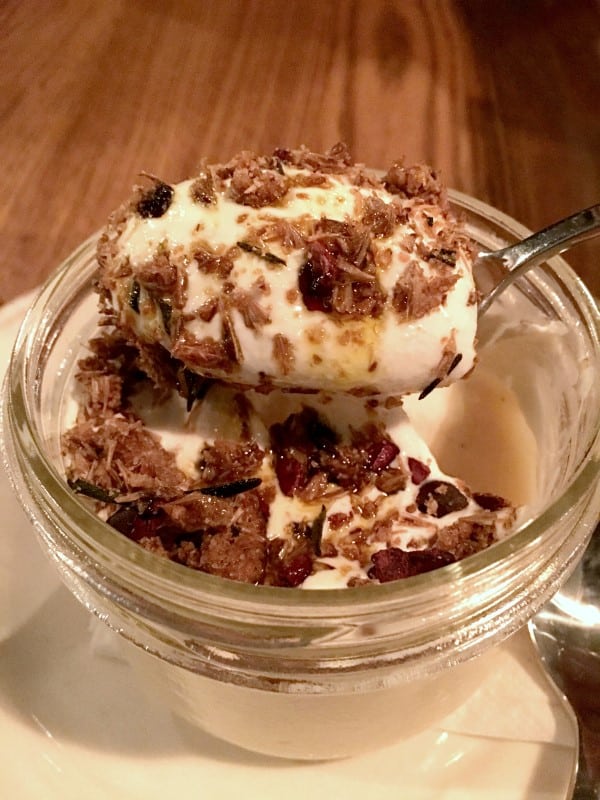 Did we have any room left? Not really but who could resist this Maple Pudding with twin tips cream and spent grain strudel. The strudel was very unique and lovely with the pudding giving it an extra crunch!
Come down to see Mill St. Brewery and enjoy some of these dishes and more. The beer is cold and the staff are nothing but attentive. The perfect casual dining experience.