Mini Coconut Cupcakes
I made some Mini Coconut Cupcakes for the year-end for Amber's class. I didn't want to use a boxed cake mix and I didn't want to have light fluffy cupcakes. Looking for something rich and a little denser to match up with the coconut. I find nothing worse than a little cupcake with zero flavour and you feel like "gee why did I even bother to eat that."
I think small bites need a big flavor. So I scanned and scanned recipes looking for what I wanted. I landed on Barefoot Contessa's Blueberry Coffee Cake Muffins, that was what I was looking for. I removed the blueberries and loosened it up with some more milk.
Piped the batter into tiny liners, so much easier than trying to scoop the batter in and plopping it everywhere. I then topped it with a coconut buttercream icing and you have big flavor in a little bite. Amber loved them and the kids gobbled them down.
Recipe
Cupcakes
3/4 cup unsalted butter, softened
1 1/2 cups sugar
3 eggs
2 tsp. vanilla extract
1 cup sour cream
1/2 cup milk
2 1/2 cup flour
2 tsp. baking powder
1/2 tsp. baking soda
1/2 tsp. Kosher salt
Icing
1 cup butter, softened
3 cups icing sugar
4 Tbsp. cream
2 tsp. coconut extract
Shredded sweetened coconut for topping
Preheat oven to 350F. Line mini muffin pans with 60 mini cupcake liners. Cream butter and sugar together until fluffy. Add the eggs one at a time and then beat in vanilla, sour cream and milk. Mix well. In another bowl whisk the flour, baking powder, soda, and salt together.
Slowly add the flour into the butter mixture and mix until just incorporated. Spoon into a pastry bag fitted with a plain open tip and pipe 2/3 full into each cupcake liner. Bake for 12-15 min. until they bounce back to a light touch and are lightly golden. Let cool on wire racks completely.
For the icing, cream the butter in a large bowl. Carefully incorporate the rest of the ingredients alternating the icing sugar with the cream and the coconut extract and continue beating until light and fluffy. Place icing in a piping bag with the desired tip.
You don't have to be fancy. Place 2 cups of coconut in a bowl and dunk the iced top of the cupcake in. Place in a covered container until you are ready to eat them. Enjoy!!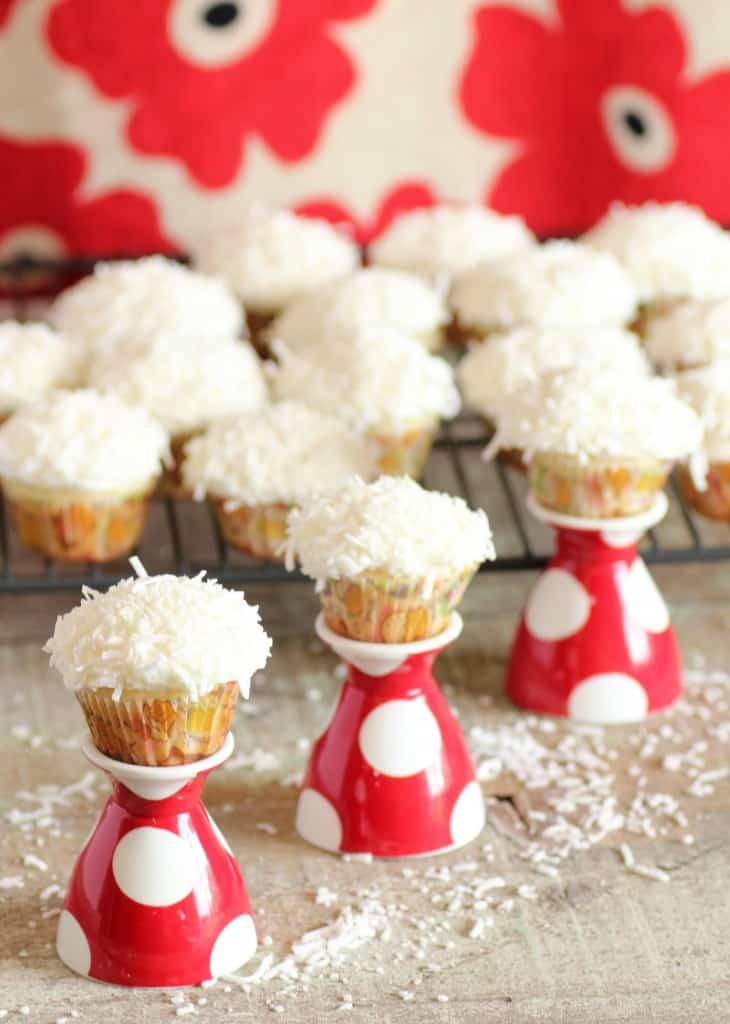 Adapted from Barefoot Contessa's Blueberry Coffeecake Muffins