When we are having a BBQ party, a lot of times we do a Mixed Grill. I love them as you get a little of this and a little of that. You don't have to pick just one item or you can if you wish. With a bunch of fresh summer salads you have a great feast! I was very lucky to be chosen to represent Grace Foods and their amazing jerk seasonings with this post. They were very kind in sending me lots of their wonderful jerk seasonings, dips, BBQ sauce, scotch bonnet sauce and jerk marinade. How could I create only one recipe with all this deliciousness to try? I couldn't, I went immediately to one of our favorites, the Mixed Grill. Come on in for the flavors of the Caribbean!! Dad would love this feast too for his big day!!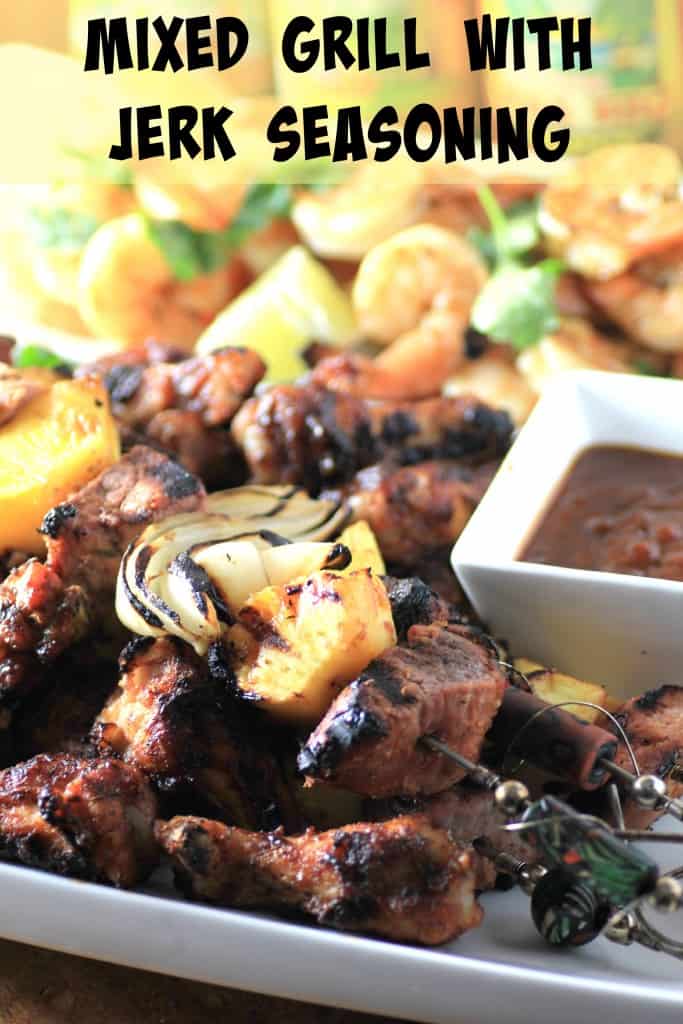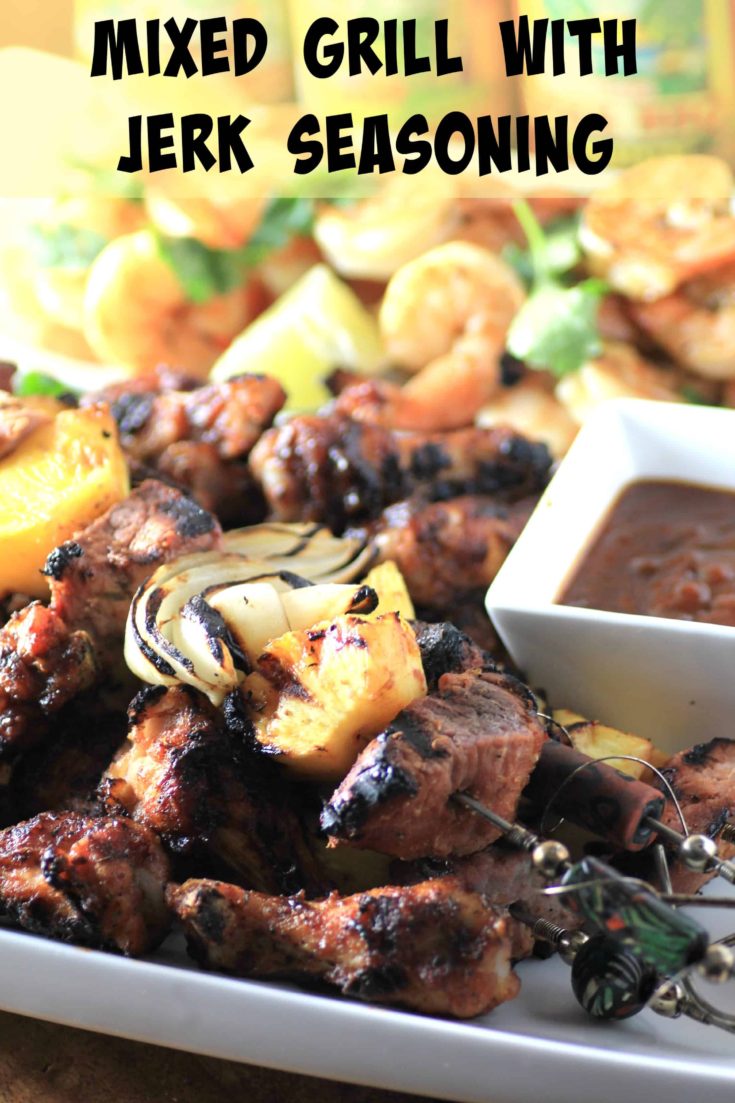 My one strong memory of jerk seasonings was when we were in Turks and Cacacos and at our resort, a fun Jamaican gentleman would start a BBQ at about 10:00 am in the morning. My husband would wait salivating for the first piece of chicken to come off his BBQ and run over to grab it. This became a daily ritual and we needed to find chairs close to the BBQ in case, for some strange reason he didn't have enough for eveyone to get their fill. Ken loves the flavors of jerk and every summer we have a feast at least once or more. I am also very fond of the heat and of the warm homey spices that go into jerk seasoning.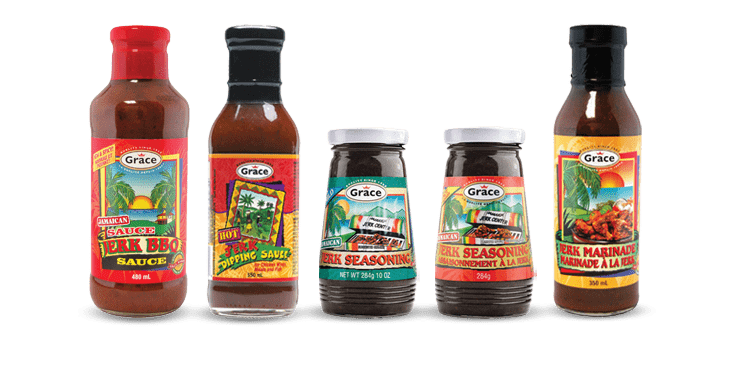 Grace has brought all of these wonderful flavors to you, in easy and convenient sauces and marinades. Come and see the full line of jerk products from Grace with details.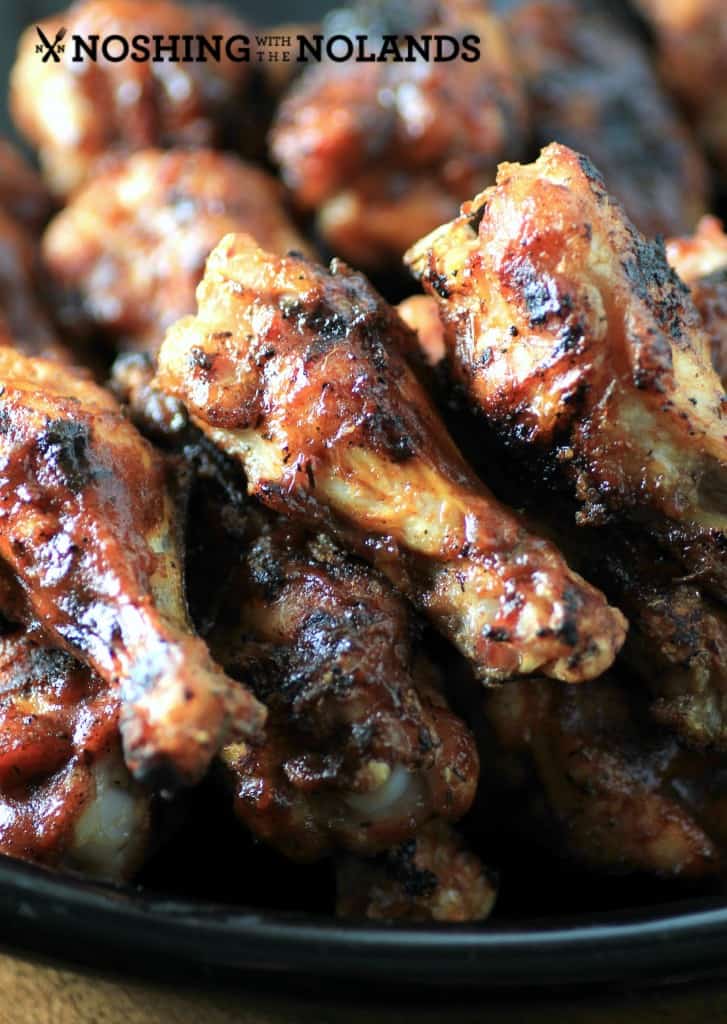 We love little drumettes in the summer and Ken always makes up his own spice rub for them. Even better is the amazing Grace BBQ Sauce, slathered on at the end (5-6 min. before you pull them off) with all the wonderful flavors of jerk. Not hot but on the sweeter side and with the all of their magical spices and herbs. The wonderful BBQ sauce can also be added to casseroles, stews or stir fry dishes, or used as a condiment or as a dip.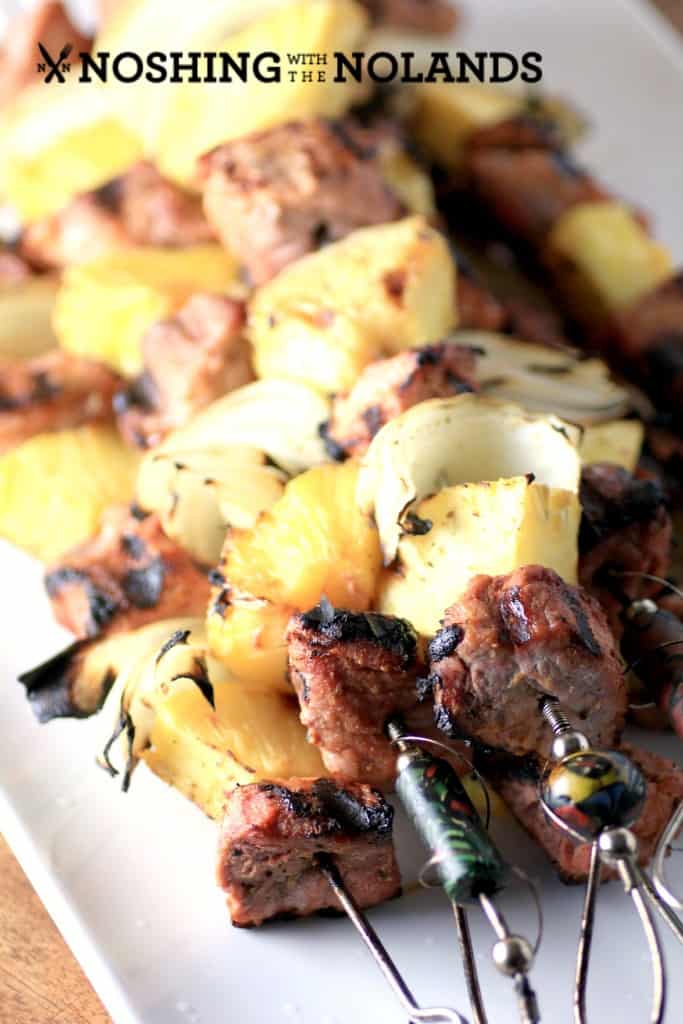 Next up were these pork kebabs, that are marinated in coconut milk, pineapple juice and then we upped the flavor profile with Grace Scotch Bonnet Sauce. I have never had this before, scotch bonnets are up on the scale with the same amount of heat as a habanero pepper. Now that is hot!! At first I put in 1 Tbsp. just feeling the waters but soon realized that in a marinade you can put a lot more heat in as the meat needs to absorb that taste. I quickly added in 2 Tbsp. and the pork just had the perfect little heat with the wonderful sweetness from the pineapple and sweet onion, a perfect marriage.
Do you know where the word "jerk" came from and what is traditionally in this Jamaican way of cooking? Jerk consists of an exotic blend of scallions, onions, scotch bonnet peppers, salt, thyme, allspice, black pepper and many other spices. It is savoury, fragrant, and tenaciously spicy or can be just the right burst of flavor, with a touch of heat.
Grace kindly supplied us with some history for you to enjoy:
The origins of jerk can be traced back to the 1700's with the Maroons, a group of slaves who escaped and hid in the Blue Mountains of Jamaica. This group combined African meat cooking techniques with a mix of Jamaican spices and seasonings used by the Arawak to preserve and cook their meats. This evolved with the use of different spices to the cooking style that we know today as Jerk. Dare to venture and take your taste buds on a tour of the island.
How the name "Jerk" came to be used:
1st theory: It originates from the Peruvian word, "Charqui", used to describe jerked or dried meat. Over time this term evolved from "Charqui" to "Jerky" to "Jerk".
2nd theory: The name derives from the practice of jerking (poking) holes in the meat to fill with spices prior to cooking.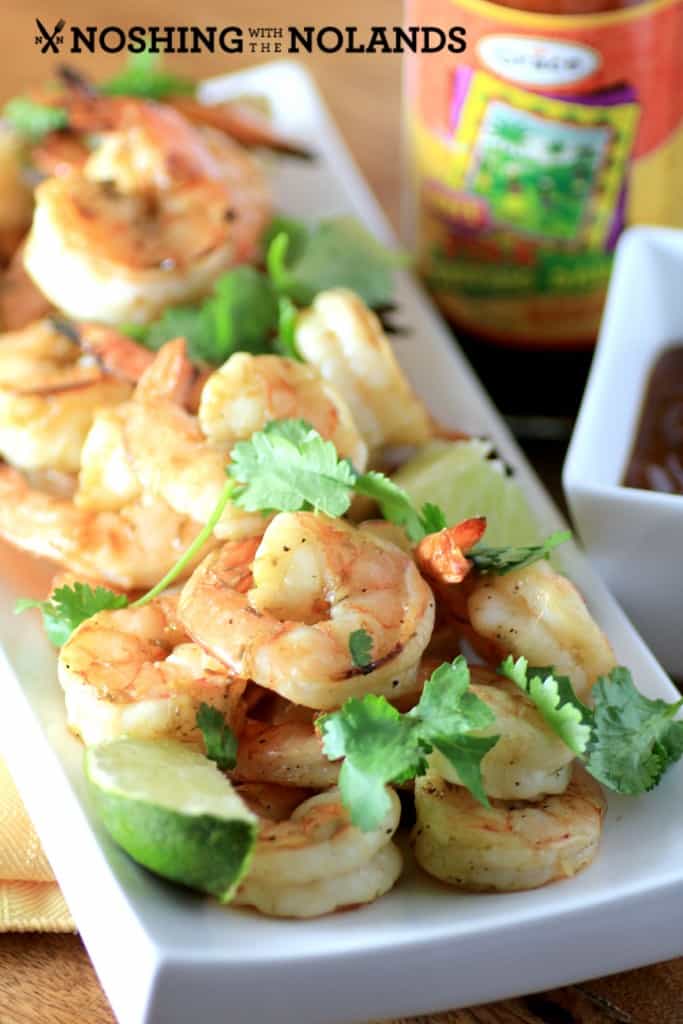 Lastly, these shrimp were fabulous with so much flavor and only a touch of heat. I could have eaten the whole plate myself!! If you wanted to up the heat, we served these shrimp and all the other dishes with their delightfully spicy dipping sauce.
Grace Jerk Products can be used right out of the jar for super easy convenience, rub paste onto your raw meat along with other fresh ingredients, marinate for at least an hour before grilling or barbequing to get the traditional, classic jerk taste. Best if marinated for 4 hours.
For the Jerk Marinade it is easy and fast. Simply mix into your raw meat, marinate for at least one hour and you're ready to cook in an oven, on the grill or stove top. Brush on additional jerk marinade during cooking for extra flavour.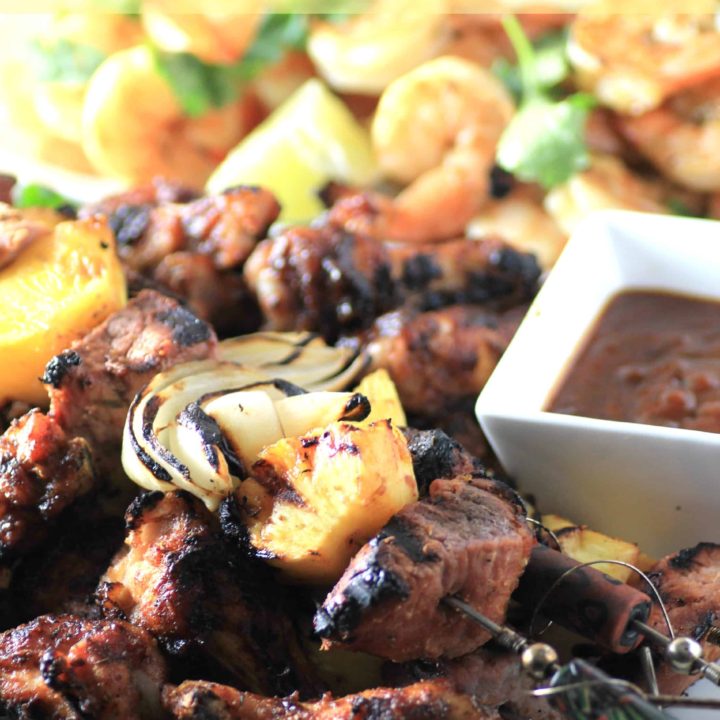 Mixed Grill #GrillWithGrace Chicken Drumettes
Yield: 24 drumettes
Prep Time: 10 minutes
Cook Time: 20 minutes
Total Time: 30 minutes
Spice rubbed chicken drummettes slathered with Grace BBQ sauce.
Ingredients
Spice Rub
1 Tbsp. paprika
1 Tbsp. Kosher salt
1 Tbsp. garlic powder
1 Tbsp. onion powder
1 1/2 tsp. cayenne
1 tsp. black pepper
1 tsp. white pepper
1 1/2 tsp. dried oregano and thyme
1 Tbsp. brown sugar
Chicken
24 chicken drumettes
Grace BBQ sauce
Instructions
Mix together the spice rub in a small bowl. When ready to grill, rub chicken liberally with spice rub and BBQ on medium heat for 15 min. turning frequently, until just cooked through. Slather with Grace BBQ sauce and cook an additional 5-6 min., turning until sauce is slightly charred and baked on. Serve immediately.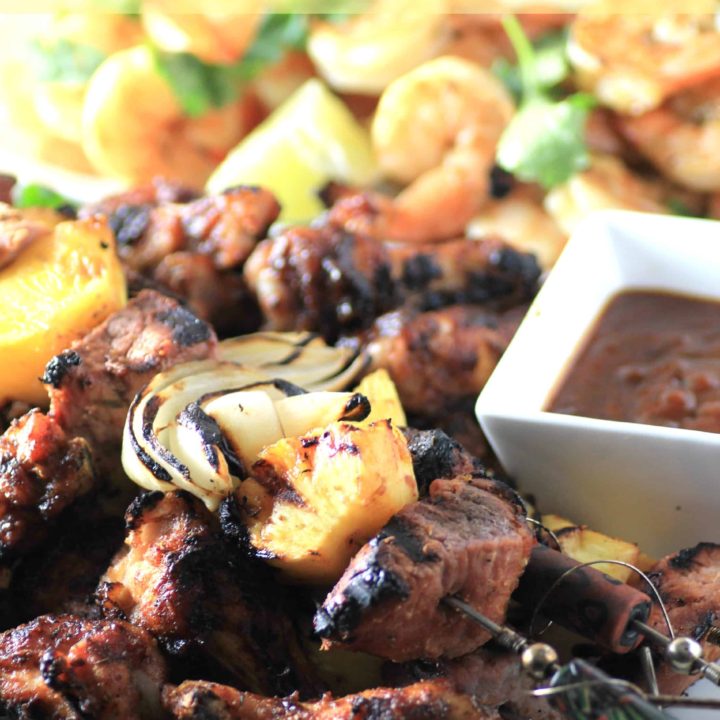 Mixed Grill #GrillWithGrace Jerk Pork, PIneapple Kebabs
Yield: 6 kebabs
Prep Time: 10 minutes
Cook Time: 20 minutes
Total Time: 30 minutes
A pork kebab marinated in coconut, pineapple with the wonderful heat from scotch bonnets and jerk seasoning.
Ingredients
Marinade
I (14 oz.) can lite coconut milk
3 Tbsp. fresh grated ginger
1/2 cup pineapple juice
1 heaping tsp. Grace mild jerk seasoning
1 Tbsp. minced garlic
1 tsp. paprika
2 Tbsp. Grace scotch bonnet sauce
2 Tbsp. canola oil
Salt and pepper to taste
Kebabs
2 lbs. pork tenderloin, trimmed of silver skin and fat, large cubed
1 pineapple, large cubed
1 large sweet onion, large slices
Instructions
Mix all the marinade ingredients together in a large bowl. Add the pork and let marinate for at least 2 hours or up to 8 hours. When ready to grill assemble the kebabs as follows, pork, pineapple, onion, pork, pineapple, pork, pineapple, onion, pork. You should have enough for 6 skewers. Salt and pepper them before going on the grill. BBQ for 18-20 min. or until internal temperature for the pork is 150-160F. Serve with Grace dipping sauce.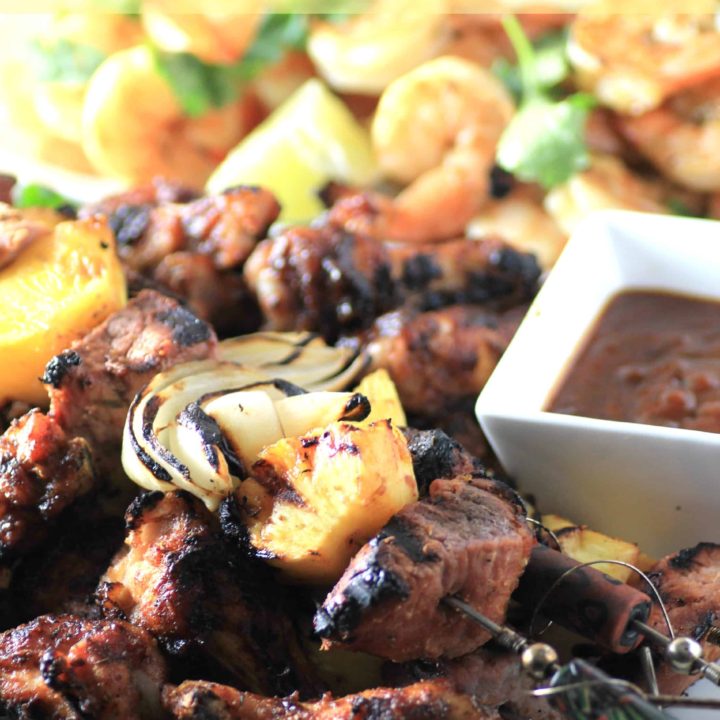 Mixed Grill #GrillWithGrace Jerk Citrus Shrimp
Yield: 6 servings
Prep Time: 10 minutes
Cook Time: 20 minutes
Total Time: 30 minutes
Citrus shrimp with the wonderful flavors of jerk seasoning.
Ingredients
1 cup of orange juice
1 lemon, zested and juiced
1 Tbsp. Jamaican rum or dark rum
1 Tbsp. canola oil
1 tsp. garlic, minced
1 Tbsp. brown sugar
1 1/2 Tbsp. Grace Mild Jerk Seasoning
700 gms. large shrimp with tails on
Grace Dipping Sauce
Instructions
Mix together all the ingredients except the shrimp and dipping sauce in a large bowl. Add the shrimp and marinate for 1- 2 hours. Don't marinate too long as the citrus will start to cook the shrimp. Grill on medium heat for 4 min. a side or until cooked through. For the shrimp we used a BBQ basket or you might like to skewer them for ease of BBQing.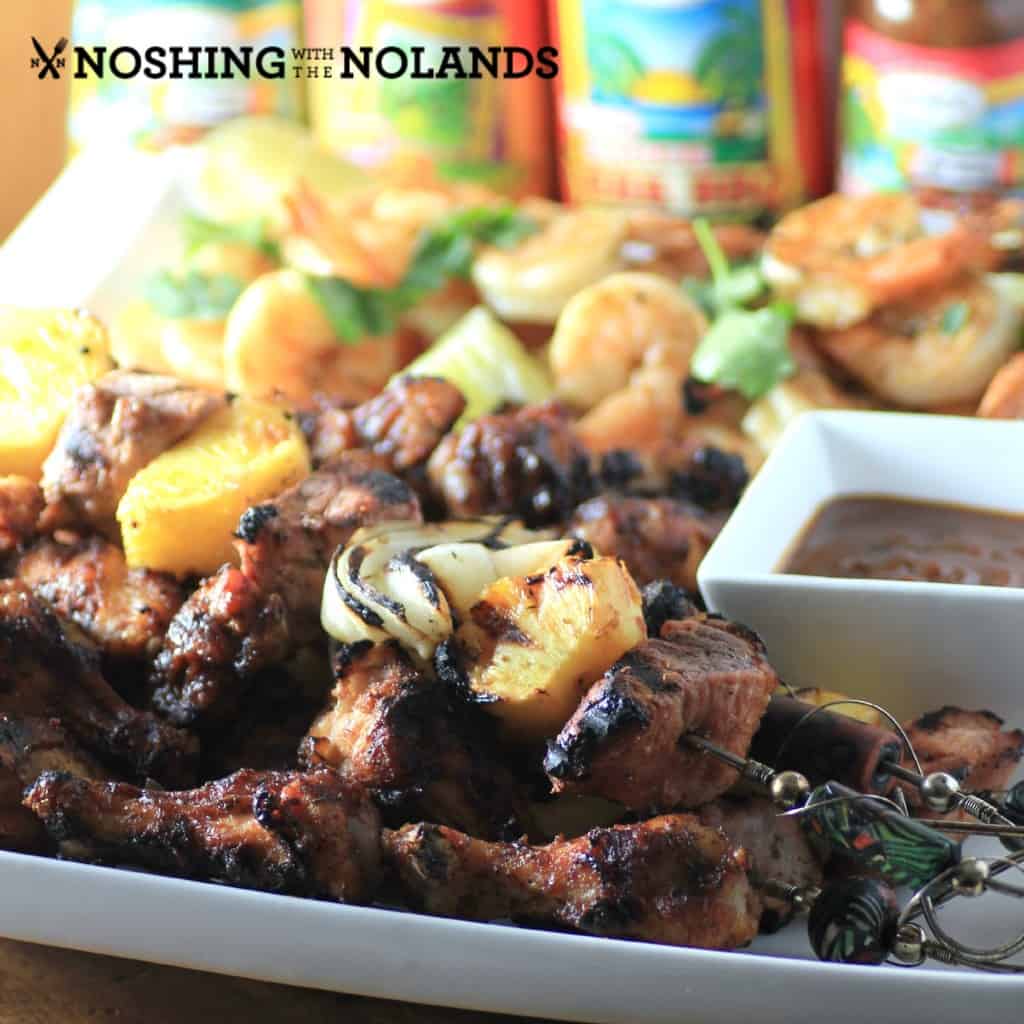 Disclaimer: This post has been sponsored by Grace Foods and I have been compensated monetarily and with product. The views in this post are my own.