Morels in a Cream Sauce with Sweetlet Peas
Spring is coming slowly here and I am probably jumping the gun a bit with 5 Days of Spring Veggies but I will bring to you what I can find so far. So today is Day One of 5 Days of Spring Veggies with Morels in a Cream Sauce with Sweetlet Peas.
First off are these wonderful morels that I was kindly given to by Untamed Feast. Morels are a spring mushroom, they have a honeycomb-like appearance and are very prized in French cuisine.
So in knowing that I wanted to create a cream sauce for them with a hint of sherry, serve them atop puff pastry and to lighten it all up, sprinkle the top with Sweetlet peas.
This is a lovely appetizer or would accompany a steak very nicely too. With your leftover puff pastry, why not try my Cinnamon Puff Pastry Bites. I hope you ENJOY!!!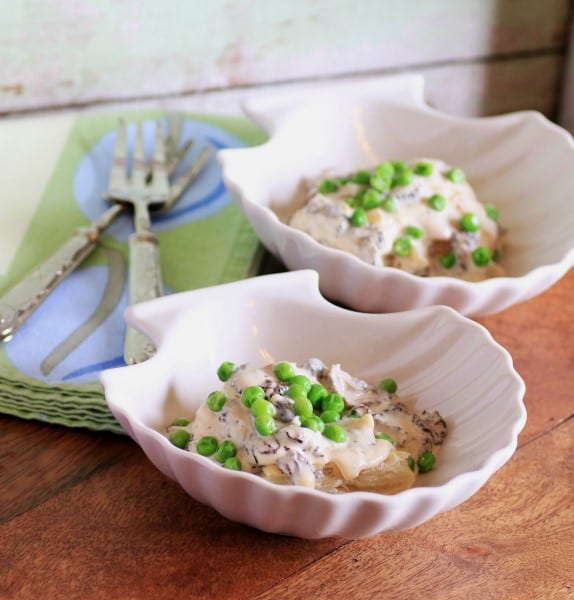 If you would like to purchase some amazing mushrooms please order through Untamed Feast.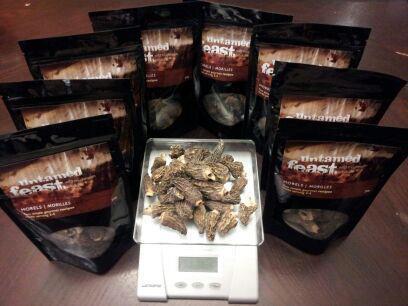 Mushroom Sage Olive oil can be found at Blue Door Oil and Vinegar.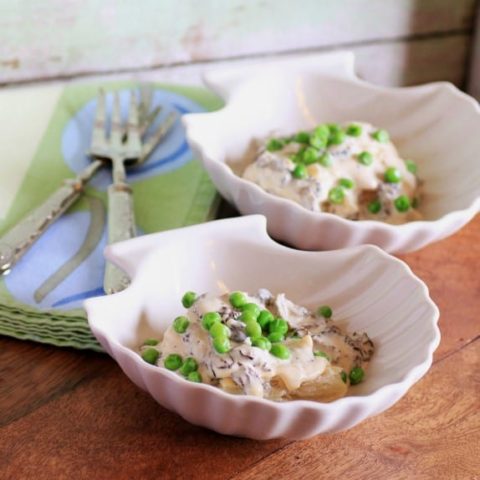 Morels in a Cream Sauce with Sweetlet Peas
Yield: 6 Servings
Prep Time: 10 minutes
Cook Time: 15 minutes
Total Time: 25 minutes
A delicious appetizer or side with steak or beef.
Ingredients
1/2 small onion, diced
2 garlic clove, minced
2 Tbsp. Mushroom Sage Olive oil or olive oil
20 gms. dried morels
1 cup of warm water
1/2 cup white wine
1 Tbsp. sherry
1 1/4 cup half and half cream
1 Tbsp. flour
Salt and pepper to taste
1/2 cup Sweetlet peas
6 squares puff pastry
Instructions
Preparation Instructions
Preheat oven to 375 F.
In a small bowl soak mushrooms in the warm water for 20 minutes.
Lay the sheet of puff pastry on a floured work surface. Roll out the puff pastry to 10×13″ and cut out six 2½" squares (you'll have extra leftover). Bake on a cookie sheet for 12-15 minutes. Set aside.
Gently squeeze the water out of the mushrooms and reserve the water after straining it through a fine-mesh sieve. Set the mushrooms and the mushroom water aside.
In a medium saute pan over medium heat, add the olive oil and saute the onion and garlic until translucent. Add the reserved mushroom water, white wine, and sherry and cook to reduce to roughly 3 tablespoons.
Cook the peas in the microwave or by steaming them, then keep warm.
Add the flour to the mushroom water and wine mixture and let it cook for 1-2 minutes. Add the cream slowly and let the mixture simmer to thicken. Add more cream if it is too thick or let it cook longer and reduce if too thin. Salt and pepper to taste. Slice the morels thinly and add them into the sauce. Stir to heat through.
Put the squares of pastry onto plates. Top each of the 6 squares with some of the morel cream sauce and top with the warm peas. Serve immediately.
Nutrition Information:
Yield: 6
Serving Size: 1
Amount Per Serving:
Calories: 299
Total Fat: 21g
Saturated Fat: 6g
Trans Fat: 0g
Unsaturated Fat: 15g
Cholesterol: 18mg
Sodium: 171mg
Carbohydrates: 20g
Fiber: 2g
Sugar: 4g
Protein: 5g
Recipe calculation was provided by Nutritionix and is estimation only. If you need nutritional calculations for medical reasons, please use a source that you trust.