It is almost August and the summer is passing by in a blur. I need to slow it down and enjoy some days. Soon the house will be filled with kids and laughter as we have a busy August coming with lots going on. I am itching to do some entertaining around here. I think we are getting that "settled feeling" into our new home. Renovations are slowing and the comfort level it up!! Time to get some people back into our lives and our home!!
All of this made me think of this meal again as I have shared a plate or two of these with friends. Smiling, laughing, dunking, gobbling down mussels!!!
The meal today is one of my absolute favorites!! I adore mussels!! This recipe for Mussels and Pomme Frites has sent mussels to a new level with a champagne cream sauce and crispy pomme frites with a garlicky aioli!! This is just like it would be served at a restaurant but you can make it at home!! Not that much extra work really as mussels are easy to cook!! This meal would be a fabulous starter or entree for a small dinner party too or a romantic dinner for two!!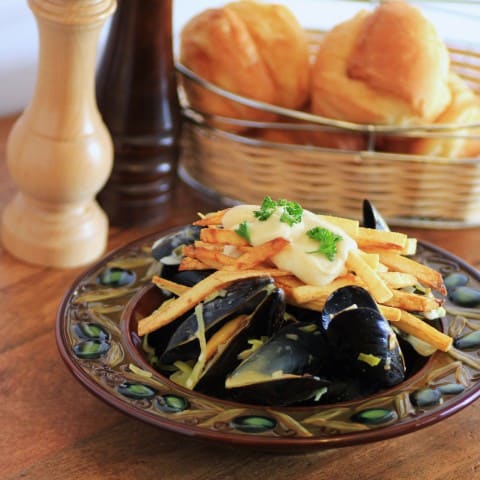 Click HERE to enjoy this recipe!!