Nature's Path EnviroKidz Cereal
It is giveaway time again and this is a fabulous one, A MONTHS SUPPLY of Nature's Path EnvirtoKidz Cereal. We were lucky enough to have received this also. Amber has been happily munching from one box to the next and the bars quickly disappear in her lunch box. You will receive more than is shown here.
I love Nature's Path cereal as they are:
Gluten Free & Wheat Free
• Whole grains

• No Artificial Preservatives
• Certified Organic &
Non-GMO Project Verified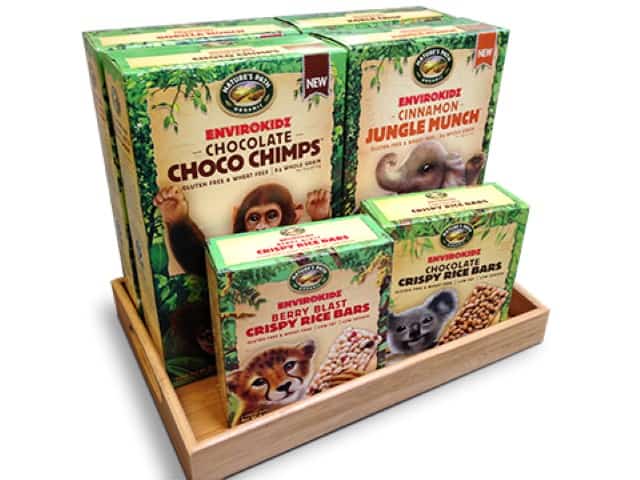 The flavors are fantastic, any kid would love them:
Chocolate Choco Chimps
Cinnamon Jungle Munch
Corn Puffs Gorilla Munch
Chocolate Koala Crisp
Peanut Butter and Chocolate Leapin' Lemurs
Peanut Butter Panda Puffs
Plus two bars:
Berry Blast Crispy Rice Bars
Chocolate Crispy Rice Bars
I thought this was great timing as it is just in time for Earth Day (April 22) and Nature's Path EnviroKidz has launched two new whole grain corn puff cereals, including chocolate flavoured Choco Chimps Cereal, and cinnamon flavoured Jungle Munch Cereal.
Because EnviroKidz is a 1% For the Planet member, every time you buy one of their EnviroKidz products, 1% of the sales are donated to support endangered species, habitat conservation and environmental education for kids worldwide. They have raised over $1.4 million to help partnering organizations with their educational and protection efforts.
Specifically, EnviroKidz Choco Chimps Cereal supports The Jane Goodall Institute, global leaders in chimpanzee protection, and EnviroKidz Jungle Munch Cereal supports Fauna & Flora International, acclaimed heroes in Sumatra elephant conservation. Jane Goodall just turned 80 on April 3rd, so it is a milestone year for her.
A great cereal doing great things. You can create a conversation with your kids at the breakfast table about all the wonderful things that The Jane Goodall Institute has done and the importance of preservation of wildlife and the environments that they live it. Here is a very touching video that you can also share with your family.
So here is our giveaway, three easy entries, GOOD LUCK!!!
a Rafflecopter giveaway