#NoTradesies Lunches with Snack Pack Pudding
Tired of your child trading his/her lunches away or coming home with it still in his/her lunch box? Try #NoTradesies Lunches with Snack Pack Pudding. Here are some great ideas for kids to keep their lunch and eat it. This is not a problem that I have as I have a very healthy eater. Never did let her get away with it but she also always has a good nutritious fun lunch. The opposite might happen as other kids want some of her lunch.
Get your kids involved in the process of making their lunches, explain to them what goes together and creative ways to eat their lunch. They will take pride in their lunch box and will not be so willing to trade. Creating fun and excitement with your kids lunches does not have to be time consuming. Here are some great tips to add some pizzazz to those humdrum lunches.
Think of Snack Pack Pudding as a dip. Make your kids aware of dipping and using flavors that works well together like apple slices and toffee caramel pudding.
Dipables like pineapple spears, strawberries, pear slices, apple slices, bananas, pretzel sticks, digestive cookies, animal crackers, granola bars, fruit kebabs all go great with many Snack Pack Pudding flavors.
Think of toppers for pudding to add some fun, flavor and nutrition like mandarins, mini marshmallows mixed with dried cranberries, blueberries, blackberries and grapes.
That same old sandwich in your lunchbox can get pretty boring. Pull out the cookie cutters and make some fun shapes. These sandwich cutters make for total excitement upon opening up the lunch box!! You can find them at Lunch Punch.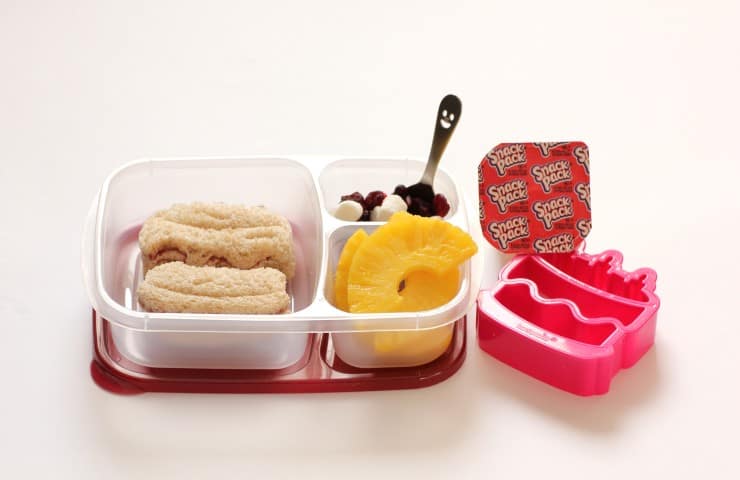 Try some different combos for sandwiches like cream cheese and jam, tuna and grated carrot, salmon and teriyaki sauce, to name a few.
Veggies are an important part of the lunch box too and can be quickly cut up into some fun shapes with ridges, slices and into kebabs. Perfect again for dipping.
Homemade treats are always a hit and you can control what goes in them. I make up a big batch of cookies, muffins or squares, pop them in the freezer in portion sizes and they are ready to drop into a lunch box.
A compartmental lunchbox like this one is great to add a variety of items to the lunchbox and no need to have tons of recycling either. See Easy Lunchboxes for these and more ideas.
Make the lunchbox appealing right off the start with a fun napkin. I always buy them when I see them on sale. It adds some holiday charm to the lunchbox too!. A fun utensil goes a long way also with a bright color or fun happy face shining out at them.
Always include a big bottle of water with their lunches and encourage them to also fill it up at school if they run out. Let your child pick out his own water bottle when you are shopping, again pride of ownership.
Come and follow along for more ideas on the Snack Pack Canada Facebook Page.
Coming up very soon we will be doing a giveaway for this wonderful prize pack to help you with those lunchboxes. Stay tuned!!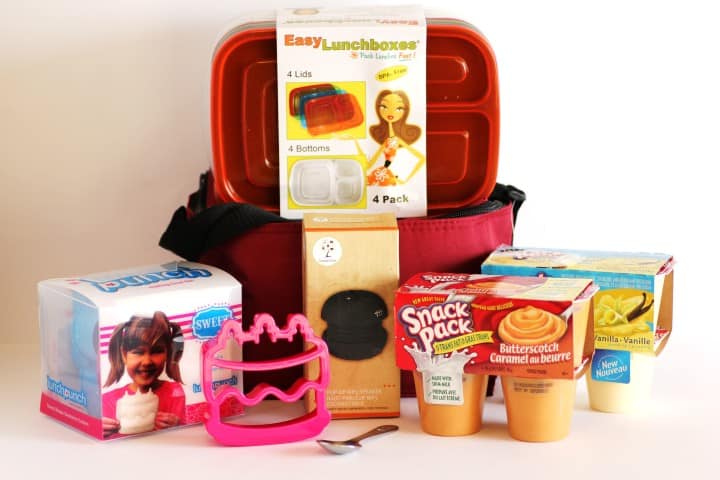 Disclosure – I am participating in the Snack Pack "No Tradesies" blog tour by enCompass Media on behalf of Con Agra Foods. I received compensation as a thank you for participating and for sharing my honest opinion.
Snack Pack pudding is made with skim milk
Snack Pack Juicy Gels are made with real fruit juice
All Snack Pack puddings have no preservatives or trans-fats
Snack Pack is spoonable, snackable and portably delicious
Classic Snack Pack flavours include:
Chocolate
Chocolate Fudge
Vanilla
Butterscotch
Tapioca
Snack Pack comes in family packs which include 12 puddings, six of each flavour. Flavours include:
o Chocolate and Butterscotch
o Chocolate and Vanilla
o Fat-Free Chocolate and Vanilla
o Chocolate Lovers (Chocolate and Chocolate Fudge)
Snack Pack also comes in exciting dessert flavours that include:
Ice Cream Sandwich
Lemon Meringue Pie
Banana Cream Pie
Chocolate Caramel
Toffee Caramel