OXO Silicone Whisk
OXO Silicone Whisk – Do you have whisk issues? I sure did. Either they are too small or the loops are too thick, they fall apart, are bent, you can't use them on non stick surfaces. The list goes on and on. Clearly they are many until I was given the OXO Silcone Whisk for review.
All those issues are long gone now. This whisk the loops are perfect thickness, the loops bend easily but don't stay bent, it is durable and can be used on a non-stick surface like your best fry pan and it won't scratch. I use a whisk a lot for many recipes.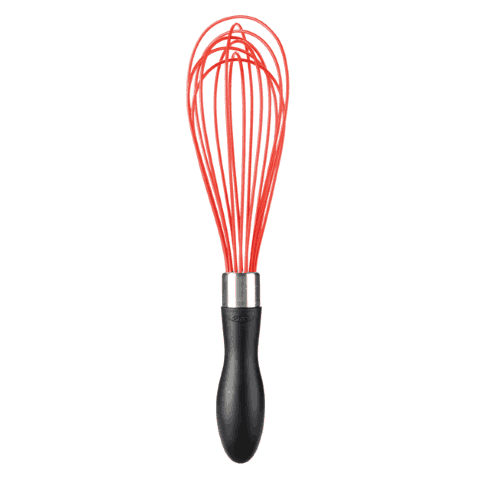 If you have any of the issues or just need a new whisk I highly recommend this one. I enjoy all of the OXO products, they are not made with frivolity but are sturdy and purposeful.
When shopping for kitchen ware I go to OXO. It is a brand that I know I can stand behind and trust as I have many of their products in use in my kitchen.
Don't waste your money on sub-standard product when OXO has all of their products at great prices too.
I also have a review for their OXO Measuring Beaker Set that I use all the time. Check it out!