Pacific Sands Beach Resort Tofino
We were invited out to Pacific Sands Beach Resort in Tofino, British Columbia. I was very excited to go and check out what Vancouver Island has to offer. I have been to Victoria and Sooke but hadn't ventured further. So to fly into Comox and take the wonderful drive to Tofino was something new for all of us, a complete adventure and one that I was looking so forward to.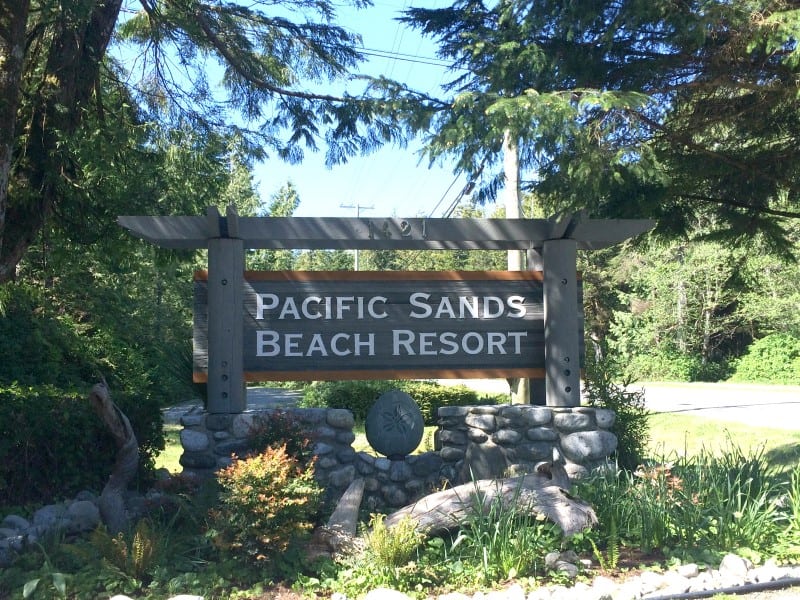 Comox was a very short flight for us just only over an hour from Calgary, AB. The drive though is 3 hours to Tofino and it is a bit wild at times with narrow winding roads through the mountains but it is breathtakingly gorgeous. You can fly to Tofino also from many of the surrounding areas but we chose to drive. Before entering the actual town of Tofino you come upon Pacific Sands Beach Resort.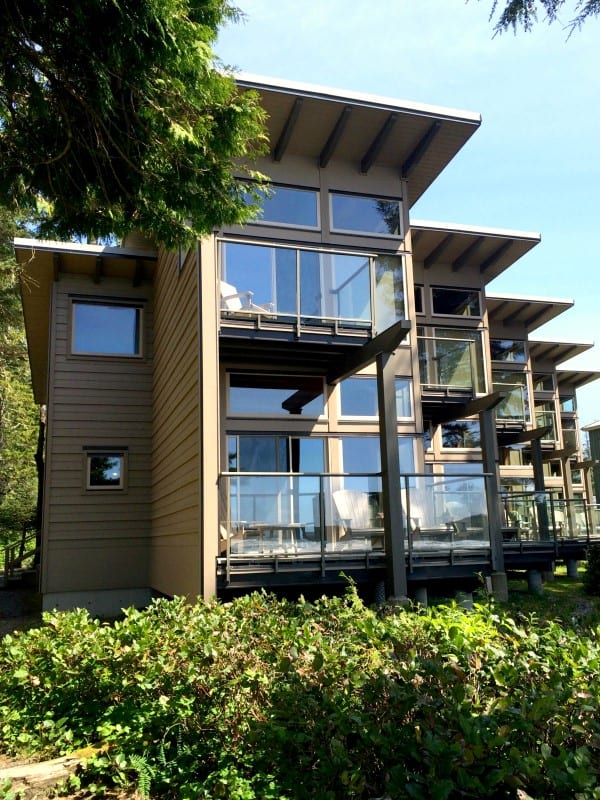 We were graciously hosted in this front Beach House, I have to say it was one of the nicest accommodations we have ever stayed in. The beach house was huge, completely spotless, wonderfully furnished and had everything you could ever need in a vacation home.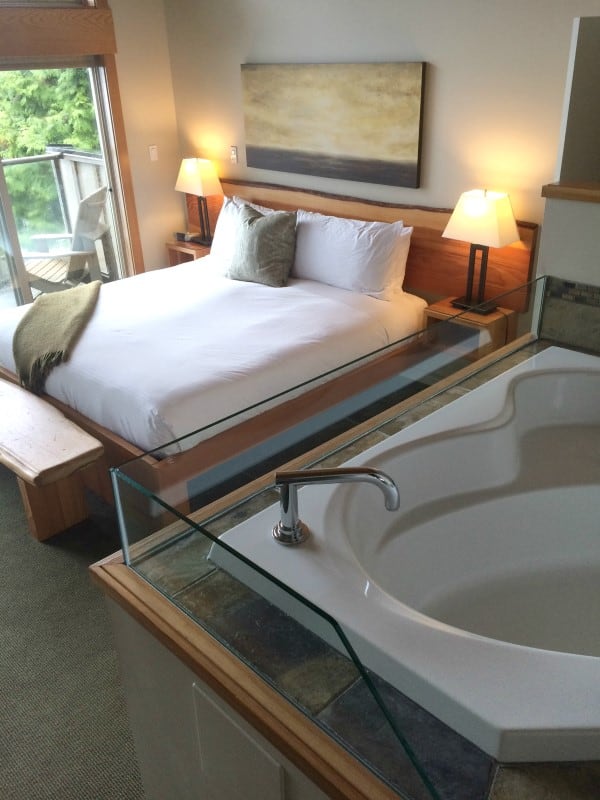 On the upper floor were the bedrooms, a large room with two queen size beds and then a few steps up, this very large bedroom fitted with a gigantic soaker tub and fireplace. I laid here once or twice for a nap, curled up in that blanket with the fireplace going and watched all the activity on the beach and in the water until I peacefully drifted off to lalaland.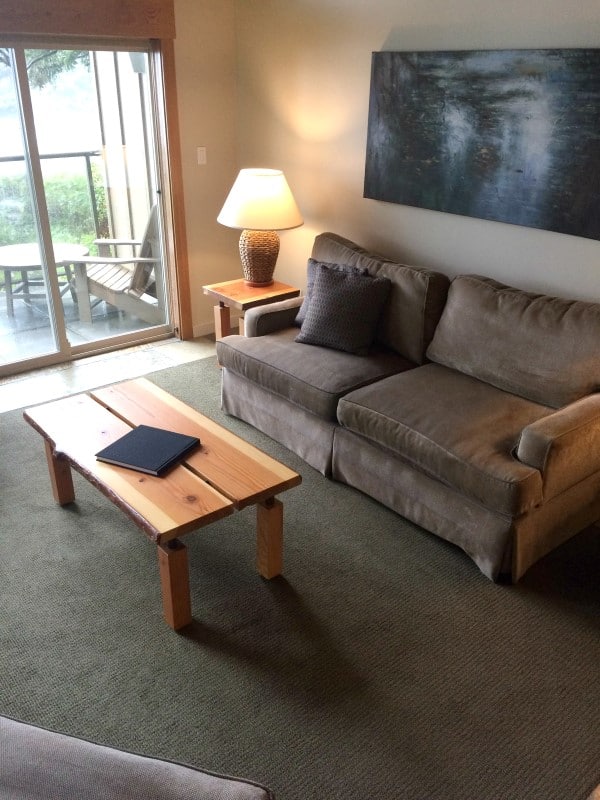 The rest of the beach house consisted of the spacious living area with another fireplace. Both the upstairs and downstairs had balconies. There was a powder room on the main floor and each of the upstairs bedrooms had their own full baths. There even was a separate laundry room.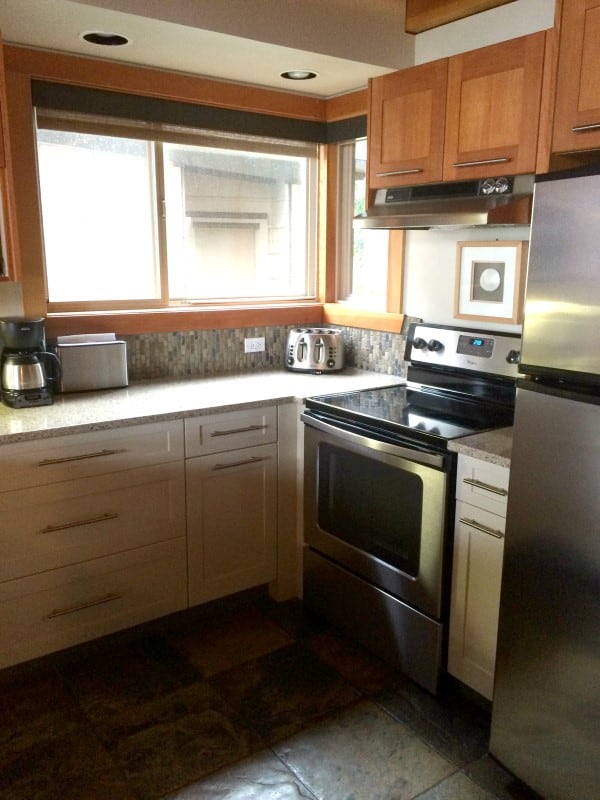 There was a full kitchen, completely furnished with all the plates, pots, pans, appliances and more. They even had double the place setting. Gorgeous granite counter tops and the floors were even heated, yup HEATED!! There were rain slickers supplied at the front door. I have to tell you it rains a lot in Tofino, that is why it is so green and lush. Tofino is warmer than Victoria or Vancouver. It has a temperate climate and can even grow some exotic palm trees. Hmm, now that is cool for Canada!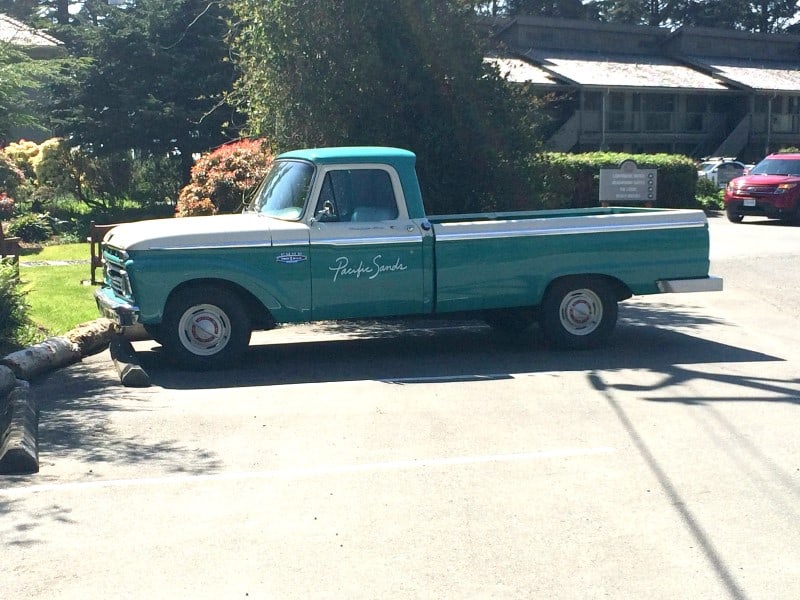 This old but meticulously restored truck is parked outside of the reception area. There is a little store inside that has a few essential groceries. We chose to shop here for the convenience of things like bacon, eggs, milk and munchies as opposed to the grocery store in town. I liked that they had smaller sized packages with only 6 eggs, smaller amount of bacon etc. It was perfect for us for breakfast one morning.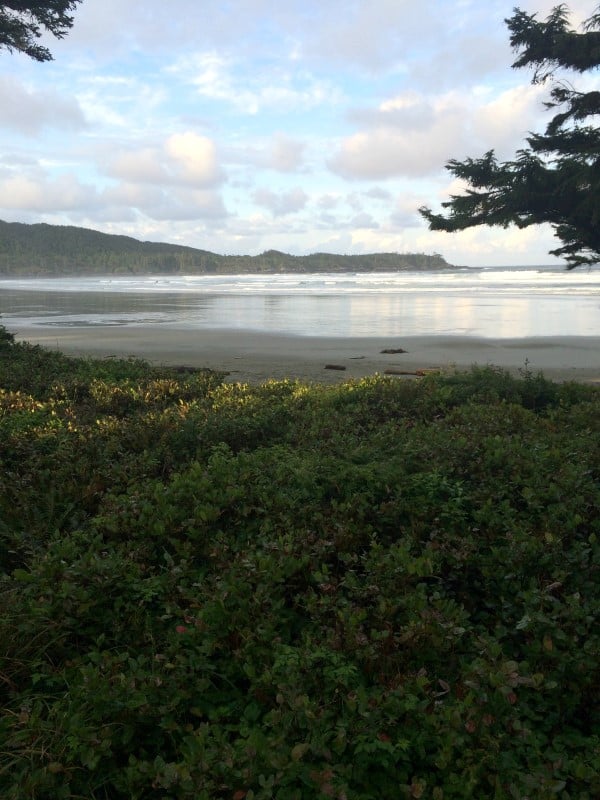 This is the tranquil view from our window, pretty amazing isn't it. The beach had me mesmerized though as so many people walk their large dogs (saw very few small ones at all) as they played and romped in the water and on the beach. By Tuesday when the weather improved, it was raining on our arrival, the water was full of surfers. You couldn't even begin to count there were so many. They looked like seals in there wet suits bopping around in the water.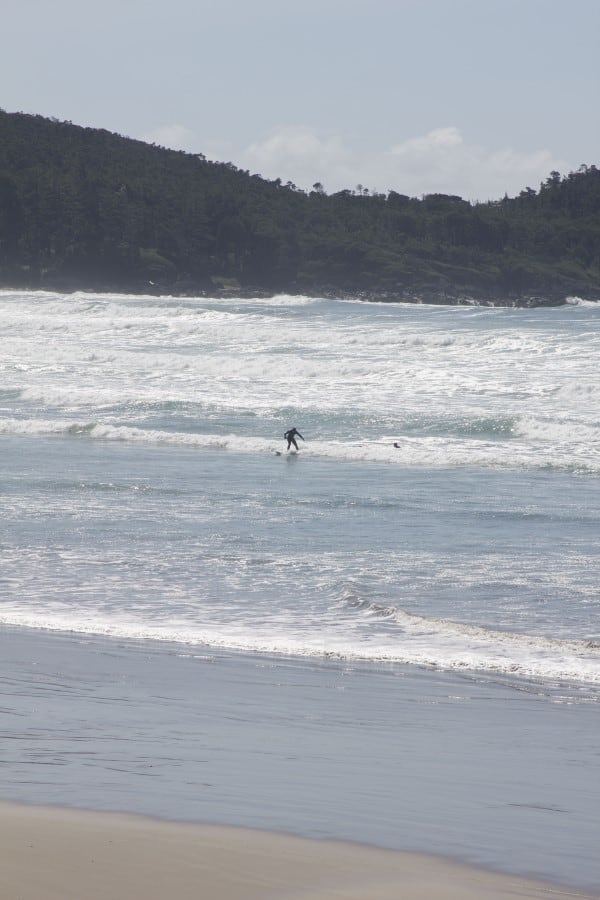 Here is one of those crazy surfers catching a wave. Lots of hard work to swim way out there many, many times but you would see surfers in the water for hours on end!! It is surf city out here for sure!!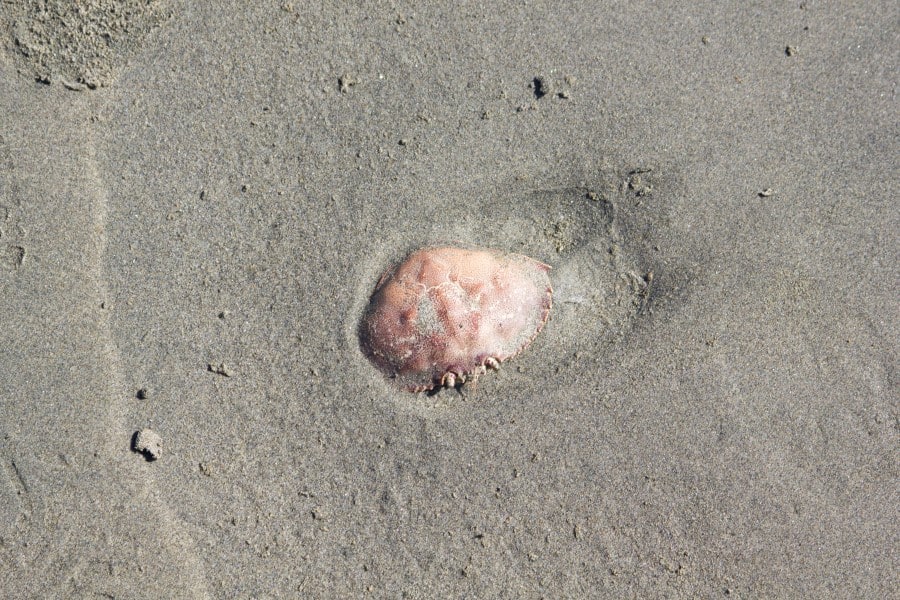 Strolling the beach you will find little treasures to observe. I believe these crab are pretty plentiful in this area. Later I will show you who loves to dine on these!!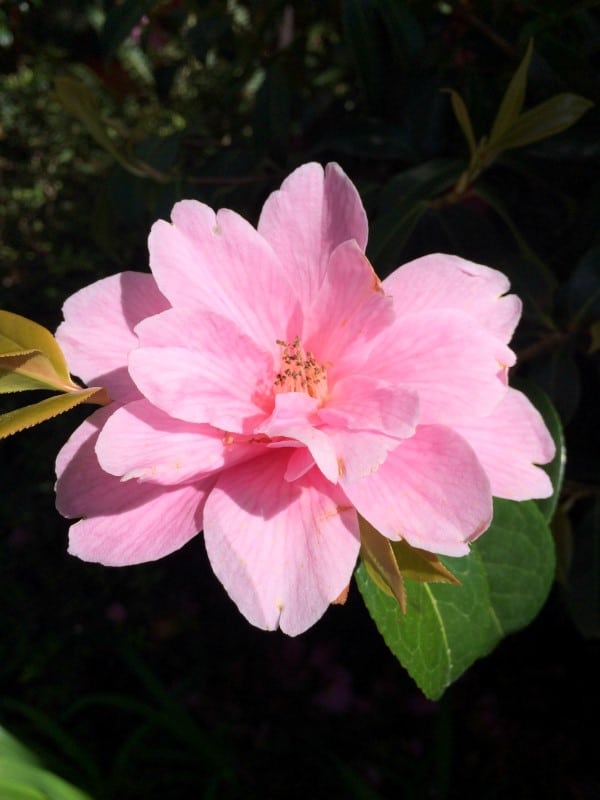 As we started to venture out and explore we found that Tofino has so much to see. Here was a flower in all its' glory at the Tofino Botanical Gardens. There is an admission, adults $10, students $6 and children under 12 are free.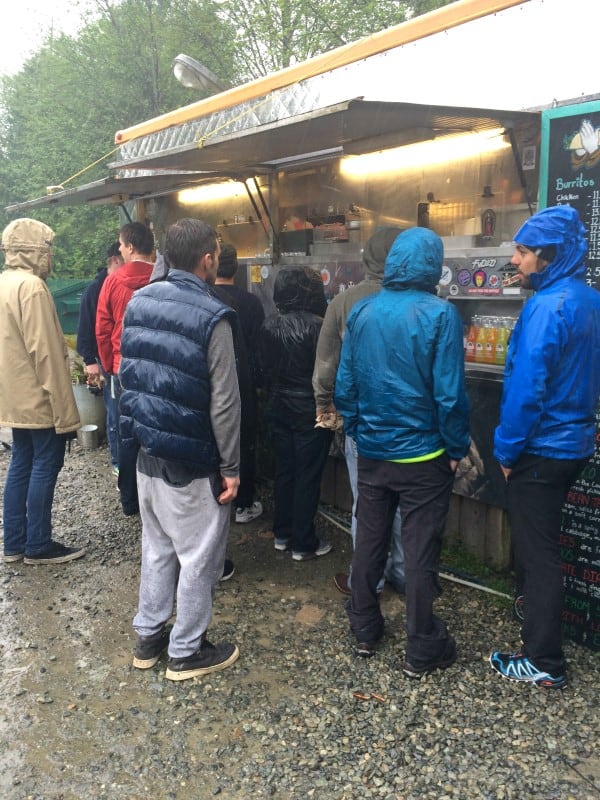 Being foodies one of our first stop was Tacofino, which I had heard so much about. When we arrived in Tofino it was pouring rain, that didn't stop me from wanting and getting a taco!! I was devoted to this situation, immersed myself like a local.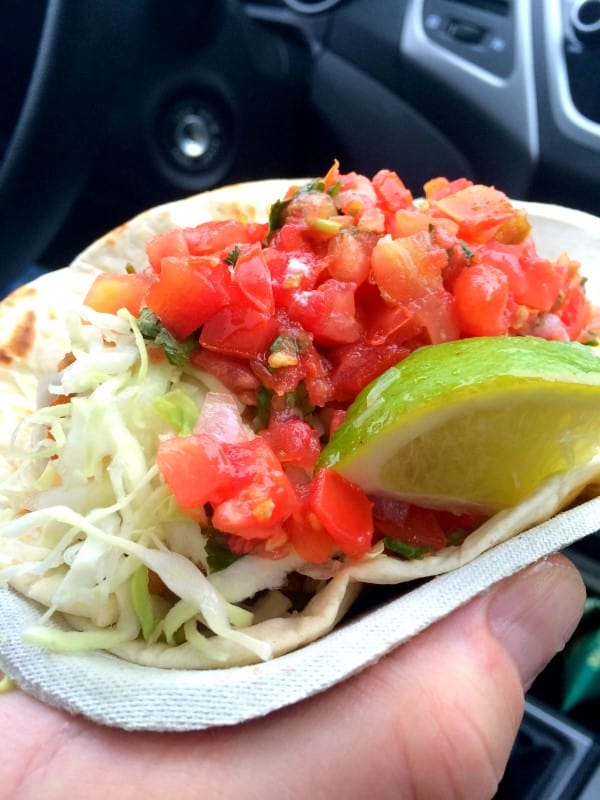 Were we rewarded with the best taco ever? Yup, the crunch from the battered fish on this first (we returned everyday) day was deafening. I am not sure I have ever had anything more crunchy and divine than in this taco. After being in the pouring rain standing in line it was so worth it. I hear the line up can go forever in the summer and that people wait hours to finally get their taco, I get it, there is dedication needed for something this good!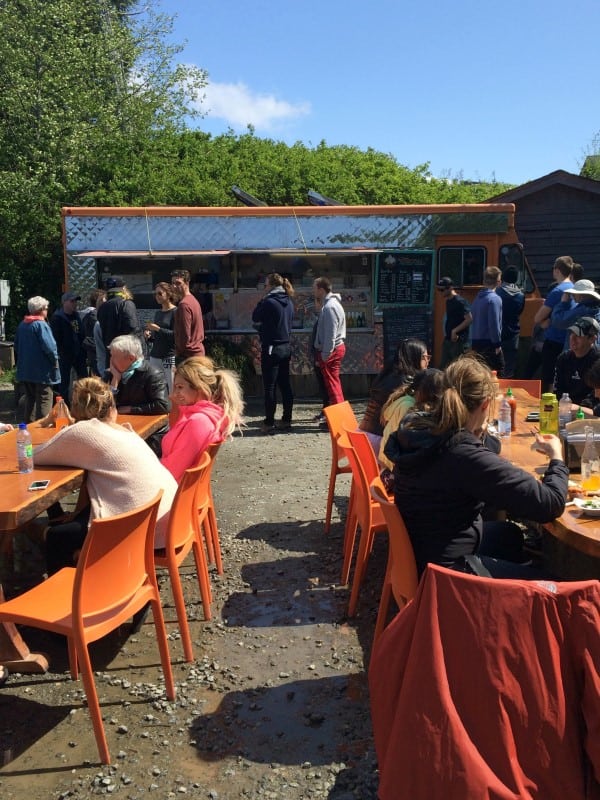 Here is Tacofino on a sunny day. We were almost late to the airport because we had to stop one last time. We tried some different items, the Tuna Taco blew me away. It was like sushi inside a taco, highly recommended!! The gringas were also a hit, we tried the pork and chicken. A popular item we saw being ordered were their burritos. They are huge though and you need to have a big hunger for those. What we liked was that you could have one taco for lunch and you weren't completely stuffed to keep touring and enjoying. Yup, we went four times in four days!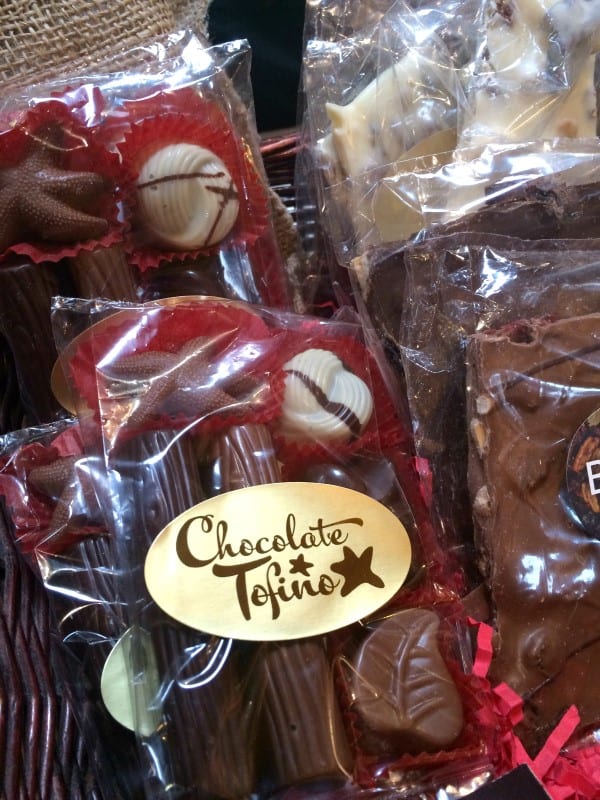 Also in the same little shopping area was Chocolate Tofino which I kept calling Chocofino, it just slipped out again and again. This wonderful chocolate and gelato shop was worthy of more than one visit too!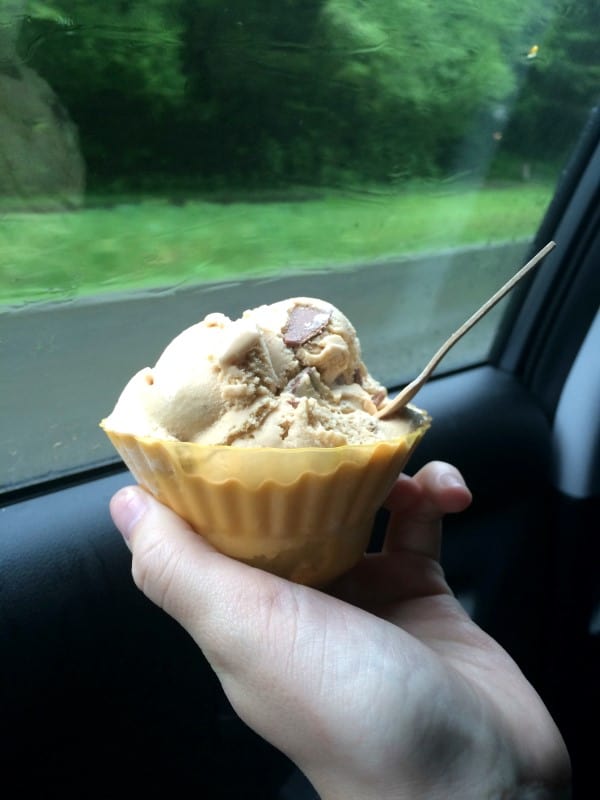 For me it was the bear claws, man were they good, for Amber she was all over the gelato, the salted caramel to be exact. Okay I indulged in some gelato too one day, come on you have to, when it is this good!!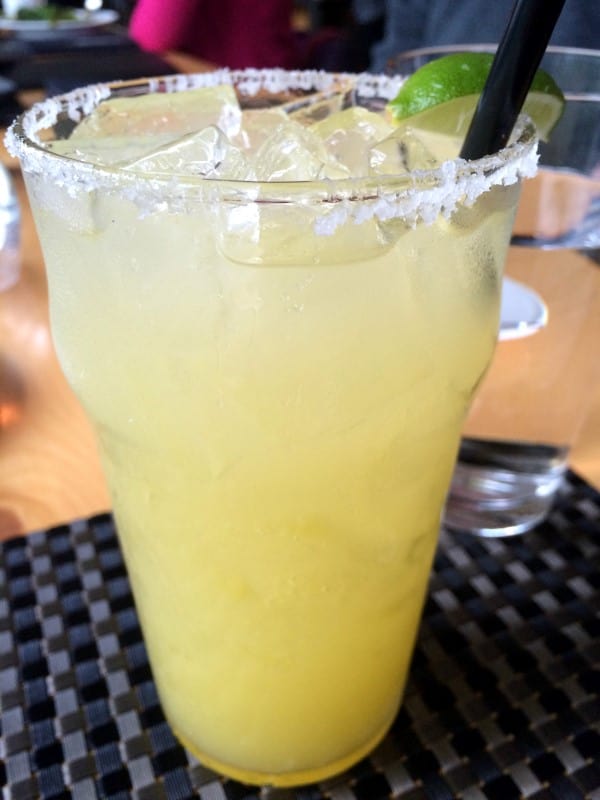 Our first night we dined at Sobo, I had heard of great things about this restaurant and I was excited to go. I started off the evening with this gigantor of a margarita. It was scrumptious, margaritas = holidays for me. I rarely have them at any other time.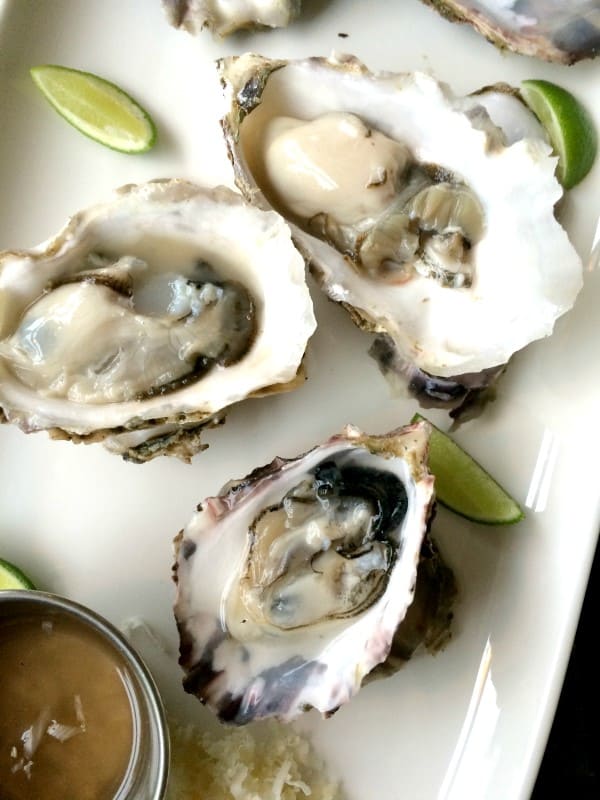 When in Rome!! Well, you know the saying!! How could I pass up some gorgeous fresh Raw Oysters, I just plain couldn't. These crazy looking things are one of my favorites and at Sobo I was very happy to enjoy them. Usually west coast oyster can be too big for me but these were perfect as you can see. Little key limes, horseradish and a delicious champagne mignonette were the perfect accompaniments. We also had divine Broiled Oysters, which were beach oysters and they were much bigger and were topped with salmon bacon and miso mayo.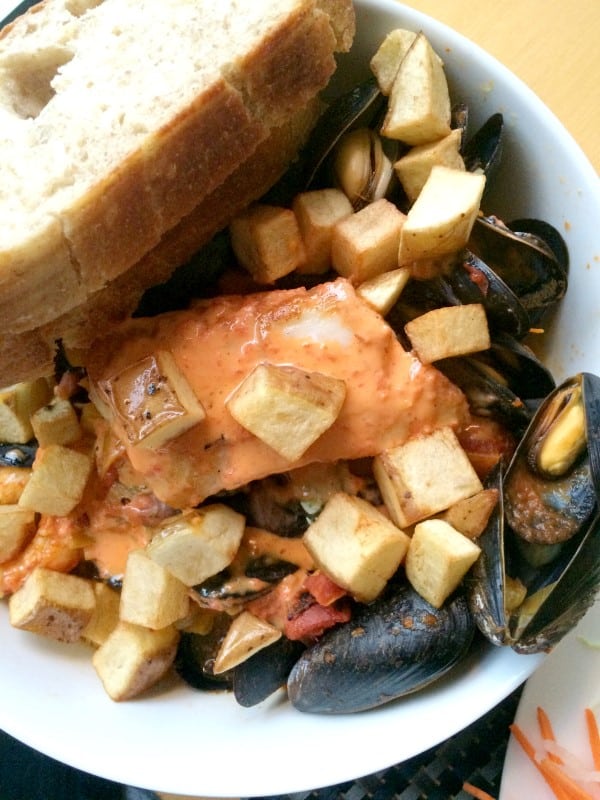 While Amber munched away on Cornbread and Smoked Wild Fish Chowder, both being excellent. I went out on a limb and had the Duck Lettuce Wraps, which were good but I enjoyed their seafood more, they gave me a little tasting of a Spicy Cibolo Shrimp, YUM! Ken dug into this Seafood Stew and was just loving the combination of flavors.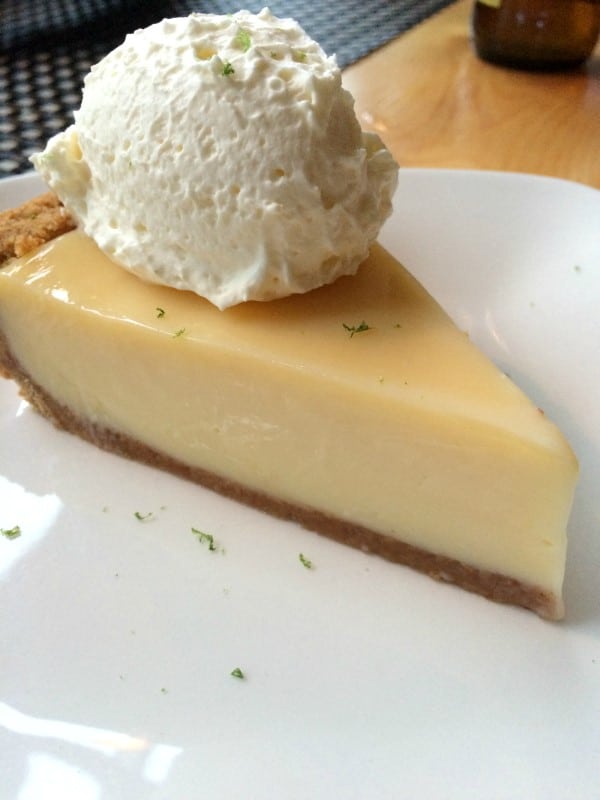 Sobo is also famous for their Key Lime Pie. We had to try a slice and share it, smooth, creamy and bursting with lime flavor, it was a hit for sure. They also have a takeout freezer and bakery. A few items caught my eye to try. We took back to our beach house, a loaf of cornbread, granola (the best I think I have ever had) and a big chocolate pecan gluten free cookie (I want to try to replicate this recipe). Actually Sobo has a cookbook too, hmmm, I wonder if it is in there??
I would also like to thank Robyn, the manager for the excellent service. Sobo was the original taco truck before Tacofino moved into its' spot, come and check out this great dining spot for lunch or dinner, they are open daily.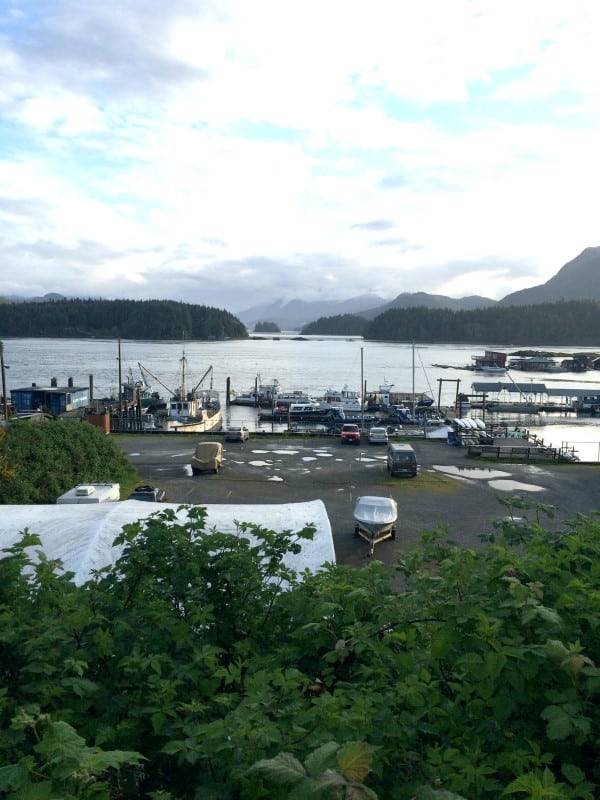 Tofino is a quaint little town, it is almost like it stayed in another generation long ago. It is simple, unhurried, natural and beautiful. We decided to jump on a boat to see what the area looked like and do some bear and wildlife watching.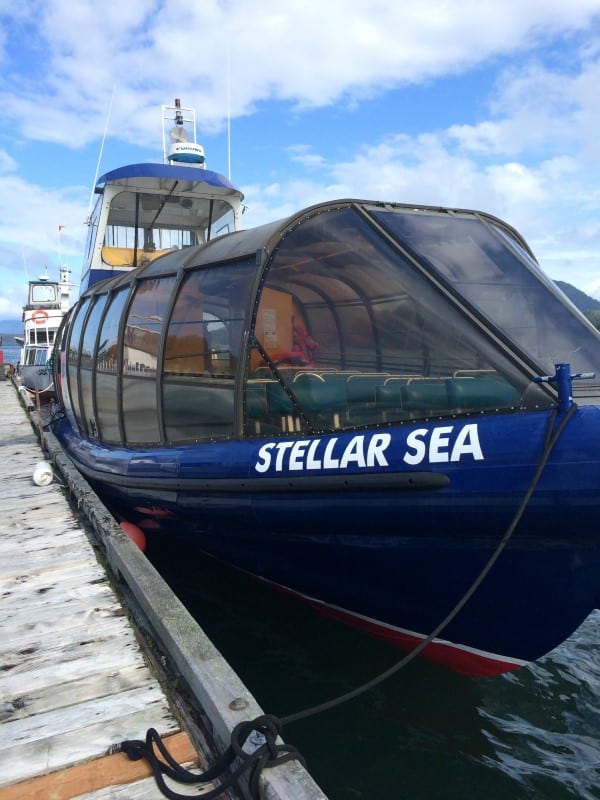 I called up Jamie's Whaling Station to find out about excursions. Ryan who answered the phone was extremely helpful in telling me all they have to offer. At first I was thinking of whale watching but my family really wanted the Bear Watching Tour. I was excited about that too. Here is the boat we went on which is a 40′ covered-panoramic view cruiser, the Stellar Sea.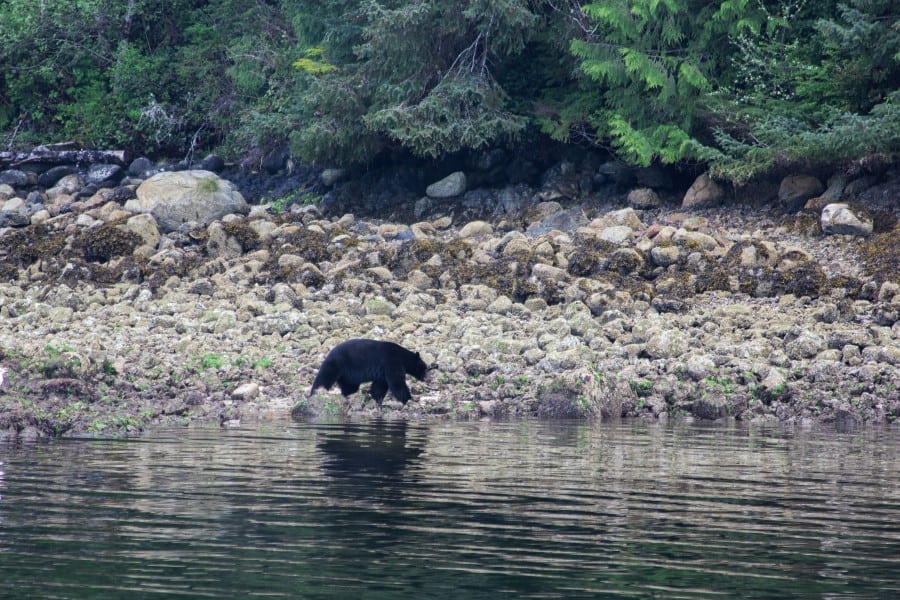 On our boat excursion we were lucky to see three different bears. They like to come down at low tide and munch on those crabs I was showing you earlier!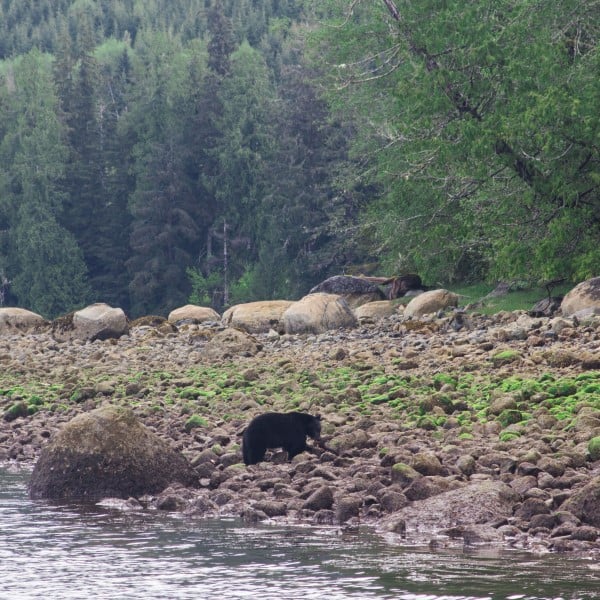 They move those big rocks like they are styrofoam to get there meal from underneath. While we sat and watched they pulled out their snacks one after the other. The bears on Vancouver Island are smaller than the ones we have in other provinces. There is a good healthy population of them though, they have lots of food to eat and no predators.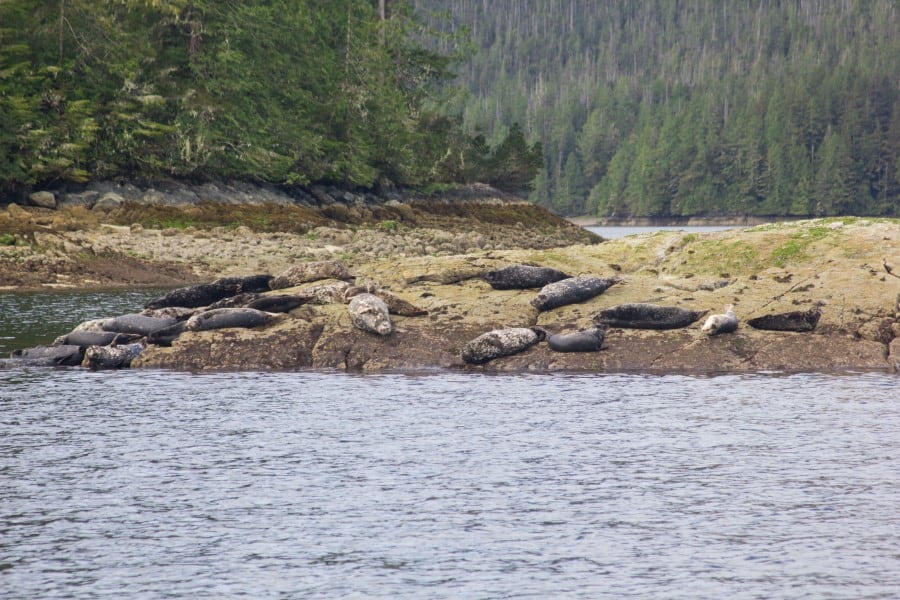 Another natural attraction are the seals that are sunbathing on the large rocks in the waters. They are quite funny beasts moving on land, much more agile in water of course.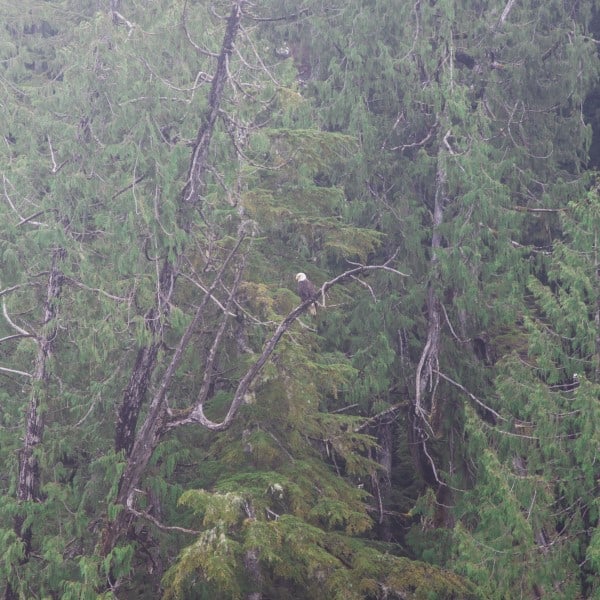 Way up high in the trees and flying overhead were many bald eagles. They are such a majestic bird, it was great seeing so many of them.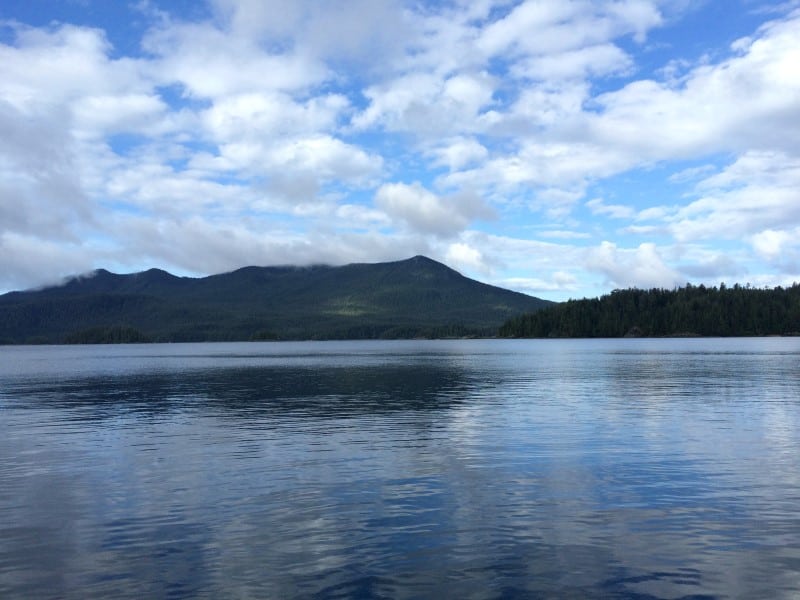 The scenery is breathtakingly gorgeous. So peaceful and serene, we really enjoyed our boat trip and I would highly recommend this if you are in the area.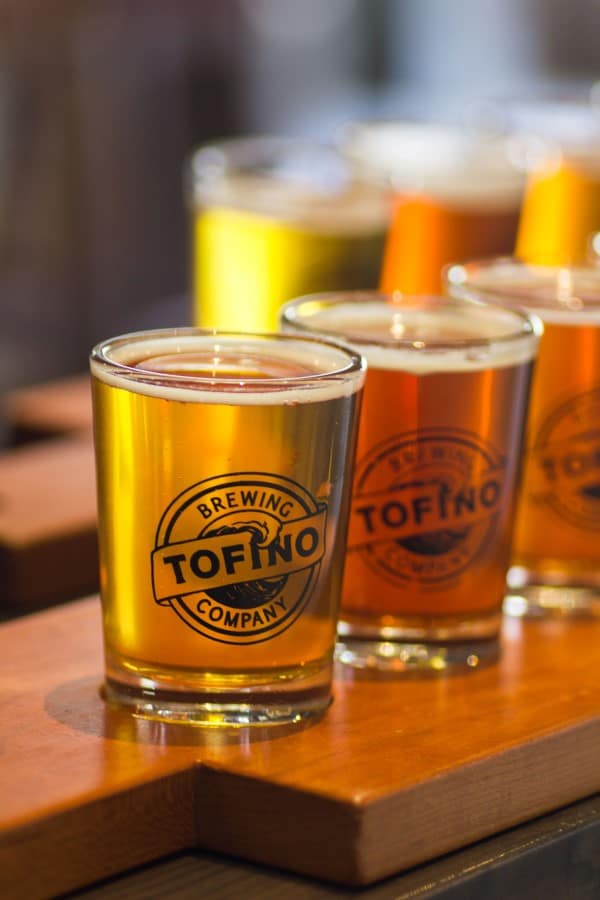 Back on dry land again we ventured out to check some other local attractions. We stopped into Tofino Brewing Company and had a flight of beer, Blonde Ale, Tuff Session, Hoppin' Cretin IPA and Kelp Stout. All were very interesting, I really enjoyed the ale and the session.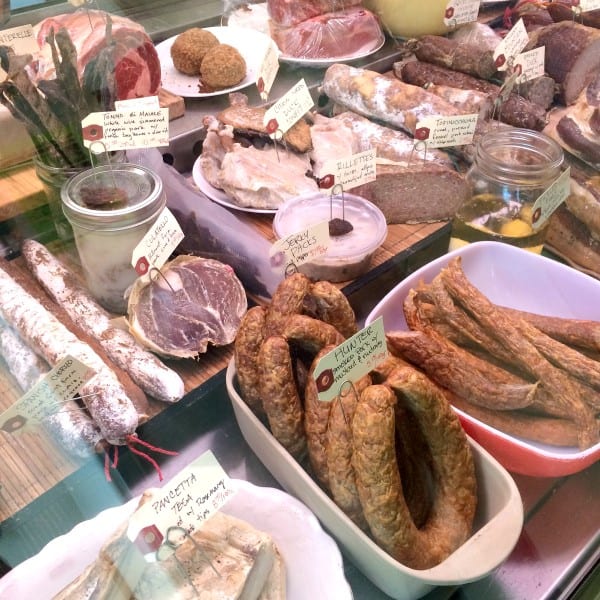 From there we went on to Picnic Charcuterie for some take home treats. We tried three cheeses, Alpindon, Aged Farmhouse and Stilton and then three meats, Bastourma, Chantrelle Pate and Kelp Stout Ham. Hmm, that Kelp Stout gets around!! Picnic cures, smokes and cooks all their meats in-house emphasising Vancouver Island and BC grown and harvested ingredients. We met up with some friends for a visit and shared these lovely offerings along with the cornbread from Sobo's and we had a wonderful time.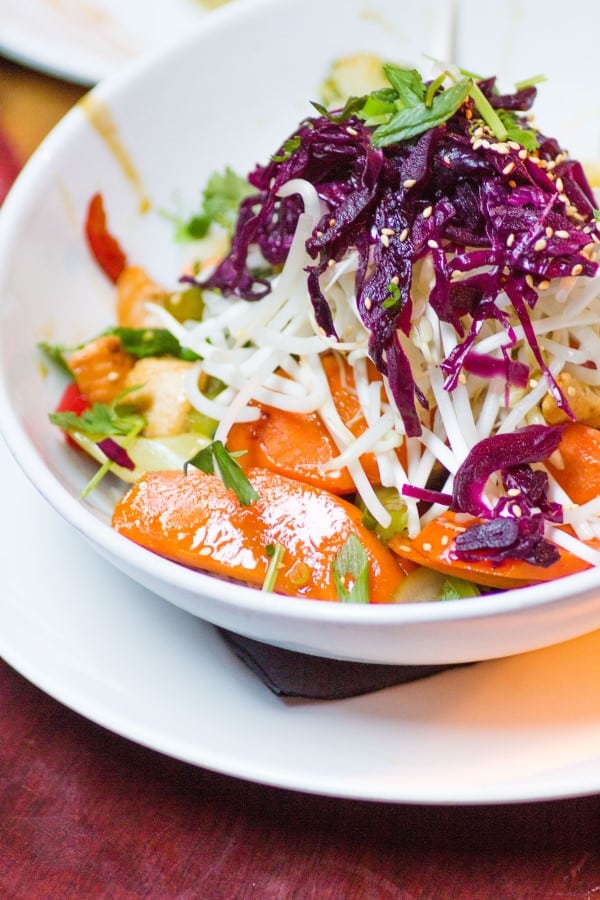 For dinner that night we checked out another local favorite, Shelter Restaurant. We went for much lighter fare as we were still full from the lovely charcuterie of earlier. Amber had the Shelter Tuna Stack with homemade crispy tortillas. I had the Shrimp Cerviche which was excellent and Ken devoured this Tofino Surf Bowl, so pretty isn't it.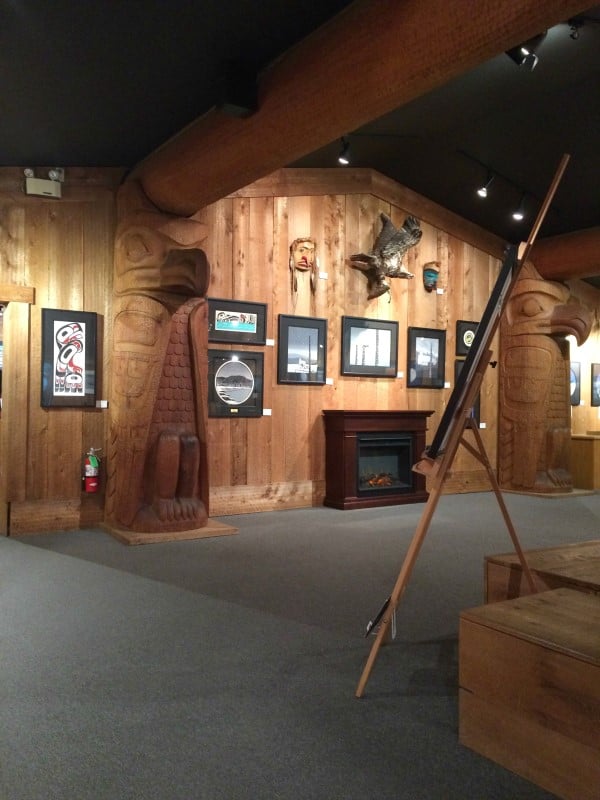 On our last day we wanted to sleep in and lumber through the morning. I loved again watching the activity on the beach, Ken read and Amber slept. We had the most gorgeous of accommodations so we enjoyed them. In the afternoon we explored the little downtown area. Our first stop was the Eagle Aerie Gallery – The Art of Roy Henry Vickers. Canadian artist Roy Henry Vickers is a well known artist, mainly for his limited edition prints. He is a skilled carver, a sought-after public speaker, designer of public spaces, and author of many successful books. The gallery is a quick visit and also has a store in the rear with reasonably priced art.
After a poke around in a few of the local souvenir shops we headed to Tofino Art Glass. The pottery store right next door was closed though, along with lots of stores as it was a Monday. Seems like the locals like to take Monday and Tuesday off and head for the shores to do some surfing. Tuesday the waters were filled with surfers.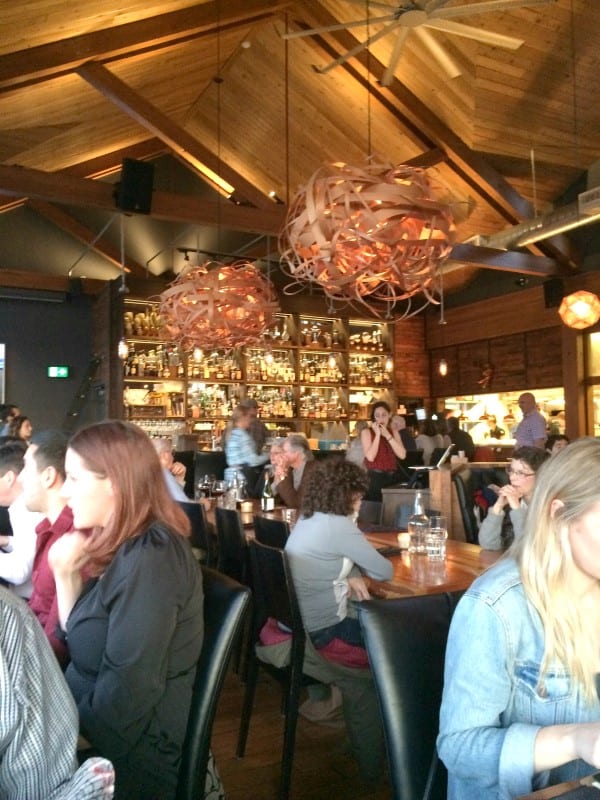 That evening was our final night out and we saved the best for last, Wolf in the Fog!! It was voted Canada's best new restaurant by EnRoute Magazine in 2014. I was really excited to check this out. The decor was casual but stated with a huge glorious cedar roof. This is the upstairs which is lively and fun and there is a beat in the air that just gets you excited to be here.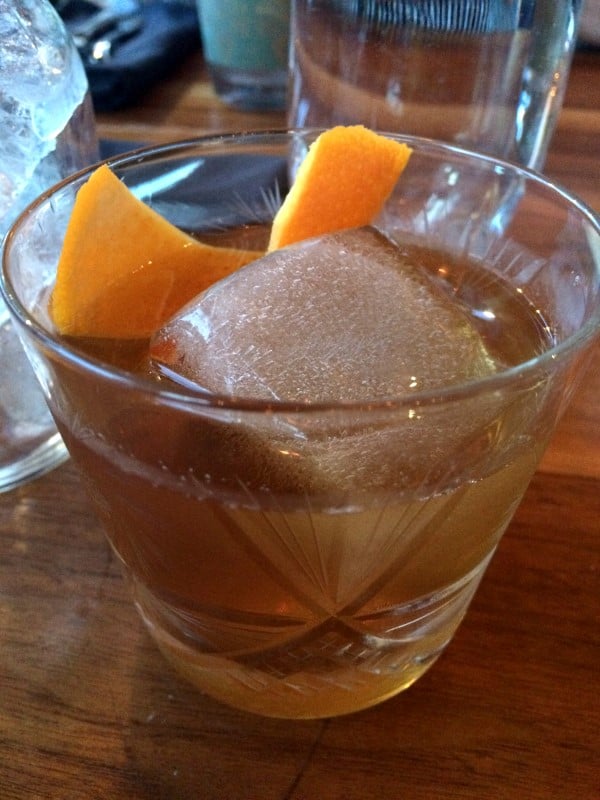 We started the night off with a few cocktails. I ordered the Lumber and Jack which consisted of cedar infused rye, maple, WITF oaked bitters, and Jack Daniel's. This is a heady full strength cocktail that I just loved. They had many others on their bar menu, it was hard to select but I loved my choice.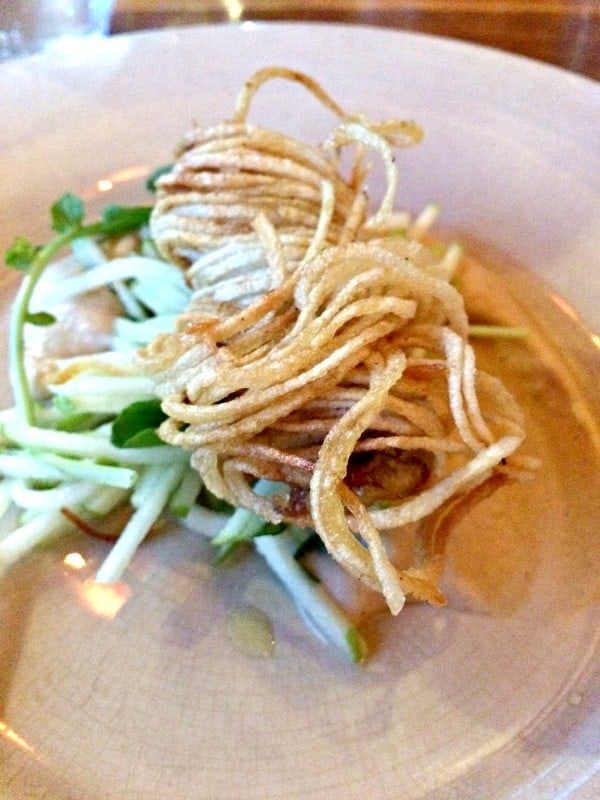 This alone was reason to come and for me, as I was checking out the menu before hand and hearing the chatter about this much anticipated appetizer. It is a Potato Crusted Oyster with apples and truffle oil and it was stupendous. The crispy outside paired gorgeously with the soft wonderful oyster on the inside. A must try, highly recommended. You may want two as they are only $4 each. The prices I thought were very reasonable on all the dishes.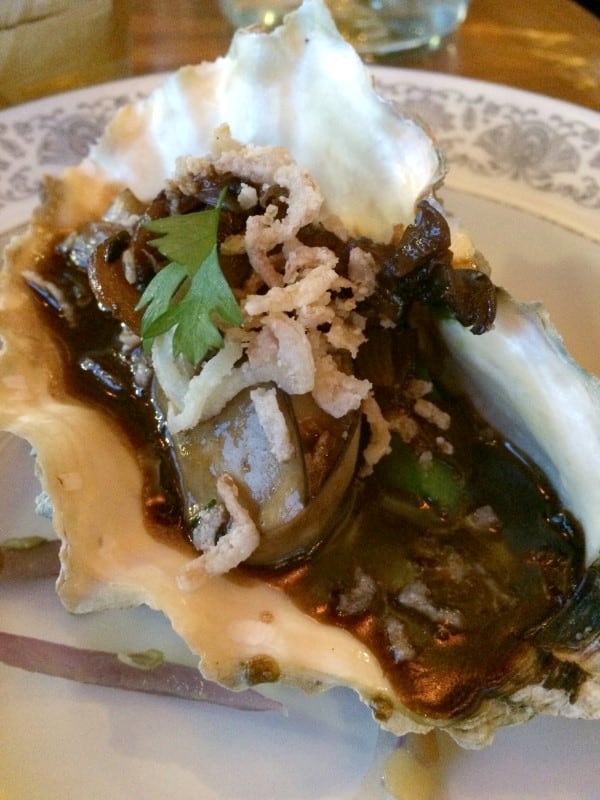 The chef came out with this delicacy, a poached medium beach oyster with a duck reduction, oyster mushrooms, crispy shallots and a watercress pomme puree. Well, I am drooling remembering how amazing this was!!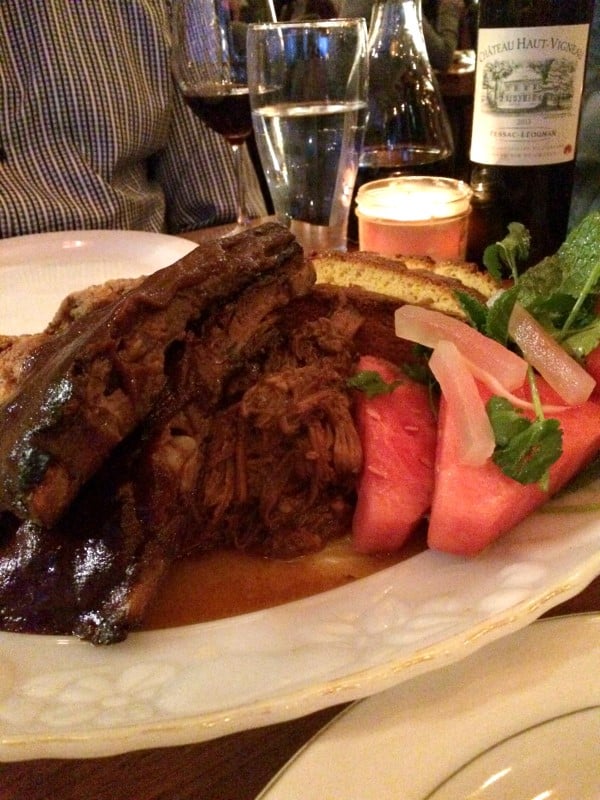 With a nice bottle of wine, we set into a family style platter. Notice all the plates are different. They are all vintage dishes, I have no idea how they keep that up, it was very charming.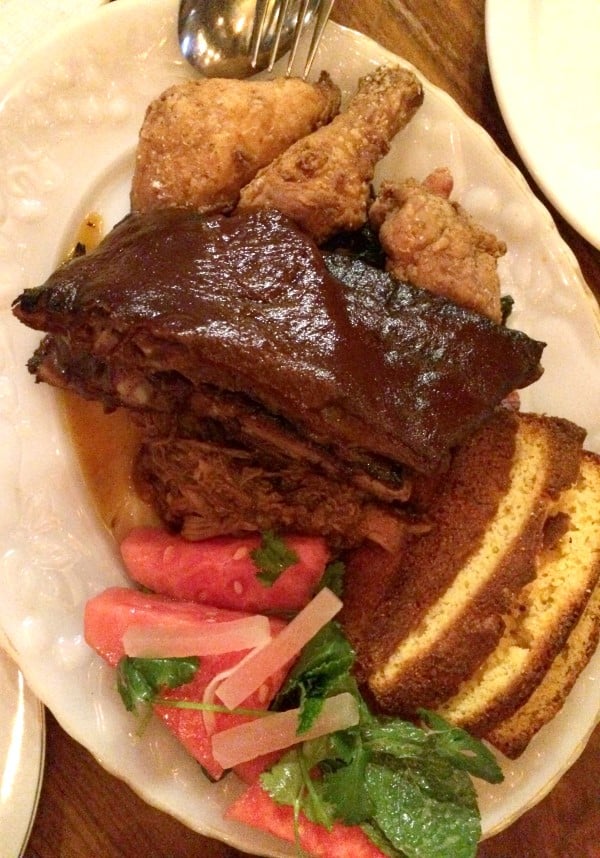 We choose the Block Party platter which is loaded with fried chicken, bbq ribs, pulled pork, cornbread, greens and watermelon with pickled rind on top. What did I like the best? I truly can't tell you. It was a complete feast for $45 and was more than enough for the three of us. Again I would say an amazing value. I would like to thank German for the best service ever, it sure was a pleasure visiting Wolf in the Fog.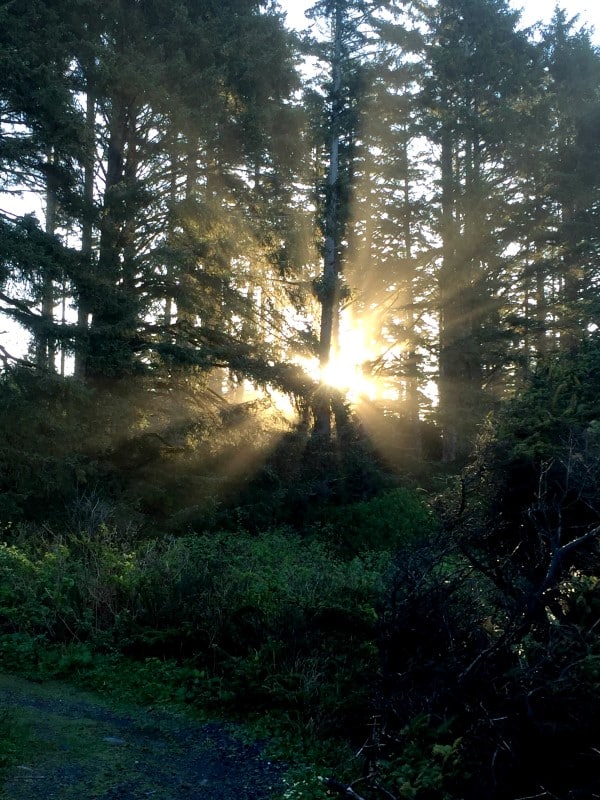 There you have it, a few tastes and adventures of Tofino, a little slice of heaven on earth and a must visit if you are on the west coast!! Come and follow along with the Pacific Sands on Facebook, Twitter, Instagram, Pinterest, YouTube and G+.