Peanut Butter and Jam Muffins
What do so many kids love? Peanut butter and jam sandwiches!! I know that my daughter goes on kicks for pb&j and simply can't get enough. These Peanut Butter and Jam Muffins will be the right fix for lunchboxes and after school snacks!! You could even start the day with one of these delicious muffins!!
These yummy little muffins have a hidden jam center and a streusel crispy top! Your family will love these at anytime of the day! I love making my family muffins, it feels so homey! Fall is a great time to get the oven going again after the hot summer. The leaves here have now fallen, well kind of ripped from the branches after a wild wind storm we had the other day. So it is time to get back to baking and making the house nice and warm and filled with wonderful aromas.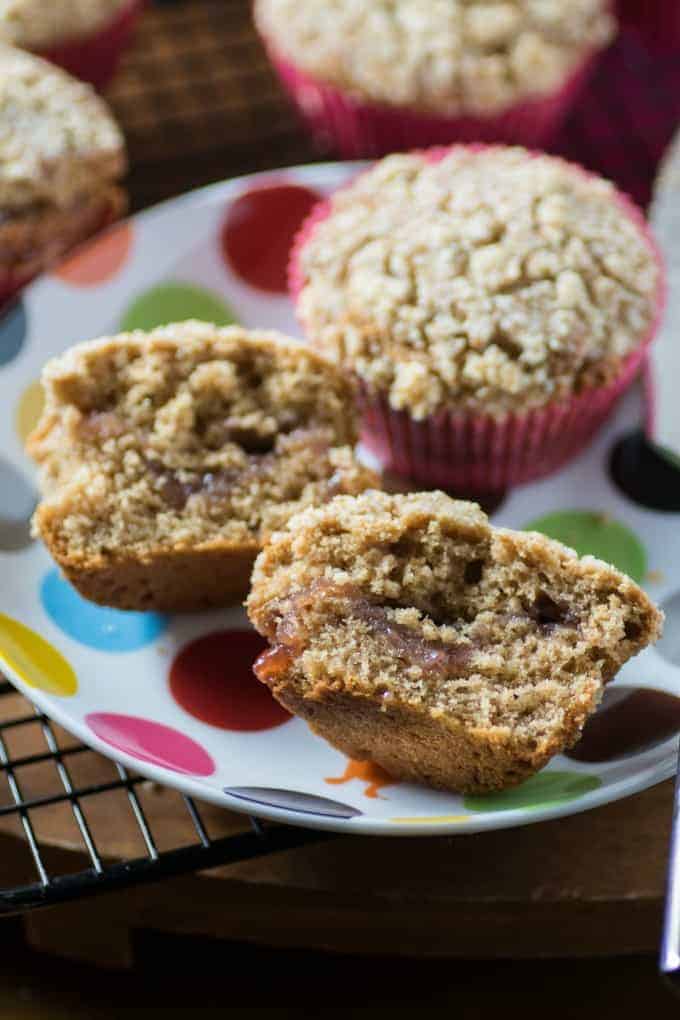 Cut them in half and they are so pretty with a little line of jam. Don't like strawberry? Then use the jam of your choosing. Raspberry, blueberry, blackberry would all be so good. I would say that grape jelly would be fantastic too!!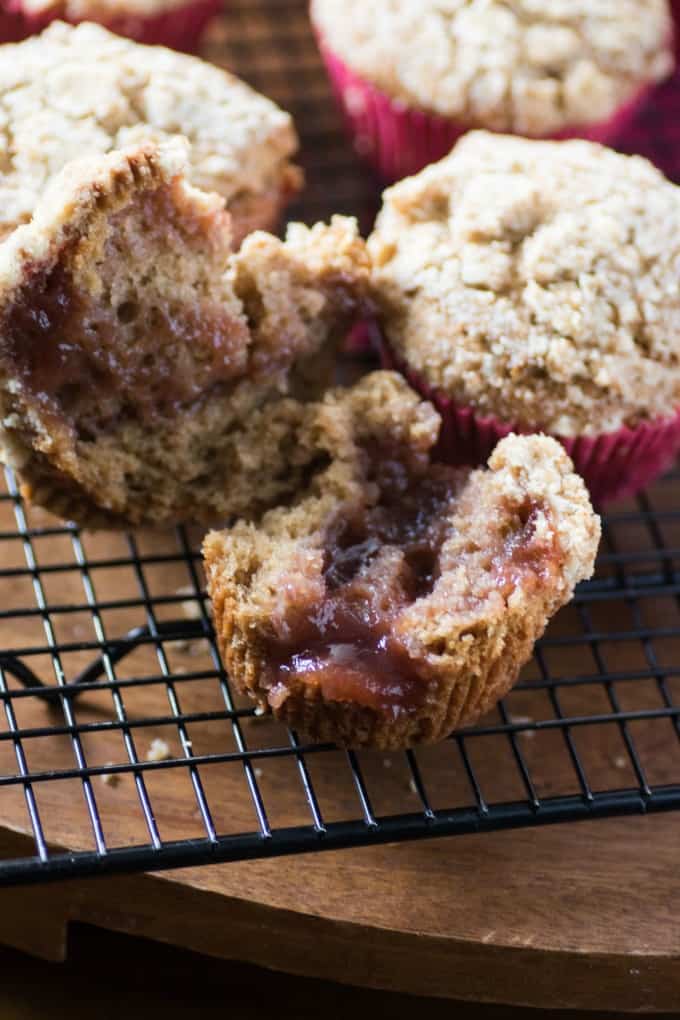 Just rip the top off and you have lots of ooey gooey jam to munch on. The peanut butter is right in the muffin, tasting so delicous. Nothing beats the great combination of peanut butter and jam!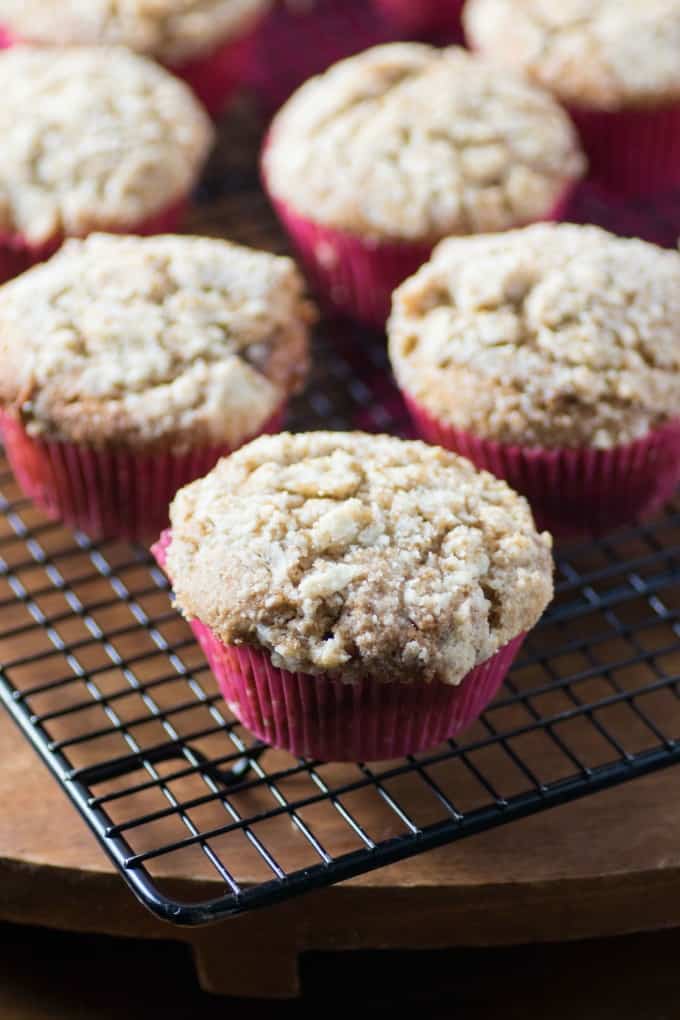 Give these muffins a little red or pink cup to sit in, it just livens them right up!! The streusel topping gives the muffins a little crunch to start with!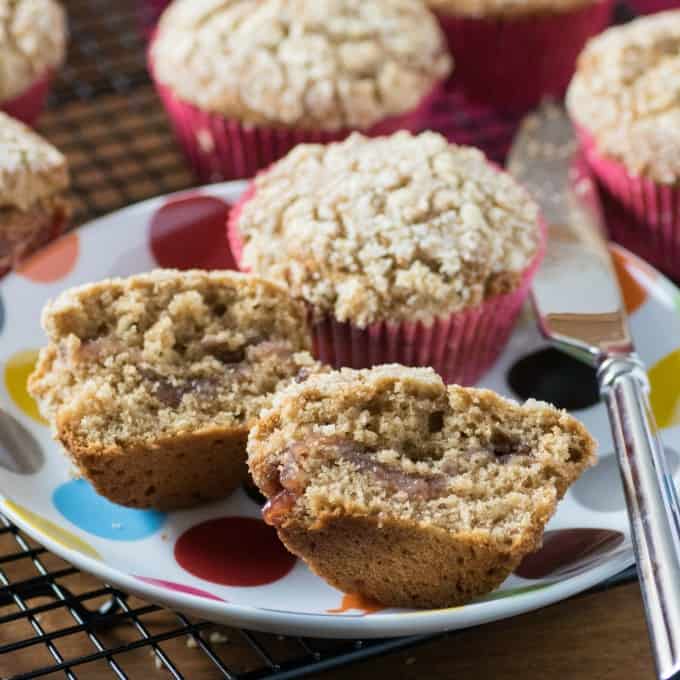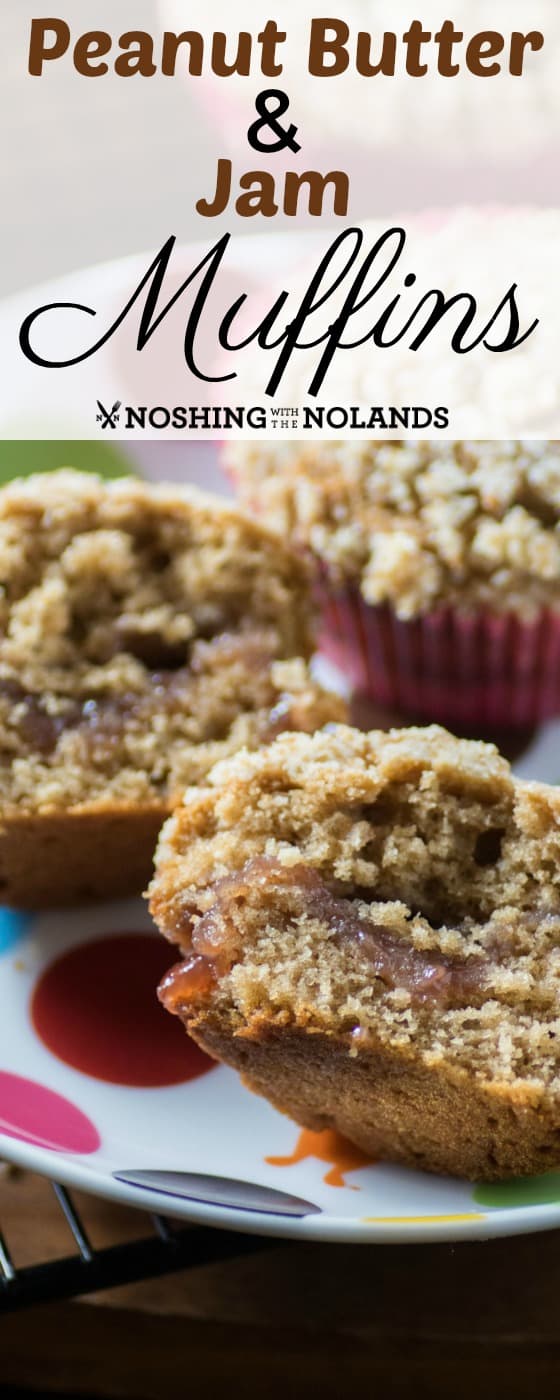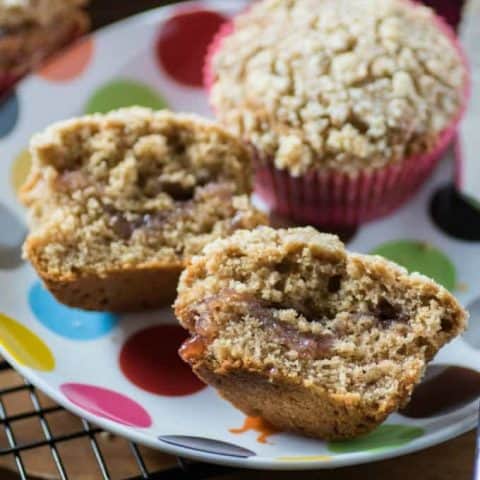 Peanut Butter and Jam Muffins
Yield: 18
Prep Time: 20 minutes
Cook Time: 22 minutes
Total Time: 42 minutes
These Peanut Butter and Jam Muffins are perfect for breakfast, snack, tucked into a lunchbox or anytime.
Ingredients
1/3 cup butter, softened
3/4 cup peanut butter
3/4 cup brown sugar, packed
1 egg
2 tsp. vanilla extract
2 cups flour
1 tsp. baking soda
1/4 tsp. salt
1/2 cup milk
1/2 cup sour cream
Strawberry jam or preserves of your choosing
Crumb Topping
2 Tbsp. flour
2 Tbsp. brown sugar
2 Tbsp. white sugar
pinch of salt
1/4 cup butter
Instructions
Preheat the oven to 350F. Line a 12 tin muffin pan with cupcake liners and a 6 tin muffin pan. Mix the crumb topping ingredients together, cutting in the butter at the end. Set aside.
Mix the flour, baking soda and salt together in a small bowl and set aside.
Cream the peanut butter and butter together in a large bowl with a hand mixer. Add the brown sugar, egg and vanilla and beat well. Add the flour mixture in 3 batches alternating with the milk and sour cream. Mixing well after each addition.
Fill the liners about 1/2 full wtih batter. Place a dollop (1 tsp.) of jam on each and then top with the rest of the batter.
Top with the crumb topping. Bake 18-22 min. or until a cake tester comes out clean. Allow muffins to cool in the pan for 5 min. and then remove to cool further on a rack.
Nutrition Information:
Yield: 18
Serving Size: 1
Amount Per Serving:
Calories: 236
Total Fat: 13g
Saturated Fat: 6g
Trans Fat: 0g
Unsaturated Fat: 6g
Cholesterol: 30mg
Sodium: 221mg
Carbohydrates: 26g
Fiber: 1g
Sugar: 12g
Protein: 5g
Recipe calculation was provided by Nutritionix and is an estimation only. If you need nutritional calculations for medical reasons, please use a source that you trust.