Peanut Butter Oatmeal Trees
Today we have Tammi from Momma's Meals here to entertain you. She also has many entertaining ideas for you!! I am so happy she has come over to share with you today. Her daughter could not be any cuter with that big delicious cookie.
I would love for you to follow Tammi on her blog and also on Facebook, Twitter, and Pinterest . Without any further ado I give you Tammi!!!
Thank you so much for having me Tara! Hello everyone, I've been a fan of Noshing with the Nolands for quite some time now. I "met" Tara back when I joined the #SundaySupper group over two years ago! Crazy how time flies when your blogging! I'm here today to share with you a new recipe I found via one of my Parenting magazines. I thought it was super cute and something my daughter would really enjoy around the holidays. I'll tell you just how much she "enjoyed" them later but for now lets talk about holidays! I have some great tips for you as you get ready for your holidays, or any party for that matter. My husband and I love to entertain, aka I love to clean, cook, clean up and my husband likes to entertain. Over the years we went from a small condo just the two of us to a big house with two kiddo's! We've now been able to extend our entertaining skills and really have fun with it! Here are a few tips I've learnt along the way.
1. When preparing a menu for cocktail parties, kid parties or just a party where your serving picky foods (this is my favorite kind of party!) Make recipes that you can make ahead of time. I love to make a lot of different things so if I'm making five appetizers, I make at least three of them be recipes that I can make the day before or that morning and pop in the oven when guests arrive. Here are some of my favorites I make, Easy Mexican Stuffed Peppers is a great one because you can make these ahead of time, pop them in the oven when your guests arrive and serve them with a nice salad or crusty bread. How about Meatloaf? Try my Chicken Parm Meatloaf, make it ahead of time, pop it in, you can even make a rice pilaf or peel and get your potatoes ready to go! There are so many ways to make cooking dinner with guests enjoyable for them and you.
2. When preparing a menu for dinner guests I always make a dish that I can start preparing a few hours before, something I can make a head and pop in the oven so when my friends arrive I can enjoy their company. We usually have couples over that have kids around the same age as ours so I make a lot of casseroles ahead of time, or even a pasta dish that doesn't take too much time in the kitchen.
3. Have a theme!! It's fun! Recently for my daughters third birthday party I made a Nacho bar that was a lot of fun. In a 3 pot appetizer warmer crockpot I had melted cheese mixed with green chili's, pulled pork and chili that people could scoop over their nachos'. I used nacho boats and also put out bowls of sour cream, shredded cheese, avocado, tomatoes and salsa! I also recently hosted a Cookie swap and with the same appetizer crock pot I made a Slider bar, I filled them with my Alfredo Turkey meatballs, Southwestern Meatballs and BBQ Pulled Pork, served them with a bunch of slider buns and mini meatball buns! For toppings I had pickles and cheese. Make it fun but make it less work for yourself by making things ahead of time. I made the meatballs the day before, warmed them up and put them in the warmer as people arrived.
4. Always plan an activity for the kids, it helps keep them busy! Decorate cookies, cupcakes, make your own icec ream sunday's, decorate stockings or Christmas trees, make a craft, these are all examples I've used at my parties, I love watching the kids use their imaginations while they work together on things! For adults I make it fun by making a different themed cocktail or treat!
5. I always serve picky foods when people are arriving, it gives them time to come in, get settled and mingle. I then serve the main food an hour or two later. Most people want to have a chance to get comfortable, have a drink and catch up before digging in!
6. ALWAYS REMEMBER TO HAVE FUN! My biggest weakness when throwing a party is I constantly clean up while people are there, I now make an effort to sit and chat with my friends, spend time with the kids and clean up when everyone is leaving. The mess will always be there, who cares for how long! If it's a few hours, put the food away and stack the dishes on the counter, trust me your friends and loved ones would rather spend time with you than to watch you do dishes and feel obligated to help!
Now onto my new cookie recipe!!
Peanut Butter Oatmeal Trees
What you'll need:
3 Cups of quick-cooking oats
2 Cups of all-purpose flour
3/4 tsp. of baking soda
1/2 tsp. of baking powder
1/2 tsp. of salt
1 Cup of unsalted butter, softened
1 Cup of packed light-brown sugar
1 Cup of sugar
1 cup of creamy peanut butter
2 large eggs
1/2 Cup of green decorating sugar
Vanilla frosting for decorating
What to do:
1. Preheat oven to 350F. Line 2 cookie sheets with parchment paper.
2. In a medium bowl combine the oats, flour, baking soda, baking powder, salt; mix well.
3. In a large bowl, beat the butter and sugars with an electric mixer until light and fluffy, about 3 min. Add the peanut butter and beat until smooth. Add the eggs, one at a time, beating well after each addition.
4. Add the flour mixture and beat on low until blended.
5. Divide the dough into quarters. Place a quarter on each prepared cookie sheet and pat into an 8' circle. Sprinkle each circle with 2 tbs. of decorating sugar.


6. Cut the dough into wedges about 1 1/4'' wide. Gently lift each triangle and place a pretzel rod underneath. Press the dough around the pretzel. Bake until golden and firm to the touch, 15-17 min. Let cool and on the pan for about 5 min. Recut the scored wedges to completely separate the cookies and let cool for 5 more min. Transfer to a wire rack and repeat with the remaining dough.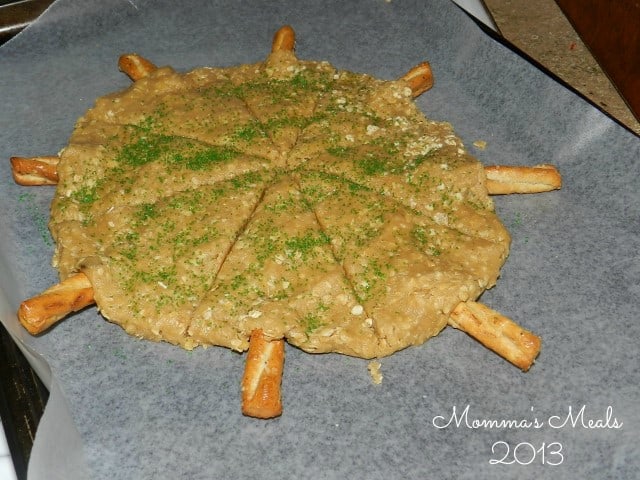 7. Decorate the cookies as you like with either a zip lock back cutting the tip, or us a pastry bag.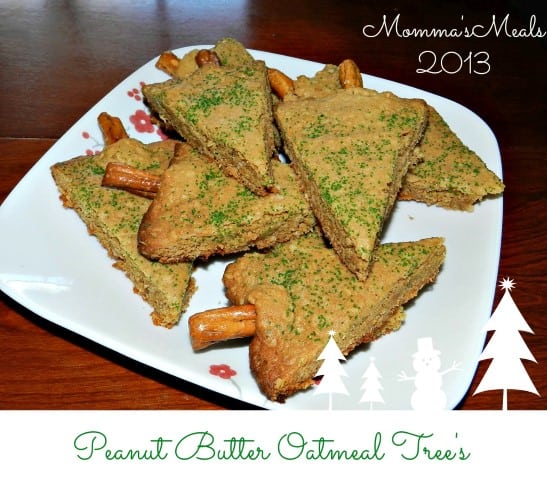 So the final verdict for my VERY picky daughter with a HUGE sweet tooth was she licked the frosting off and said she was all done Smile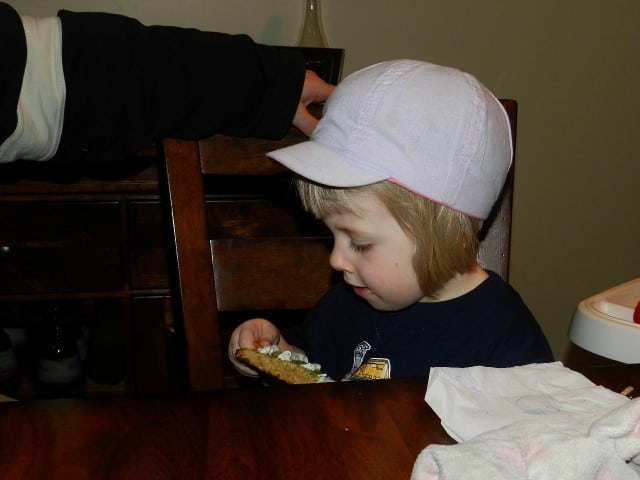 Happy Holidays from our home to yours,
Momma @ Momma's Meals