Pear, Pomegranate w/ Candied Walnut Salad
I love salads, this Pear, Pomegranate w/ Candied Walnut Salad with fruit, nuts and cheese is great. My favorite salads!! I also like when you have the option of a lighter side. You can try this at Thanksgiving instead of some of the big heavy side dishes that you are accustomed to seeing.
This is a pretty salad and festive for the holiday season. It has yummy candies walnuts to offset the salty feta cheese and the sweetness of the pears. As well as the tartness of the pomegranate seeds which bring it all together with so much flavor.
This salad would go great as a side dish with turkey or even as a starter before the main meal. You won't feel so full having a nice light salad as one of your sides.
The dressing marries well with all the flavors. You only need a small sprinkling of it as you have so much going on already. Enjoy this over the holiday season!!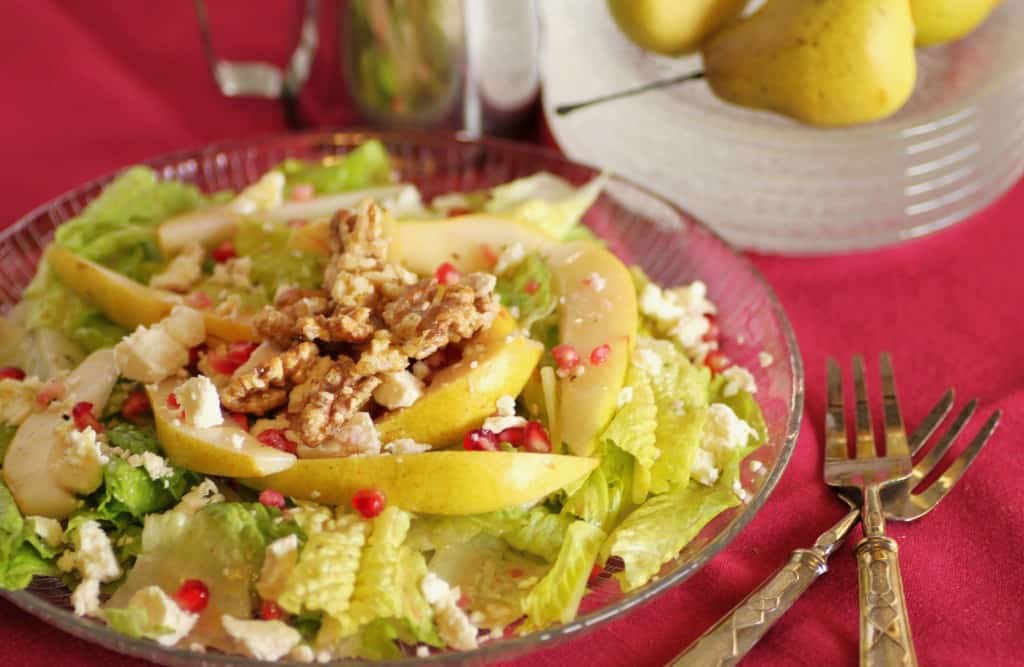 Recipe
Pear, Pomegranate and Candied Walnut Salad
A light side that goes great for the holiday season!!
Ingredients
1 large head of Romaine lettuce, washed and torn into pieces
2 ripe Bartlett pears, sliced
1 pomegranate
1 cup walnut halves
¼ cup sugar
½ cup light feta cheese, crumbled
⅛ cup white wine vinegar
¼ cup olive oil
2 tsp. creamy Dijon mustard
3-4 tsp. honey
Salt and pepper to taste
Instructions
In a small non-stick fry pan add walnuts and sugar over medium heat. Stir until sugar melts and turns to a light brown color and coats the walnuts. Set aside to cool.
In a small jar add the vinegar, oil, mustard, honey and salt and pepper. Place the lid on and shake well. This can be made ahead of time as it only gets better.
Lay out the lettuce on a large platter. Top with pear slices. Sprinkle with the feta. Add the walnuts into the center. Cut the pomegranate in half and with the back of a wooden spoon bang the pomegranate holding it over the salad. The seeds will then fall out.
Drizzle the salad with the dressing and serve.