Pecan Apple Oatmeal Flapjacks – The Stampede is coming, the Stampede is coming!!! This is going to be very different year as we have experienced such devastating floods only two weeks ago but that doesn't undermine our Calgary spirit. The show will go on!!
My company all start arriving today and we are going to have a great time. Lots of things to do and see.
I will be taking some time off but I am leaving you in very capable hands with lots of guest posts all based around Stampede and/or summer.
Today, we have for you Apple Oatmeal Flapjacks. All over our city, we have Stampede breakfast pretty much daily.
They serve up sausages and pancakes or what we also call flapjacks. I found a recipe from Canadian Living for these amazing pancakes and just changed it up slightly for you.
There is nothing that a cowboy likes better than to start off his day with a nice pile of warm, syrup dripping flapjacks and these will get the cowboy out of anyone. Yeehaw!! ENJOY!!!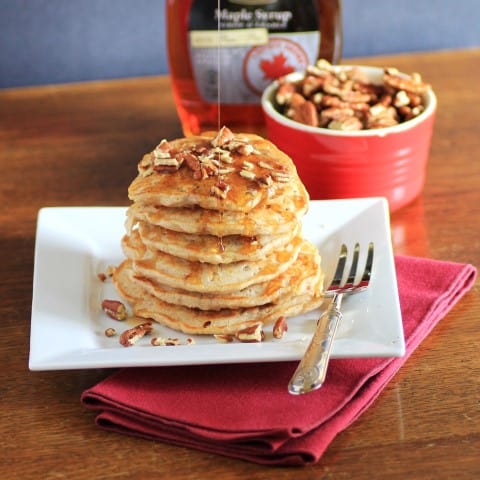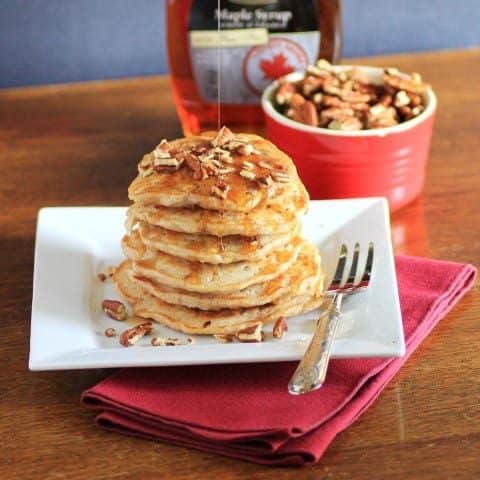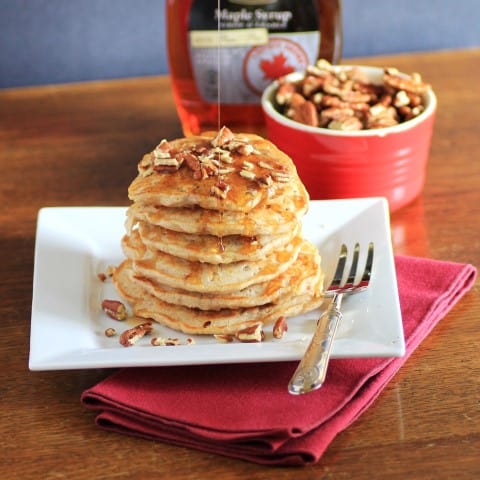 Pecan Apple Oatmeal Flapjacks
Yield: 12 Flapjacks
Prep Time: 15 minutes
Cook Time: 25 minutes
Total Time: 40 minutes
A great stack of pancakes to start off your day!!
Ingredients
1 1/4 flour
1 Tbsp. sugar
1 Tbsp. baking powder
1/2 tsp. salt
1/3 cup quick-cooking rolled oats
3/4 tsp. cinnamon
1 egg
1 1/2 cup milk
1/4 cup melted butter
1 cup grated peeled apple
1/3 cup chopped pecans, plus more for sprinkling on top
Pure Maple Syrup
Instructions
Whisk together the dry ingredients, flour, sugar, baking powder, salt, oats, and cinnamon. Set aside.
In another bowl whisk the egg and milk together. Add the melted butter.
Pour into the dry ingredients and stir until just combined. It should still be lumpy. Add the apples and the pecans and fold into the mixture.
Heat a griddle or non-stick frypan and spray with cooking spray. Pour about 1/4 cup of the batter per flapjack.
Cook until the underside is golden and the top bubble starts to break.
Flip and cook for an additional 1-2 min. until the other side is golden brown.
Repeat until all the flapjacks are cooked keeping them in the oven or heat lamp to stay warm.
Serve with maple syrup and more chopped pecans.
Nutrition Information:
Yield: 12
Serving Size: 1
Amount Per Serving:
Calories: 147
Total Fat: 7g
Saturated Fat: 3g
Trans Fat: 0g
Unsaturated Fat: 4g
Cholesterol: 28mg
Sodium: 272mg
Carbohydrates: 17g
Fiber: 1g
Sugar: 3g
Protein: 4g
Recipe calculation was provided by Nutritionix and is estimation only. If you need nutritional calculations for medical reasons, please use a source that you trust.
Recipe adapted from Canadian Living Test Kitchen