Pecan Coated Homemade Drumsticks
Do you like making delicious no-bake treats at home? We sure do, especially in the summer months. My favorite nut is a pecan so I thought Pecan Coated Homemade Drumsticks would be amazing. Ken got on these quickly for me, getting the ingredients and assembling also. Amber assisted with the pecans and they turned out just like I had hoped!! Not only do we have this wonderful dessert but there are many more no-bake desserts in our 30 Day Recipe Challenge we are sharing today. Come and see all the recipes.
Drumsticks have been around for a number of years. I.C. Parker of The Drumstick Company invented this novelty ice cream in 1928 according to Wikipedia. The ice cream cone was first invented in 1904 at the World's Fair using a waffle cone. So glad this concept came together as it is a huge summer treat in this household.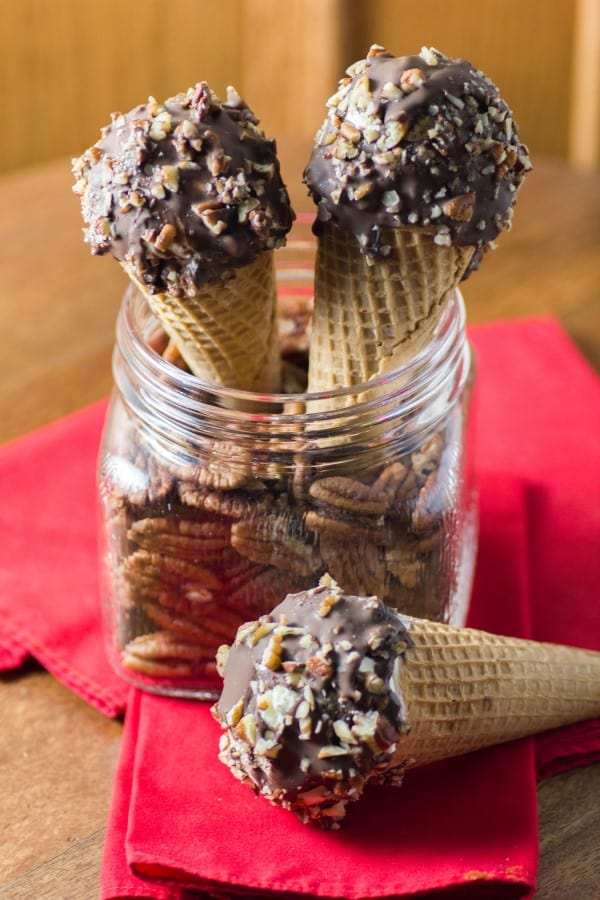 Crunchy toasted pecans encrust the top of the cone. While soft vanilla ice cream has been stuffed into the sugar cone that was first filled with melty milk chocolate, tempted yet?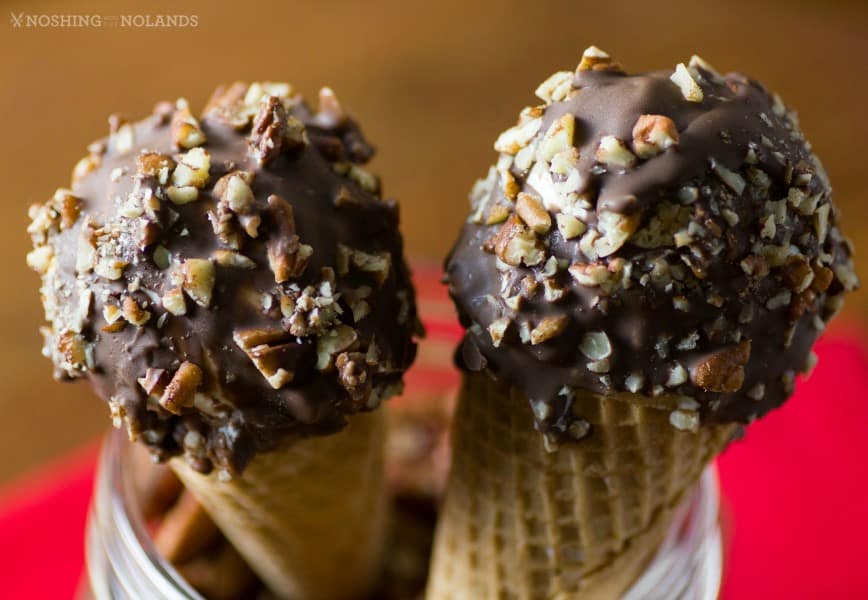 We used the "magic shell" for coating the outside of the cones. It hardens quickly but not that fast that you can't add nuts to it. A two person job is required though, one putting on the magic shell and turning the cone while another puts on the nuts.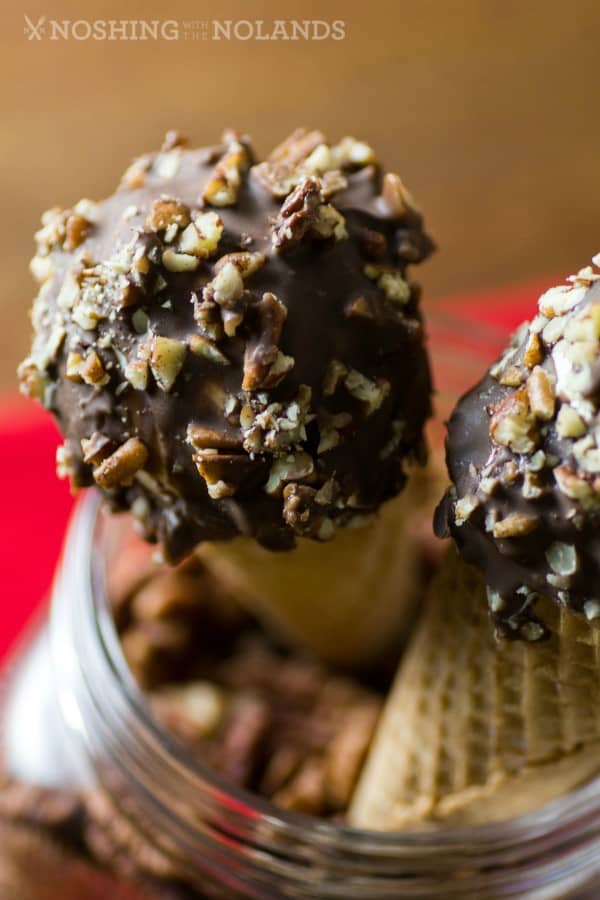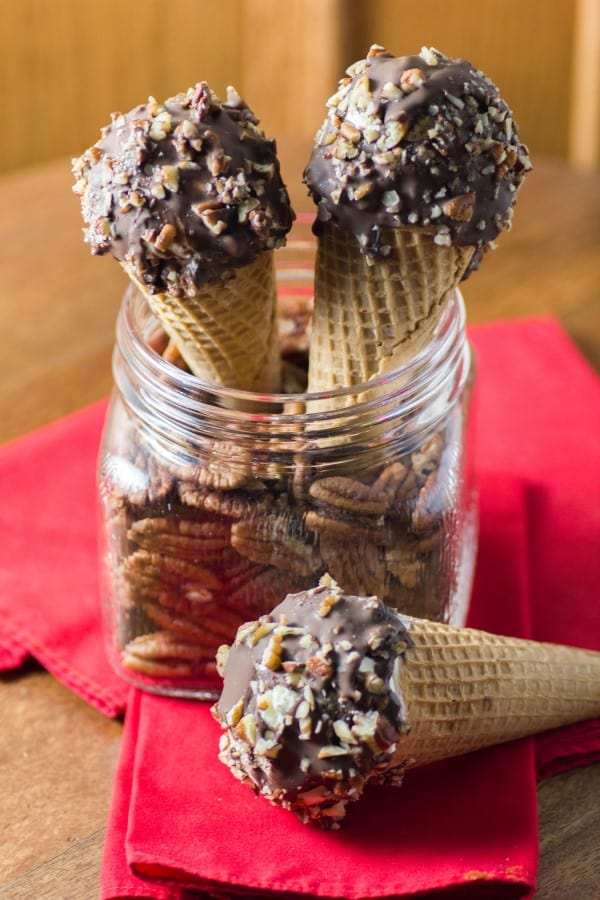 Pecan Coated Homemade Drumsticks
Yield: 8 servings
Prep Time: 20 minutes
Total Time: 20 minutes
Delicious Pecan Coated Homemade Drumsticks will be a hit with all the family all summer long!
Ingredients
8 sugar cones
4-5 oz. melted milk chocolate
2 liter container (68 oz.) vanilla ice cream, softened
1 1/2 cups roasted pecans, chopped
1 bottle chocolate magic shell
Instructions
Spoon about 1 1/2 tsp. of the melted chocolate into the bottom of each cone, standing them up in glasses on a cookie sheet for about 5-10 min. so chocolate sets.
Spoon the softened vanilla ice cream into a cone and carefully push down to fill completely. Caution, cones will break if you push too hard. Place one scoop of ice cream on top and place back into the freezer for about 15-20 min. until frozen solid.
One at a time, pour the chocolate shell over the ice cream then sprinkle on chopped nuts and place back in the freezer. This is a two person job, one to do the magic shell while another one places on the nuts. Then take the next cone out of the freezer and repeat.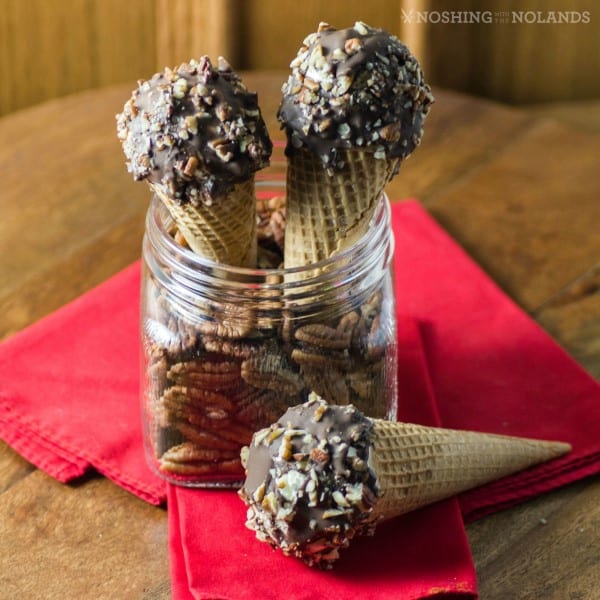 Check out all the other lovely NO BAKE recipes below from bloggers who took part in our 30 Day No Bake Dessert Challenge.