Pina Colada Cheesecake Squares
Day 3 of our tropical getaway and I bring to you these awesome Pina Colada Cheesecake Squares. I had the ingredients for these squares already at home. Left over from Halloween I had two packages of cream cheese. A full can of crushed pineapple minus 1 Tbsp. for another recipe, coconut etc. So I wanted to come up with a dessert that would bring the tropics inside your home. These little squares are great!! A fabulous make ahead dessert that won't make you feel so full like a big slice of cheesecake will.
Sit back, relax and think of the warm sun kissing your face as you eat this delightful dessert. Let it take you to the tropics. We can only dream!!!!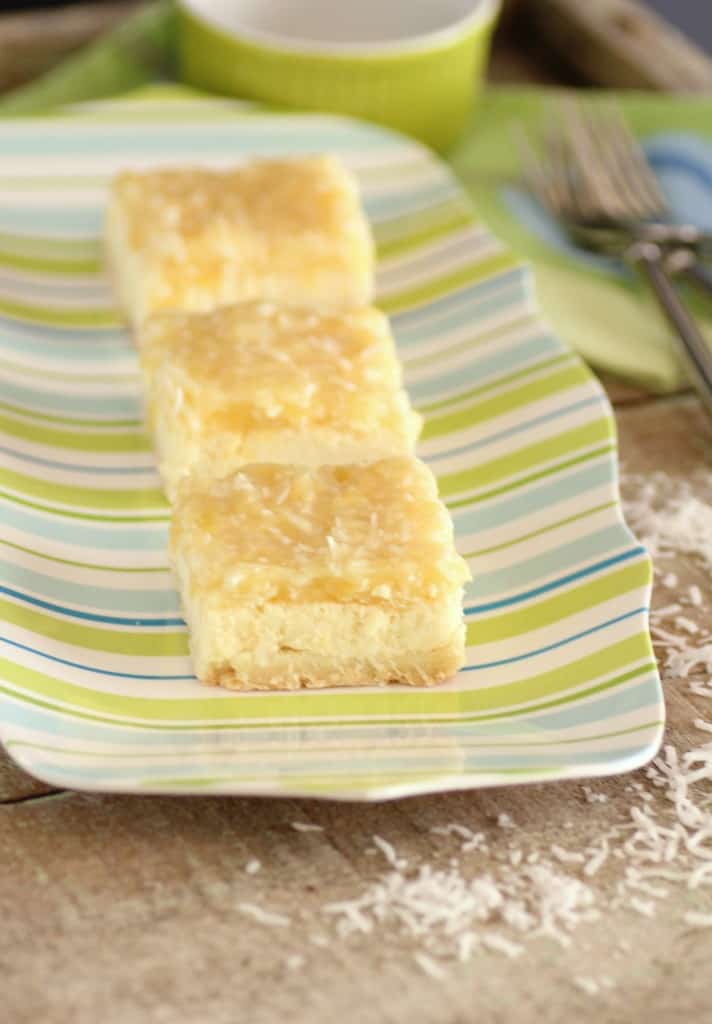 Pina Colada Cheesecake Squares
A delightful dessert that will remind you of the tropics!!
Ingredients
Crust
1½ cups flour
½ cup butter
¼ cup sugar
Cheesecake Layer
2-8 oz. pkg. cream cheese
½ cup sugar
3 eggs
Pineapple juice drained from crushed pineapple
1½ tsp. coconut extract
Pina Colada Topping
¼ cup flour
¼ cup sugar
1 cup shredded coconut
1 cup pineapple juice
14 oz. crushed pineapple, drained and juice reserved for cheesecake layer
Instructions
Preheat oven to 350F. Spray a 8x12" pan with cooking spray and line with parchment paper letting the edges hang over. Mix crust ingredients together and press into prepared pan. Bake for 15 min. until just starting to turn golden.
While the crust is baking mix in a standup mixer with a paddle attachment the cream cheese and sugar. Add eggs one at a time. Then add the pineapple juice and the coconut extract. Pour over the warm crust and bake for 40 min. or until set. Let cool.
To make the topping combine the sugar, flour and pineapple juice in a small pan with bring to a simmer stirring. Continue to cook until thickened. Remove from heat and add the pineapple and the coconut.
Spread the topping over the cooled cheesecake layer and refrigerated until completely cooled. Remove the cheesecake carefully from the dish, using the parchment paper and slice into squares.