These little gems are so easy to make and have that salty-sweet thing going on. Love them. They are also in the shape of a heart!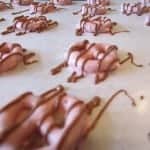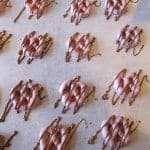 Melt white chocolate drops in the microwave slowly on half power stirring every 30 sec. until melted. Tint chocolate with red food coloring until the desired pink tone. Dip pretzels in the chocolate and using a fork, lift them out letting excess chocolate drip off. You can tap the fork gently on the side of the bowl to remove the excess chocolate also. Place on wax paper-lined cookie sheets. Let dry in the refrigerator until set. Melt milk chocolate in the same manner and pour it into a small sandwich bag. Cut a small opening at one of the corners and drizzle the chocolate over the pretzels.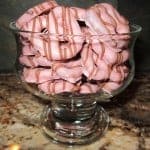 Again let cool in the refrigerator. Keep chilled.