Pizza Panini
Day 4 of 5 Days of Sandwiches and I bring you Pizza Panini, an idea that Ken came up with and it is quick, easy and delicious!!! Craving homemade pizza but don't want the hassle of making the dough. Try a pizza panini. We have a panini maker and nothing could be easier for a delicious sandwich than that!! In addition, there are endless combinations you can make that really makes it feel like a meal!! Put your own toppings in. Also, let the kids design there own!! It is fun, nutritious, easy and fast!! When we are talking sandwiches for dinner you do need to bump it up just slightly but this is not hard at all. ENJOY!!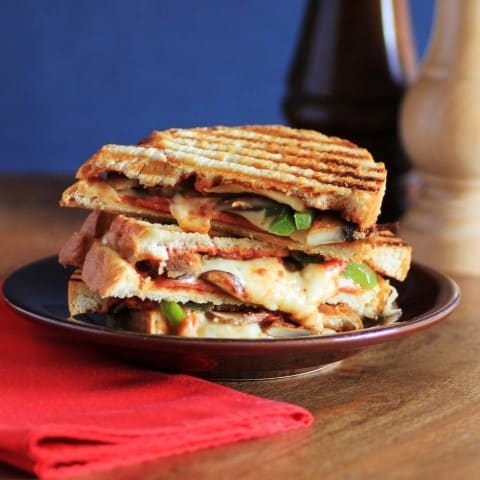 Pizza Panini
Pizza Panini Recipe Type : Sanwich Cuisine: Italian Author: Tara Noland Prep time: 10 mins Cook time: 12 mins Total time: 22 mins Serves: 4 Pizza couldn't be easier or faster!!
Ingredients
8 oz. mushrooms, sliced
½ green pepper, chopped
½ Tbsp. butter, plus more for bread
8 slices panini bread
½ 7.5 oz. can pizza sauce
1 cup shredded mozzarella
12 pepperoni slices
Instructions
Saute mushrooms and green peppers in ½ Tbsp. butter in a saute pan on medium low heat until tender about 5-7 min.
Butter the outside of the bread and place on a cutting board. On the opposite side spread a small amount of pizza sauce on both slices. Add 3 slices of pepperoni and ¼ cup of cheese on one slice of bread. On the other slice top with a ¼ of the mushrooms and green peppers. Place the sandwich together and cook on the panini press for 4-5 min or until browned on the outside and heated through. Repeat for remaining sandwiches and serve immediately.