Plank Smoked Baked Potatoes
For Ken's birthday this year I got him an all-day BBQ course with the BBQ master Rockin' Ronnie Shewchuk. Ken had a fabulous day learning how to smoke many things. He brought home a bounty of smoked meats and this recipe for Plank Smoked Baked Potatoes among others!
We just have a small inexpensive electric smoker but it works great. I don't have to be a BBQ widow as he marries himself to maintaining a big smoker all day. It works great for us!!! The regular BBQ can also be a way of creating some great smokey flavor as in these magnificent baked potatoes.
A little extra work but it is all worth it in the end. With a simple grilled steak and a big beautiful salad, you have an amazing dinner. Give them a try this summer on your backyard BBQ.
Recipe
1 alder plank, soaked overnight or at least 1 hour
3 baking potatoes
Kosher salt
1/2 medium onion, chopped
2 cloves garlic, minced
1/4 cup butter, divided
3/8 cup whipping cream
3/8 cup milk
2/3 tsp. freshly grated nutmeg
1/2 cup grated cheddar, parmesan & Romano cheeses
1 Tbsp. extra virgin olive oil
Smoked paprika
Sour cream
Chopped chives
Instructions
Preheat oven to 400F. Wash the potatoes, poke them with a fork and microwave for 4-5 min. While still hot rub with the Kosher salt and then bake for 50-60 min. Saute the onion and garlic in 2 Tbsp. butter until the onions are translucent approximately 6-8 min.
Allow the potatoes to cool enough to work with them, using a sharp knife cut an oval "football" shape making sure not to break the skin. Scoop out the pulp, saving it to re-stuff and leaving roughly a 1/4 inch of the flesh on the inside of the potato.
Combine the potato pulp, sauteed onion, and garlic remaining 2 Tbsp. butter, whipping cream and 1 tsp. salt in a medium bowl. Mash together.
If you find it too dry start to add the milk, 1/4-3/8 of a cup. We like it if it is really creamy. Then add in the cheddar and Romano cheese and mix gently to combine. Spoon the mixture back into the potatoes evenly and top with grated Parmesan cheese. Drizzle the top with olive oil and sprinkle with smoked paprika.
Preheat your grill on medium-high for 5-10 min. The temperature should be above 400F. Rinse the soaked plank and place it on the cooking grate, cover and heat the plank for 4-6 min. or until it starts to smoke and crackles lightly.
Reduce heat to medium-low and place stuffed potatoes on the plank, cooking for 12-15 min. or until cheese is nicely browned. Serve immediately with a dollop of sour cream and chopped chives.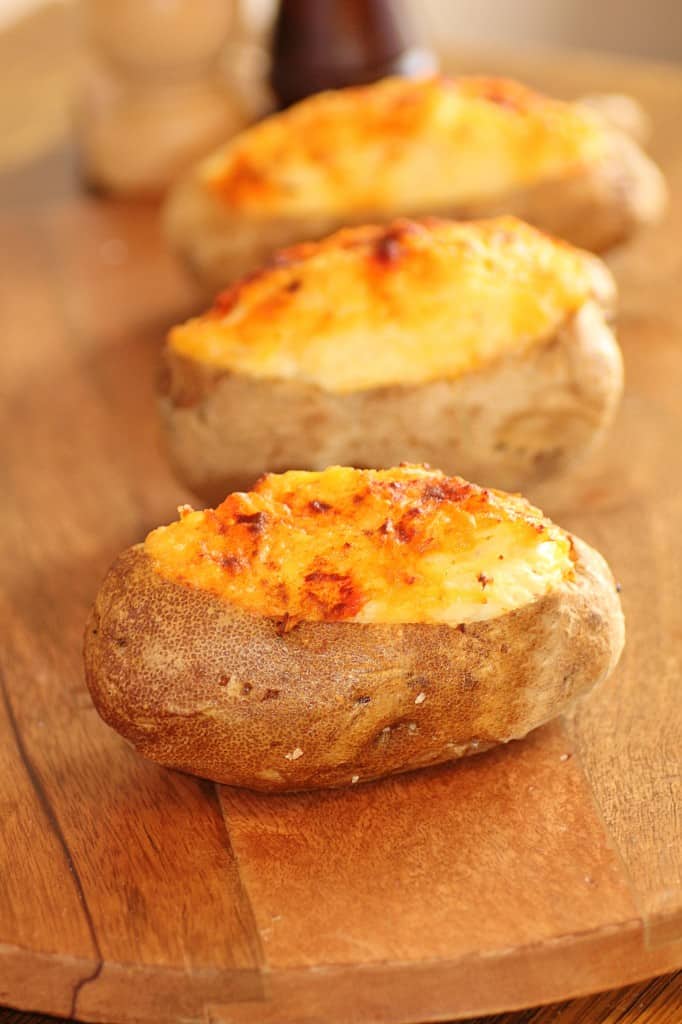 Recipe adapted from Barbeque Secrets Deluxe! by Rockin' Ronnie Shewchuk