Potato, Egg and Peanut Salad
I am still on the party trail, getting a little weary now but still going!! Rinku was so kind to bring over this Potato, Egg and Peanut Salad recipe, one that I know you will love.
I have met Rinku through a FB page called Food Bloggers Network, one that brings bloggers together to ask questions and offer help to each other.
We have for you today, the last day of Stampede an excellent potato salad with a little twist, a peanut twist!! YUM!! What a great idea!!
Come and check out this great recipe now. ENJOY!!
I LOVE potatoes and love them in their pristine simplest forms, such as in Potato Salads comfortingly luscious mashed potatoes almost all times of the year.
With the warmer weather inviting us for picnics, cookouts, and grilling, I look for potato salads. What is summer after all without the joys of a simple potato salad?
As with all my cooking, I need a little spark and just a small amount of local flavor. A few weeks ago, when I came across a few lovely bunches of spring onions, this potato salad was born.
Lighter than some potato salads, this salad mixes yogurt and mayonnaise for a dressing with some pep from the spring onions, minced jalapeno peppers, and minced cilantro.
Some days, when the mercury soars you also look for something that is hearty and complete just by itself and this salad will not disappoint!
With crunchy peanuts and chopped eggs, this salad combines the comfort of potatoes with eggs this salad offers you the option to make this a complete meal if you choose to.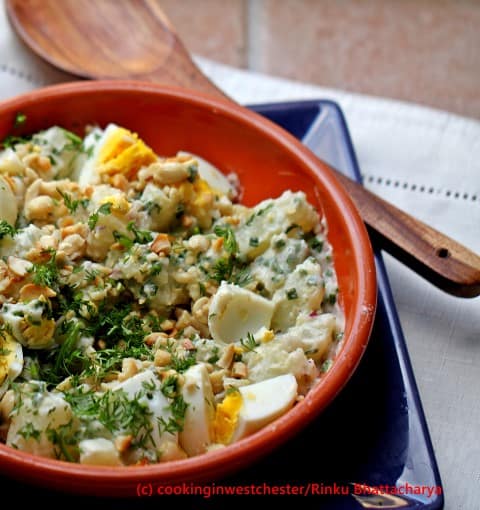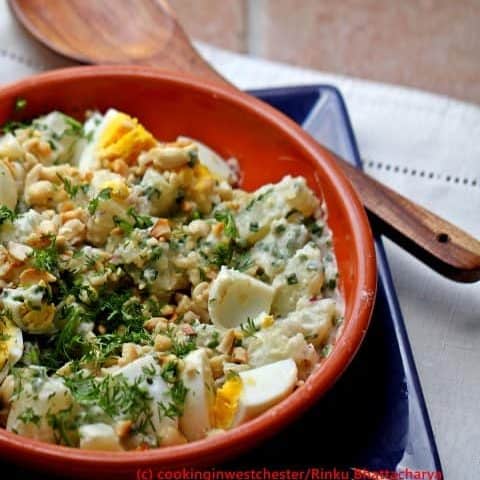 Potato, Egg and Peanut Salad by Cooking in Westchester
Yield: 8 Servings
Prep Time: 2 hours 15 minutes
Cook Time: 20 minutes
Total Time: 2 hours 35 minutes
A gorgeous potato salad with a little peanut twist!!
Ingredients
4 hard-boiled eggs
6 to 8 russet potatoes
2 Tbsp. olive oil
2 tablespoon red wine vinegar
11/2 teaspoons sea salt
For the dressing
1/3 cup mayonnaise
1/3 cup yogurt
1 jalapeno, seeded and minced
2 to 3 spring onions, very finely chopped (both whites and greens)
Lots of freshly ground black pepper
To garnish
2 tablespoons chopped cilantro
2 tablespoons coarse ground unsalted peanuts
Instructions
Shell the eggs, chop and set aside.
Boil the potatoes in plenty of water until fork-tender, do not overcook the potatoes.
When the potatoes are cool enough to handle, peel and chop into eights.
Place the potatoes in a large mixing bowl and toss with the olive oil, red wine vinegar, and salt.
Mix together the mayonnaise and the yogurt. Stir in the jalapeno, spring onions, and freshly ground black pepper.
Toss the potatoes in the dressing.
Mix in the eggs.
Garnish with the peanuts and the cilantro and serve.
Nutrition Information:
Yield: 8
Serving Size: 1
Amount Per Serving:
Calories: 337
Total Fat: 16g
Saturated Fat: 3g
Trans Fat: 0g
Unsaturated Fat: 12g
Cholesterol: 99mg
Sodium: 1609mg
Carbohydrates: 40g
Fiber: 4g
Sugar: 3g
Protein: 9g
Recipe calculation was provided by Nutritionix and is estimation only. If you need nutritional calculations for medical reasons, please use a source that you trust.