Poutine for Global Street Food
What a fun theme for this week, love it!! What first popped into my head was poutine and that is where I stayed. This is a great Canadian dish originating in Quebec, Canada in the late 1950s and is sold in diners, pubs, and chip wagons.
It makes the ultimate and most decadent of street foods. Crispy fried potatoes and cheese curds are doused in gravy, that is the traditional way to do it!!
Eaten sitting on the curb in Quebec!! Ken was just in Montreal and saw poutine first hand.
This wasn't his lunch but a co-worker's. They were literally eating it on the street. Can't get more authentic than that for street food. This poutine had smoke meat added to it.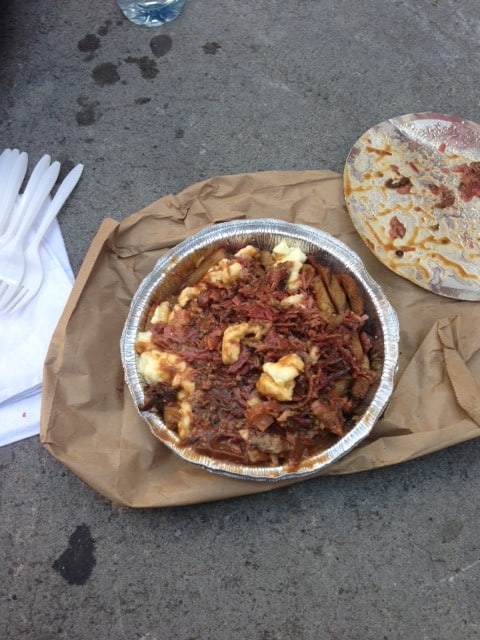 Things have become more extravagant with poutine over the years adding other toppings like bacon, pulled pork, smoked meats, lobster, shrimp, duck, caviar, and truffles.
I never liked poutine growing up thinking that cheese and fries don't go together. Wow was I wrong!! Poutine has become more popular now and in mainstream locations like New York Fries.
That is where I have had my poutine of late, treating myself maybe once a year to the ooey-gooey goodness of a platter of fries slathered in all that cheese and gravy. Amber joins in the tradition also, usually having this at Christmas time.
It is so easy to make but you have to find the good cheese curd. We went to our local cheese shop to get the best we could find. It is even better if you can get the curds from Quebec but we settled on these from Ontario. I hope you try some poutine, homemade, or if you are in Canada right on the street!! ENJOY!!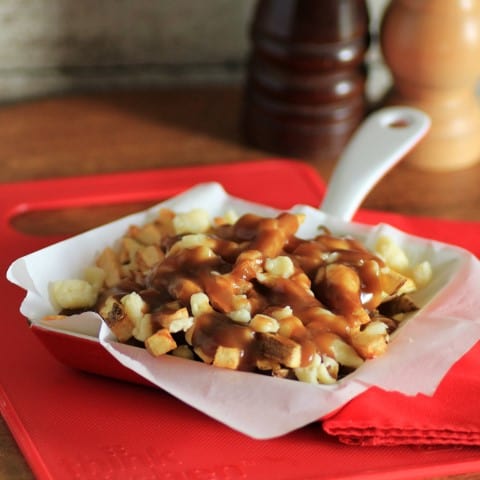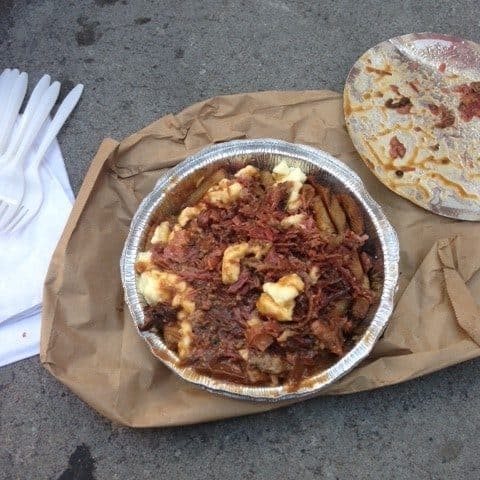 Poutine for Global Street Food #SundaySupper
Yield: 3 Servings
Prep Time: 15 minutes
Cook Time: 15 minutes
Total Time: 30 minutes
A decadent side dish of french fries, cheese curds and gravy
Ingredients
1 pkg. brown gravy
2 large potatoes
1 cup cheese curds
Salt to taste
Canola oil for frying
Instructions
Prepare package brown gravy per instructions and keep warm.
Slice potatoes using a mandolin into small fries. Heat oil to 350F and cook fries in batches until golden.
Let drain on paper towels and salt immediately. Continue until all the fries are cooked.
Serve the fries with cheese curds and hot gravy.
Nutrition Information:
Yield: 3
Serving Size: 1
Amount Per Serving:
Calories: 433
Total Fat: 20g
Saturated Fat: 9g
Trans Fat: 0g
Unsaturated Fat: 10g
Cholesterol: 43mg
Sodium: 915mg
Carbohydrates: 47g
Fiber: 5g
Sugar: 3g
Protein: 17g
Recipe calculation was provided by Nutritionix and is estimation only. If you need nutritional calculations for medical reasons, please use a source that you trust.
Look at all the yumster street food we have for you today!!
Bread on the Boulevard
Hand-Held Savory Eats
To-Go Containers
Sweets on the Streets
Grab a Thermos