Provence, 1970 – Book Review
I love getting a non-fiction read like this book Provence, 1970. Reading about someone's life who fascinates me is very intriguing. A huge influence in my reading choices is Julia Child. She had such a great life, definitely filled with ups and downs like we all have but she was a revolutionary for the culinary world bringing us front and center to her world of French gastronomy. I thoroughly enjoyed my read of her life story with Dearie by Bob Spitz.
This book I picked up to read while I was on vacation in Europe, I so enjoyed reading it on the train while in France. Of course a perfect setting for this book as a lot of it is in France when M.F.K. Fisher, Julia Child and James Beard along with others would meet, dine, laugh and drink. The book is authored by Luke Barr who voices his great-aunt through her notes, journals and letters of this period in the South of France. It is how they came together and the stories that revolved around this iconic time when the American cuisine was changed forever. America was influenced heavily by these culinary figures through their TV shows and cookbooks.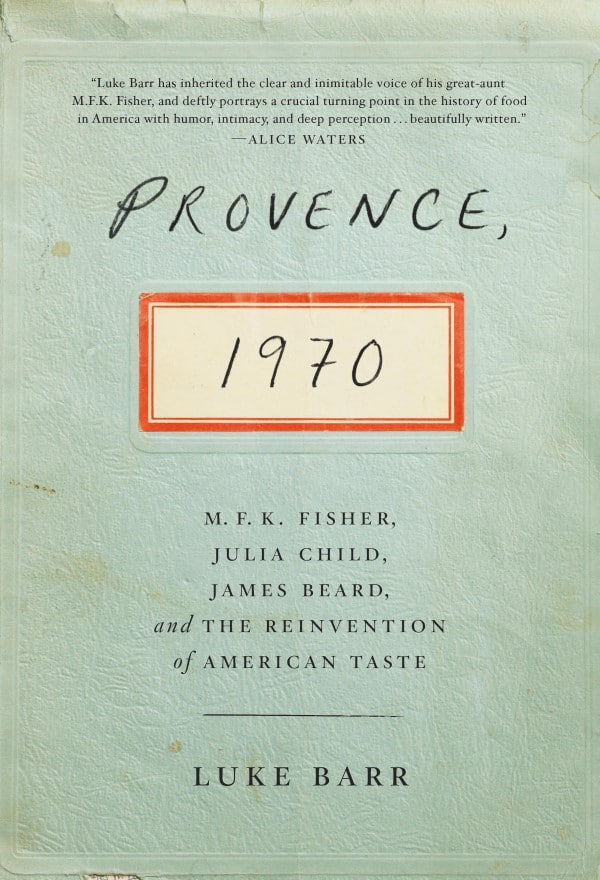 Also joining these three at Julia and Paul's vacation home, La Pitchoune, in Provence was Simone Beck who co-authored Mastering The Art of French Cooking. Along with Richard Olney, the most meticulous chef of them all and cookbook editor Judith Jones, the conversations at times turned to arguments of the future of food in America.
The book is a fast paced and an easy read that captures this moment in time clearly and precisely. You can easily envision yourself surrounded by these magnificent people, enjoying all the knowledge they have to offer. I thoroughly enjoyed the book and it is a must for any Julia Child fan.
Luke Barr, the author, is an editor at Travel & Leisure. He grew up in San Fransisco and Switzerland. He now lives with his wife, Yumi Moriwaki, an architect and their two daughters.