Pulo Pineapple Tamarind Crispy Shrimp recipe was invented because I was asked by Pulo Cuisine to try out some of their sauces. Their sauces are inspired from the 7,000 islands of the Philippines. So many recipes whirled around in my head. I used their Kare Kare Toasted Peanut Cooking Sauce right out of the gate. Just chunked up some chicken and add some veggies, like onions and peppers and cooked it up in their amazing sauce and served it over rice. Well, nothing could be easier and the whole family loved it. The entire meal was made in 20 minutes including rice. You can't beat that for a quick and amazing weeknight meal!!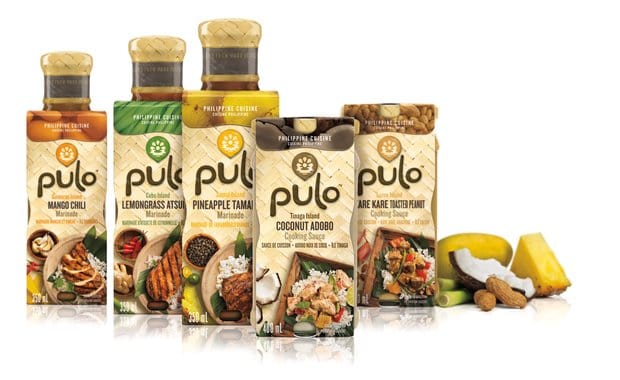 Next I wanted to try one of their delicious looking marinades. Hard to choose but I picked the Pineapple Tamarind Marinade. I wanted to do a little something around the theme of double dipping. Everyone loves to dip again and again but it is taboo!! With these luscious shrimp not only do you get your own dip that you can wholeheartedly dip away but they are already dipped (and marinated) once for you!! The sauce is robust and full of flavor.
Be happy and double, triple, quadruple dip!!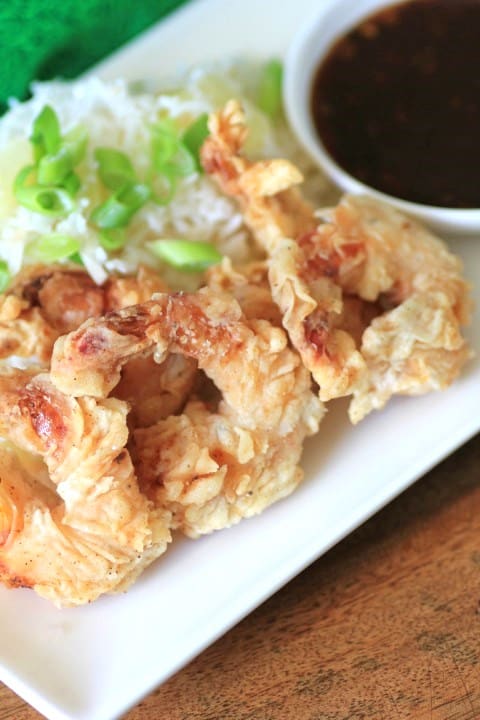 The shrimp are first marinaded in their lovely Pineapple Tamarind sauce then dunked in batter and fried up crispy. I learned that deep frying is very prevalent in Filipino cuisine and a real treat for us!! This dinner is special enough for company as a main course or an appetizer.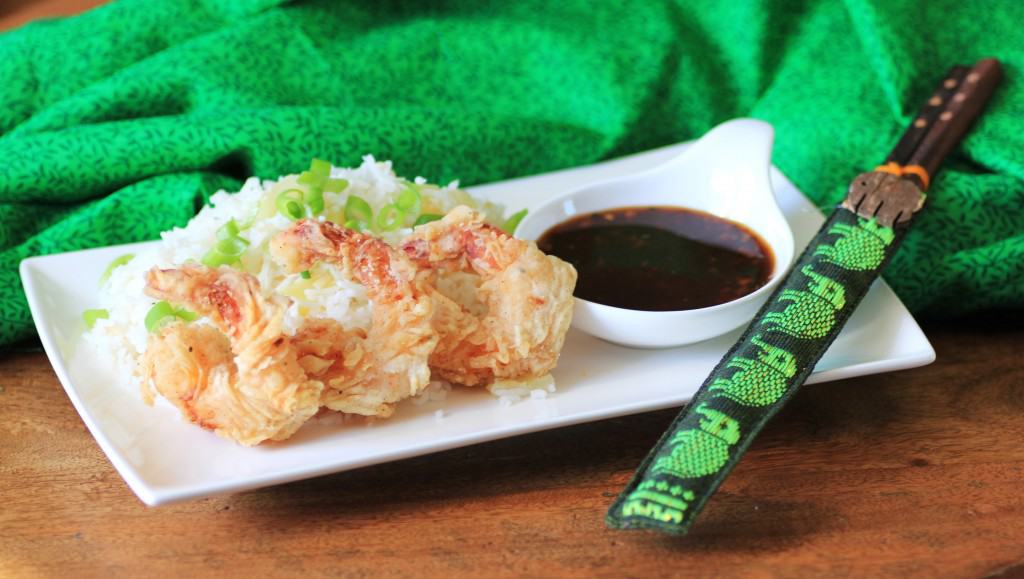 Served up with a lovely Pineapple Coconut Basmati Rice these shrimp will be your new favorite recipe!! They can be fried up in a deep fryer or wok until golden and crunchy!!
Pulo Pineapple Tamarind Crispy Shrimp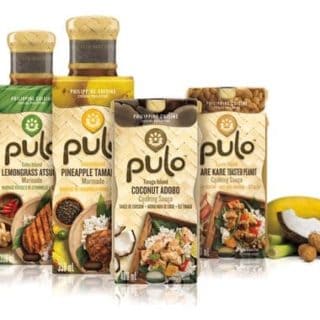 Pulo Pineapple Tamarind Crispy Shrimp
Double dipping is allowed with these Pulo Pineapple Tamarind Crispy Shrimp
Ingredients
Seasoned flour
1 1/2 cups flour
1 Tbsp. garlic powder
1 tsp. pepper
1/2 tsp. salt
Batter
1 cup flour
1 tsp. salt
1/8 tsp. pepper
1 beaten egg yolk
1 1/4 cups water
Shrimp
1 lb. shrimp, shelled, tails on and deveined
1/3 cup Pulo Pineapple Tamarind Marinade plus more for dipping
Canola oil for frying
Rice
2 cups Basmati rice
1 cup coconut milk
1 cup water
1 cup pineapple cut into small chunks
1/4 cup coconut toasted
3 Tbsp. cilantro or green onions, chopped
Salt to taste
Instructions
Mix together the shrimp and Pulo sauce. Let marinade for 1 hour. Mix together the seasoned flour ingredients,set aside. Just before starting to fry mix together the water and egg for the batter and add the dry ingredients.
Heat the oil in a deep fryer or deep wok (2" oil for the wok) to about 365F. Dredge shrimp in flour and then in batter and then back in flour. Fry in the oil for about 10 min. or until golden and crispy. Drain on paper towels. Salt immediately when removed from oil.
Meanwhile rinse rice in a sieve until the water runs clear. Mix the coconut milk and water together. Add salt to taste. Cook according to package information. Fluff rice and add pineapple and toasted coconut. Top with cilantro or green onions. Serve with the crispy shrimp and individual Pulo Pineapple Tamarind Sauce for double dipping!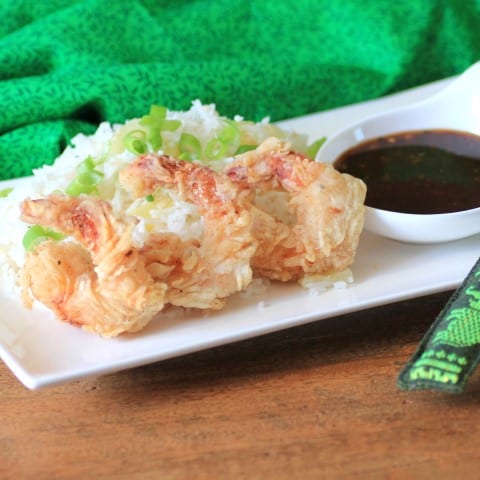 Here are all Pulo Cuisine's lovely sauces:
Cooking Sauce
Kare Kare Toasted Peanut
Coconut Adobo
Marinade
Mango Chili
Pineapple Tamarind
Lemongrass Atsuete
Pick some up today!! I can't wait to try my next one!!