Pumpkin Doughnuts Bites
by Crispy Bits and Burnt Ends
Sarah was very kind to do today's post of Pumpkin Doughnuts Bits for me. I asked her knowing 100% that she would give me something divine and she didn't disappoint. She has a great site called Crispy Bits and Burnt Ends.
You have to go and have a look and drool at the many recipes and gorgeous photos she has on her site. We met each other a while ago and have helped each other down this new path, exploring and learning as we go. I am very happy to have Sarah here today doing a guest post for me. I now give you Sarah!!!
Happy Friday everybody! I am so happy to be guest posting for Tara today. I am Sarah from Crispy Bits & Burnt Ends.
Tara and I met first met each other through a blogging community that no longer exists. I saw her beautiful photos and sent her an email asking if she had any suggestions for a newbie blogger/photographer like me. She responded immediately with tips and suggestions.
Currently, Tara and I are part of another blogging community called #SundaySupper. I guess that means we can call each other work colleagues since blogging is a full-time job.
As you all know Tara is in Toronto currently for the Mott's Event she won. I am so happy for Tara and hope she is enjoying herself! You deserve it, Tara!
This is a little recipe that takes minutes to make and it's perfect for the fall.
My fiancé personally has requested I make him pumpkin doughnuts since the beginning of fall and I finally obliged. It comes together in minutes and tastes oh soooo good right out the oil.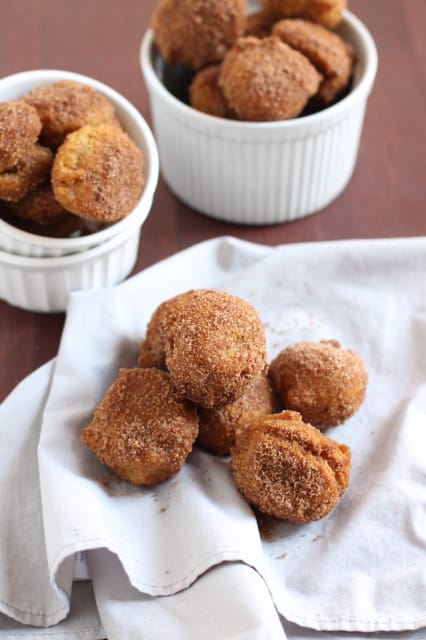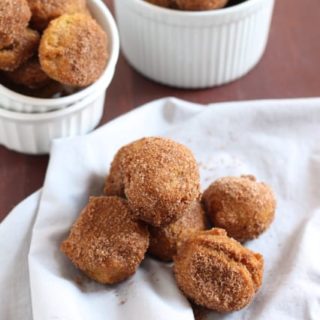 Pumpkin Doughnuts Bites by Crispy Bits and Burnt Ends
Yield: 24 doughnuts
Prep Time: 20 minutes
Cook Time: 2 minutes
Total Time: 22 minutes
A delicious dessert perfect for the Fall
Ingredients
2 cups all-purpose flour
2 teaspoons baking powder
1/4 teaspoon salt
1/2 teaspoon ground cinnamon
1/2 teaspoon freshly grated nutmeg
1/4 teaspoon ground cloves
1/4 teaspoon ground ginger
2 tablespoons butter (softened)
1/2 cup sugar
1 large egg
1 teaspoon vanilla extract
1/4 cup milk
3/4 cup pumpkin puree
Vegetable oil for frying
Instructions
Mix flour, baking powder, salt and the spices in a large bowl and mix.
In another bowl cream, the butter and sugar together until well incorporated. Add egg, vanilla extract, milk, pumpkin puree, and mix for another 1-2 minutes. Slowly add the dry ingredients to the wet ingredients.
Heat vegetable oil on medium-low for about 10 minutes which is how long it takes to make the batter. I don't have a candy thermometer so I don't know what the exact temp was but don't burn your oil. Spray an ice cream scooper and scoop batter into the oil.
Deep fry for 1-2 minutes on each side.
Sprinkle with cinnamon/sugar or powdered sugar or cocoa powder and serve.
Nutrition Information:
Yield: 24
Serving Size: 1
Amount Per Serving:
Calories: 76
Total Fat: 2g
Saturated Fat: 1g
Trans Fat: 0g
Unsaturated Fat: 1g
Cholesterol: 10mg
Sodium: 75mg
Carbohydrates: 13g
Fiber: 1g
Sugar: 4g
Protein: 2g
Recipe calculation was provided by Nutritionix and is estimation only. If you need nutritional calculations for medical reasons, please use a source that you trust.