I am in love with pumpkin at this time of year. Really can't get enough but there are so many other favorites too that people love. We didn't make our beloved pumpkin pie this year for Thanksgiving so I wanted to make a Pumpkin Meringue Pie now before all the Christmas treats start to come out. I got the inspiration for this pie from Eggs.ca.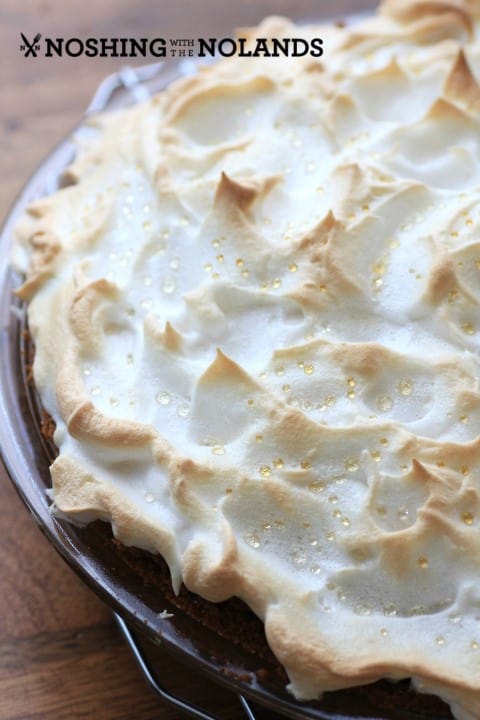 They have a great section called Eggs 101, where you can find all the basics from meringue to poaching an egg like a pro and everything in between. Their section on meringues got me thinking. I love a lemon meringue pie but I like that in the spring and summer. Pumpkin pie is where it is at for this time of year!! So why not a Pumpkin Meringue Pie. It just lightens the whole dessert up. I went even further to lighten up this recipe with less sugar, a graham/ginger snap crust and milk instead of cream in the filling. The result was a great flavorful pie with less calories. Hmm, got to love that!!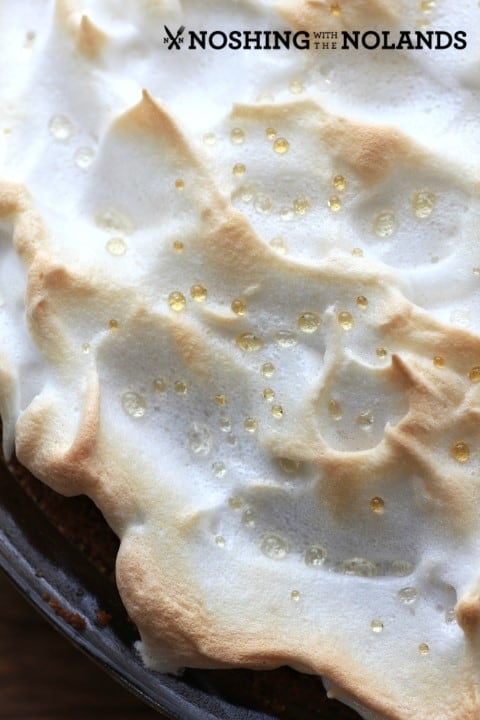 I do have little droplets on my meringue as you will see. I read ahead of time to try to avoid those, to put the meringue on a hot or warm filling. I did that!! Oh well, they are kind of pretty anyway. Little glistening sugar droplets, I am okay with that.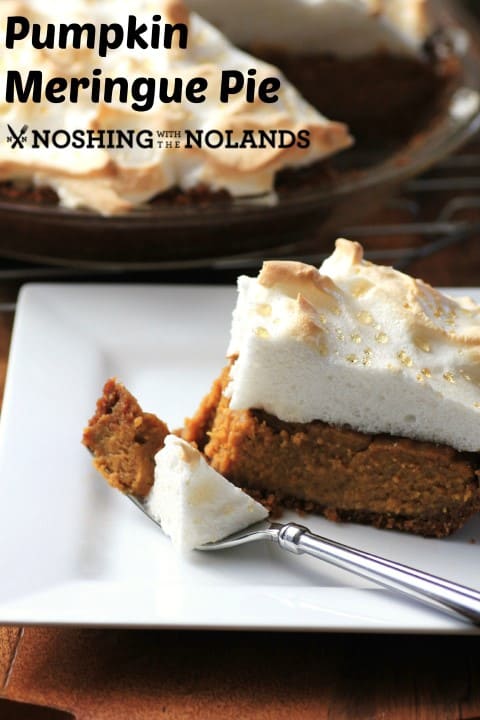 Aren't eggs fascinating? You take three eggs whites and whip them up with a few other ingredients and you get this cloud-like substance, that is not only light and airy but delicious!! A few minutes in the oven to brown the tips and you are done!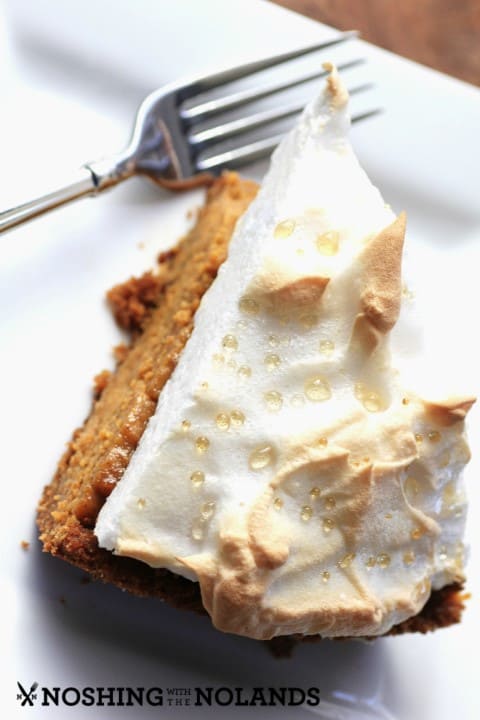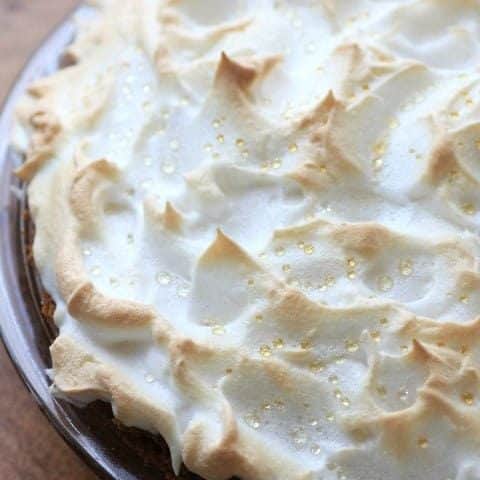 Pumpkin Meringue Pie #CanadianEggs
Yield: 8
Prep Time: 25 minutes
Cook Time: 1 hour 4 minutes
Total Time: 1 hour 29 minutes
A lightened up version of a classic pumpkin pie!
Ingredients
Ginger Snap Crust
12-2" ginger snaps
1/2 cup graham cracker crumbs
2 Tbsp. sugar
1/2 tsp. cinnamon
1/4 cup butter, melted
Pie Filling
15. oz. can pure pumpkin
1/3 cup sugar
1/2 tsp. salt
1 1/2 tsp. pumpkin pie spice
3 eggs, lightly beaten
1/3 cup skim milk
1/3 cup maple syrup
Meringue
3 egg whites, at room temperature
1/2 tsp. vanilla
1/4 tsp. cream of tartar
1/4 cup sugar
Instructions
Preheat oven to 375F. For the crust, in a food processor add the ginger snaps, whirl until they are fine crumbs. Add the graham cracker crumbs and sugar and whirl to mix. Add the melted butter and process again until mixed through. Press into a 9" pie plate. Bake for 4 min. Cool on rack.
Reduce oven to 350F. For the filling, combine the pumpkin, sugar, pumpkin pie spice, salt, eggs, milk and maple syrup. Pour into pie shell and bake for 50-55 min. Covering the crust if necessary with foil to prevent burning. Bake until a knife comes out clean in the center and the filling it set. Remove from oven and set aside.
To make the meringue preheat oven to 425F. In a large glass or metal bowl add the egg whites, vanilla, and cream of tartar. Beat with an electric or standup mixer until soft peaks form. Gradually add the sugar, a tablespoon at a time. Continue to beat until stiff peaks form. Spread the meringue on the warm pie. Bake for 4-5 min. until lightly browned.
Let cool and refrigerate loosely covered until ready to serve.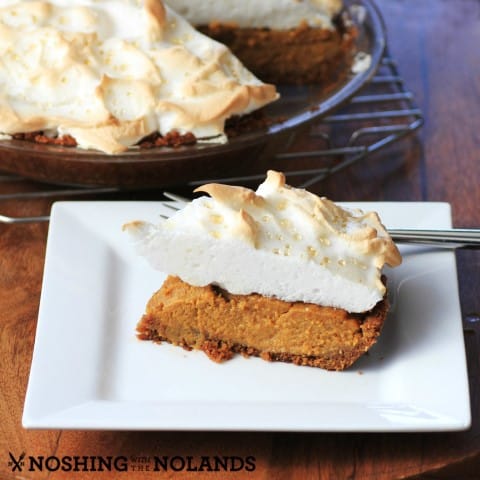 The Pumpkin Meringue Pie is not all I have for you today. Before I introduce the giveaway check out this great app, EFC's Egg Timer App can transform you phone into multi-functional egg timer. It is not just an egg timer but it has great recipes too! You can download it for free HERE!!
Don't forget to follow along with Egg Farmer's of Canada on Facebook, Twitter and Pinterest. Do you remember last month's post with a delicious Enchilada Frittata and lots of wonderful egg facts. Come on back to see the easy and delicious recipe. You can have this for diner tonight!!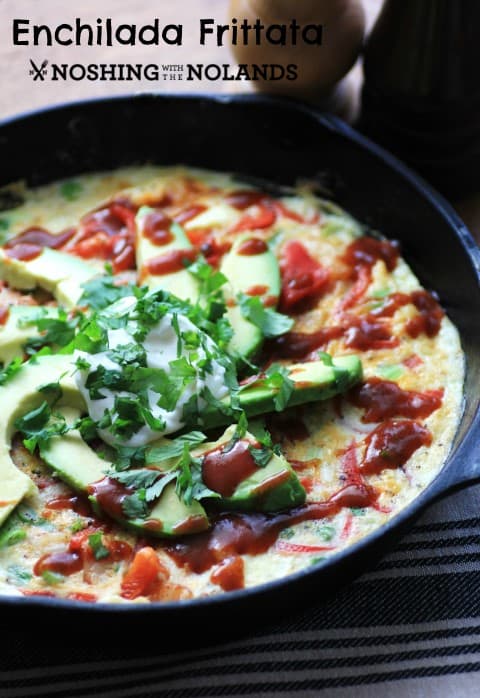 Now onto the giveaway, we have an Eggmazing giveaway for you also. Prizes are valued at $1000. Isn't that awesome!! The giveaway is open to Canadian residents, 18+ excluding Quebec. Good luck everyone!! It is live from November 14th 12:00pm EST until December 5th 11:59pm EST.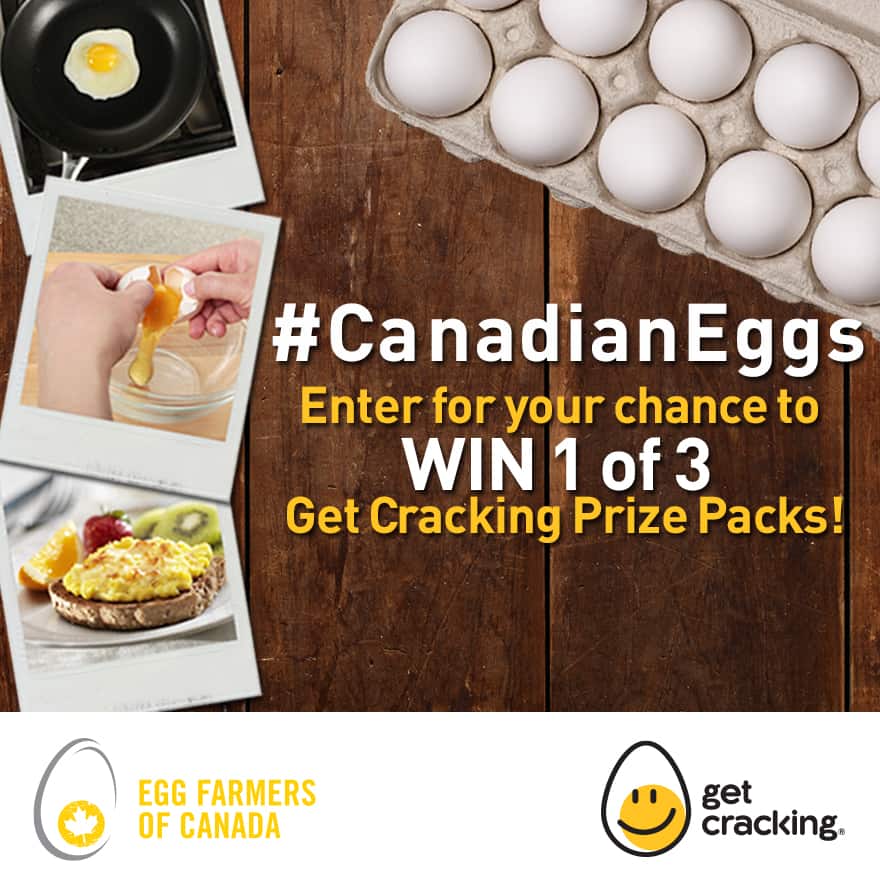 Grand Prize valued $600 includes:
iPad mini
Lagostina 11 pc Cookware Set
Egg Farmers of Canada Swag Pack
2nd Prize valued $230 includes:
Lagostina 11 pc Cookware Set
Egg Farmers of Canada Swag Pack
3rd Prize valued $80 includes:
Paderno Frying Pan with 4-cup Egg Poacher and Lid
Egg Farmers of Canada Swag Pack
Disclosure: I am participating in the Egg Farmers of Canada campaign managed by SJ
Consulting. I received compensation in exchange for my participation in this campaign.
The opinions on this blog are my own