Pumpkin Pies with Spiced Walnut Streusel
We are reviewing this cookbook today by Julie Anne Hession. She is a renowned chef, food writer, competitive cook, and food blogger. Her wonderful sweet creations like these Pumpkin Pies with Spiced Walnut Streusel have been featured in People, O, The Oprah Magazine, Better Homes and Gardens, and Food Network Magazine.
If that is not enough she has won over $100,000 in cash and prizes for her many battles in competitive cooking and also has a stamp of approval from none other than Iron Chef Bobby Flay.
Mini Pies are a popular trend in baking today and are leading the mini-dessert craze. If you are a novice or experienced chef you will love the easy-to-follow instruction and be absolutely enchanted by her recipes.
175 Best Mini Pie Recipes Cookbook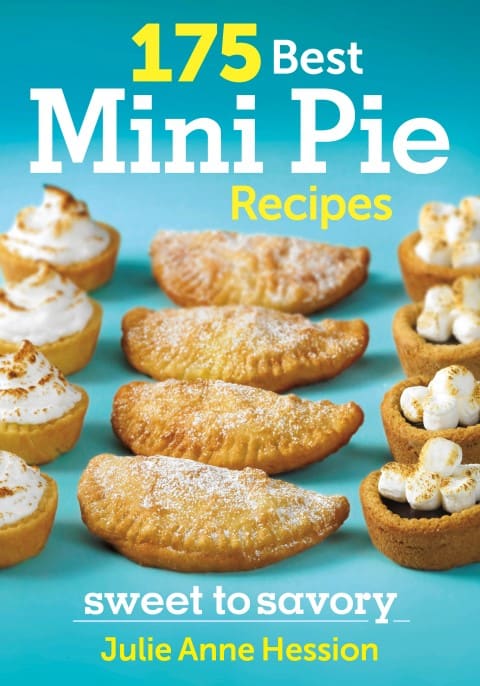 My husband Ken grabbed this cookbook as he is The Pie Guy!! He makes amazing pies so this cookbook was right up his alley.
Ken perused the book but was finding it hard to select just one recipe to try, they were all looking amazing!! He really wanted a savory pie but then these little pumpkin pies caught his eye. He was calling excitedly from the kitchen that he had found it. "I found the one I want to make it looks great, perfect for fall", he yelled.
Off he went to create this recipe. Here is a picture of the pies that they created in the cookbook.
Mini Pies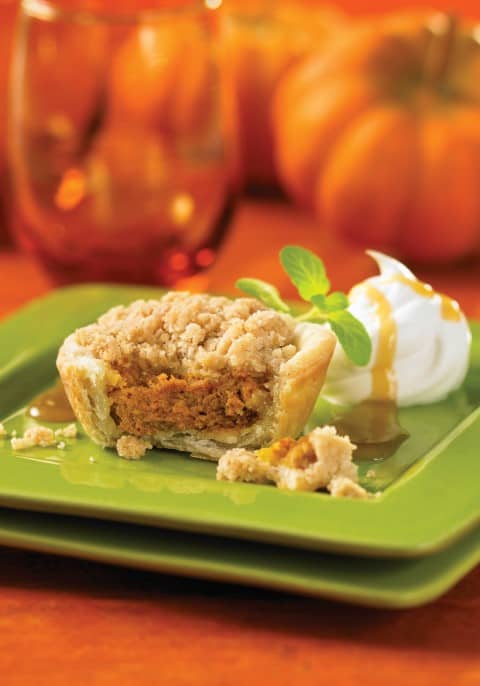 The cookbook has only a few gorgeous pictures like this one but 175 gorgeous looking recipes.
Recipes like Strawberry Basil Hand Pies, Streusel Topped Pineapple Rum Galettes, Chocolate Mocha Pecan Tarts for sweet ones. Chicken Brie and Apple Turnovers and Pork Empanadas with Salsa Verde to name a couple on the savory side.
If applicable, they are labeled to be GF or Vegan friendly on the side of each recipe and also include some added tips.
Ken decided to make his smaller and then make one larger pie. The recipe was very adaptable for this, which is also nice to know. Here are his cute little and delicious pies!!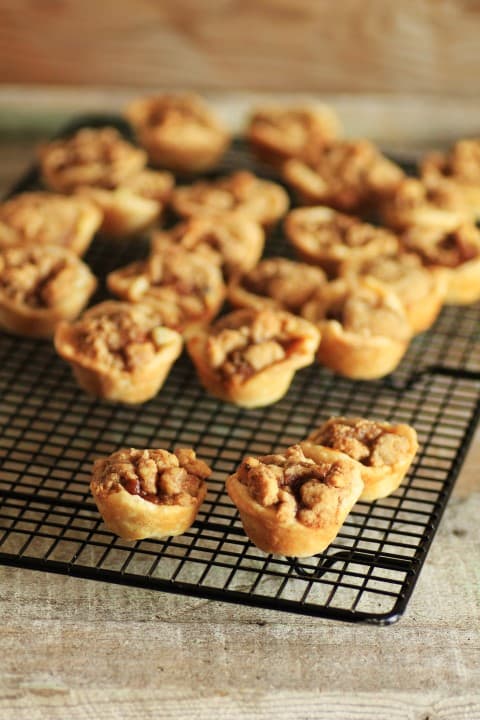 How yummy were these little pies? What a great cookbook for The Pie Guy, he will be back making something from that again soon. I hope you try these and get yourself a copy. ENJOY!!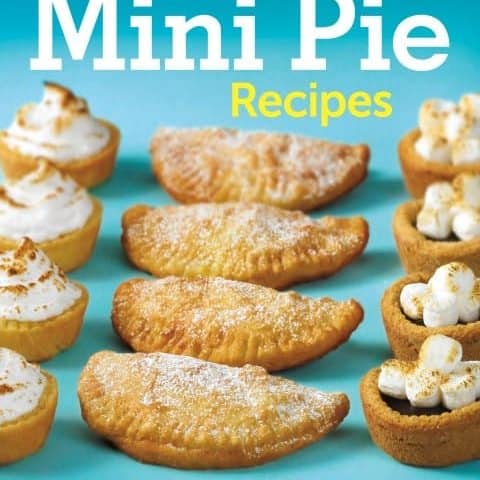 Pumpkin Pies with Spiced Walnut Streusel
Yield: 24 mini pies
Prep Time: 30 minutes
Cook Time: 20 minutes
Inactive Time: 1 hour
Total Time: 1 hour 50 minutes
Wonderful mini pumpkin pies with spiced walnut streusel
Ingredients
4-inch (10 cm) round cutter
Two 12-cup muffin tins
1 recipe All-Butter Pie Dough (see below) 1
Filling
2 cups canned pumpkin purée 500 mL
2 large eggs 2
2⁄3 cup packed light brown sugar 150 mL
1⁄2 cup heavy or whipping (35%) cream 125 mL
1 tsp ground cinnamon 5 mL
1 tsp ground ginger 5 ml
1⁄2 tsp allspice 2 mL
1⁄4 tsp ground cloves 1 mL
1⁄4 tsp salt 1 mL
Walnut Streusel
11⁄2 cups all-purpose flour 375 mL
3⁄4 cup packed light brown sugar 175 mL
3⁄4 cup chopped walnuts 175 mL
2 tsp ground ginger 10 mL
3⁄4 tsp ground cinnamon 3 mL
1⁄8 tsp salt 0.5 mL
6 oz unsalted butter (12 tbsp/180 mL), at room temperature, cubed 175 g
All-Butter Pie Dough
Makes about 13⁄4 lbs (875 g) dough
Enough for 12 to 24 pies, depending on size
Food processor
3 cups all-purpose flour 750 mL
1 tbsp granulated sugar 15 mL
1⁄2 tsp salt 2 mL
9 oz cold unsalted butter, cubed 275 g
3⁄4 cup ice water 175 mL
2 tsp cider vinegar 10 mL
Instructions
All-Butter Pie Dough
In food processor fitted with the metal blade, pulse flour, sugar and salt to combine.
Scatter butter over flour mixture and pulse several times, until butter is the size of peas. Transfer to a bowl.
In a small bowl, stir together ice water and vinegar.
Add half of the water mixture to flour mixture, stirring with a fork to combine. Add more of the water mixture 1 tbsp (15 mL) at a time, just until dough begins to hold together in moist clumps (you might not need all the mixture).
Shape dough into a ball, then transfer to a large piece of plastic wrap and flatten into a disk. Wrap tightly in plastic. Refrigerate for at least 1 hour.
Continue with the recipe.
On a lightly floured surface, roll out dough to a thickness of 1⁄8 inch (3 mm). Using cutter, cut into rounds and carefully fit into muffin cups (there will be some overlap). Reroll scraps as necessary.
Place tins in freezer for 30 minutes. Meanwhile, preheat oven to 375°F (190°C).
Filling: In a large bowl, whisk together pumpkin, eggs, brown sugar, cream, cinnamon, ginger, allspice, cloves and salt. Set aside.
Walnut Streusel: In a medium bowl, mix together flour, walnuts, brown sugar, ginger, cinnamon and salt. Using your fingertips, rub in butter until small clumps form.
For easiest rolling, roll your dough, including scraps, between two sheets of plastic wrap. That way, you do not need to add flour to keep the dough from sticking to your work surface.
Place about 2 Tbsp. filling in each pie shell. Top each pie with about 1 1/2 Tbps. streusel.
Bake in center of preheated oven for 10 min. Lower temperature to 350F and bake for 15-20 min. longer until tops are puffed and streusel is golden brown.
Let pies cool in tins on wire racks for 15 min. then carefully unmold and transfer to racks to cool completely.
Tips: The addition of salt enhances flavor in recipes. These recipes were all tested using natural fine kosher salt, but regular table salt can be substituted.
Nutrition Information:
Yield: 24
Serving Size: 1
Amount Per Serving:
Calories: 1467
Total Fat: 70g
Saturated Fat: 22g
Trans Fat: 0g
Unsaturated Fat: 45g
Cholesterol: 125mg
Sodium: 1103mg
Carbohydrates: 196g
Fiber: 6g
Sugar: 103g
Protein: 17g
Recipe calculation was provided by Nutritionix and is estimation only. If you need nutritional calculations for medical reasons, please use a source that you trust.