Pumpkin Toffee Ice Cream
Today is Ice Cream Cone Day and we are celebrating with Pumpkin Toffee Ice Cream!! Did you know that every day of the year is dedicated to a food? Plus there is national food months!! There are some funny ones and you would be surprised what is included in the list. The President of the United States actually is the one that assigns the holidays. I am sure you think he has better things to do but it you are a farmer or have a certain product, these days are important to you to help promote your wares!
According to The Nibble who has all of these dates listed, "The President of the United States has the authority to declare a commemorative event or day by proclamation. Fewer than 150 are granted in an average year across all categories." There are some that are more celebrated than others. I know that there is an International Coffee Day that is well recognized throughout the world!
Some days have two food groups like September 27, 2015 is Chocolate Milk Day and Corned Beef Hash Day. September 28 is Drink Beer Day, okay if I have to!! This list goes on and on!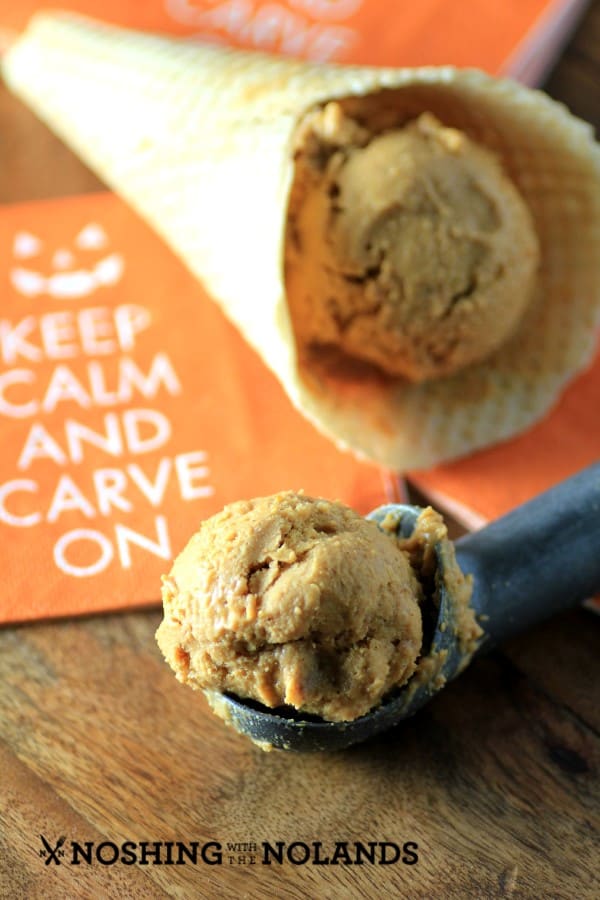 I make Amber homemade ice cream every summer and it is usually mint chocolate chip but with the hail we had for two days is a row our mint was completely crushed, so that never happened this year, plus it is now fall. I asked Amber what she would like and she said Pumpkin Ice Cream, I upped it to Pumpkin Toffee Ice Cream adding in little bits of Skor Chipits. Okay, I had never made pumpkin ice cream before but I was up to the task!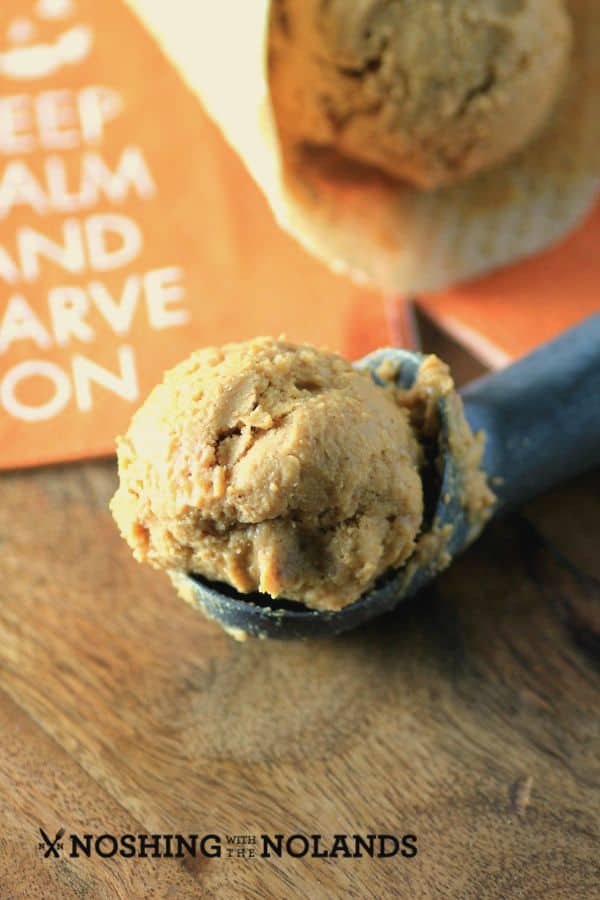 The ice cream has quite a lot of pumpkin in it, a full cup. When I took it from the freezer I couldn't scoop it right away, it was pretty hard. After sitting out for 10 min. I was able to scoop it but it wasn't super creamy but still scoopable. The texture is like frozen pumpkin pie, the flavor is OUT OF THIS WORLD GOOD!! It really is like fall rushing to your mouth. The little bits of toffee just add to the wonderful flavor, I loved it.
The napkins were given to me by my bestie Nan, aren't they cute!! They are for pumpkin season and say "keep calm and carve on"!! Enjoy ice cream day and grab a cone to celebrate!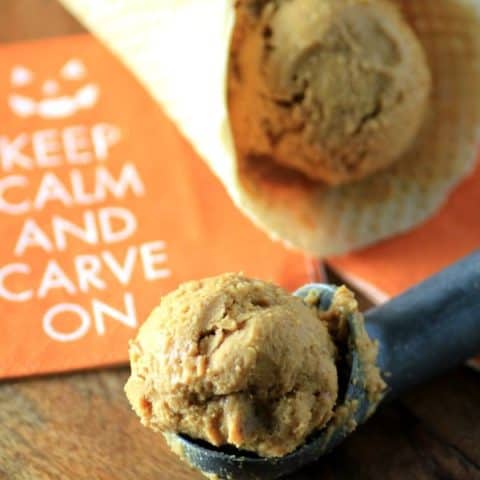 Pumpkin Toffee Ice Cream
A fantastic Pumpkin Toffee Ice Cream that tastes like from pumpkin pie!!
Ingredients
1 cup pumpkin puree, unsweetened
1 tsp. vanilla
2 cups heavy cream
3/4 cup firmly packed brown sugar
5 large egg yolks
1/2 tsp. each cinnamon and ginger
1/4 tsp. salt
Pinch freshly ground nutmeg
1/3 cup Skor bits
Instructions
In a small bowl, mix the pumpkin and vanilla together. Cover and chill for 3-8 hours.
In a heavy saucepan, add 1 1/2 cups of cream and 1/2 cup of brown sugar. Cook for about 5 min. on medium heat until bubbles form around the edges of the pan.
In the mean time, beat the egg yolks, cinnamon, ginger, salt, nutmeg and the rest of the cream (1/2 cup) and remaining brown sugar (1/4 cup). Whisk until smooth and the sugar begins to dissolve.
Remove the cream mixture from the heat and gradually add, about 1/2 cup at a time, of the hot mixture into the egg mixture. Pour the mixture now back into the pot and cook over medium heat. Stir constantly with a wooden spoon while the mixture is gently simmering. Continue to cook until coats the back of the wooden spoon, about 4-6 min. DO NOT BOIL. Strain the mixture through a fine mesh and into a bowl.
Place the bowl in a larger bowl filled with ice and water. Stir occasionally until cooled. Mix the pumpkin puree into this mixture with a whisk. Cover with plastic wrap right on top of custard. Refrigerate for 3-24 hours.
When chilled pour the custard into an ice cream machine and freeze according to manufacturer's instructions. Add the Skor bits during the last 30 seconds of churning. Stir by hand to completely incorporate. Transfer the ice cream to the freezer in an appropriate container. Cover and freeze until firm at least 3 hours or up to 3 days.