I have Debi here for you today guest posting. She is from a fantastic site called Life Currents. Debi and I know each other from Enjoying Yummy Recipes, a Facebook group that she heads. It is filled with wonderful people like herself. Her site has many great recipes, mostly vegetarian recipes but there are also helpful posts for bloggers, that I refer to all the time. Debi always serves up something delicious and here is another great dish, Quick and Easy Paella!!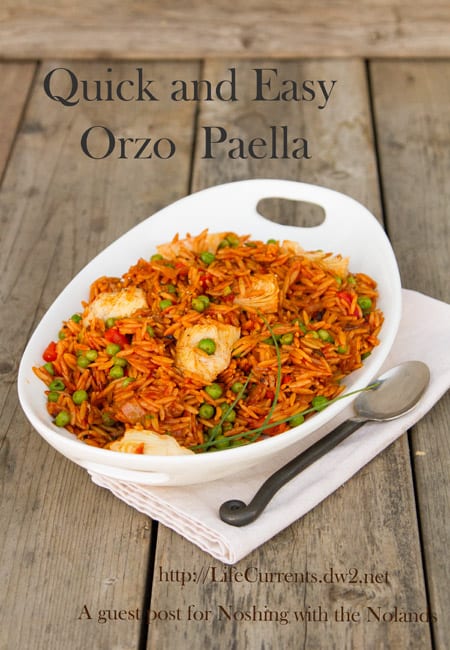 I was very honored when Tara asked me to guest post on her blog. I've loved Tara's recipes for a long time now, so I wanted to make something special for her blog.
I think Spanish Paella is a great special dish; it's fancy and filled with yumminess. But, I think most people aren't going to take the time to get a Paella pan and cook up a big batch of the seafood & rice stew. Thus, enter the Quick and Easy Paella made with orzo instead of rice. All the flavors of Paella, but easier and more accessible to many people, and, my version has lots of veggie goodness.
This basic recipe is vegan, budget-friendly, and pretty quick. I love to make this for my husband to take to lunch with him. I prep everything the day before, package it in a dish, and it's an easy way for him to have a healthy yummy lunch that he can eat at his desk (though I'd prefer he get away from his desk, I know how he really is so I try to make sure it's easy to eat). For his lunch, I'll throw in some shredded chicken. For me, I like it in the simple vegan version.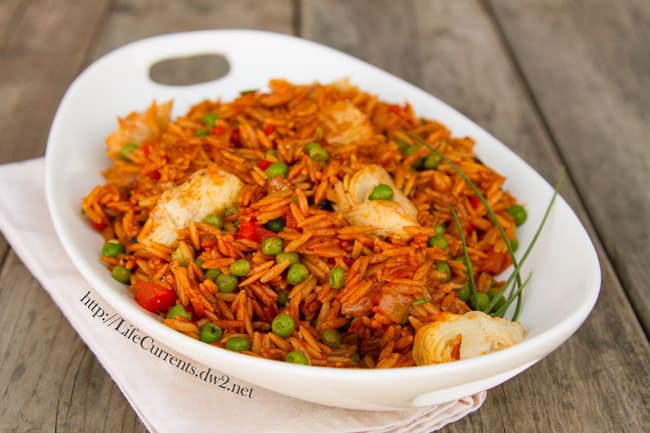 If you'd like to add more protein to the dish, I suggest cooked shrimp, clams, chicken, or tofu will work well.
A note on saffron threads: I say they're optional in this recipe because I know that many people don't want to take on the expense of buying saffron, but, to purists, saffron must be used in Spanish Paella. I can tell you this, whichever way you make this Quick and Easy Paella, you'll be really happy!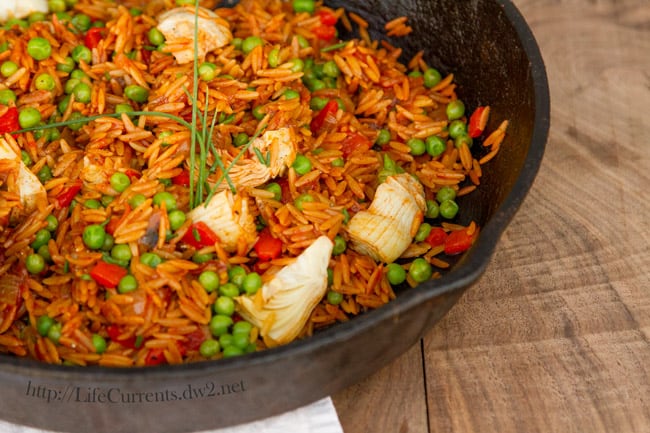 Quick and Easy Paella
Makes 4 servings
1 tablespoon olive oil, or light tasting oil of your choice
½ medium yellow onion, diced
1 cup orzo
1 ½ cups low-sodium vegetable broth or chicken broth
1 tablespoon smoked paprika
1 pinch saffron threads, optional
1 teaspoon kosher salt
½ teaspoon freshly ground black pepper
1 tablespoon dry white wine
1 cup frozen peas, defrosted
¼ cup chopped jarred red peppers
¾ cup canned artichoke quarters, drained
Fresh parsley or chives for garnish
In a large cast iron skillet, heat oil over medium-high heat. Add onion, and cook until onion is soft and starting to brown, about 15 minutes, stirring occasionally. If onion starts cooking too quickly, add a little water to the pan to slow the cooking. Add orzo and cook until orzo starts to toast, about 2 minutes. Stir in broth, smoked paprika, saffron, salt, and pepper. Cover skillet, reduce heat to low and simmer until liquid is absorbed, 8 to 10 minutes.
Add white wine, scraping up any browned bits from bottom of pan. Add peas, chopped red pepper, and artichokes, and toss to combine, cooking until veggies are warmed through, about 2 minutes. Garnish with parsley or chopped chives.
You can follow Debi on Facebook, Pinterest, Instagram, Twitter and Google.