Today we are doing a review, lightening things up a bit from all that holiday fare. Giving you a gluten-free dish and a cookbook review with these Quinoa-Stuffed Peppers.
So many people nowadays either have to be gluten-free or are choosing to be gluten-free. I have to be neither but that doesn't mean I don't like a change in my diet.
We do it all the time, plus I adore quinoa!!
There were a lot of recipes to choose from in Easy Everyday Gluten-Free Cooking.
Easy Everyday Gluten-Free Cooking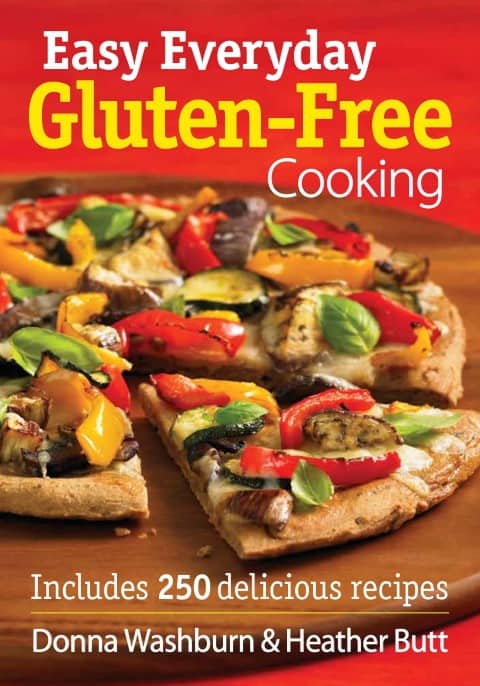 Becoming gluten-free doesn't mean you have to spend extra time in the kitchen especially when you have this cookbook at hand!!
In this cookbook, you have recipes from appetizers and family meals to baked goods and desserts. Recipes like Mediterranean Pizza Squares, Sesame Thai Beef, Blueberry Buckwheat Muffins, and Peachy Plum Hazelnut Galette. 250 delicious recipes to choose from!!
The recipe that we selected to try were these Quinoa-Stuffed Peppers. Look at how gorgeous there are, you will never even think that they are gluten-free, as they are so delicious.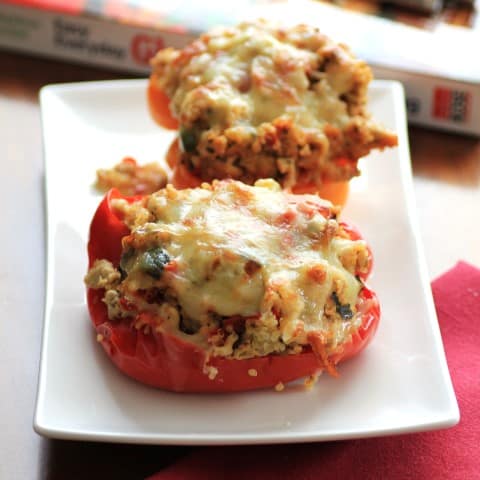 The author's Donna Washburn, P.H. Ec. and Heather Butt, P. H. Ec. are both professional home economists with honors food science degrees, and are experts in the field of gluten-free recipe development and bread machine baking.
They have written nine cookbooks. They both reside in Ontario.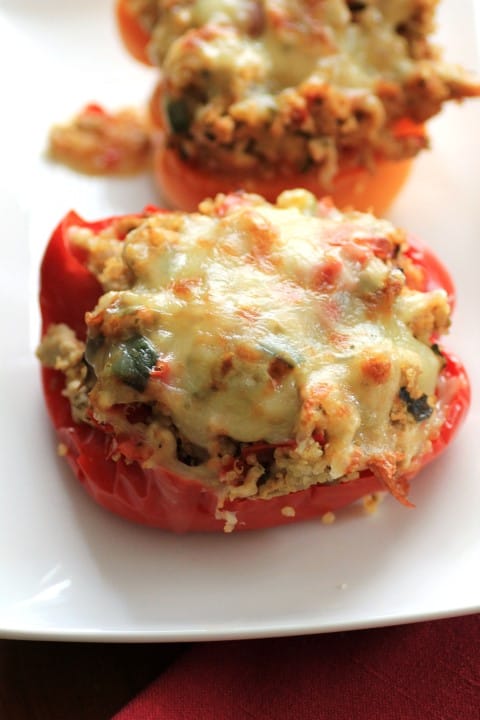 There are lots of color photos, tips in the margins, and nutritional information for you in this great cookbook. I can't wait to try more recipes!!!
Quinoa-Stuffed Peppers Recipe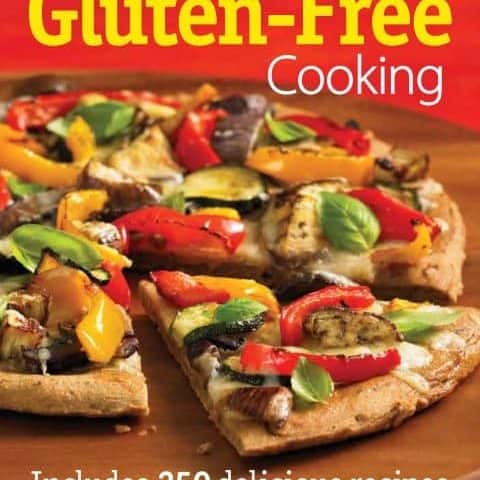 Quinoa-Stuffed Peppers
Yield: 4 Servings
Prep Time: 10 minutes
Cook Time: 40 minutes
Total Time: 50 minutes
An amazing gluten free entree awaits you with this delicious stuffed pepper.
Ingredients
1 large orange bell pepper
1 large yellow bell pepper
1 tomato, sliced into four thick slices
1⁄4 cup (50 ml) dry white wine
1 cup (250 ml) shredded Swiss cheese
Stuffing
8 oz extra-lean ground beef, turkey, or chicken 250 g
1⁄2 small onion, chopped 1⁄2
1⁄2 red bell pepper, chopped 1⁄2
1 cup sliced mushrooms 250 mL
1 tbsp chopped fresh rosemary 15 mL
1 tbsp chopped fresh thyme 15 mL
1 tomato, chopped 1
1 small zucchini, chopped 1
1 cup cooked quinoa 250 mL
1⁄4 tsp salt 1 mL
1⁄4 tsp freshly ground black pepper 1 mL
Instructions
• Preheat oven to 400°F (200°C)
• 10-cup (2.5 L) covered casserole dish
Cut orange and yellow peppers in half lengthwise and remove core and seeds.
Trim a thin slice off the bottom of each to allow them to lie flat. In the casserole dish, microwave peppers, covered, on High for 3 minutes, or until tender-crisp. Let cool to room temperature, covered. Drain and pat dry.
Prepare the stuffing: Meanwhile, in a large skillet, over medium heat, brown ground beef until no pink remains. Add onion, red pepper, mushrooms, rosemary, and thyme.
Cook, stirring, until onions are translucent, about 3 minutes. Drain off any fat.
Add chopped tomato and zucchini and cook, stirring, for 5 minutes. Stir in quinoa, salt, and pepper.
In the casserole dish, arrange tomato slices and add wine. Set each pepper half, cut side up, on a tomato slice.
Fill each pepper half with the beef mixture, mounding the stuffing.
Cover and bake in preheated oven for 15 minutes, or until bell peppers are fork-tender.
Uncover, top with Swiss cheese, and bake, uncovered, for 5 minutes more, or until cheese is melted.
Nutrition Information:
Yield: 4
Serving Size: 1
Amount Per Serving:
Calories: 431
Total Fat: 18g
Saturated Fat: 8g
Trans Fat: 0g
Unsaturated Fat: 8g
Cholesterol: 126mg
Sodium: 261mg
Carbohydrates: 24g
Fiber: 5g
Sugar: 6g
Protein: 42g
Recipe calculation was provided by Nutritionix and is estimation only. If you need nutritional calculations for medical reasons, please use a source that you trust.
Excerpted from Easy Everyday Gluten-Free Cooking by Donna Washburn & Heather Butt © 2013 www.robertrose.ca Reprinted with publisher permission.