Raspberry, Chicken, Feta and Hemp Salad
I have joined another monthly group and this one is all about salads!! I love a big huge fresh salad for dinners like this Raspberry, Chicken, Feta and Hemp Salad. Nothing better!!
There are so many variations it is simply endless. Instead of adding all the links in we have a linky party. So at the bottom of the post click in to see all the wonderful recipes.
With summer almost here, these will be so helpful for a fast, nutritious and delicious meal.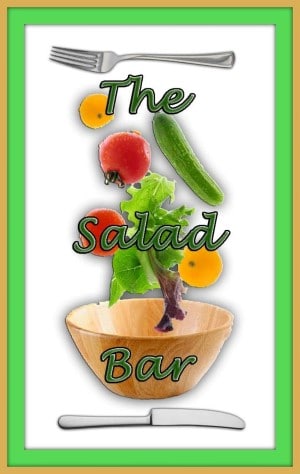 This month's theme is berries so that is an easy one!! We all love berries here. The little extra I added to this salad is hemp seeds. I know it conjures up images of marijuana and hippies but it is a different variety of the same cannabis plant. Hemp is a seed, a high protein seed containing all nine of the essential amino acid, just like flax. It also has high amounts of fatty acids and fiber. It contains vitamin E and trace minerals. Hmmm, that's a pretty nice thing to add to your salad plus it tastes so good. I hope you love all of our salads. ENJOY!!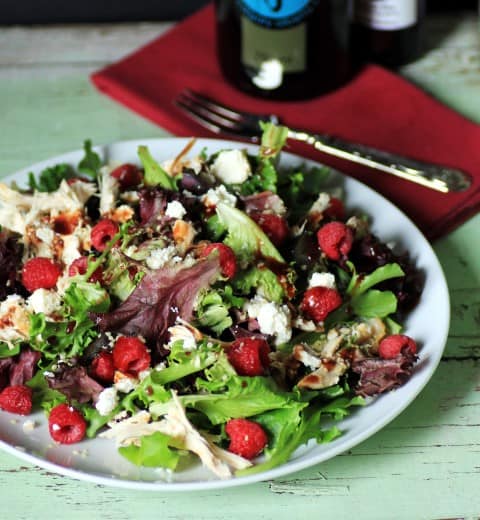 Raspberry, Chicken, Feta and Hemp Salad for #SaladBar
Yield: 2 Servings
Prep Time: 10 minutes
Total Time: 10 minutes
A nutritious and delicious main course salad
Ingredients
4 cups mixed baby lettuce
1/2 cup cooked chicken
1/3 cup raspberries
1-2 Tbsp. hemp seeds
1/3 cup light feta
Dressing
1 Tbsp. seedless raspberry jam
1 Tbsp. Cabernet/merlot balsamic reduction or balsamic reduction
3 Tbsp. olive oil
1 Tbsp. red wine vinegar
Salt and pepper
Instructions
In a jar shake all ingredients together.
Lay the washed baby lettuce on a dinner plate and top with the chicken, raspberries, and feta.
Sprinkle with the hemp seeds.
Drizzle with the dressing.