Red Quinoa Zucchini Patties
We are still out Stampeding and I am so excited to have Chris here from Sustainable Dad with Red Quinoa Zucchini Patties!
I know Chris from #SundaySupper and he has a great blog where he loves to use his smoker (just like Ken) and do lots of wonderful meat recipes.
That is not all Chris likes to do!! Today he has brought us a vegetarian patty, one that any cowboy or cowgirl would love. Like Chris we love our vegetarian meals, they are a nice break from all that meat.
I would be thrilled if you followed Chris on Twitter. Check out these Red Quinoa Zucchini Patties, I know I will be making it soon. ENJOY!!
Sustainable Dad
Noshing with the Nolands is one of my go-to food blogs thanks to getting to know Tara through the Sunday Supper group.
I've really become a big fan of the blog since getting a smoker and enjoying the experimenting both of us are doing on our blogs lately with this wonderful backyard addition.
While I did consider making something from my smoker for this guest post, I just wasn't in a meat mood today and had been waiting to make some quinoa patties for a vegetarian meal night.
I love vegetable patties since they are more of a meal than some vegetarian dishes that feel like sides and less like main dishes. Plus I had found some great zucchini at this morning's Santa Monica Farmers' Market.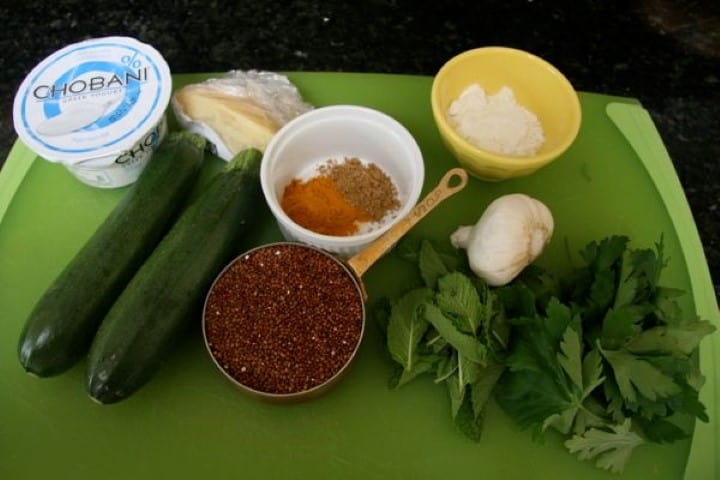 For the dressing, the pomegranate vinaigrette adds a subtle, not too acidic, flavor to this dish and works well with the red quinoa. Red quinoa makes for a crispier vegetable patty since it has more crunch than white quinoa.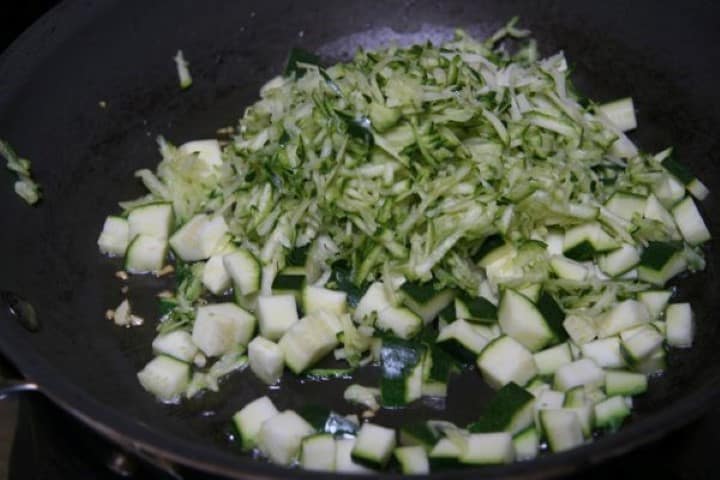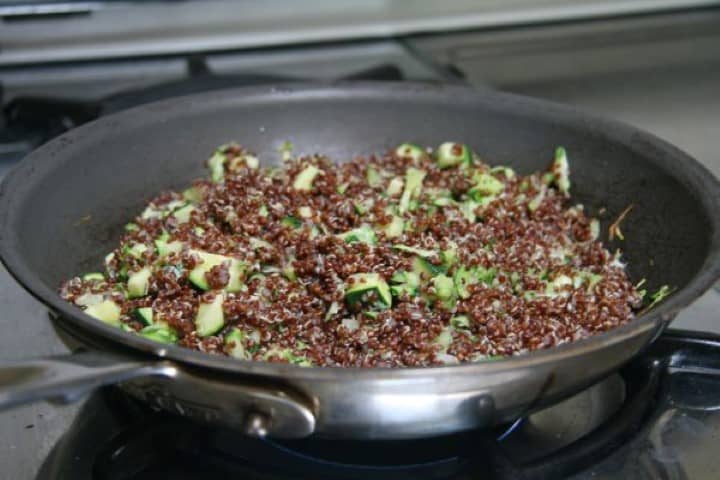 This dish is a good break from the pounds and pounds of smoked meat I've had lately trying to perfect brisket, ribs, and pulled pork. Tonight was an enjoyable vegetarian night, but I'm looking forward to some more smoking tomorrow.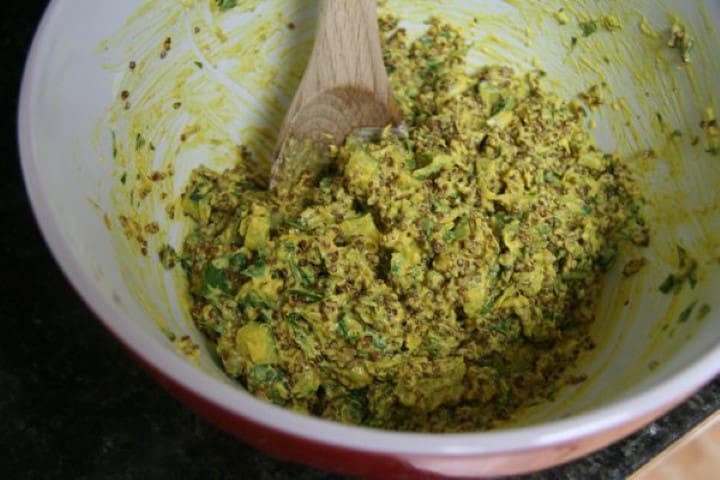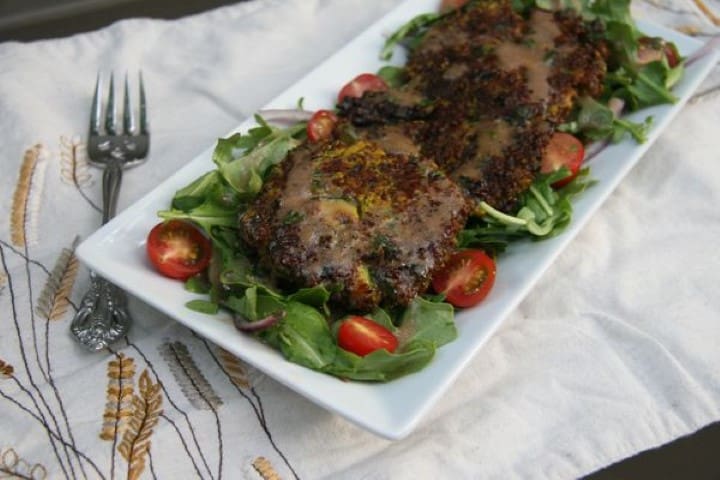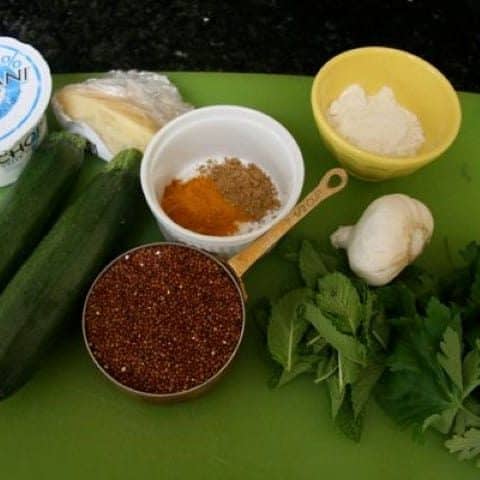 Red Quinoa Zucchini Patti by Sustainable Dad
Yield: 4 Servings
Prep Time: 15 minutes
Cook Time: 20 minutes
Total Time: 35 minutes
A great vegetarian entree, that any cowboy would love!!
Ingredients
1/2 cup uncooked red quinoa
2 zucchini
8 oz Greek yogurt
1/4 cup parmesan cheese, grated
1 garlic clove, minced
2 tablespoons Italian parsley, chopped
2 teaspoons turmeric
1 teaspoon ground coriander
3 tablespoons flour
2 tablespoons of olive oil
Canola oil for frying
Vinaigrette
1/2 cup olive oil
3 tablespoons balsamic vinegar
1/4 cup pomegranate juice
2 tablespoons Greek yogurt
salt and pepper to taste
Arugula
Sweet tomatoes, cut in half
Cracked pepper
Instructions
Cook the red quinoa using 1 cup of water. Bring to a boil and then cover and simmer for 10-15 minutes. Remove cooked quinoa from heat.
Grate one of the zucchini with the large grate side. Cut the other zucchini into small pieces. Meanwhile, heat a sauté pan with olive oil and add the garlic.
Cook for 1 minute. Add the zucchini and cook for 3 to 4 minutes. Combine the cooked red quinoa, turmeric, and coriander into the sauté pan for a minute and then remove from heat.
In a bowl combine the zucchini mixture with the flour, parsley, cheese, and Greek yogurt. Heat the Canola oil in a sauté pan on medium-high heat.
Form the mixture in the bowl into medium-sized balls and place in sauté pan then flatten with a spatula. Cook each side for about 3-4 minutes being careful not to burn. Flip and cook.
Make the vinaigrette by adding the balsamic vinegar and pomegranate juice. Slowly pour in the olive oil combining to make as thick as possible.
Add the yogurt and salt and pepper to taste. Whisk to combine.
Plate the arugula and tomatoes then place 2 to 3 quinoa zucchini cakes on each plate and drizzle with vinaigrette.
Nutrition Information:
Yield: 4
Serving Size: 1
Amount Per Serving:
Calories: 490
Total Fat: 40g
Saturated Fat: 6g
Trans Fat: 0g
Unsaturated Fat: 33g
Cholesterol: 9mg
Sodium: 223mg
Carbohydrates: 22g
Fiber: 3g
Sugar: 8g
Protein: 12g
Recipe calculation was provided by Nutritionix and is estimation only. If you need nutritional calculations for medical reasons, please use a source that you trust.