Remembrance Day at all Canadian Applebee's will be something special again this year. They are offering all Canadian vets and Canadian forces men and women a free entree to say thank you for all their dedication to our fine country this Remembrance Day. The day was initially dedicated by King George V as a day of remembrance for members of the armed forces who were killed during World War I. It is now a day that we remember all veterans, for their sacrifices, for our freedoms on November 11. These men and women are our heroes!!
Beginning 6 years ago, Applebee's has now served nearly 10,000 free entrees as a show of thanks and respect. Also, through the "Neighbours Thanking Neighbours" campaign, Applebee's asks guests to leave a note of gratitude for the veterans and Canadian Armed Forces on 'Thank You Wall Posters' at their local Applebee's, or online on the Applebee's Canada Facebook page.
"Applebee's is truly honoured to host the many Canadian men and women who serve the country. On Remembrance Day, it is our opportunity to serve them." said Daniel del Olmo, President of International, Applebee's. "It is the perfect opportunity for our franchisees, their team members and our guests to let them know just how much we appreciate their sacrifices and commitment to the country. It has become a six year tradition and one that our franchisees and all their team members find both incredibly moving and emotionally rewarding."
Remembrance Day at Applebee's
Applebee's has a delicious menu that they are offering for free to our Heroes of Honour!!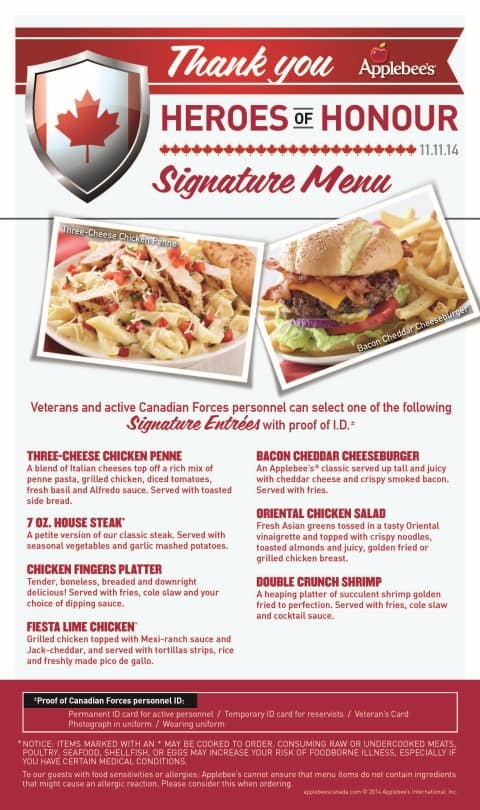 We were graciously invited to try out their menu. We ventured over to Applebee's in Sunridge Mall, 2121 36th St NE, Calgary, Alberta, T1Y 5S3, and we taken care of wonderfully by the manager that was on that night, Rob.
I thought we would have little samplers of the entrees but they served the full entrees and ALL of them from the entire menu. I have them all to show you!! We start off with the Three-Cheese Chicken Penne. Tender grilled chicken on top of perfectly cooked penne in a fantastic Alfredo sauce. I loved the touch of fresh tomatoes on top and the slice of garlic bread on the side, all was scrumptious.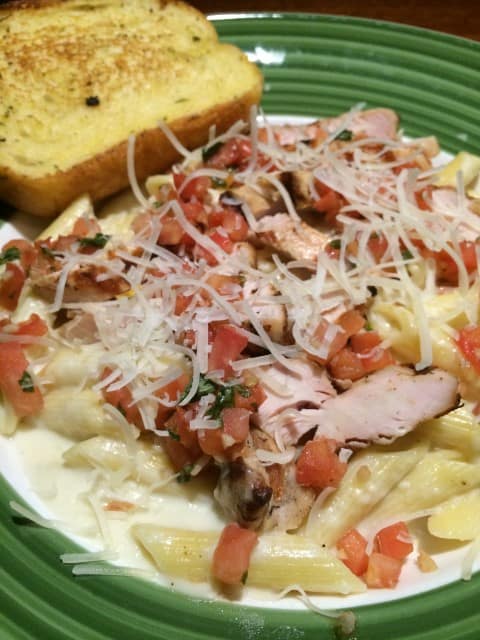 Perfectly grilled steak to medium as ordered was next on the list. Served up with yummy garlic mashed potatoes and seasonal veggies!!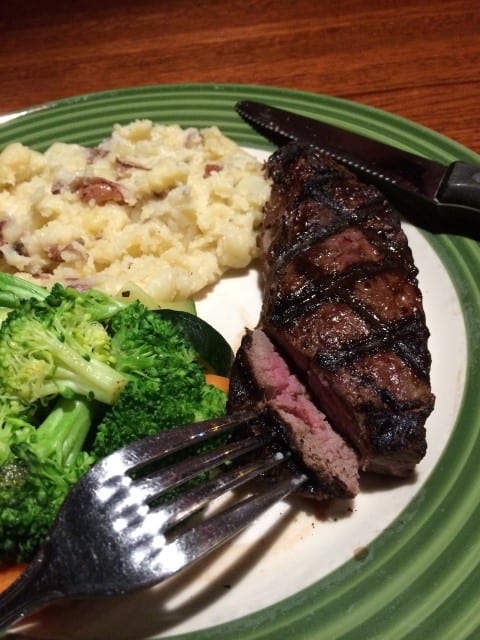 Chicken Finger Platter, look at all the lovely tender and juicy chicken that you get. It was a huge feast on it's own!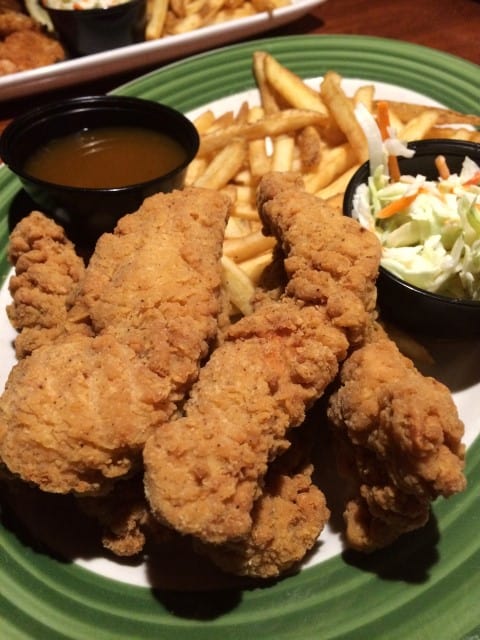 Did I have a favorite? Really hard to choose but this was amazing and so unique, Fiesta Lime Chicken. The chicken is topped with a Mexi-Ranch Sauce and Jack-Cheddar. Loved the bed of crunchy tortilla strips that the chicken is served on and the pico de gallo and rice made it complete.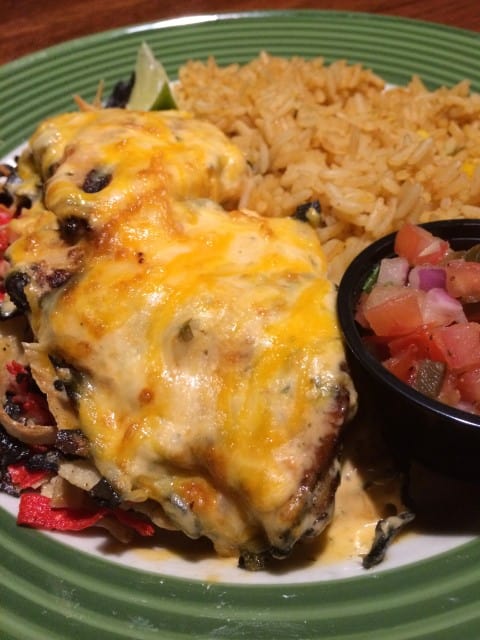 Who doesn't love a Cheeseburger and Fries, especially when it looks like this. Big, juicy and full of smoky crisp bacon!! This is a great choice for a hungry appetite!!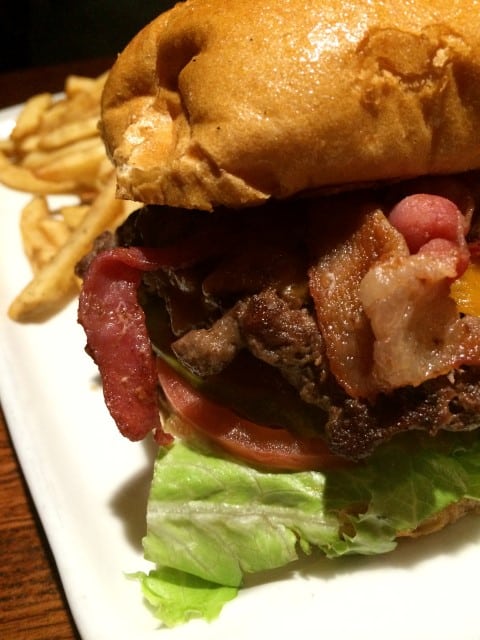 Looking for something a bit lighter but still has all that yummy crunchy delicious chicken? Order up the Oriental Chicken Salad. We both loved this one, I could have eaten the whole thing if I didn't have all the other lovely ones to indulge in.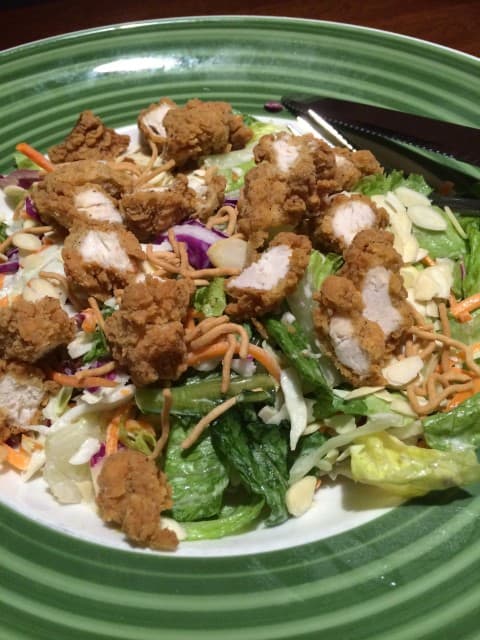 To finish off with we have the Double Crunch Shrimp, they really are so crunchy and delicious. I could go for one right now!!! And for some of those yummy fries!!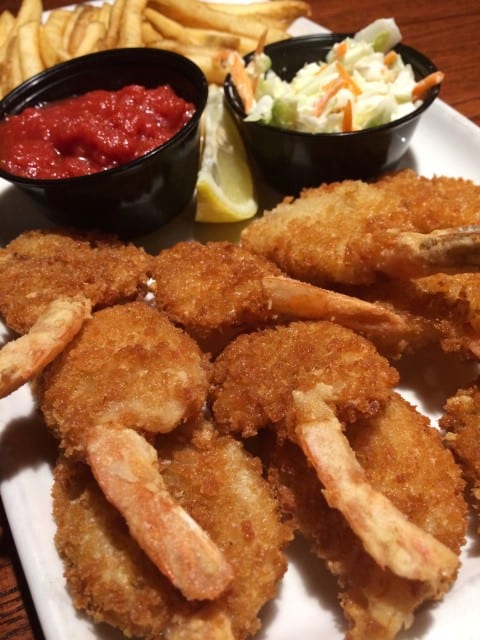 If you are in the Canadian Forces past or present, come and enjoy a free entree!! Otherwise come and support our military with a special note and enjoy a dinner at Applebee's Restaurants. Find a location near you!