Review on Savory Pies Cookbook
Review on Savory Pies Cookbook is something I love to do now and then! This recipe is from Savory Pies by Greg Henry. A wonderful collection of tarts, pies, hand pies, pastries and more await you in this wonderful cookbook. All very creative and eye popping, with flavors from around the world. Something to fit any appetite or mood like, Prosciutto-Wrapped Fig Mini Pies or Sweet Potato Tart Tatin or Irish Breakfast Pie. One of our lucky winners will be receiving this wonderful cookbook. So come on over to WIN!!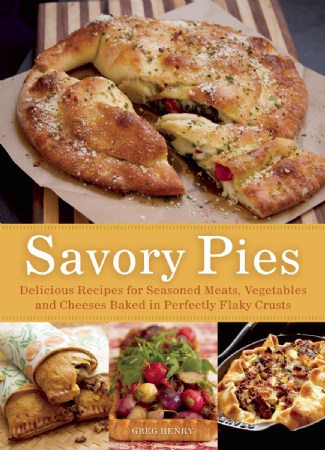 Our final day of our giveaway is tomorrow and I thought I would share with you this amazing pie that is one of the recipes from Savory Pies. It is a great rustic pie that is a comforting meal. It perfumes your home with all it's wonderful smells as it bakes. A gorgeous winter pie that you will make again and again. We all loved this and I had it ready ahead of time for the family so all was needed was a nice big salad. The pie dough makes enough for two pies so I still have some in the freezer. Can't wait to make another one!!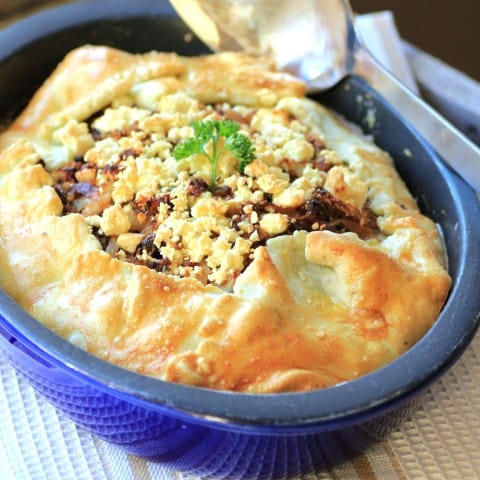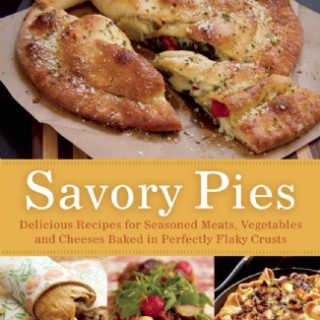 Sweet Sausage Cabbage Pie with Dill and Feta
A cozy winter pie with an amazing combination of flavors!
Ingredients
Basic Pie Crust
2 3/4 cups all purpose flour
1 tsp. Kosher salt
1 cup plus 2 Tbsp. very cold European style unsalted butter, cut in 1/2" dice (I used regular unsalted butter)
2 or 3 ice cubes
1/3 cup cold water (additional if needed up to 2 Tbsp.)
Pie Ingredients
1/4 plus 2 Tbsp. chopped fresh dill, divided
1 lb. sweet Italian sausage
1 tsp. fennel seeds
1/2 tsp. Kosher salt, plus more as needed
1/2 cabbage, cored and shredded slaw-style (about 6 cups loosely packed)
1 Tbsp. olive oil
1 large onion, halved and sliced into slivers
2 garlic cloves, minced
Freshly cracked black pepper
5 oz. crumbled feta cheese, divided
1/4 cup chopped fresh flat-leaf parsley
Flour for rolling
1 large egg yolk lightly beaten with 1 tsp. water, for egg wash
Instructions
In the bowl of a food processor pulse the flour and salt 5-6 times until well combined. Add the 2 Tbsp. dill.
Add the butter and pulse 10-12 more times until the mixture is crumbly and coarse with various sized chunks of butter throughout. Wedge 2-3 ice cubes in the processor's feed tube. With the machine running, pour up to 1/3 cup cold water over the ice-filled feed tube a tablespoon at a time, until the dough just comes together and begins to pull cleanly away from the sides of the bowl in jagged clumps. Don't let the machine run too long, and don't worry if you don't use all the water. Overworked dough and/or too much water are the main culprits in making pastry tough or dense. However in warm or dry climates you may need up to 2 Tbsp. more cold water. You'll learn to recognize the right balance or wet and dry.
Move the dough onto a lightly floured work surface and gently knead 2-3 times. If it seems quite sticky or wet, sprinkle in another few teaspoons flour. Give it a couple more quick, gentle kneads. Divide the dough in half and shape into 2 discs about 5" in diameter and 3/4" thick. Wrap in plastic wrap and refrigerate at least 1 hour (or up to 2 days) to distribute the moisture evenly, or freeze for up to one month.
Remove the sausages from their casings and crumble the meat; set aside. Set a very large cast iron pan or other heavy bottom pan over medium heat. Add the fennel seeds and toast until fragrant, shaking the skillet often, about 2 min. Add the crumbled meat to the skillet. Lower the heat to medium. Cook, breaking up with a wooden spoon, until well browned, 10-12 min. Use a slotted spoon to move the meat to a plate, set aside.
Bring a large pot of generously salted water to a boil. Add the cabbage and blanch for 2 min. Drain in a colander, allow to cool for a couple of minutes and dry-a salad spinner works well for this.
Set the same skillet you used for the meat over medium heat. Add about 1 Tbsp. to bring the fat total to about 2 Tbsp. Add the onion and cook, stirring often, until tender, about 6 min. Add 1/2 tsp. salt and the garlic. Cook, stirring, until fragrant, about 1 min. more. Stir in the cooked meat and then add the blanched cabbage. Cook, stirring often, until the mixture is very tender and the cabbage is beginning to color, about 15 min. Add a generous grind of black pepper. Allow to cool some what. Stir in 3 ounces of feta, the remaining 1/4 cup dill, and the parsley. Set aside to cool completely.
Place an oven rack in the center position. Preheat oven to 375F.
On a lightly floured surface, use a lightly floured rolling pin to roll a chilled dough disc. to about 13 inch round (depending on your baking dish), a generous 1/8" thick; save the second disc for another use. Carefully fold the rolled dough in half, slide onto a rolling pin, and transfer to a 10 x 7 x 2 inch-deep oval baking dish. Unfold, easing the dough gently into the baking dish and letting it drape over the long sides without stretching. Fill to heaping with cabbage and sausage mixture and sprinkle with the remaining 2 ounces of feta. Fold the dough edges loosely over the filling; they don't have to meet in the center. Brush the exposed dough with egg wash, drizzling any extra over the cabbage mixture.
Place on a rimmed baking sheet and bake until the crust is crisp and dark golden brown, 40-50 min. Serve hot, warm or at room temperature.