Roasted Asparagus with Roasted Garlic and Almond Vinaigrette
Today we have Roz with us whom I know through #SundaySupper and has a great site over at La Bella Vita Cucina. Look at what she made a couple of Sundays ago, Fontina Polenta with Sauteed Porcini Mushroom, my heavens that looks good!!
I would love for you to follow her on Facebook, Twitter, Pinterest, Google +, Instagram and Bloglovin. I now give you Roz and her wonderful springtime recipe!!
Ciao to all of Tara's wonderful readers!
What an honor for me to be asked to guest post on Noshing with the Nolands! When Tara requested that I prepare and write about a spring-themed recipe, I knew exactly what I wanted to focus on!
Gosh, aren't we all just so ready for spring this year? We sure are and we live in the South! I'm just itching to start digging in our gardens!
Some of the first veggies that sprout every spring in my garden is asparagus! Oh so yummy, we usually pluck the spears right out of the soil, brush them off, and plop them straight into our mouths. Nothing could get any fresher or flavorful than that!
If you haven't tried roasting your veggies, than you really need to experience the intensified flavor that roasting (or grilling) brings to food. And nothing is easier or faster than roasting asparagus and garlic! Your kitchen will be filled with the aroma of garlic as you prepare the table for your family and guests!
So without further chit-chat, let me give you this super easy, super-delicious, super-fresh, spring-themed asparagus!
And as we say around our table before digging in, "Mangia!"
Thank you once again to Tara, for kindly allowing me to say hello to all of you and to share a recipe with you!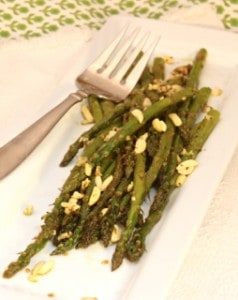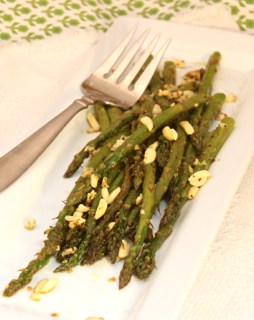 Roasted Asparagus with Roasted Garlic and Almonds
2 Tbsp olive oil for baking pan
1 bunch fresh asparagus, trimmed, rinsed, and dried
4 large cloves of fresh garlic, minced
3 Tbsp. extra-virgin olive oil
1 Tbsp. freshly squeezed lemon juice
¼ cup slivered almonds
Salt and pepper
Italian seasoning
Set the oven on "Broil".
Pour the first amount of olive oil on a rimmed baking pan.
Spread it around with a baking brush so that the surface is nicely oiled.
Lay the asparagus on the pan.
With your hands or utensil, roll the asparagus in the olive oil to completely core.
Sprinkle the minced garlic all over the asparagus.
Sprinkle the slivered almonds all over the asparagus and garlic.
Season with salt and pepper or your favorite Italian seasonings.
Mix the olive oil and lemon juice and drizzle over everything.
Roast on 'broil' for approximately 10 minutes, keeping a close eye on the asparagus so that it is not overcooked.
Enjoy!